Name
Best Overall
Oregon Professional 120-Volt Bench Grinder Universal Saw...
Best for Money
Buffalo Tools ECSS Electric Chainsaw Sharpener
Most Premium
Oregon Professional 120-Volt Bench Grinder with Hydraulic...
Good Value
Oregon 30846 12-Volt Sure Sharp Chain Saw Sharpener
Well Built
VEVOR Saw Chain Grinder with Grinding Wheels Chain Grinder...
Image





Best Overall
Name
Oregon Professional 120-Volt Bench Grinder Universal Saw...
Image

Best for Money
Name
Buffalo Tools ECSS Electric Chainsaw Sharpener
Image

Most Premium
Name
Oregon Professional 120-Volt Bench Grinder with Hydraulic...
Image

Good Value
Name
Oregon 30846 12-Volt Sure Sharp Chain Saw Sharpener
Image

Well Built
Name
VEVOR Saw Chain Grinder with Grinding Wheels Chain Grinder...
Image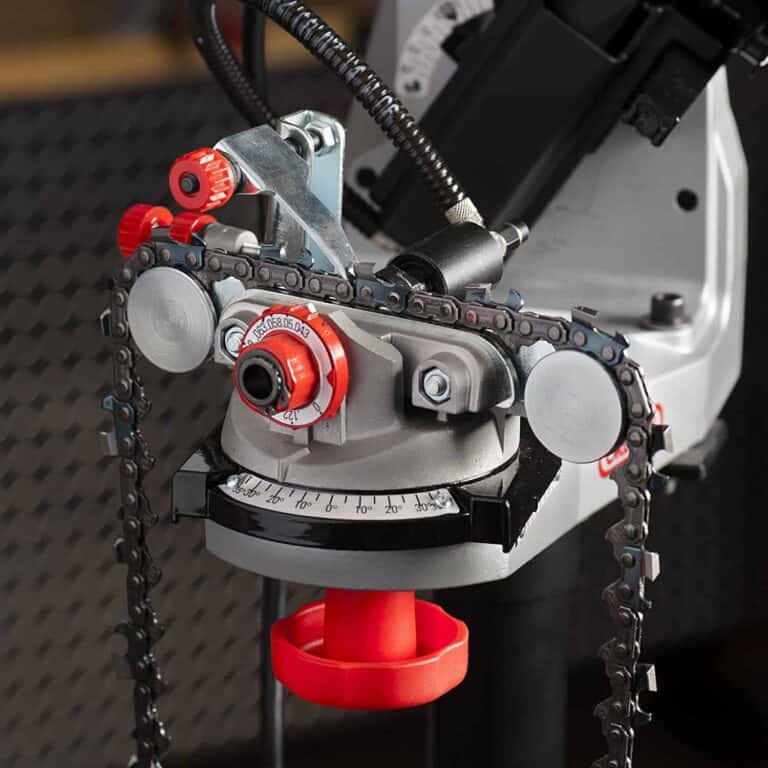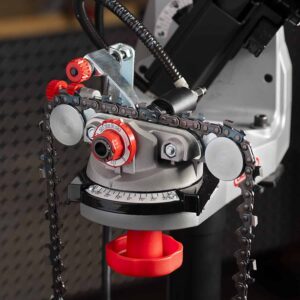 If you need the best electric chainsaw sharpener but you are not able to pick which one is the best, let us help you.
But you need to understand first, "when do you need an electric chainsaw sharpener?"Well, I think you know that a chainsaw needs to be sharpened properly to work properly. If you use the chainsaw regularly then it needs to sharpen enough every time for the best result.
And so manual chainsaw sharpener is not the best tool for sharpening chainsaw if you need the best result in a quick time. you need an electric chainsaw sharpener for sharpening your chainsaw regularly and frequently in a quick time. Also, it can be risky to use a manual chainsaw sharper.
Why Trust Us
It can be difficult and confusing to choose the right tool while shopping online.
We have researched a lot to find the best electric chainsaw sharpeners. We have a team of experts and we are here to clear all of your doubts and confusion to pick the best tool.
We also have provided a buying guide to guide you through this process. You can understand the necessary features to consider before buying an electric chainsaw sharper. from this buying guide. Let us go.
Top 3 Electric Chainsaw Sharpener at a Glance
Best Electric Chainsaw Sharpener
1. Oregon 520-120 Bench Saw Chain Grinder-Best Overall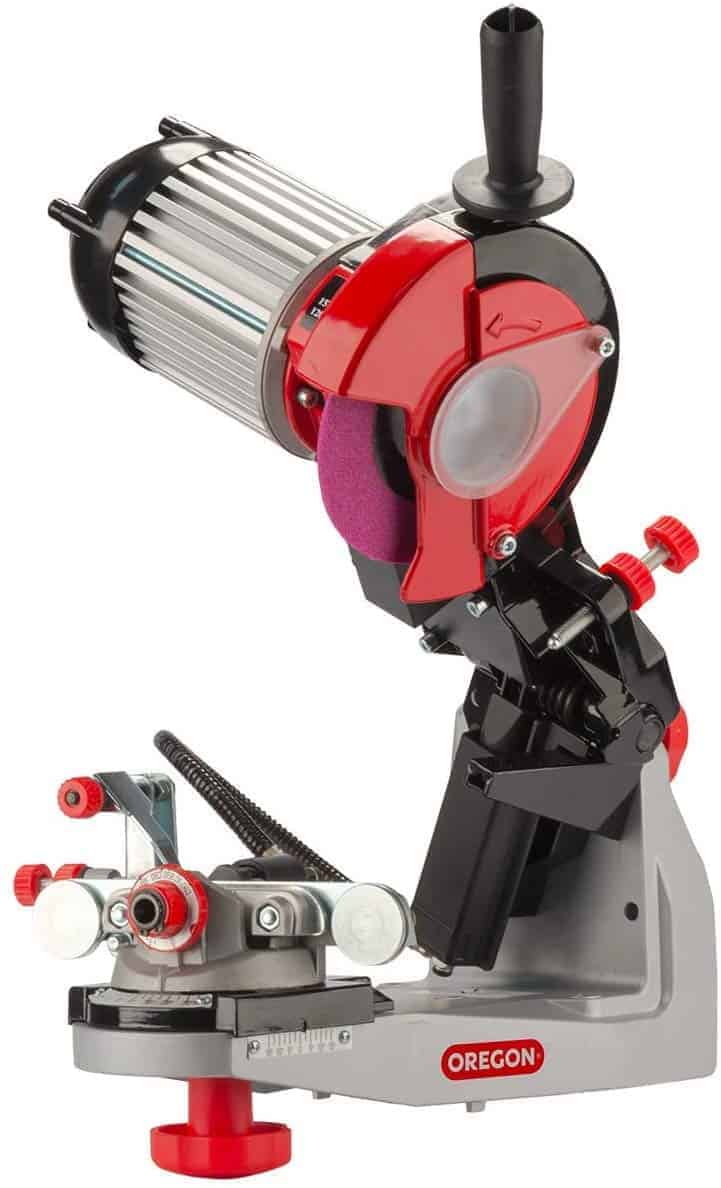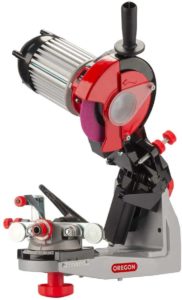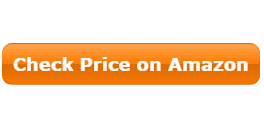 This is our top pick electric sharpener for chainsaws among the Oregon brand. This Oregon 520-120 sharpener has come with three grinding wheels, such as low profile – 1/4 inches and 3/8 inches; full profile – 0.325 inches; and pitch chain – 0.404 inches.
Fortunately, this Oregon has included a quick check-grinding template and a dressing brick. It has also included down angle and top plate settings. It contains a customizable vice handle and self-centering chain vice positioning for easy control. Its built-in light helps you indicate the progress of your work.
If you need a convenient and quality-based service from a workhorse, this series is highly suitable, as it has come with high volume grinder features, such as a hydraulic assist clamping vice and manually loosens and tightens the vice.
Pros:
Contains 3 different grinding wheels
A dressing brick and a quick grinding guide
Can sharpen different chain pitch profiles
Lightweight
Can mount on the wall
Cons:
2.Oregon 620-120 Hydraulic Assisted Bench Grinder-Most Premium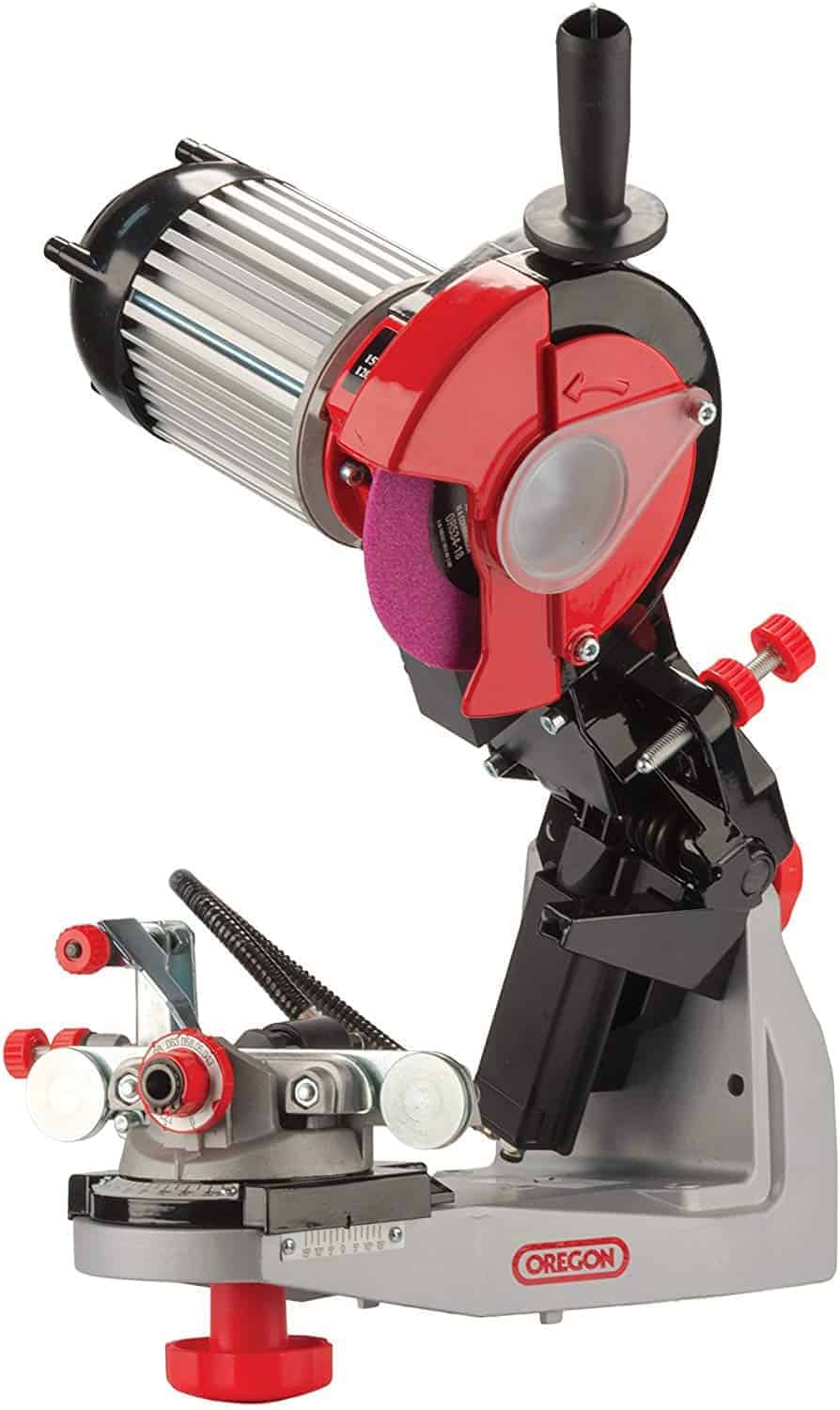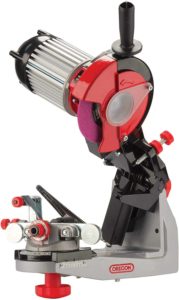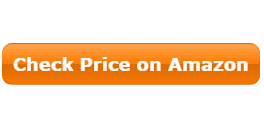 If you are searching for an electric chainsaw chain sharpener that delivers accuracy and precision on all the pitches of the chain, then the Oregon 620-120 is the best choice for you! For hands-free automatic vice clamping, it includes hydraulic assistance.
All the chains have the vice capacity and out of the box, it can grind all chains up to 3 or 4 inches. So, you can sharpen your chainsaw without facing any problems. Another thing is that, for easy adjustments, you will have wide clamping area ABD clear markings.
You can handle this Oregon electric chainsaw sharpener easily as its weight is only 21 lbs. and height is only 19-1 or 2 inches. The product has 3 grinding wheels including a low profile and pitch chain, a quick template, and a dressing brick for sharpening.
The sharpener has a powerful, one-way, direct drive, single-phase, 120v HP motor. It means that you can handle any situation with the help of these 60 Hz, 3400 RPM, 300W, 0.4 motors with ease.
Pros:
Can sharpen a variety of chains pitch profiles
Comes with 3 grinding wheels
For safer and faster operation, it is equipped with a hands-free vice
Down angles and plate are adjustable according to the users' wish
Customizable vice for handle position and self-centred
Cons:
Poor quality of plastic knobs
If not adjusted properly, the hydraulic fluid can be leaked
3.Buffalo Tools ECSS Electric Chainsaw Sharpener-Best for the money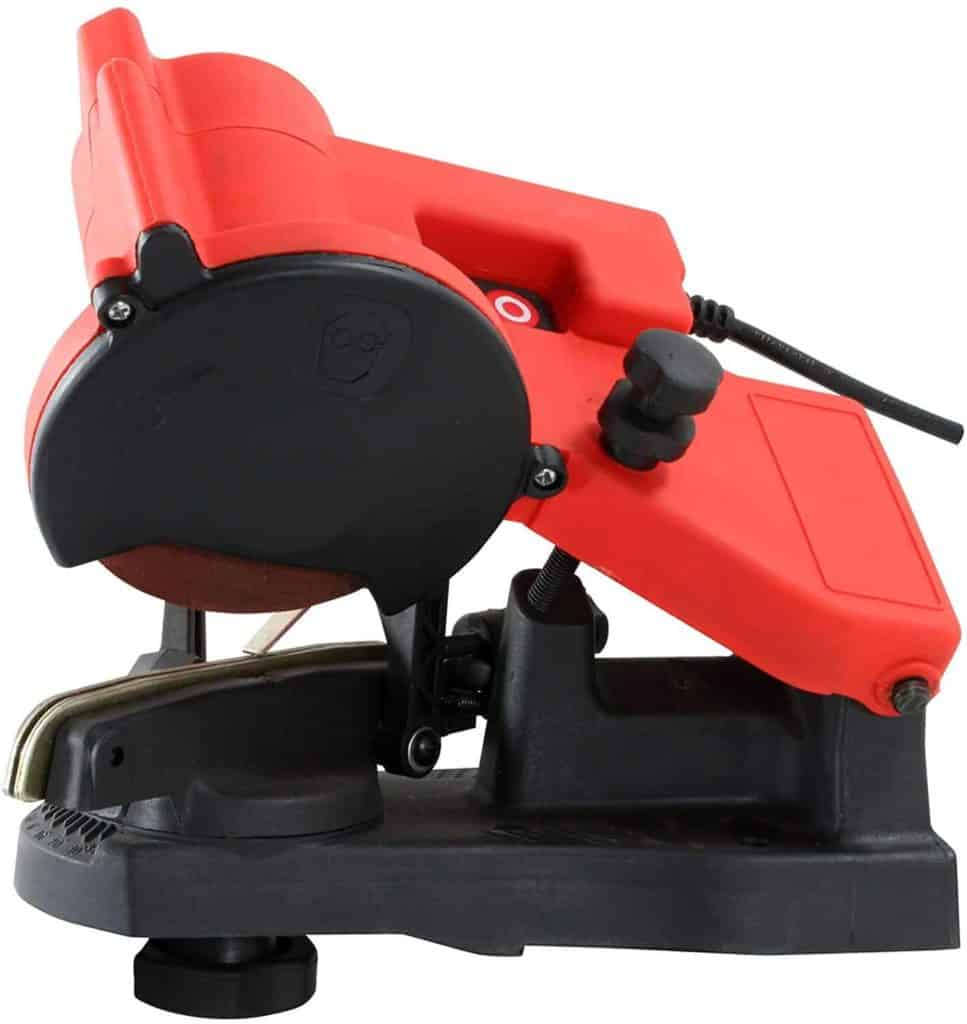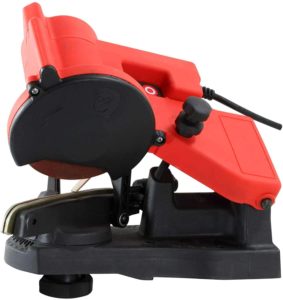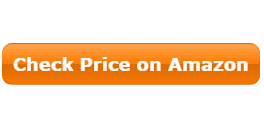 The Buffalo Tools ECSS is one of the best electric chainsaw sharpeners on the market. In case you're searching for one that performs the task rapidly and effectively, you'll be exceptionally content with what this model can perform.
The tool is easy to mount, so if you have a workbench where you can fasten this instrument, you're as of now fit as a fiddle. It additionally utilizes a standard 4-1/4-inches grinding wheel, so you can replace it effectively if you destroy it from overwhelming use.
This model is electric, so you don't need to furnish any of the force with your hands. This can be useful for those with powerless or aching hands. This sharpener is very cheap. If you want a decent arrangement on a chainsaw sharpener, yet you don't need to spend a huge amount, you'll truly like this model.
Given every one of these upsides, you may ask why this model can't split the main three. It accompanies poor directions, which require additional exploration to begin in case you're inexperienced with honing cutting apparatus sharp edges. Generally speaking, there's a ton for experienced clients to like, however it may not be directly for beginners.
Pros:
Can mount on the bench and the wall
Compatible with every chain design
Faster 4200 RPM motor
Performs the task rapidly and effectively
Utilizes a standard 4-1/4-inches grinding wheel
Cons:
A lot of power is consumed
4.Sportsman Earth Series Mountable Bench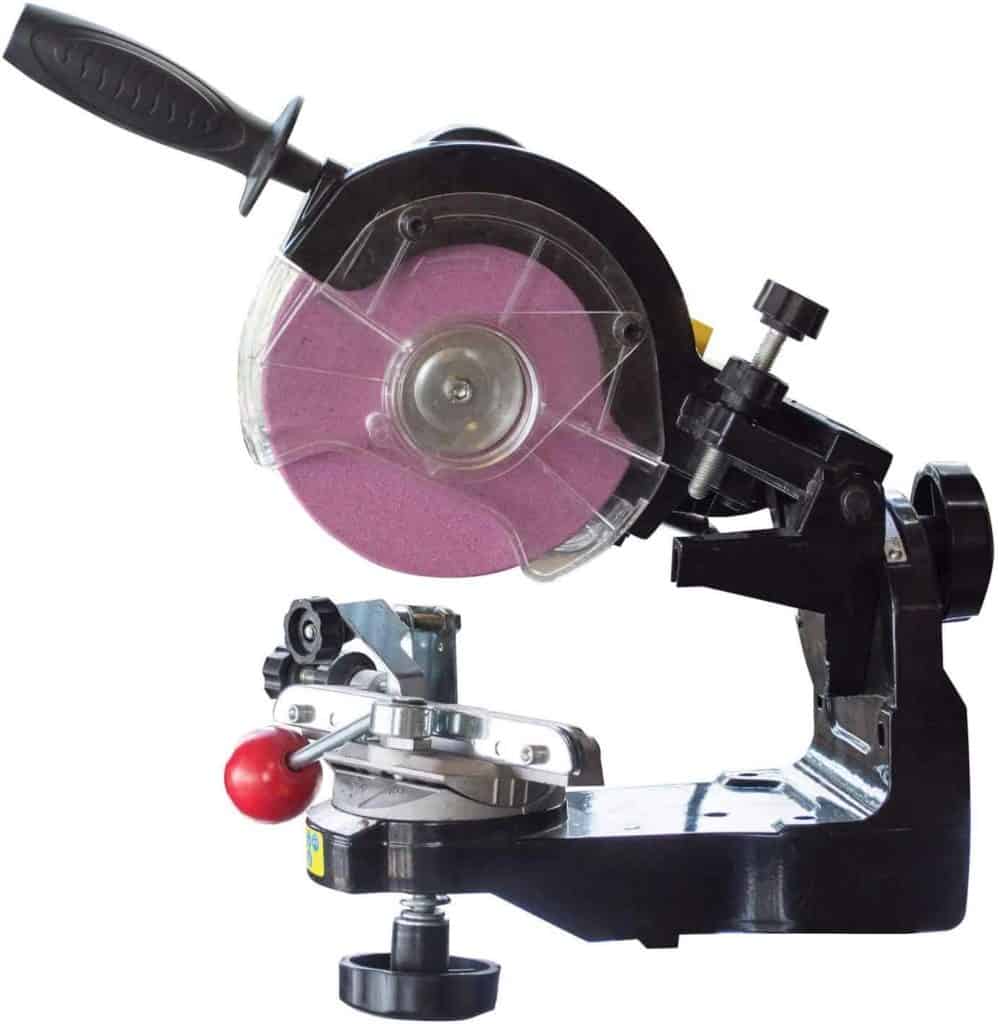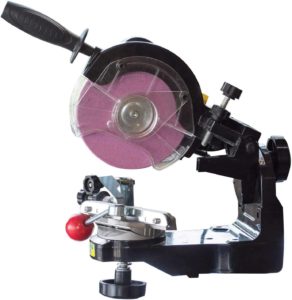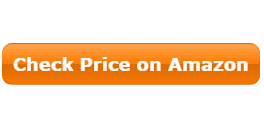 The Sportsman Earth Series Mountable Bench is one of the best and top-rated electric chainsaw blade sharpeners on the market. It will help you stay in your chain in the best condition. It is fitted with most of the brands.
A high-class metal is used to make it, so you need not think about durability. It has come in black in color. It ensures stability and at the same time safety. The automatic chainsaw sharpener provides a professional edge on your chain saw. After buying it, you need not run to the hardware store every time you need the chain sharpened.
The Sportsman Chain Saw Grinder accompanies two 5.5-inch dia. pounding wheels, 1/8, and 3/16 inch, which can turn at 3,000 RPMs. The Chain Saw Sharpener changes by fitting 4 regular size chains, 1/4, .325, 3/8, and .404 inches. A built-in work light lets you see what you are doing.
The product is easy to handle, as its weight is 45 lbs only. The company provides a warranty of 90 days from the date of your buying. It will repair at its alternative. So, you can use the product without having any tension.
Pros:
Having long-lasting materials
Compatible with semi-chisel and chisel style cutters
Grinding wheels are durable
Having overhead work light
Easy to assemble
Cons:
5. Oregon 30846 12-Volt Chain Saw Sharpener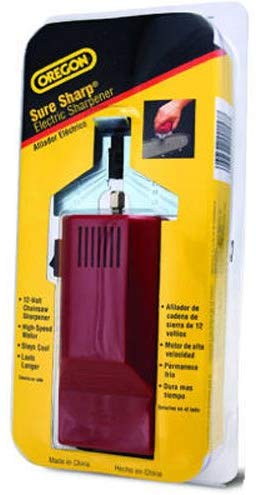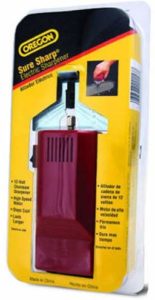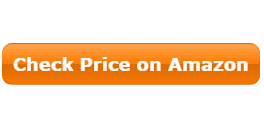 The Oregon Chain 30846A 12-Volt electric sharpener is capable of sharpening your tools like new. This chainsaw teeth sharpener offers a protected and simple path for cutting and feeling. This model is easy to utilize and works from a 12-volt battery for in a hurry honing.
The tool has a brisk alter guide to get consistent ground cutters and an implicit profundity check. A high-sway engine house adds to the solid plan. This electric chain sharpener is intended for use with Oregon Electric Sure Sharp and different processors.
It leaves an amazing bleeding edge on observed chains. Two honing stones are incorporated to help keep your capacity instrument cutting like new. It's difficult to get more advantageous than a 12-volt chainsaw sharpener. It interfaces with a 12-volt battery and gives great sharpening power that can make the snappy work of a ragged chain. The convenience goes past how it's controlled.
This sharpener additionally accompanies three distinctive sharpening stones: 3/16 inch, 5/32 inch, and 7/32 inch. This gives your entire requirement for fast and simple sharpening when you're out on work, considerably more favored than a manual sharpener. This tool likewise has sharpening guides with it that can help you in pulling off even ground cutters.
Pros:
Very easy to handle
Easy portability
Includes a 12-volt battery
Contains 2 sharpening stones
Easily adjustable for the perfect cutting
Cons:
Sometimes the rotating shaft may get jammed
6.Mophorn Sawchaingrinder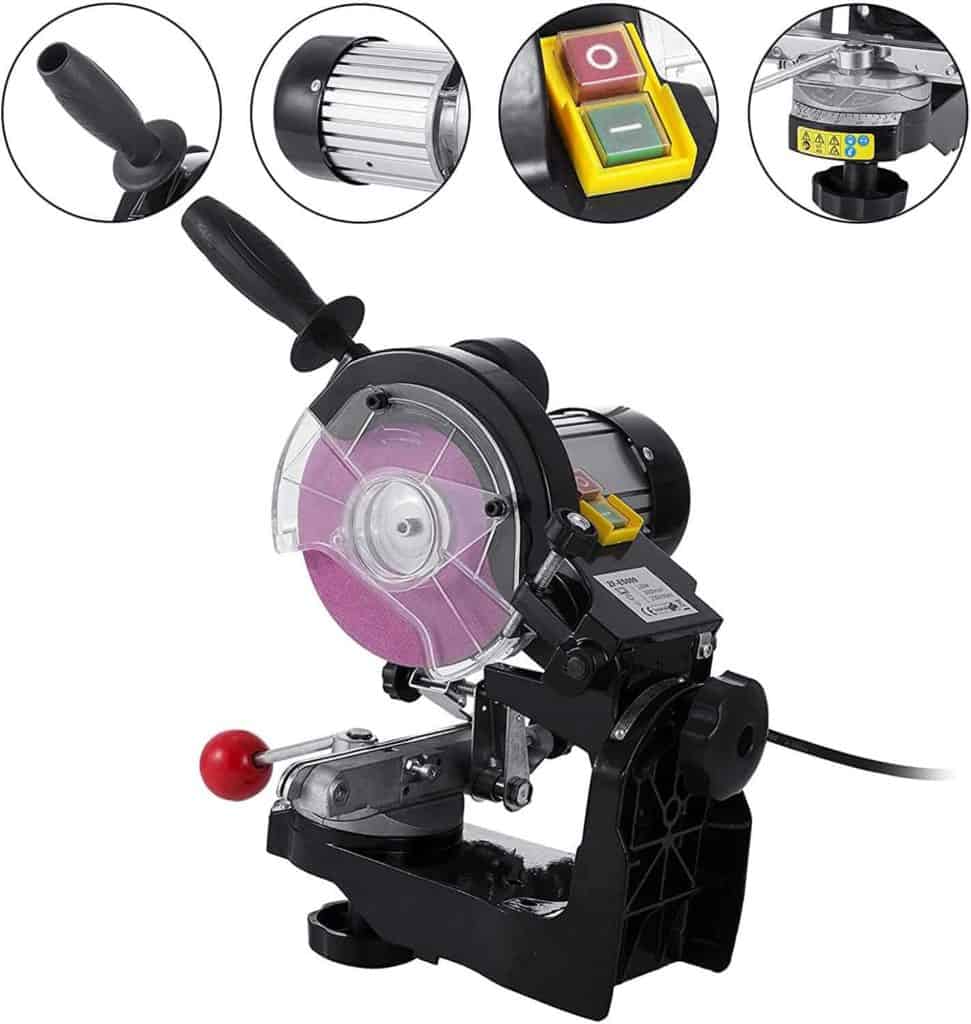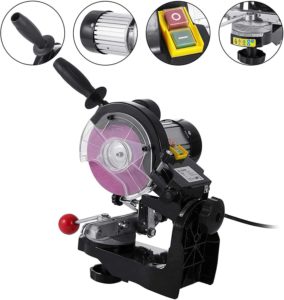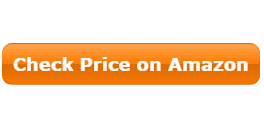 The Mophorn Sawchaingrinder has bunches of excellent highlights to take note of. It has come to make your wood-eliminating position simpler and agreeable. The electric sharpener is made out of solid cast aluminum. Moreover, its structure includes strengthened hinges. For that, it gives improved quality and execution.
This extraordinary quality electric sharpener is also joined with two distinct sizes of grinding wheels, which additionally make this sharpener flexible. Also, a work light has been collected with this model so you can sharpen the chain in the low light circumstance.
Then again, a safety guard is incorporated with this gadget for giving amazing security. The sharpener has accompanied 230W and 3000 rpm engines, which creates extraordinary force and functionality. This high-designed cutting tool sharpener can be mounted to the seat, the divider for sharpening effectively and advantageously.
The sharpener is easy to work, and it can sharpen chain from 1/4, in, to 3/8 in pitch. The plan is great and the quality high. It gives the all-out estimation of cash.
Pros
The frame is made of cast aluminium
3000 RPM and 230-Volt motor
Includes work light
Two grinding wheels
Easily mountable on bench and wall
Cons
Creates a little problem to backcountry use
Best Electric Chainsaw Sharpener Buying Guide:
portability:
If you need to work from one workplace to another workplace, I should go for a manual chainsaw sharpener. They need no electricity. Also, they are smaller and lighter which will help you to carry it from the workplace to work without any trouble.
But as they are manually operated so you need to put your effort.
But if you work in a stable place and do not need to switch the workplace, a Benchtop or mounted sharpener is the best option for you.
As they are powered by an electric motor they are very powerful and can save your time by doing the job very quickly and efficiently.
Attachment and setup:
It is very important to understand the attachment because the different tasks may need specific attachment. So you need to check it before buying it. for example, if the wheel size is more than one, it will provide you with the ability to sharpen different sizes of blades.
It also helps to shape very quickly and perfectly. Most electric chainsaw sharpener usually has 2 or even 3 different types of the wheel for use in different tasks.
Also, you need to understand the setup properly before buying the sharpener. You can mount these chainsaw sharpeners in various areas for various purposes. When you will able to understand the setup, you will find it very easy and comfortable to work with these machines.
Tooth height and angle:
As a beginner in chainsaw sharpening, you must need to understand what does tooth height and angle mean. Chainsaw tooth has a particular height and you have to sharpen the tooth by following a particular angle to increase the sharpness.
Setting:
Before buying the product, you need to understand the setting of that product. Because then only you will understand what kind of value the product is offering.
It will also guide you to use the product in the best possible way. For example, some of the high-end tools will make your job very quick and easy for sharpening. Also, a preset templet will help you to get the best possible result from the tool.
How to use an electric chainsaw sharpener?
After the electric chainsaw sharpener review, here we are going to provide you with some electric chainsaw sharpener tips. Let's have a look:
Know the specifications of the blade and the sharpener
Firstly, you need to know the specification of your saw blade. Then, match with the specification given on the box of or user manual of the sharpener. If it is well-matched, you can continue using it.
Place the Sharpener perfectly
You need to place the sharpener on a suitable place of the ground so that it cannot move at the time of the work.
Install the sharpening stone of proper width
You have to install the sharpening stone of proper width so that it can be fitted well in the gap between the teeth. Though the common width of the sharpening stone is 3/16 inches, you have to buy it according to your needs.
Place the swivel angle properly
As the swivel angle is one of the most important things, you have to place the blade in the holder of the sharpener to adjust the angle perfectly. The common angle is 0 to 60 degrees. It may also increase to 80 degrees.
Adjust the blade tooth angle carefully
From the specification, see the given angle of the blade tooth. By loosening a knob in the blade holder, the angle can be adjusted. Accordingly, you can set the angle.
Adjust the depth properly
Adjusting the depth stop properly, you can make the sharpener cut very deep between the teeth. If not adjusted, the grinder can cut the metal between the teeth and in this way the blade can be damaged. So, do it perfectly.
Sharpen the chainsaw blade
It's time to sharpen the blade. To do this, you need to lower the grinder wheel on the first tooth slowly. Do it until the tooth has a shiny metallic appearance. Do the same with each tooth. Completing the one set, you need to adjust the grinder angle once again. Then start the process again.
Frequently Asked Questions
How Tight Should a Chainsaw Chain Be?
A chainsaw chain should be just a little bit loose on the chainsaw guide bar. In fact, the chainsaw chain gets loosened gradually if you work with it for a long period of time.
But you need to be careful because it should not be too loose. If it gets too loose it can fall from the bar nose and can cause an accident.
It is a very easy and simple process to check a chainsaw chain tensioning. You just need to pull the chain and see the reaction. If the chain is loose enough to pull up but tight enough to stay engaged so that the drive link remains on the bar nose then the chain is perfectly tensioned.
But if the chain is too tight that you cannot pull it up or lose that is fall off from the bar nose then you have to adjust the tensioning. It is very important to tension it properly to get a fine cut and also to be safe.
Who makes the best chainsaw sharpener?
There are many chainsaw sharpener brands that make quality chainsaw sharpeners. But according to our research, Oregon makes the best chainsaw sharpeners.
Should I Choose A Handheld or Bench Option?
It is a very important factor for a person who has never worked with a chainsaw sharpener. We know that the handheld chainsaw sharpener is much cheaper than the bench chainsaw sharpener.
It is also very easy to use. But it does not provide as much power and accuracy that a bench option produces.
A handheld sharpener is very easy to carry and that is why it is a good tool for a person who moves frequently from place to place.
So you can sharpen your chainsaw blade anytime in anyplace with it.
But the bench option gives you great control even if you do not have a steady hand. And also you can not get the best result with a handheld option but bench options will surely give you the best result.
How to sharpen a chainsaw chain with an electric sharpener?
Final verdict
After all the discussion and research, we come to the final decision. Oregon 520-120 Bench Saw Chain Grinder is the best tool according to us with superior quality and performance. Oregon 620-120 Hydraulic Assisted Bench Grinder is the most premium electric saw sharpener.
Buffalo Tools ECSS Electric Chainsaw Sharpener is a good option at a budget price. If you want a handheld option, you can buy Oregon 30846 12-Volt Chain Saw Sharpener. This is really a good tool with very positive customer feedback.
Sportsman Earth Series Mountable Bench and Mophorn Sawchaingrinder are also very high-quality machines for delivering great performance consistently.
Related Articles:
Additional Resources:
Last Updated on January 22, 2022 by John G. Anderson