Best Wet Tile Saws under $300(2020)
Know Before Buy:
Do you need to renovate home or office with new tiles yourself?If so, then you are undoubtedly thinking of investing in a wet tile saw.But may be  you do not want to spend a lot of bucks for it.Great, you took the right decision.We'll guide you to find the best wet tile saw under $300

Tiles are indeed an excellent option for your interior as it makes dramatic changes. However, even the standard-sized tiles don't fit in every corner.
You need to cut them at the end. Simultaneously, you need the best wet saw to do this job proficiently.
Only an good wet tile saw can ensure the best finish in the tiles. It looks quite similar to the circular saw, but the purpose is different.
The tile saw is only dedicated to tiling jobs. The vast options in the market make it riskier to choose the right tile saw for your project.
Why Trust Us:
Fortunately, we have done all the required research for you, so you don't have to. We've compiled a list of the best wet tile saw under $300

All you have to do is to pick one that suits your project better.Read on our wet tile saw reviews to know more.
Name
Best Overall
PORTER-CABLE PCE980 Wet Tile Saw
Runner-Up
SKIL 3550-02 7-Inch Wet Tile Saw with HydroLock Water…
Best for Money
SKIL 3540-02 7-Inch Wet Tile Saw
Image
Best Overall
Name
PORTER-CABLE PCE980 Wet Tile Saw
Image
Runner-Up
Name
SKIL 3550-02 7-Inch Wet Tile Saw with HydroLock Water…
Image
Best for Money
Name
SKIL 3540-02 7-Inch Wet Tile Saw
Image
Best Wet Tile Saws Under $300 Reviews:Top 4 Pick
Below are the top picks of best wet saw reviews available in the market.
PORTER-CABLE PCE980 Wet Tile Saw-Best under $300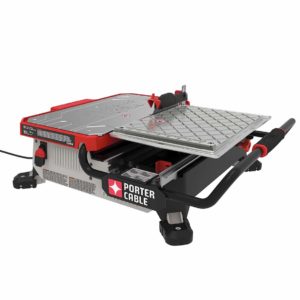 The first tool in our list for the DIYer is PORTER-CABLE PCE980. Although Porter cable wet tile saw is not very old in the market, but they get popularity within this. This is the best wet tile saw under $300, also the most portable option.
This portable cable tile saw comes with a stainless steel tabletop that offers plenty of space. It weighs only 32lbs which makes it ideal for moving from jobs to jobs. The saw includes an onboard miter square to ensure precise and accurate cuts.
Moreover, it features a 7″ porcelain blade that is perfect for a multitude of projects. With the 17" cutting capacity, it can cut 12/12" diagonally. It also includes a 1HP motor that is perfect for cutting ceramic, porcelain, and stone tiles.
The tile saw has water channels and drains plugs for minimizing mess and dust. Its splash guard keeps water from spraying the tools. It also features a stainless steel fixed deck that holds water and job site abuse.
Above all, its roll cage carrying handle assures easy transportation. It also protects the cutting cart. Due to the compact design, you can store it wherever you want.
SKIL 3550-02 7-Inch Wet Tile Saw-The Runner-up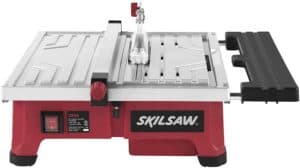 Let's complete your kitchen or bathroom tiling projects more efficiently with SKIL 3550-02 wet tile saw. With higher customer satisfaction, it really provides great value and accuracy in the work.
This skil wet  tile saw comes with a stainless steel tabletop that is corrosion resistant. It measures 22×18×8.5″ with 24 pounds weighs. You can easily carry it from Job-site to Job-site.
One of the coolest feature of this saw is hydrolock water containment system.It really helps to do the job really fast by keeping the water container near the blade.Because this system reduce mess so that cleaning up time is not required a lot.Also,it allows to work in room where the tiles are being installed.
The sliding side extension can support tile up to 18 x 18-inch.Also,there is a durable dust-resistant aluminum table top for reducing maximum mess.
Besides, the tile saw has an adjustable rip fence with the miter gauge. It ensures precise straight and miter cuts. The tile saw features a 7″ continuous rim diamond blade for smooth cutting. You can get flexibility in cuts with the variable bevel cuts from 0 to 22.5o  to 45o.
Overall, you can easily cut porcelain, ceramic, stone tiles with this tile saw. It's an excellent tool for the do-it-yourself as it is sturdy yet controllable.
SKIL 3540-02 7 Inch Wet Tile Saw-Best For Money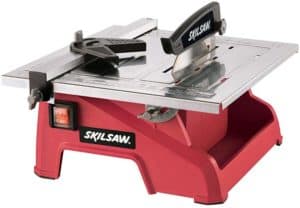 Are you tackling renovations by yourself and looking for a quality tile saw in a budget? Well, Skil 3540-02 wet tile saw might be what you are looking for. SKIL 3540-02 is definitely the best tile saw for the money.
This skil tile saw comes with a compact design and stainless steel tabletop. It allows you to work at any place in your house. Also, the stainless steel body supports up to 12″ tiles and ensures durability.
Even after the compact size, it doesn't compromise with accuracy. Thanks to its adjustable rip fence that is attached to the miter gauge. It allows bevel cuts up to 45o in the materials like stone and masonry. Thus you get more flexibility for various cuts.
With the 7″-blade, it offers better cutting capacity like 7.75″ for crosscuts and 7.25″ for diagonal cuts. Moreover, its blade cooling water reservoir helps to keep the blade cool and minimize dust.
In short, it is one the handy option for a tile saw at an affordable price. With 3600 RPM speed, it can cut any-sized tiles with ease. You should consider this for replacing or installing various tile floors.
QEP 22400Q 3/5 HP Master Tile Saw-Best For Homeowner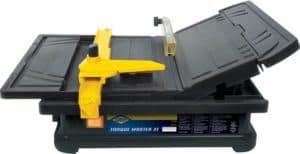 The QEP 22400Q tile saw is perfect for homeuse where space is an issue. Instead of the compact size and affordable price, it includes the best water system.We think this is the best tile saw for homeowner.
The first thing we appreciate is its water system as it minimizes water runoff. The system converts the water back into the reservoir and reduces refill frequencies. Besides, it successfully cleans the cutting line.
With a 3/5HP high-torque motor, it offers high power for cutting. It includes a 4″ continuous rim diamond blade that can cut different materials with ¾" thickness. Unlike others, it can cut mosaic and backsplash tiles as well.
The tile saw is made of plastic to prevent corrosion and rust. The plastic body makes it more portable, and it is easy to transport. It also includes a rip guide and angle guide for added safety.
Moreover, it has dual extension table that supports larger tiles. You can adjust the table for making 22.5o and 45o miter cuts. Though it is a very cheap tile saw,It works really great for small projects.
Note:There are some other tools need to mention those have not gotten a place in our top 4 list.These tools are also quite good.
Best Wet Tile Saw under $300 Buying Guide
When it comes to buying the best tile saw for homeowner, the options are endless. Though we make a list short, still it can be confusing to know which one is perfect. That's why you should know a few factors about tile saw, so you can easily choose one. Let's know them.
Power
Obviously, like other power tools, you must check the power source and motor of tile saw. Because this is what denotes the efficiency of your tile saw. Usually, the best tile saw comes with 1.5HP or more power. The high output motor ensures a butter-like cutting in the material like porcelain and stone. So, make sure to choose a tile saw with more horsepower.
Blade Size and Diameter
One of essential parts of a tile saw is its blade. Best tile saw blade determines the nature of cuts. If you need to cut thicker tiles, then you need more powerful blades. The diameter of the blade denotes the optimum cutting depth. Usually, the size of the standard tile saw differs from 7 to 10-inches. Whereas 10″ blades are capable of cutting thicker tiles up to 2.5inch. Likewise, 7″ blade can cut tiles up to 1.5″ thick, and 8″ blade can cut up to 2″ tiles.
Bevel
Although bevel cutting option is pretty rare in a tile saw, but some can make bevel cuts. With the bevel cutting features, you can get a varied angle cut in your tile. So, if you want bevel cuts, you should look for a tile saw with bevel capacity.
Accuracy
Tile saw's cutters are not enough for precision; the quality of the also saw matters. Some manufacture brings tile saw with a low-quality cutter with clumsy construction. This tile saw generates more vibration that affects the cutting accuracy. Hence, make sure to select one with the best-quality cutter that makes less vibration.
Wet Saw
Most tile saw has these features that prevent the dust and debris to spread around. A pipe is connected with these tile saw and water go through to it while working. It helps to keep the cutting line clear so that you can cut more tiles accurately. Because the dust from the tiles can affect your vision. So, we must say, wet-saw is a great feature which you should look for.
Versatility and Portability
Make sure to choose a tile saw that is versatile enough. It should be able to cut ceramic, hard stones, and glass tiles with ease. Also, you may not only cut different materials, but also you may need to cut different sizes. Like sometime, your project may require L or U-shapes. So, purchase a tile saw that allows you to everything.
Another factor is portability. You may need to cut tiles in a different zone in your home. Also, sometime you may need to carry this outside. That's why you should choose a tile saw that is lightweight and portable. Don't go with the heavy one as it won't allow you to cut with ease.
Availability of Parts
Sometime you may need to upgrade different parts of your tile saw. Also, it is better to keep spare parts with you for an emergency. There is no meaning of buying a new saw if any parts get damaged. If you choose a tile saw whose accessories are hard to find, then it becomes useless after. So, you should buy tile saw from popular brands with spare parts.
Safety Features
While using any power tool, safety should be the primary concern. Likewise, the tile saw comes with a powerful and sharp blade. Some tile saw is capable of stopping the blade instantly. This feature helps to prevent sudden accidents. Also, some of them come with a second switch option for added safety. Check them in your tile saw.
Price
You may have noticed that tile saws are relatively expensive. Those expensive units are top-end tile saw which can handle any tiling jobs. You'll surely find cheaper options, but they are not capable enough. It means you may have to spend an extra penny to get the best.
Frequently Asked Questions (FAQs)
Q:What is the best wet tile saw?
DEWALT D24000S Heavy-Duty 10-inch Wet Tile Saw-Best wet tile saw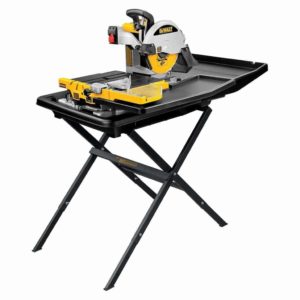 When it comes to power tools, you will hardly find any competitor of DEWALT. They bring plenty of powerful and versatile tile saw with excellent cutting capacity. The DEWALT D24000S wet tile saw is one of their popular addition in the list. Also, it is the best professional tile saw available in the market.
This 69lbs wet tile saw comes with a 1HP motor, which provides enough power. It's integrated cantilevering rail system is stainless steel made which is corrosion resistant. This rail system is integrated into the tile saw frame to ensure accurate cuts.
Besides, the tile saw comes with a stainless steel blade with 10″ diameter and 0.06″ thickness. It features a cutting capacity of 24″ rip cuts, 28″ plunge cuts, and 18″ diagonal cuts.
The tile saw has a cut line indicator which provides stable cuts to within 1/32" for 18" cuts. You can make angled cuts with dual water nozzle, thanks to its 45o or 22.5o integrated miter.
Overall, this is one of the compact saw with comes with a fold-able stand for ease of storage. It has a water pan that contains 5-gallons of water. You can easily remove the cutting curt and water tray. Indeed, it's a must-have tile saw.
Q:How to Cut Tile With A Wet Saw
Cutting tile with a wet saw is a very easy job.you just need to follow our article with concentration.Firstly, wear  eye protector to safe your eyes. After working for years, we find wet saw is the best tool to cut tile in the quickest and perfect way.
Step 1: First of all you need to take measurement of the tile you are cutting. So, you need and marker and a roller to draw straight line for your cut.
Step 2: At the time of drawing the measurement, you need to leave enough space around the tile so that you can install and adjust the spacers. It as important as anything else in the process.
Step 3:Then you need to put just enough water on the tray to cool the blade during the process. here you need to remember that different manufacturers design the tray differently but you need to do follow the same process.
Step 4: Set the tile on the table of the wet saw.Then you need to adjust the fence in a way so that the blade cut the tile accurately trough the line.
Note: Please be careful always and keep your hand at a safe distance for the blade.
Step 5: Please wear safety gloves and eye protector before start working. Then set the tile on the blade and press green button to start the wet saw.
Note: You need to set fence at the both end of the tile to make sure that that blade cut the tile in straight line through the mark. 
Step 6: Push the tile genitally through the fence to the blade by hold it with both the hands. 
Note: keep in mind that the plastic protection of the blade should cover it during the process.
Step 7: keep your hand away from the blade because it it very sharp. Do not force the saw and let it work smoothly.
Step 8: then you need to turn the tile to cut the other line of the tile with same manner.
Note: please check the tray before making the second cut to make sure there is enough water to cool the blade.
Step 9: Switch off the saw and wait until the blade stop rotating.Then take off the tiles and unplug the tool and clean it.
Q: How to use a wet tile saw?
Q: Is it possible to cut tiles with a dry tile saw?
A: Yes, it is possible but mostly for thin tiles. You can cut any light tiles with a dry tile saw. Still, it is better to be careful while cutting.
Q: Can I cut woods with a tile saw?
A: No, you can't. The tile saws are designed to cut different kinds of tiles. The purpose of the tile saw is only limited to tiling projects. Also, the blade in the tile saw rotates opposite to the other power tools. So, it is better to cut tiles only, not the woods.
Q: What are the different types of tile saw blades?
A: Tile saw blades are available in three types. They are continuous rim blades, segmented blades, and turbo rim blades. They all are used for a different purpose.
Handling the tilling projects all by yourself is indeed a bold move that you have taken. Whether you are beginner or experts, you need the right tile saw for your job.
PORTER-CABLE PCE980 heavy-Duty 10 inch Wet Tile Saw is our top pick.It is one of the best wet tile saw under $300.
SKIL 3540-02 7-Inch Wet Tile Saw is definitely the best for money .
Luckily, you don't have to rush to stores as we've gathered the best in one place. You only need to choose one of all. So pick the best wet tile saw under $300 that suits the best to your job, because right tile saw will make your job easier.
DEWALT D24000S Heavy-Duty 10-inch Wet Tile Saw-Best Overall
SKIL 3550-02 7-Inch Wet Tile Saw