Before knowing how to cut glass tile we need to know why we need to use glass tile. What if we tell you that glass tiles can create a remarkable statement in your home?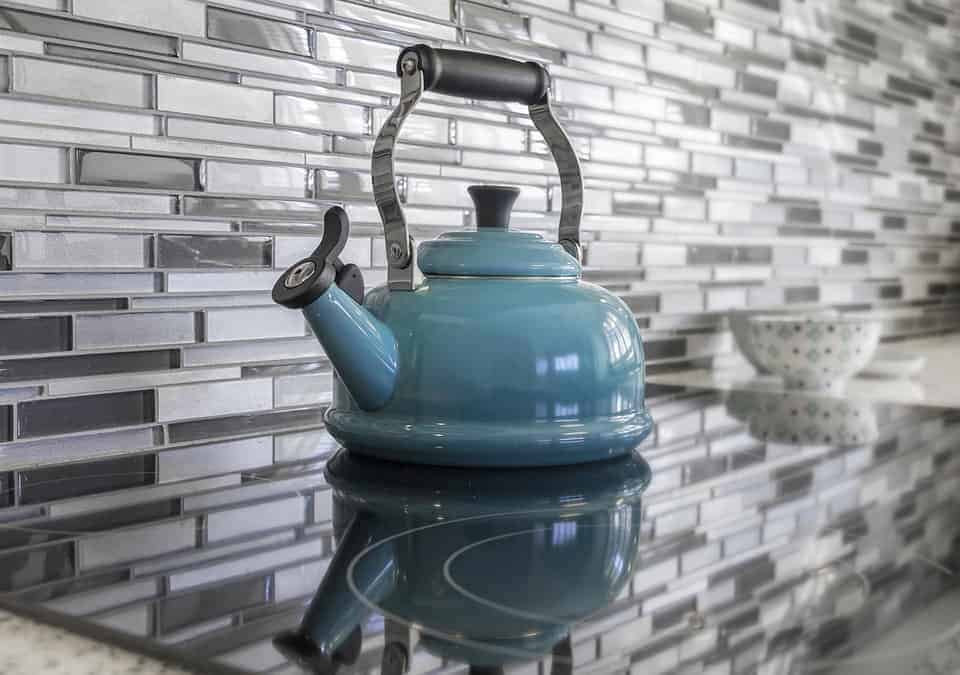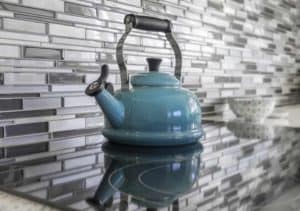 You'll certainly agree. The glossy surface works like a mirror when light falls on them. Along with being stylish, glass tiles are fragile and delicate, as well. That is why we need to use glass tiles to design our home beautifully. Glass tile can give your bathroom and kitchen a very
Due to its fragile nature, it becomes difficult to cut or install glass tile. That is why we are here. Here we'll tell you how to cut glass mosaic tile.
However, a perfectly cut glass tile depends on your cutting technique and glass tile cutting blade, as well. Most people use the following tools for cutting glass tiles.
4 Best Ways of How to Cut Glass Tile:
Wet saw or
Manual scoring wheel or
Bar cutter or
Wheeled mosaic nippers.
No matter what you use, it has to be compatible with that particular glass tiles. Whether you are cutting glass tile with a wet tile saw or others, you must follow the correct way.
Luckily, you don't have to look around for tips and tricks. Here will tell you different ways to cut glass tiles using various tools.
Initial Preparation:
Before you start cutting your glass tiles, you need to be prepared. Check the followings;
Follow Manufacturer's Guideline:
Initially, you may need to decide what tools are perfect for cutting. Check the instruction manual to find out the thickness of your tiles.
So you need to read the manufacturer's instructions carefully. probably, the manufacturer will provide specific installation guidelines.
Some manufacturer does not provide a warranty if you do not follow their guideline. Also, they will know the best way to cut that glass tile.
If you do not understand their guideline, please connect with them. You may need a particular glass saw blade or tools.
Before Buying Tile Masure Space:
Measure the place where you are going to install the glass tiles. Buy a certain number of tiles for that space. Also, count how many spare tiles you need to cut.
People usually use glass tiles in the bathroom and kitchen as a backsplash. It is a very nice looking tile and very versatile also.
you should buy 5% more tile than your required calculation. Because there may happen any error in the installation process and u will need extra tile.
The number of tiles depends on two things. One is the size of the room and another is the size of the tile you chose to buy.
Carefully inspect The Tiles:
Inspect the tile and check the purchase materials you expected before start installing. You will know the details about the materials from the producers' guidelines.
Glass tiles come in different shape, colour, shade, and tone. It may also have a blend of glass, metal, and ceramic tiles. So, scrutinize the tiles. You will get to know how to handle that particular tiles.
Also, you need to check if there is any defected glass tile. It is not always easy to find the defect from the tile before installation. Because glass tiles come with foil or paper backing.
Use Protective Gear:
Finally, make sure to wear protective gear as cutting glass tiles can be risky. Even a small sliver of glass can cause big damage to you.
Wear safety goggles or eye protection, gloves, and thick cloths. Also, your gloves should be made of leather or thick clothes. Because the slivers of glass tile can be very sharp. Now you are all set to begin.
How to Cut Glass Tile with a Wet Saw?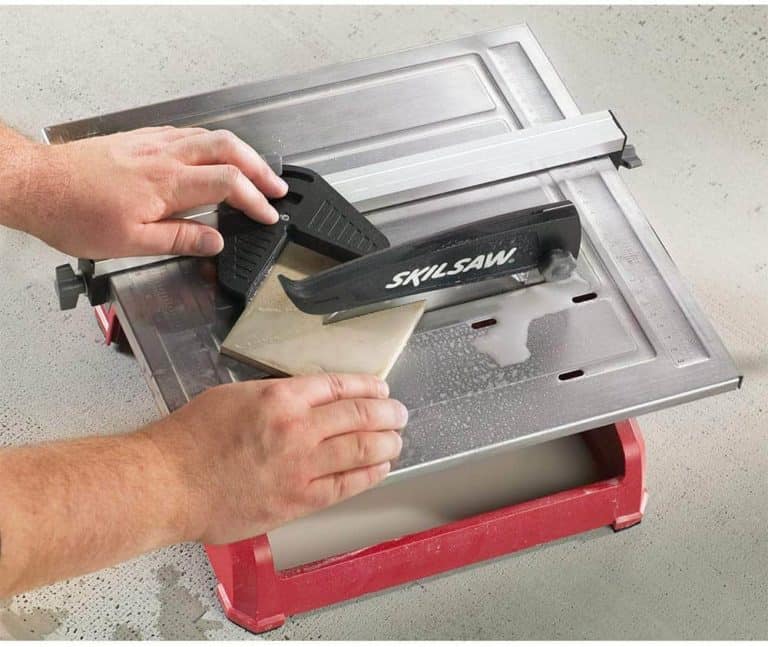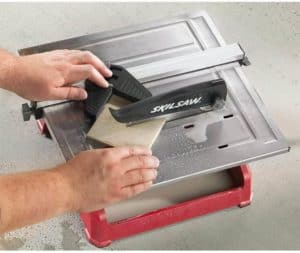 A wet saw is one of the best tools for cutting glass tiles. Cutting glass tile with a wet saw ensures a clean, smooth edge. It also reduces the chances of damages.
How? A wet saw releases water when the saw blade cuts through the cutting line. The credit goes to its best glass tile cutting blade. To cut with a wet saw, you'll need;
Here is how to cut glass tile backsplash or around outlets with a wet saw;
Choose Your Tile And Wet Saw Blade
It is not an easy job to score large tiles deeply to snap then clearly. A wet tile saw is the best machine to do that job. Obviously, the first job is to buy the tiles for your kitchen backsplash or anywhere you want.
Check the tile's thickness to know what type of wet saw blade you need. if you buy a wet saw, it will come with a standard blade.
But do not use that blade to cut glass tile. A regular wet tile saw blade won't be the same as the specialized glass tile blade. because it may damage the glass tile.
So, choose only glass tile cutting blades for preventing cracks. You do not need the most expensive model to do that job. You can buy an inexpensive model that cost around $100 with a great value of money.
Best blade for cutting glass tile: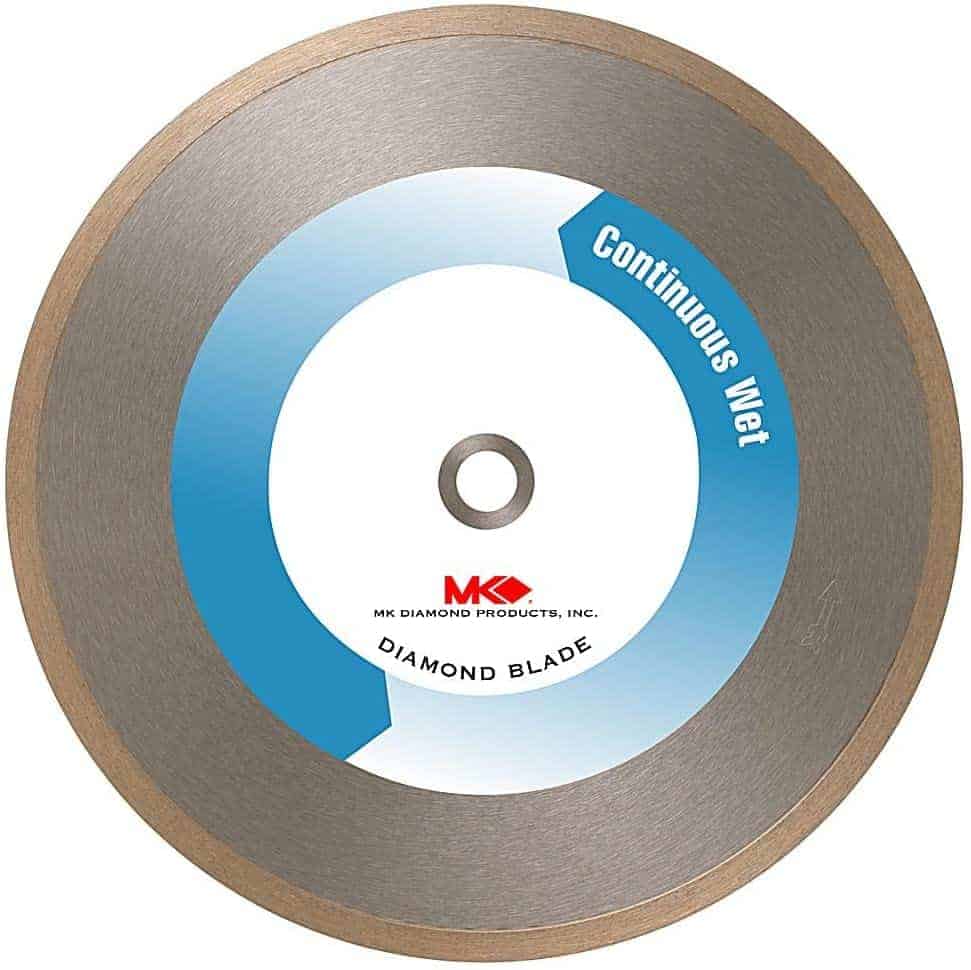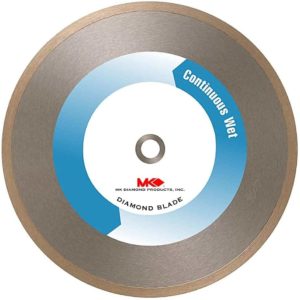 Set The Blade's Depth And Fill The Saw's Tray
After installing a glass tile cutting blade, set the blade at the right depth. Keep space between the blade and tray to cut quickly and efficiently.
Don't forget to sharpen the blade before using it. Then make sure to fill the water tray fully before starting the wet saw. You may need to replace water frequently in between. Draw The Cutting Line
Now measure the tile and draw a cutting line on the opposite side of the tile. Use a washable marker as you can wipe away this marker line later with a damp rag.
Lay The Tile Along with The Guide
At this point, lay your glass tile along with the guide. Make sure to place the tile face down on the wet saw tray. It helps to prevent chipping. Now wear your rubber gloves as you are going to start the wet saw.
Start The Wet Saw To Make Cut
So, it's time to turn on the wet saw. Let your wet saw run for about 15 seconds. It allows the water to flow freely on the saw blade. Your glass tile is all set on the cutting guide.
Now cut along the cutting line gradually. Don't rush at this point. Slowly feed the tile with the blade. You can push the blade against the blade steadily to ensure a cleaner cut.
Once it is done, turn off the wet saw. Wipe away the glass tile with a wet cloth to remove the remaining marks.
How to Cut Glass Tile with a Bar Cutter?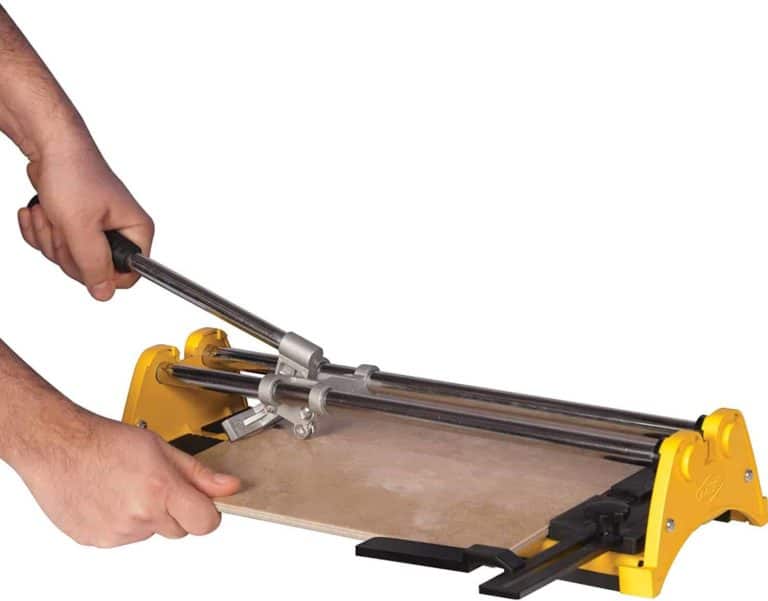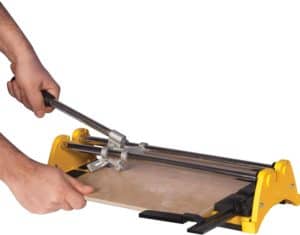 Bar cutter is one of the efficient and inexpensive options for cutting glass tiles. In fact, a bar cutter is much more effective and useful than a scoring wheel.
It includes a cutting wheel to scores the tile and a pressure foot to break the tile. To cut with a bar cutter, you'll need
Washable marker
Grozing pliers
And cloth.
Follow the steps to cut glass tiles easily;
Measure And Mark The Cutting Line
As always, you need to measure the tile to mark the cutting line. Use a washable marker to mark the cutting line.
However, here you have to score on the face of the glass tile.
Place The Tile On Cutting Pad
Now carefully place the tile on the cutting pad of the cutter. Put the face-up, so the sheet stays squarely against the fence. Then align the marked line with the cutting guide.
Score The Tile And Snap Along The Scored Line
Pull the scoring handle beside the tile away from you to score the tile. Check whether the bar cutter has a pressure foot.
If so, they use the pressure foot to snap along the scored line. Or else, you can use running pliers or grozing pliers.
Once you snap the tile, there may be any shards or debris there. Use rubbing stone in such cases and finally remove the marker line with a damp cloth.
How To Cut Glass Tiles With Manual Scoring Wheels?
Manual glass scoring wheels are one of the traditional tools for scoring thick glass tiles. It ensures uneven breaks and best cutting tiles for around outlets. To cut with a manual scoring wheel, you'll need;
Grozing pliers
Running pliers
Rubbing stone
Washable marker and cloth.
Here is how to cut glass tile around outlets with manual scoring wheels;
Mark the Cutting Line and Score One Side
Cutting glass tile around outlets is a tricky job. Place the glass tile face up and draw your desired cutting line. Now put a straight edge over the cutting line and position the scoring wheel at one side. Pull the wheel firmly towards you to create a line on the tile's surface.
Now take a grozing or running plier to cut the glass tile. To cut with grozing pliers, place the plier on the cutting section and snap downward. Make sure to place the tile facing upward.
Likewise, place the center of the running plier over one end of the scored line. Keep the jaws of the plier in a perpendicular position to the cutting line and press downward. Make sure to apply even pressure on both sides.
The glass tile will split along the cutting line. You can use rubbing stones to get a smooth edge.
How to Cut Glass Mosaic Tiles with Nippers?
Wheeled mosaic nippers are perfect for cutting small pieces of glass tiles. The only difference between nippers and regular pliers is that nippers have really sharp tips.
Nippers that come with a tiny carbide wheel attached in the end are really effective. it gives the maximum force to cut the glass tile without damaging it. But nippers should not use in very visible areas.
Usually, nippers are used to fit the tile with the pipes or edge of the wall.  Also, irregular glass tiles can be snapped with this tool. To cut with mosaic nippers, you'll need;
Let's go through the process.
Wear Protective Gear and Mark The Cutting Line
There is a chance for splitting small tiles pieces, so wear your safety gear first. Now draw a guideline with a washable marker on the tile's surface.
Place the tile in between the two-wheeled jaws of the wheeled nippers. Now squeeze the handle of nippers forcefully to break the tiles. Use the rubbing stone for polishing glass tile edges if needed.
Frequently Asked Questions
Q: Can I cut glass tiles with a regular tile saw?
A: Yes, you can. A tile saw with regular porcelain tile saw blades are good enough for cutting glass tiles. But there are few chances of cracks. So, we would suggest using a diamond blade instead of a regular blade or a wet tile saw.
Q: What is the best tool for cutting glass tile?
A: The best tool you should use to cut glass tile is a wet saw. That is because it leaves the edges smooth and clean. You can also work with it anywhere as it's portable. It has a mounted table, a circular blade, and a water pump with a hose that drenches the workpiece with a lot of water. That implies you'll have an easy time using it.
Q: Will the tile cutter cut glass tiles?
A: No, unless you use a glass-cutting blade that is coated with tiny diamonds. These glass-cutting blades can cut through the glass without cracking and chipping. So the right way of taking care of glass tile is cutting with a glass tile cutting blade.
Q: How to Cut Glass Tiles without a tile cutter?
A: To cut glass tiles without a tile cutter, you'll need a glass cutter. Follow the same steps, like other tools, only score the tile with a glass cutter. Then press down each edge to break the tile.
Conclusion
Ok folks! Now you know how to cut glass tile with different cutting tools. See, we told you it is as simple as that. All you need is to know is the proper use of the right tool for your glass tile. At this point, you are well prepared to renovate your home. Go ahead with your bathroom and kitchen remodeling projects! Thank you so much for visiting our site.
Related Article:
How to cut rock with a tile saw?
Additional Resources:
Last Updated on January 31, 2022 by John G. Anderson