Name
Best for wood
Timber Wolf Bandsaw Blade 3/4" x 93-1/2", 3 TPI
Best for resawing
Laguna Tools Resaw King Bandsaw Blade 3/4 in. X 115 in.
Best for metal
DEWALT Portable Band Saw Blade, 32-7/8-Inch, .020-Inch, 24...
Image



Best for wood
Name
Timber Wolf Bandsaw Blade 3/4" x 93-1/2", 3 TPI
Image

Best for resawing
Name
Laguna Tools Resaw King Bandsaw Blade 3/4 in. X 115 in.
Image

Best for metal
Name
DEWALT Portable Band Saw Blade, 32-7/8-Inch, .020-Inch, 24...
Image

Think of a situation. You've put on a blade on your bandsaw to cut lumber for your next project. Everything is going smoothly. Suddenly, the blade was trapped in between the lumber before you could finish the cut. At that time, you grasped that your band saw blade becomes dull.

It is a very common problem with a band saw. So, you do not need to worry about that. A bandsaw is a very versatile tool, and the blade can be dull after working some days. So you need to replace it with a new band saw blade. Also, you may need different blades for different types of work.
Selecting a blade for a band saw is an essential factor for the band saw users. You can get various types of bandsaw blades on the market. But the question is
How can you choose the

 best bandsaw blades 

among the worst

?
You need not worry. We have destroyed the days of annoyance, and come with the solution for you!
In this article, we are going to introduce you to the best 5 bandsaw blades recommendation, and we guarantee that at the end of the day, you must not regret if you buy and use any one of the following band saw blades.
Top 3 Bandsaw Blades
Best Bandsaw Blades Review:
1.Timber Wolf Bandsaw Blade-Best For Wood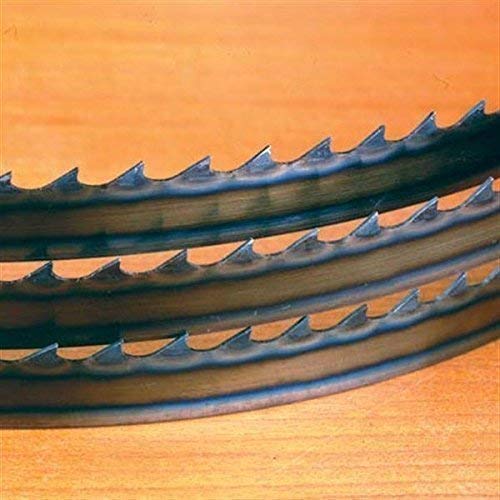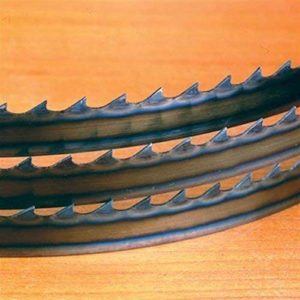 Timber wolf saw blades are one of the best blades for band saws. And Timber Wolf Bandsaw Blade 3/4″ x 93-1/2″, 3 TPI is the best among them. It is made of low carbide high silicon steel. Undoubtedly, it is a superior quality blade for its quality and performance.
The timber wolf is an excellent blade for cutting wood that has round design gullet, narrow kerf, and low width. As it is made of low carbide high silicon steel, it is ideal for re-sawing perfectly. The blade runs cooler and is highly durable. Similarly, you can get it at a very affordable price.
If you want to buy a blade, firstly, you will consider what the blade is made to make sure that it will not crack or break under pressure while cutting wood. If you are looking for a durable blade that will remain productive after hours of working, then the timber wolf band saw blade is perfect for you.
As it is made of low carbide steel, it will be flexible and rigid under high pressure. A silicon coating has been used to cover the teeth of the blade. This silicon coating allows you to keep the individual tooth sharper for a long time.
The blade contains four teeth per inch of blade. This wide space makes this blade multi-functional. Moreover, this blade is capable of cross-cutting without using the whole blade. So, the entire blade will remain safe from damage. According to us, timberwolf is one of the best band saw blade brands.
Pros:
The best for re-sawing and cross-cutting
Low carbide steel and silicon for long-term sharpness
Contains four teeth per inch of blade
Affordable
Cons:
2. Olson Saw FB23193DB Hook Saw Blade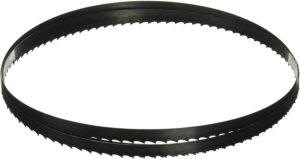 Olson saw blade is one of the high-rated band saw blades on the market. This Olson bandsaw blade is ideal for wood, non-ferrous metal, plastic, mild steel, and hard or softwood. The blade is a standout regarding dependability and durability. This is another great bandsaw blade for woodworking.
If you want a high-accuracy and high cutting speed blade for your workshop, to me, Olson will be the best choice for you. The users like it for the artisan in the DIY, professional, and industrial categories. The most attractive and lovable feature of this product is its hook-angle teeth. These teeth, particularly lightened angles, can bear more shorn material out of the grove. This allows your cut clearer without stopping and blowing out space.
The hooked teeth of the blade are larger than other usual blades, and they need more space than other smaller opposite numbers. If you look carefully, you can see that the blade contains only three teeth per inch on the blade, but don't worry, they have greater cutting capabilities.
This blade has a hard edge flex back for cutting hard and softwood, composition, plywood, plastic,
mill steel, and non-ferrous metals. So you can say the best all-around band saw blade.
Pros:
Capable of cutting plastic and hardwood
Affordable for a single blade
High-rated
Cons:
Enable to re-saw lumber well
3.Laguna ProKing Bandsaw Blade-Best for Resawing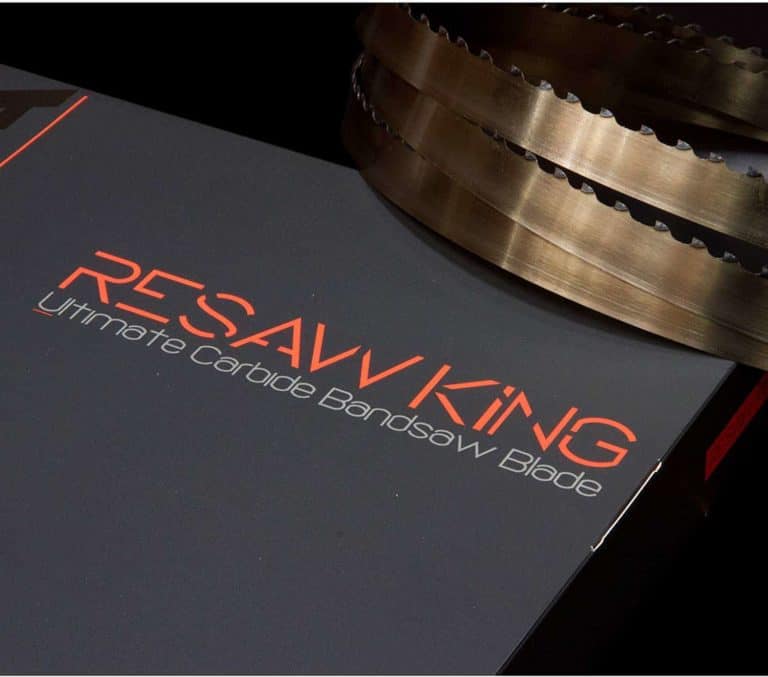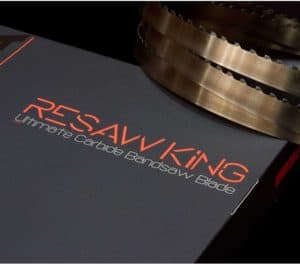 Laguna Bandsaw Blade 115″ x .75″ x Variable TPI is the best bandsaw blade for resawing. It can cut vastly figured planks into veneer. It can handle pricey veneer-grade woods. This ideal resaw bandsaw blade lives longer than a bimetal blade and carbon steel blade and can finish well. Moreover, this blade produces less waste because of its Swedish silicon steel backing, variable TPI, and carbide teeth.
The weight of this product is 1.2 pounds, and the dimensions are 14.3 x 1.8 x 1.8 inches. It works well with expensive veneer-grade woods, reduces the sanding, and creates a finished surface. We know that the normal band saw blades leave a rough cut and create larger kerfs, but Laguna ProKing cuts smoothly like a table saw blade using its C-4 carbide-tipped teeth.
The width of the blade is 3/4″, and the vibration reduces 2 to 3 TPI. As a result, this massive blade can easily cut wafer-thin veneers smoothly, producing minimal waste.
Pros:
ü The blade reduces sand
ü Includes pressure crack resistant Swedish silicon steel
ü Capable of Slicing ultra-smooth veneers easily
Cons:
ü Expensive
4.DEWALT DW3984 24TPI Portable Bandsaw blade-Best For Metal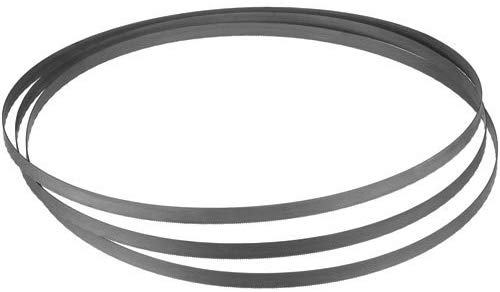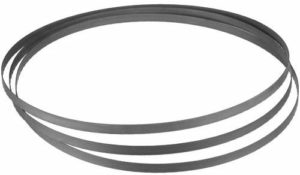 The DEWALT DW3984 Portable Band Saw Blade is one of the best metal-cutting bandsaw blades. This product is made of premium steel so that it can cut the toughest steel within a few seconds. It is highly durable and wears resistance because it contains 8% Cobalt. It is also the best general-purpose bandsaw blade.
The level of tooth hardness of the blade is Rc 65-67. So, you need not think about its durability. It will last long without any hindrance. Another most important feature of this product is that it's free of fatigue resistance. The blade is capable of running like most 24 TPI blades in its class. In the same way, this blade contains Matrix II high-speed steel edge.
This proprietary technology offers enhanced heat resistance that can cut down friction-based wear. This resilience will allow it to cut through thin gauge metals. The most interesting thing for this blade is that you will get a 30-day money-back guarantee.
The DEWALT DW3984 Portable Band Saw Blade can cut different kinds of materials, and at the same time, it is quite affordable with three packs. So, you need not worry about getting a replacement. You will certainly feel happy to see the silver finish.
The blade is highly heated wear-resistant and capable of handling some of the toughest jobs without any hindrance.
Pros:
Contains Matrix II high-speed steel edge
Tooth hardness level is Rc 65-67
Contains 8% Cobalt for enhancing durability
Guarantee of 30-day money-back
Comes with three-pack
Cons:
5.MK Morse ZWEP441418MC Master Cobalt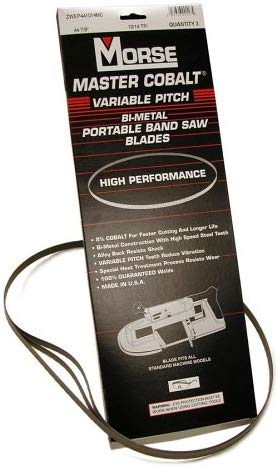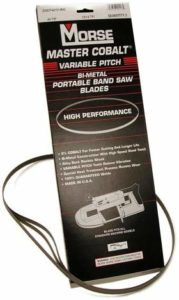 MK Morse ZWEP441418MC Master Cobalt is one of the top band saw blades that are capable of fitting with all standard portable band saw machines. This is another one of the top bandsaw blades for cutting metal. It can cut pipe tubing at very high-speed. It is an electron beam welded blade capable of lasting for a long time. It is also a shock and heat-resistant faster-cutting blade.
MK Morse master cobalt band saw blade has come with a wide variety of widths and arrangements. At the same time, its performance is reliable and durable, as well. It contains eight teeth per inch and altogether 24 that allow you to cut heavily. It has pitched, wavy, or standard teeth that will allow you to give finishing according to your wish.
The formula of this product includes cobalt-infused steel composition to enhance durability at each weld point. Besides, it uses an electron ray to reduce fragile air pockets. This electron ray welding allows the blade to turn efficiently during use. Some people use a bandsaw blade sharpener to keep their blades sharp. You can check how to sharpen a band saw blade here. We have explained it in a very simple and easy way.
Pros:
Rake and wavy configurations
Includes a range of TPI options
Involves electron ray welded for durability
Cons:
Laying on your front to lose teeth
Bandsaw Blade Guide: How to Choose a Bandsaw Blade?
The best band saw blade can make your band saw perform like a champ. True. Due to its versatility and precision, a band saw is a mostly-found tool in every workshop. However, the effectiveness of the band saw depends on its blade. That's why it is essential to choose the right blade for your job. Here are a few that you need to consider before buying one.
Blade Material
The first thing you should check is the build quality of the blade. Usually, band saw blades are made of carbon steel carbide-tipped teeth or bi-metal. Carbon steel-made blades are relatively inexpensive. The carbide blade is more expensive than carbon steel blades but lasts longer. Lastly, bimetallic blades are the most durable and pricey, as well. For average cutting jobs, carbide-tip blades are an excellent choice.
Width of the blade
When it comes to making a variety of cuts,  the blade's width of the band saw plays an important role. It determines the radius of cuts. The wider the blade, the stiffer it is for making straighter cuts.
Also, wider and saw blades are suitable for resawing and for making veneers. Likewise, the narrower band saw blades are ideal for cutting smaller curves. Here is a chart of blade width and radius of cut to make you better understand.
| | |
| --- | --- |
| Blade width | Radius of |
| 1/8" | 3/16" |
| 3/16" | 5/16" |
| ¼" | 5/8" |
| ½" | 2-5/8" |
| 5/8" | 4" |
Blade pitch or Teeth per Inch (TPI)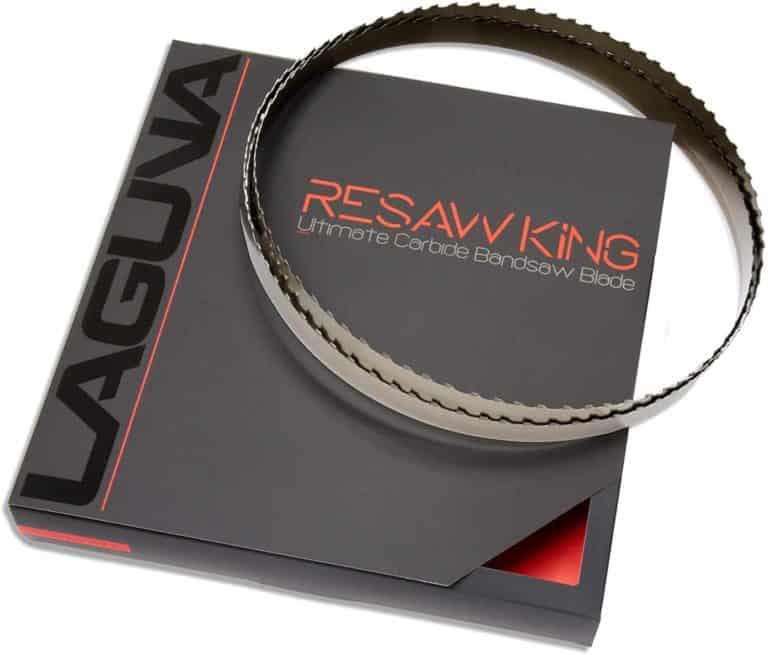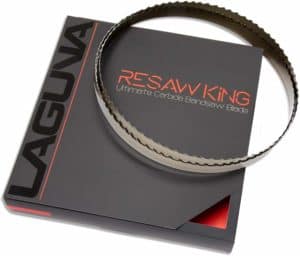 The number of teeth per inch defines the pitch of the bandsaw blade. Bandsaw blade with a lower angle ensures faster cuts along with the rougher cutting surface. Also, the higher the pitch, the smoother and cleaner cut you will get. But the cut will be slower.
Thinner material requires a slower feed rate, so a blade with high TPI is perfect here. Likewise, thicker material requires a faster feed rate, so a lower TPI blade is good enough.
Blade Tooth Type
Bandsaw blade comes with different tooth configurations, including hook, skip, and standard. The standard tooth blade comes with a high TPI blade and ensures smoother cuts.
A hook tooth blade comes with widely-spaced teeth and a 10o rake angle. These blades provide aggressive cuts so you can use them for difficult-to-cut woods. However, the skip tooth blade also has widely-spaced teeth but with 0o rake angle. These blades are less aggressive and provide relatively smoother cuts. Among three, standard and skip tooth profile provides a cleaner surface but at a slower rate than hook tooth.
Blade's Thickness or Kerf
The thickness of the blade is defined as kerf. The thinner blade or narrower kerf make the cut easier. But, they don't work well for heavy work such as bandsawing veneer. In such a case, thicker kerf works are the best.
How to Change a Bandsaw Blade?
The most annoying part of using a bandsaw is changing the blade. Even the most experienced user struggles while changing it. Luckily, you don't have to. We will tell you how to do this easily with some necessary steps.
Step 1: Open the Top and Bottom Cabinet
First and foremost, disconnect the machine from the power cord to avoid any accidents. After that, you need to open both the top and bottom cabinets of the bandsaw. See, there are two tires with which the blade is tightened. Clean them if there are any extreme sawdust.
Step 2: Undo the Blade Tension
When you have cleaned any excessive sawdust in both cabinets, now loosen the blade tension. The tension knob is placed on the top of the machine. Loosen the blade tension by turning the knob until the blade is flexible.
Step 3: Raise the Blade Guard
Once the blade becomes loose, then raise the blade guard to change the blade. This guide is used to adjust the material according to its thickness. You can slide it up and down, but it should be in the lower position possible. However, raise the guard and tighten the tightening knob to keep the blade secure.
Step 4: Remove Rear and Underneath Blade Guard
Then you need to remove the rear blade guard that covers the blade. To do so, you need to remove the screws using a screwdriver. Keep the screw aside until you reinstall it. Similarly, remove the guard under the table by rotating it 180o until it is out of the way.
Step 6: Remove the Blade
After removing all the blade guards, you can now safely remove the blade. Remove the blade from the top wheel and pull it off from two tracking tires. Rotate the wheel 90o, so the blade teeth stay in your right. Once you eradicate it, fold the blade for storage.
Step 7: Install New Blade
It's time to install your new bandsaw blade. Slide the blade in a similar way that you have removed it. The blade is now all over the slot and center cutout of the table. Now rotate and place the blade over the top and bottom tire. Place the blade over the center of each tire. Now tighten the tension knob that holds the blade. Make sure that the knob is not too tight.
Step 8: Adjust the Blade Guide Blocks
There are two sets of guide blocks and rollers. One is above the table, and the other is underneath the table. You'll need to loosen these blocks. Loosen the screw that holds the blocks on each side of the blade. Adjust it so the blade can slide freely left or right. Do the same for adjusting blocks and rollers under the table.
Step 9: Adjust the Tension on Blade
Now you need to apply the proper amount of tension to the blade. Adjust the tracking knob, so the blade rides perfectly centered on the tire. There is another tensioning gauge at the back of the saw's upper cabinet. Adjust it until the gauge indicator is positioned correctly for the blade's thickness. Then check whether the blade is square to the bandsaw table.
Step 10: Reinstall the Guide Blocks and Test the Bandsaw Tracking
Once you have correctly tensioned and tracked the blade on the center of the tires. Now reinstall the blocks and guards that you have removed. After that, pug in the bandsaw to check the tracking and adjustments. Check the tracking across the tires, as well. After following all the steps, close both the top and bottom cabinets.
Frequently Asked Questions (FAQs)
Q: Which tooth pitch or TPI should I use?
A: The minimum number of teeth in the cut is 3, which is average. Below this number can straddle the workpiece. Similarly, a maximum number of teeth is 24, and beyond this number in the cut may cause the gullets to overload. The efficient TPI is in between 6 to 12 teeth, which ensures smoother cuts.
Q: What bandsaw blade do I need?
A: It depends on the type of material you are cutting. A fine-toothed blade is best for thinner metals and plastics below ¼". Similarly, a rough tooth blade is suitable for cutting thicker stock and for resawing wood.
Q: Which one is good between carbon made and bi-metal made blade?
A: Both of them are best for separate materials. Such as a carbon-made blade is suitable for cutting wood, fiberglass, plastic, and non-ferrous materials.
Conversely, bi-metal made is ideal for cutting carbon steel, stainless steel, alloyed steel, and other metals. If we consider the durability, bi-metal-made blades are a perfect choice.
Q: Who are the top bandsaw blade suppliers?
Timberwolf, Olson, Dewalt, etc. are some of the top bandsaw blade suppliers.
Q: Where to buy bandsaw blades?
Amazon is the best place to buy a bandsaw blade. You will find all kinds of bandsaw blades there. Also, you will get at a reasonable price compared to other sources.
Conclusion
After reading the article, we hope that you have got massive ideas about the best bandsaw blades. So, you need not think twice. You can buy any one of the blades stated above. We believe that your right decision must make your days smooth and anxiety-free.
Related Articles:
How to sharpen a band saw blade
Check what are top circular saw blades
Check the best tile saw blades
Check the top pruning reciprocating saw blades
Additional Resources:
Last Updated on January 22, 2022 by John G. Anderson