Name
Top Pick
WEN 3962T 3.5-Amp 10-Inch Two-Speed Band Saw with Stand and...
Runner Up
RIKON 10-305 Bandsaw With Fence, 10-Inch
Also Great
Ryobi BS904G 9" BANDSAW Green
SKIL 3386-01 120-Volt 9-Inch Band Saw with Light , Red
Most Premium
Grizzly G0555LX Deluxe Bandsaw, 14"
Image





Top Pick
Name
WEN 3962T 3.5-Amp 10-Inch Two-Speed Band Saw with Stand and...
Image

Runner Up
Name
RIKON 10-305 Bandsaw With Fence, 10-Inch
Image

Also Great
Name
Ryobi BS904G 9" BANDSAW Green
Image

Name
SKIL 3386-01 120-Volt 9-Inch Band Saw with Light , Red
Image

Most Premium
Name
Grizzly G0555LX Deluxe Bandsaw, 14"
Image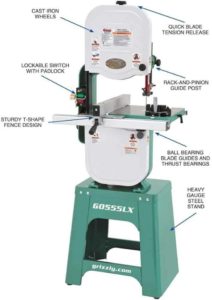 Are you in search of the best bandsaw? But like others, you don't want to spend big bucks on anything worthless. Congratulation, we've come up with some excellent solutions for you with the 5 best budget bandsaw reviews.
Seems like, you often need to do wood re-sawing, ripping, and curving. Probably, that's why you have decided to buy a band saw. You took the right decision. The band saw is a tool that is used for cutting curves and ripping lumber into thinner pieces.
From classic furniture to complex artifacts, it ensures clean and smooth cuts in each project. Also, the band saw is one of the safer options due to its downward cutting mechanism. It features a round and serrated blade that is used to process metal, wood, and other materials.
Moreover, the band saw offers excellent versatility with straight, irregular, and curved shape cuts. These are mostly used for re-sawing. The band saw is slightly expensive compared to other power tools. So, you should inspect the market adequately and then invest in the bandsaw.
Why Trust Us:
Luckily, we did this for you. We have spent hours on research, so you don't have to. After analyzing several bands saw reviews, we've compiled a list of the top 5 budget bandsaw. Let's have a brief look at them.
Top 5 Budget Bandsaw
Best Budget Bandsaw Reviews: Top 5 Picks
Let's have a look at our top picks and find which one suits your needs:
WEN 3962 Two-Speed BandSaw: Top Pick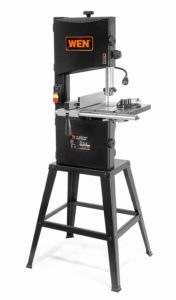 Wen3962 is undoubtedly a great bandsaw at a cheap price that we have come across. So this is our top budget pick. Most experienced woodworker appreciates this tool due to its fancy features. This 10-inch bandsaw makes woodworking very easy because it comes with some great accessories. It has so many amazing features at a very cheap price.
It has a greater capacity of cutting compared to Rikon 10-305. This wen band saw is powered by a 3.5amp motor. With 6-inch re-saw capacity, it can cut the thickest material with one pass. Also, the nine ¾ inch throat ensures the broadest cuts. This band saw can deal with a range of timber with this width and thickness. Also, it comes with a stand.
It takes 72-inch blades with 1/8 thickness which varies up to ½ inch. Also, the blade has 6TPI which makes it capable of dealing with most applications. It can run either in 1520 or 2620 FPM to meet the needs of any project.
Furthermore, the tool can make angled cuts up to 45o, which is six inches in depth. You'll get a miter gauge to cut angles and a rip fence to cut specific angles. We also appreciate its spacious work table, which is 25-inch high.
This band saw includes a 3-in-1 dust port that allows different dust collection hoses. It helps to keep your workplace cleaner. The band saw features a flexible work light for better visibility. It comes with a dust port so you can keep the workplace neat and clean. Above all, you are getting all these at an affordable price. So, go for it.
Finally, it is a very suitable tool for small to medium projects. Also, the Wen3962 band saw is the precise and capable option for home use. Two types of speed setting, different sizes of blade adjustment system and adjustable dust collection system makes this tool is the most flexible than any other tool on this list.
[i2pc][i2pros]• Powerful motor
• Thick and wide cuts
• Dual-speed functionality
• Spacious worktable
• Extremely affordable
• Easy visibility • Extremely flexiable[/i2pros][i2cons]• Blade adjustment is tricky •Not ideal for heavy and big projects[/i2cons][/i2pc]
Rikon 10-305 Bandsaw With Fence-Runner Up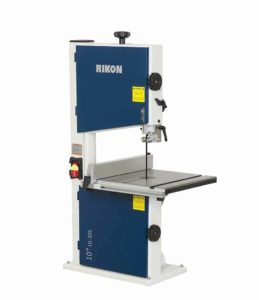 Rikon 10-305 had a close race with Wen3262. Finally, we kept in second place. This tool is definitely another great budget bandsaw. This cheap band saw is very suitable for the home workshop with limited space. Rikon 10-305 is a compact band saw and a long-lasting tool with a strong design. A sturdy steel frame and a heavy-duty cast iron table make it a strong and durable tool.
This small band saw is operated with a 1/3HP motor that assures 2780ft/min speed. The band saw comes with a solid construction which ensures durability. Also, it supports more materials at a time. The band saw can cut the materials up to 4 5/8" high and 9 5/8" thick. Its 70 ½" blade ranges from 1/8" to ½" for a variety of cuts.
Moreover, the band saw includes a quality rip fence that allows safe and precise cuts. It also allows hands-free operation and tilting up to 45ofor bevel cuts. Also, you can quickly raise and lower the guide post height by turning a handle.
It includes a safety paddle switch which makes it suitable for beginners. With a 2" tall fence, it can cut in more depth. Also, the band saw features a 2 ½" dust port for efficient dust cleaning. All in all, you can set the tool in any corner of your workshop.
The only reason we kept it as a runner-up is this tool doesn't generate great power. It has an underpowered motor that doesn't generate power to cut hardwood or hard materials smoothly. Also, it costs a higher price than Wen 3262. But if you do not need great cutting power, and have a very tight space, this tool is perfect for you. More importantly, it comes with 5 years of warranty.
[i2pc][i2pros]• Solid steel construction
• Compact and portable
• Long warranty
• Quality rip fence
• Easy removal of dust
• Adjustable guidepost for ease of use[/i2pros][i2cons]• No miter gauge is included • underpowered motor[/i2cons][/i2pc]
Ryobi BS904G 9″ BANDSAW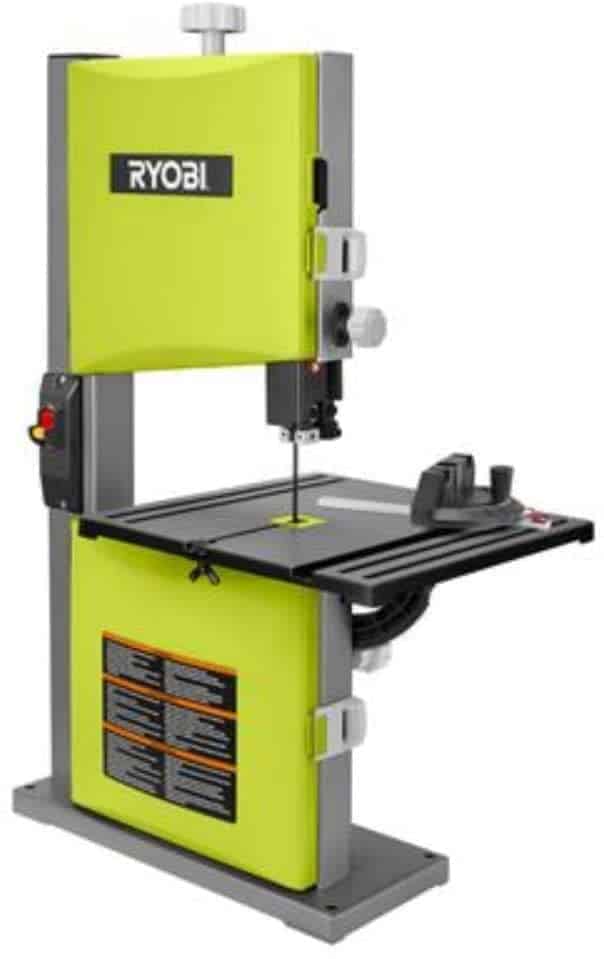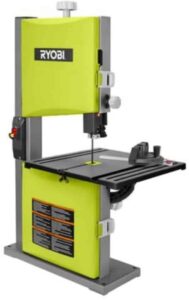 Another great budget-friendly option you have is Ryobi BS904G. This tool is less expensive than the previous 2 products. This Ryobi 2.5 Amp 9 in. Band Saw has some great features as well to make a place in this list. This bandsaw has a blade tracking window and pinion blade adjustment system to give a safe and secure cut. It has a built-in dust collection port which makes it very easy to clean. Also, the built-in less vibration system helps to work with minimum sound pollution.
This bandsaw is designed for various types of woodworking needs. So you can perform a wide range of woodworking with this tool. For executing a wide range of words this blade saw includes a miter gauge, a saw table, two hex keys, a table lock lever, and a washer. The 2.5 amp motor produces enough power to cut any kind of wood very smoothly. The 9-inch throat capacity and 3-1/2 inch cutting capacity make it a powerful tool.
The tool-free cabinet access is very helpful for any beginner woodworker to work with this tool easily. Also, it has a rapid set of blade tensioning systems that gives an easy and hassle-free working experience. Overall, this is one of the most budget-friendly bandsaws with some attractive features.
[i2pc][i2pros]• Tool-free cabinet access
• Built-in dust collection
• Aluminium wheels and ball-bearing support
• Built-in reduced vibration system
• Blade tracking window and blade support adjustment
• 9-inch throat capacity[/i2pros][i2cons]• The instruction manuals is confusing•Table doesn't sits square with machine[/i2cons][/i2pc]
SKIL 3386-01 2.5-Amp 9-Inch Band Saw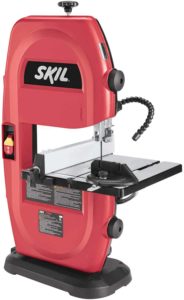 Are you looking for the best meat band saw for the money? Look no further, Skil 3386 9 inch band saw is the best option for you. The best part is that it allows several cuts in a variety of materials. Also, this is the best bandsaw under 200.
With the compact design and smooth functionality, it becomes a top choice among novice woodworkers. The band saw is operated with a 2.5 amp motor. It is powerful enough to assist you in ripping lumber into thinner pieces.
The band saw offers 2800 SFPM speed to reduce your work time. You can also cut any irregular shapes with the 6TPI blade. It allows you to adjust accurate height and angle through the rack and pinion adjustment option.
Also, its adjustable rip fence guides the material for straight and accurate cuts. While the miter gauge offers crosscuts which makes it exceptional, it includes a 1 ½" dust port that keeps your work area dust-free.
Unlike others, it has an articulating LED light. It illuminates the cut line so you can precisely cut the meat or bones. The band saw also features EZ view blade tracking for the natural alignment of the blade.
Overall, the band saw looks sturdy even after a compact size. It gives you more ease to work in different locations. Considering the price and features, it's a good value for the money.
[i2pc][i2pros]• Compact yet powerful design
• Offers a variety of cuts
• Ease of adjustment
• Proper visibility
• Portability
• Affordable price
• Sufficient workspace[/i2pros][i2cons]• The motor is not powerful enough
• Not suitable for larger projects[/i2cons][/i2pc]
WEN 3959 2.5-Amp Benchtop Band Saw

– Best under $200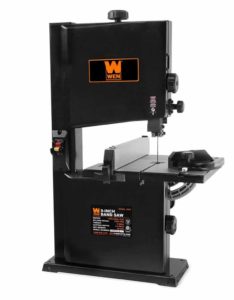 Our final collection of the band saw is designed for entry-level users. The WEN 3959 band saw is a tool that is both compact and powerful. Along with beginners, most experienced users also love to keep this in their workshop.
This band saw works with a 2.5 amp motor that provides up to 2500 feet speed. It comes with 59 ½ inch blades that have a width range from 1/8 to 3/8 inch. You can get intricate and powerful cuts with this blade.
It comes with a spacious work table that can be beveled cut up to 45o. The band saw has a cutting capacity of 3.5″ deep and 9″ vast which is suitable for DIYers. Also, the 2 ½" wide dust port is capable enough to make your workspace clean.
Unlike others, its excellent ball bearing mechanism offers smooth operation. You adjust the blade guard according to your need. The band saw also includes a miter gauge for making crosscuts and a rip fence for straight cuts.
In short, WEN bandsaw 3959 is a tool that you must have in your workshop. The wheels are so sturdy that you can do most of your woodwork at home. This small band saw offers outstanding users experience as well.
[i2pc][i2pros]• Attractive and sturdy design
• Large workspace
• Powerful and variable blade
• Excellent portability
• Better dust collection
• Smooth operation[/i2pros][i2cons]Not suitable for thick woods
• The motor is not powerful enough[/i2cons][/i2pc]
Grizzly G0555LX Deluxe Bandsaw: Most Favourite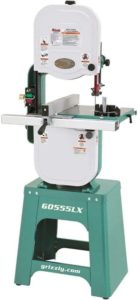 The last product on our list is also the most premium product on our list. As this is an expensive tool, it doesn't sit well with this content. But still, we kept it here because all these amazing features make it a good value for the money.
When you demand a heavy-duty construction with versatility, then the Grizzly G0555LX bandsaw stays above all. This band saw can withstand maximum pressure. It is also considered the best bandsaw for resawing; thanks to the re-saw fence. The heavy-duty construction with cast iron frame is one of the reasons to choose this band saw. Also, it has powder-coated paint that enhances durability. The band saw works on a 1HP motor that ensures maximum performance.
Moreover, it includes computer-balanced cast iron wheels that ensure easy control. This band saw can take a lot of pressure, thanks to its heavy weight. But this also makes the toolless portable. You'll love its magnifying window that gives you close contact with your projects. It also includes a miter gauge and quick-release blade tension lever. So, you can now change blades more conveniently.
The band saw includes a 3/8" blade which can cut materials with ease. It also features an upper and lower ball bearing guide and thrust bearing for added safety. The 4" dust port helps to rub away the wood chip build-up. If you are a beginner, don't worry about speed controlling as it comes with two-speed settings. The saw includes a 14/14inch heavy-duty stand to support your work.
The only demerits this tool has is this is not a budget product. But It is certainly worth the money very well.
[i2pc][i2pros]• Sturdy construction
• Rigid-quality frame
• Easy blade changing mechanism
• Excellent speed control
• Effective dust collection
• Easy to use
• Versatility[/i2pros][i2cons]• A bit pricy compare to other tools in this list • May face difficulty to install the riser kit [/i2cons][/i2pc]
Bandsaw Buying Guide
Construction
Since you are going to invest in a bandsaw, so make sure to check its built quality. Usually, high-quality bandsaws are equipped with aluminum or cast iron, or steel. The quality of the material also denotes the durability of the band saw.
Moreover, you'll see two categories of the band saw based on their construction. One type is the Benchtop band saw which is mounted on the benchtop. They are compact that accommodate the smaller blade.
Another category is the Floor standing band saw that comes with a stand. They are larger so they can put up a larger blade. These categories of band saws can cut thicker materials.
Motor Power
How much the tool can support the material is depends on its motor power. In general, most band saws are powered by ¾ HP or a 1HP motor. If you are looking for the best band saw for re-sawing then 1 ½ HP motor is enough. Apart from that, the band saw with a 2HP motor is useful to prevent binding.
Blade
The most important thing to consider like other power tools. The performance of any band saw depends on its blade quality. Generally, band saw blades are made with a thin band of steel. It has grounded teeth on two ends which are linked together into a loop.
You need to check the blade thickness, width, and teeth per inch (TPI).
The blade's thickness depends on the dimension. For a 14inch band saw, blade thickness is about 0.025inch. The blade thickness should be sufficient enough to handle wheel forcing.
You should choose the widest blade for ripping lumber and cutting lines. Or else, choose the smallest blade (1/8") for cutting shapes and curves.
The blade used for ripping has fewer TPI, so they work faster but provides a rugged result. Likewise, the cutting blade features more TPI, but they work slower yet provides a cleaner result.
Band Saw Frame
The frame supports the band saw, so you need to check this. Never compromise with a cheap frame. You'll find three types of frame; cast iron, welded steel, and die-cast. Among all cast-iron frames is the most reliable and sturdy option.
Band Saw Wheels
The wheel size impact the performance of a band saw. Experts say that the bigger the wheel size, the better the band saw. As smaller wheels tend to bend they work inferior.
Dust Collector
Since your band saw will be a different type of material, dust will undoubtedly come. That's why you should check whether the band saw comes with a dust port. The most built-in dust collector can collect dust easily.
Bevel Capacity
This feature enables the band saw to tilt to make bevel cuts. Usually, most bands allow tilt to the right up to 45o, some offer tilt to the left up to 10o. After cutting angles, it gets back to the square after adjusting back. So, check the bevel capacity with an easy adjustment feature.
Tension Screw and Indicator
The band works under a certain degree of tension, which depends on the blade width. The tension adjustment is made using a threaded screw that moves the wheel up and down. If the tension is too high, then the blade may break. Or if it is too low, then the blade will not cut straight. You'll find a tension indicator that shows whether it is too high or too low. So check them carefully.
Band Saw Table
You should consider a band saw table if you are working on a big project. The table is linked to the frame with two trunnions (semicircular metal pieces). You can enhance the size of the table according to your workpiece. Usually found table size is 14/14″ which you can enlarge up to 31/31″. It gives you more work to work with ease.
Price
Finally, the price should be your priority as you're looking for the best budget bandsaw. Compare the cost of your selected band saw with others. Also, compare it with your needs. Like, if you use a band occasionally saw then don't spend a lot of money. Look for an easy-to-use and affordable option.
Frequently Asked Questions
Q: What is the best bandsaw for the money?
WEN 3962 is the best bandsaw for the money considering both features and price. It gives great value for the money. It is a well-built band saw and delivers great performance at a very cheap price.
Q: What is the best 14-inch band saw?
JET JWBS-14DXPRO 14-Inch Deluxe is the best 14-inch band saw for its superior performance and quality. Also, the bandsaw is less expensive than most of the bandsaw of this quality.
Q: Which one is a better band saw or table saw?
A: Although both tables saw and band saw van makes similar cuts, you cannot compare them. The table saws can make cleaner cuts than a band saw. But the band saw is more versatile than a table saw as it can cut a variety of materials. So, they both are better at their work.
Q: Can I cut metals with a band saw?
A: Indeed, you can. Only you need a sturdy blade installed inside. Most band saws can easily cut metal, whereas some band saws can cut non-ferrous metal only.
Q: How to measure the size of a band saw?
A: To measure the size, take measurements from the band saw blade to the throat. It means your band saw can handle slightly smaller pieces of wood than this measurement.
Q: Do I need a specific band saw to cut meat?
A: Yes. You can cut meat using a meat band saw. These types of band saws are designed to cut thicker bones and all kinds of meat. You only need to save your fingers from the blade.
Q: What safety precautions should I follow while using a band saw?
A: Although the band saw comes with built-in safety features, you should be careful. You can wear an eye mask, dust mask, and ear defenders. Make sure to keep the guard in place and avoid using loose clothes. Most importantly, keep your fingers safe from the blade.
Q: What Is A Band Saw Used For?
Band saws are essential tools for the workshop, as they are versatile and robust. A single machine allows you to do a variety of projects. It can cut through plastic, composite, non-ferrous metal, and a range of materials. This tool lets you do the work you often do with your table saw. You need a band saw if your project requires delicate or intricate cuts. It allows you to cut shapes, curves, or angles on any thickness of the wood.
Another most common use of a table saw is ripping wood. These tools are capable of cutting any depth of woods that many others saw cannot reach. You can also do design work in larger wood pieces. People use the band saw to create home décor items, including a picture frame, wooden toys, boxes, and so on.
Q: How To Use A Band Saw?
Using a band saw is a very easy process. Just need to follow the steps carefully.
Step 1: First, You need to clean the power tool and the saw. you might be thinking it is a very obvious and silly thing. but let me tell you that working with a clean and fresh saw makes a huge difference to make a good cut.
Step 2:Many people use the same blade for different types of jobs. This is not a good way to work. You should work with the appropriate size of the blade that is perfect for an individual material.
Step 3:Then, you need to rise the blade tension to the appropriate level before starting working. It will make a big difference to make a good cut.
Step 4: Now, You need to make sure that the blade guides stay close to the blade. it will help you to make a good cut. The blade guides are the smallholder which keeps the blade in the perfect position to cut.
Step 5: The blade guard should stay close to the wood at the time of making a cut. because a big exposed blade running to make a small cut is not safe and ideal.S the blade guard should stay at an appropriate position.
Step 6: After following the proper band saw setup guideline, finally plugged in and make the cut. Do not keep the tool plugged in when you are not making a cut. it is helpful for cleaning and changing the blade.
Step 7: After finishing the job unplug the tool and release the blade tension.
Step 8: Now clean the tool by removing the sawdust and wood. It will make the tool ready for the next project.
Q: What Are the Types of Band Saw?
You'll find different types of band saw available in the market. Shapes and sizes differ. Here we'll discuss some of them so you can understand which one to choose.
Metal Band Saw
Like the name says, these band saw are used for cutting sturdy metal. According to their functionality, metal band saws come in two categories. One is
Horizontal band saw
which is typically floor mounted. It is used to cut small steel, odd shape materials, stock down to size.
Vertical metal band saw:
Other is a vertical metal band saw that has a vertically positioned blade. This band saw is used for intricate jobs like polishing, filling, and curve cutting.
Wood Band saw
The wood bandsaw is dedicated to cutting woods. These are mostly used in workshop and timber mills for ripping lumber and timber. The wood bandsaw comes in three subcategories.
One is a head saw band that is used for initial cutting in a log in the sawmill. It can make a profound impact on timber with its 2 to 3inches of tooth space.
The re-saw band saw is another large bandsaw that can cut the stock into smaller pieces. With excellent speed, these band saws can cut up to 100ft of wood per minute.
Double band saw:
The final one is a Double band saw that has a double blade on both sides. The size of this band saw is similar to the head saw. It allows cutting woods, metal, and plastic with ease.
Meat Band Saw
Meat band saw brings a revolution in the band saw industry. The functionality of band saws is not limited to any materials anymore. These stainless steel band saws are used for cutting and curving any meats. It can make perfect cuts in steak and lamb. Also, these saws are tough enough to deal with thicker bones. But these band saw has the maximum possibility of injuries compared to others.
Portable Band Saw
These types of band saws are used for wood cutting in different locations. It allows curved lines, straight edge cuts, and irregular shapes. Apart from the woods, it can be used for cutting metal and pipes correctly.
Final Recommendation
Now you are well aware of the bandsaw and its features. You have also gone through our best band saw reviews. Whichever you choose from the list, it will definitely be your best experience. You only need to understand your need job requirements.
Finally, why do you need the best band saw for the money? Because you want the best product at a reasonable price.
Here, Grizzly G0555LX is the premium tool. Rikon 10-305 is a good tool but the motor is underpowered. For us, WEN 3962 is the winner for proving the best value considering both features and price.WEN 3959 and SKIL 3386-01 both are good options for light and small projects.
Related Articles:
What are the best-wet tile saws under $300?
Best air reciprocating saws review
Resources:
Last Updated on January 22, 2022 by John G. Anderson