Name
Top Pick
SKILSAW SPT70WM-22 10-1/4 In. Magnesium SAWSQUATCH Worm...
Most Premium
Makita 5104 10-1/4" Circular Saw, with Electric Brake
Best for money
Makita HS0600 10-1/4" Circular Saw
Good Value
MILWAUKEE'S Circular Saw, 10-1/4 in. Blade, 5200 rpm, Red...
Great Quality
Big Foot Tools SC-1025SU BF-UG 10-1/4-Inch Wormdrive...
Image





Top Pick
Name
SKILSAW SPT70WM-22 10-1/4 In. Magnesium SAWSQUATCH Worm...
Image

Most Premium
Name
Makita 5104 10-1/4" Circular Saw, with Electric Brake
Image

Best for money
Name
Makita HS0600 10-1/4" Circular Saw
Image

Good Value
Name
MILWAUKEE'S Circular Saw, 10-1/4 in. Blade, 5200 rpm, Red...
Image

Great Quality
Name
Big Foot Tools SC-1025SU BF-UG 10-1/4-Inch Wormdrive...
Image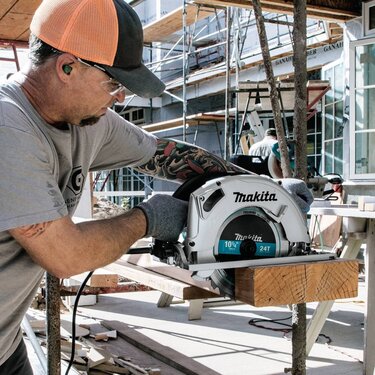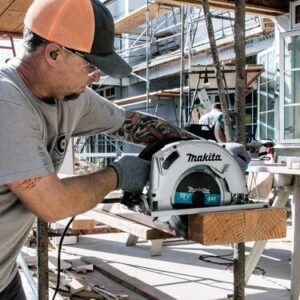 It's great fun to have the deeper cuts in thick lumbers or materials for any job sites or DIY projects in a single pass. Isn't it? We believe that you won't be different from us on this matter. Will you? All the carpenters or woodworkers of different job sites or DIY projects prefer to cut in a single pass without turning the materials.
The question peeping into your mind that how can you do this quickly? You can make the deep cuts in a single pass with a 10 1/4 in. circular beam saw. So this is our little endeavor to make the best 10 Inch circular saw review to help you find the best one for your projects.
Top 5 10 1/4 Circular Saw At A Glance
5 Best 10 1/4 Circular Saw Reviews
Skilsaw SPT70WM-22 in. Magnesium Sawsquatch Worm Drive Circular Saw -Top Pick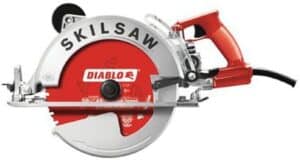 You can increase your capacity of working in the workplace with the Skilsaw SPT70WM-22 worm drive circular saw. Do you need deep cuts in LVL, PSL, Glulam, or pine to use the lumbers for beams, edge-framing, headers or posts, etc.? You can select the Skilsaw sasquatch worm drive saw to have the deep clean cut of 4″ with the 10—1/4″ circular saw blades. You will get the quicker cuts in 4x lumber in a single pass with these blades.
Specially Designed Blade
The SPT70WM-22 10-1/4 in. circular saw uses Diablo blades specially designed for worm drive. These blades can cut 4x headers, beams, 2x sandwiched headers efficiently with one pass. The Tico Hi-density carbide used in the blades ensures extended cutting life than other blades. Besides, the Perma-SHIELD nonstick coating lessens the drag to defend against heat, rust, and friction. Also, you can use the blades for thinner kerf to make clean cuts.
Worm-drive
The Sasquatch is well known for its worm drive. In a worm five circular saw, the motor remains in the back of the blade. As a result, the saw gets a narrow profile due to the distance between the handle and the blade. Cutting in a confined space will be more effortless with the improved torque in the motor of a worm drive circular saw.
Dual-field motor
This Skilsaw 10 ¼ sasquatch is enriched with a dual field motor that provides power to the worm drive. This 15 amp dual field motor keeps itself cool by protecting heat. So, you need not be worried about the overheating of the motor of the SPT70WM-22 circular saw. The increased torque of the motor provides power to the large blades. As a result, larger cuts become very smooth.
Saw materials
The construction of foot and gear housing of the SPT70WM-22 Skilsaw has been made with magnesium that prolongs the saw's durability.
Pros
Versatility in cuts with bevels.
Lightweight
Durability with a magnesium body
Powerful cutting due to much torque
Comfortable grip.
Cons
The blades may wobble a bit.
Many find the cord a little short.
Makita 5104 14 Amp 10-1/4 in. Circular saw-Premium Choice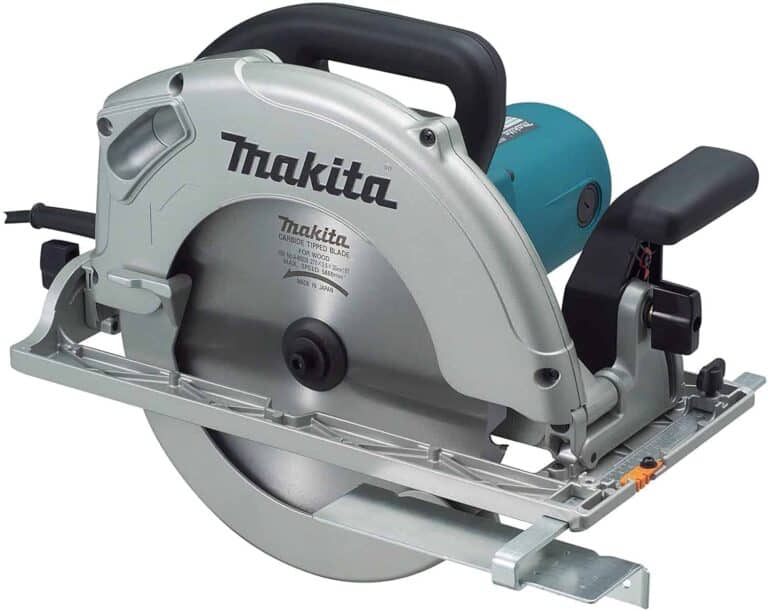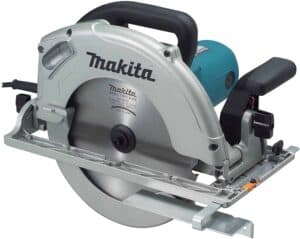 Makita 5104 circular saw is a side Winder Drive circular saw. With  90° angles, it can make a deep cut of 3 ¾ inches. Again, it can go in-depth of 2 ¾ inches with an angle of 45°. With a single pass, the saw is also capable of cutting 4x materials.
Motor
This Makita 5104 has a robust 14Amp motor situated on the left of the blade with 3800RPMs. It has decent power to cut beams, timber, and everyday wood projects. You will get an accurate, smooth cutting performance with its ball and needle design that enables less friction.
Electric brake
The inclusive electronic brake protects the user from any sudden injury. The electric brake stops the brake's spin within 2 seconds that is very quickly than other usual circular saw. It also has a lock-off button to reduce accidents.
Adjustable top guide
The adjustable top guide in the Makita 10 ¼ circular saw enables the alignment of notches with cutting lines. This alignment will assist you in getting the accuracy in cutting.
Besides, you will find the blade wrench attached to the saw for the rapid change of blade. You will have a convenient feel with the flat motor housing design.
Pros
Better control with three handles.
Saw-dust ejection port.
Electric brake for safer use.
Attached blade wrench for quick blade change.
Lightweight and well-balanced
Cons
Less effective in confined spaces.
Little expensive.
Makita HS0600 10-1/4″ Circular Saw-Best Budget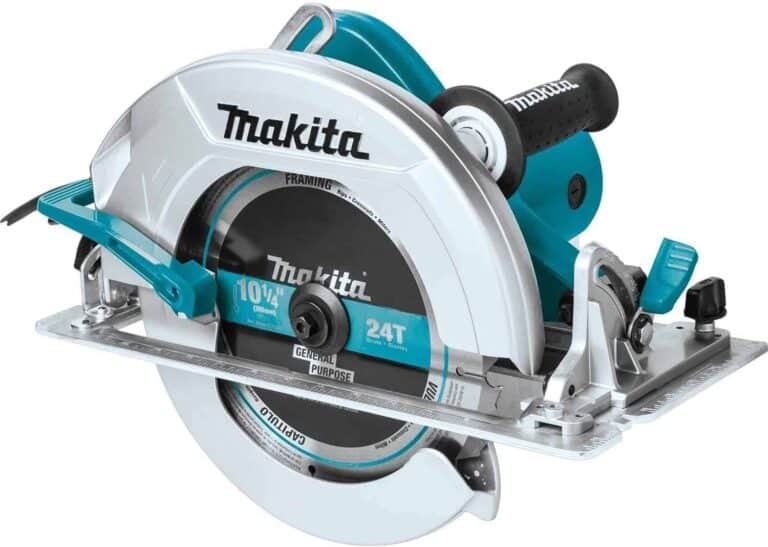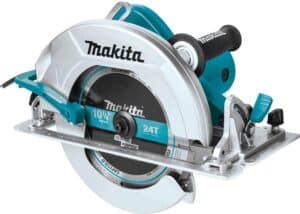 If you want the best budget-friendly tool, Makita HS0600 can be your best option. It is another superb addition of Makita after the Makita 5104 Model. Makita HS0600 is also a perfect circular saw for cutting the thick materials in a single pass like other 10-1/4″ circular saws.
Cutting capacity
Makita HS0600 is one of the best sidewinder circular saws that includes blades with a tungsten carbide tip. With this 10-1/4″ 24 teeth carbide-tipped blade, you will get the real cuts in your materials, and the blades last longer. It won't disappoint you with its cutting capacity. You will have the cut in the depth of 3 13/16 inches at 90° and 2 11/16 inches at 45°.
Dual bevel support
Don't you want some extra rigidity in your cuts? This Makita HS0600 will provide extra rigidity with its dual bevel. The saw has dual bevel supports in front and rear that help to get precision and bevel cuts.
Motor
The motor used in the Makita HS0600 circular saw has a powerful motor of 15 amp with 4300 rpm. The motor produces more air to cool itself, protects the saw from being overheated. It has the power to cut timber, composite wood, beams for your projects, or job sites.
Pros
Much comfort control with front and top handles.
Prevention of accidental start-up with the lock-off button.
More stability with Aluminum base
Flat motor housing.
Ergonomic rubber grip to absorb vibration.
Bevel adjustment with rubberized levers
Cons
The front handle is uncomfortable for some people.
Safety switch may be an issue when you are working with gloves on your hand.
Milwaukee 6470-21 10-1/4 in. Circular saw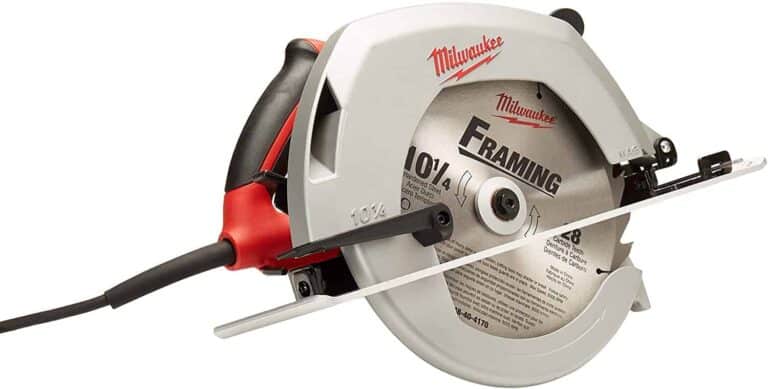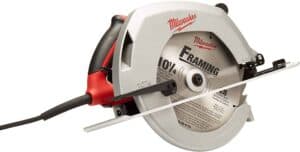 Milwaukee 6470-21 circular saw has a reputation for the power and design it poses. Like Makita HS0600, it can also reach in 3 13/16 inches deep at 90°. This tremendous saw also can drive 2 3/4 inches deep cut at 45°. It may be quite helpful for both professionals and DIY workers.
Motor
You can cut through nearly any 4x materials like roof rafters, beams or trusses, etc. with the powerful 15 amp motor with 5200 rpm. The saw moves faster without any bogging down even in the time of cutting the most rigid materials.
Blade
The arbor of the blade is 5/8″ and can cut 4″ in-depth materials in a single pass. The 60° bevel on this circular saw can cut through challenging areas straightaway. Also, the electric brake in the saw can immediately stop the blade after releasing the trigger.
Comfortable Grip
The Milwaukee 10 ¼ circular saw has a cushioned grip that is comfortable for the users. It will reduce your tiredness with better control during the cutting of the materials. You can handle the saw without any uneasiness.
Pros
Suitable for heavy-duty works.
More durable due to aircraft aluminium shoe
Steel case included.
Excellent design
Superb cutting speed in thick stock.
five years warranty
Cons
It is quite heavy for some users.
Big Foot Tools BF-UG 10-1/4-Inch Worm drive Magnesium Circular Saw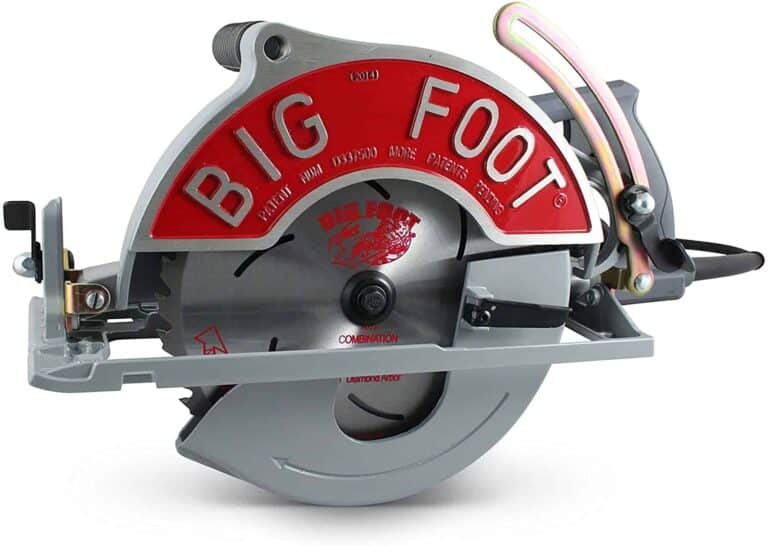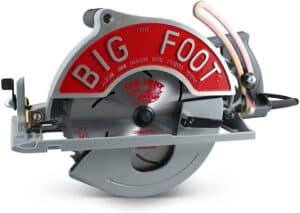 A professional framer with the experience of nearly three decades designed the first Big Foot worm drive saw to perfectly cut timbers and 4x or 2x posts in a single cut. Today, the tools have become more improved with some professional tradesmen's help to get the cuts in one pass.
Big Foot blade:
The 36 carbide-tipped teeth blades for general-purpose have a balance of durability and ruggedness. Usually, the blades are made with carbon steel and heat-treated. With the best carbide teeth, you can prevent blade flex. As a result, it ensures you clean, even, and controlled cuts. Cutting of 4x and  2x sandwich headers, different beams, etc. in a single pass is very smooth with the Big Foot 10-1/4 worm drive circular saw.
Worm drive
You will be amazed by the power of the Big Foot 10-1/4″ circular saw. You will get enough power to cut your required materials with the worm drive gear. Besides, with the worm drive gear, the cutting line is more visible than the sidewinders. The cutting of wet materials is flexible with a worm drive for its torque strength.
Lightweight Design
The weight of a power tool matters a lot in a long time working hours. It creates fatigue for users. Considering the fact, Big Foot designed 10-1/4″ worm drive saw comparatively lighter than other saws. The saw has been designed with Aluminum and magnesium. As a result, it becomes more lightweight and stable.
Pros
Powerful motor with more torque.
Useful for heavy timbers
Excellent performance without bogged down.
Hidden nails or knots in old wood can't make the saw slow down.
Comfortable weight with durability.
Cons
The design of the upper guard of the saw is poor.
We have reviewed the best circular saw blades.Check it.
Buying Guide
The 10 inches circular saw is immensely crucial for heavy-duty workers, including job site professionals and DIY users, when they need to cut 4x or 2x materials in a single pass. So, it's very urgent to buy the best one to fulfill their requirements for an extended period. It would be best if you considered some facts before you are ready to make a buy.
Sidewinders vs. Worm drive
You will see most of the 10-1/4 inches circular saws in two styles: sidewinders and worm-drive. Sidewinders are comparatively more well-known to all the saw users. Usually, The blade is on the right side of the handle. The sidewinders are more inexpensive than the worm drive. The blades in the sidewinders spin faster than the worm drive. If you are a home user of the saw, the sidewinder is suitable for you.
On the contrary, the handle of the worm drive is located parallel to the blade. So, the blade remains on the left. The drive requires a gear system to spin the blade effectively. Sidewinders have less torque than worm drives. Generally, Worm-drives are preferable for heavy-duty work.
Motor's Power
Usually, it requires more cutting power of the motor to cut through the thick lumbers or other materials. It would help if you had a higher amperage in the motor to have more cutting power. Moreover, 15 amps motor is standard for the 10″ circular saw, but you can also buy the saw with 14 amps motor.
Ergonomics
Before buying a 10-1/4″ circular saw, you should observe the comfortability and the weight of the saw. Check whether the handle fits your hand or not? Select the saws that are not so hefty. A heavy saw may loosen your strength of body. So, you won't be able to work due to fatigue in the muscles.
The handle should be well shaped to be fitted in hands. Besides, a well-balanced body of the saw will enrich your working experience with comfort. So, you should take into account these features when choosing a 10-1/4 circular saw.
Cutting visibility
You need to keep an eye on the cutting line of the saw. With the worm drive, cutting visibility is more transparent as the motor is positioned rear of the blade. With the blades being on the left side, the cutting visibility is more accurate. On the other hand, the cutting visibility in a sidewinder is relatively less accurate for right-handed users. So, buy saws according to your needs.
Supplementary Features
If you want to have long-term contentment with your circular saw, you shouldn't overlook these features:
Cast magnesium foot of the saw than the steel one.
A handy power brake to stop sudden injury.
A blade lock-off system to prevent the start of the blades.
Frequently Asked Question
Q: How deep does a 10-inch circular saw cut?
Ans: Usually, you can go a bit over 3″ deep with your 10″ circular saw. Again, some corded 10″ circular saw can cut up to 3-11/16 inches deep in a single pass.
Final Recommendation
Throughout the review, we have tried to explain all the necessary features that a high-quality 10-inch circular saw should have. Our top pick is Skilsaw SPT70WM-22 considering all the facts. It has all the advanced features at an affordable price. Makita 5104 is the most premium tool on the list. And finally, Makita HS0600 is the best budget tool by considering both price and quality. The other saws are also good enough to choose from. So, click your mind to start the button of decision-making considering the facts that will fill your requirements.
Related Review:
What are the best 7 1/4 inch circular saw blade
Additional resource:
https://www.makitatools.com/products/details/5104
Last Updated on January 22, 2022 by John G. Anderson