Title
top pick
Diablo D1080N Non-Ferrous Metal & Plastic Cutting Saw Blade
premium choice
Freud LU94M010: 10" Plastic Blade
best budget
Concord Blades ACB0725T040HP 7 1/4" 40 Teeth TCT Non-Ferrous...
best jigsaw blade
Diablo by Freud DJT102BF5 3-5/8 in. 13 TPI Bi-Metal T-Shank...
BOSCH T101A 5 pieces 4 In. 14 TPI Special For Plexiglas...
Image





top pick
Title
Diablo D1080N Non-Ferrous Metal & Plastic Cutting Saw Blade
Image

premium choice
Title
Freud LU94M010: 10" Plastic Blade
Image

best budget
Title
Concord Blades ACB0725T040HP 7 1/4" 40 Teeth TCT Non-Ferrous...
Image

best jigsaw blade
Title
Diablo by Freud DJT102BF5 3-5/8 in. 13 TPI Bi-Metal T-Shank...
Image

Title
BOSCH T101A 5 pieces 4 In. 14 TPI Special For Plexiglas...
Image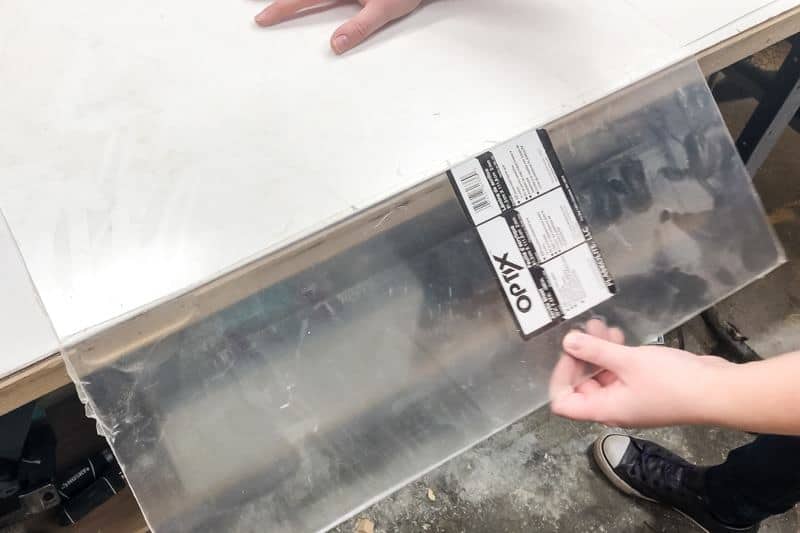 In case you did not know, Plexiglass is a glasslike, cost-effective, and shatterproof material used in place of glass. It displays incredible sturdiness and translucence, durability, and versatility for everyday applications.
Plexiglass's long list of uses includes home improvement, sports, submarines, medical industries, and many others. In terms of safety and convenience, plexiglass rates are higher than glass. We can't help but appreciate the discovery of this amazing thermoplastic material.
Cutting Plexiglass is easy, and if you are attempting it for the first time, you don't need to feel intimidated. With the correct set of tools and proper planning, you will discover that the energy you employ to cut Plexiglass is a nominal price for the amazingly flexible and durable properties it offers you.
What Type of Blade is Ideal For Cutting Plexiglass
For straight cuts, circular saw blades will do justice. The blades should have 80 teeth with Carbide tips and of the largest diameter possible. Ensure that the teeth have a shape of 5 to 10 degrees and the rake angle should be positive. See also that the cutting edges are sharp and provide for sufficient waste material clearance.
If you want precise angles and curves on plexiglass sheets, a jigsaw having fine blades will sort you. You may consider acquiring exclusive plexiglass blades which are available in the market. That may cost you extra bucks but will give you smooth and unsplintered edges.
Plexiglass has a low resistance to heat and can melt quickly. You, therefore, have to cut slowly and steadily to avoid heat build-up. Remember also to leave the protective cover to minimize marks left behind by the saw's foot.
6 Best Blade For Cutting Plexiglass Review
1.Freud Plexiglass and Plastic 10 Inches 80 Tooth Sawblade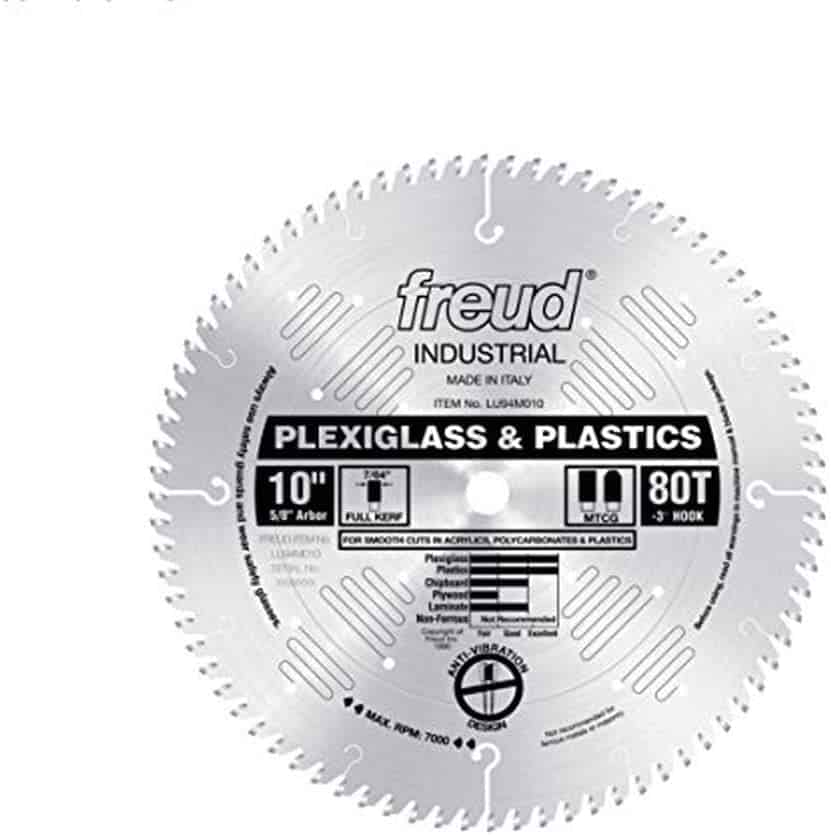 Freud's LU94M010 features first on our list. Freud is known for producing and marketing high-quality carbide tools for the wood craftsmanship industry.
The 10″ circular blade has 80 teeth whose tips construction are from Titanium cobalt high concentration carbide. That guarantees you long tooth life, corrosion, and wear resistance as it cuts through hard surfaces and plastics. Its formulation is to extend tooth life in the face of working with plastics and solid surfaces.
The blade's unique grind( MTCG) teeth configuration keeps the blade's surface cool as you cut to prevent materials from melting, resulting in smooth and crisp edges. The 10.5 pounds blade teeth come with negated hook angles that control the blade from excessive aggressiveness and cuts down the probability of splintering.
This multi-color Freud blade is exclusively made to maximize performance while making plexiglass or plastic cuts ranging between ¼ to 1-5/8″ thickness. Other materials you can cut using this blade include laminates and plywood.
You may notice surface corrosion if used outside the recommended range.
This blade has a solid plate with laser cuts to eliminate vibration and splintering for pristine finishes, blade durability, and less noise during operation. It is also well balanced to give you precise cuts without the need to use stabilizers.
The blade's arbor is 5/8″, 0.87 inches plate, and 0.110 kerfs.
The special I.C.E coating resists heat and gumming on the blade. That safeguards the saw keeps the blade from warping, and also protects the work surface.
Features
I.C.E coating prevents gumming and overheating
Laser-cut vents eliminate vibration
Negative hook angles give quality finishes
Unique MTCG teeth design avoid melting for clean edges
2.Diablo Non-Ferrous Metal & Plastic Saw Blade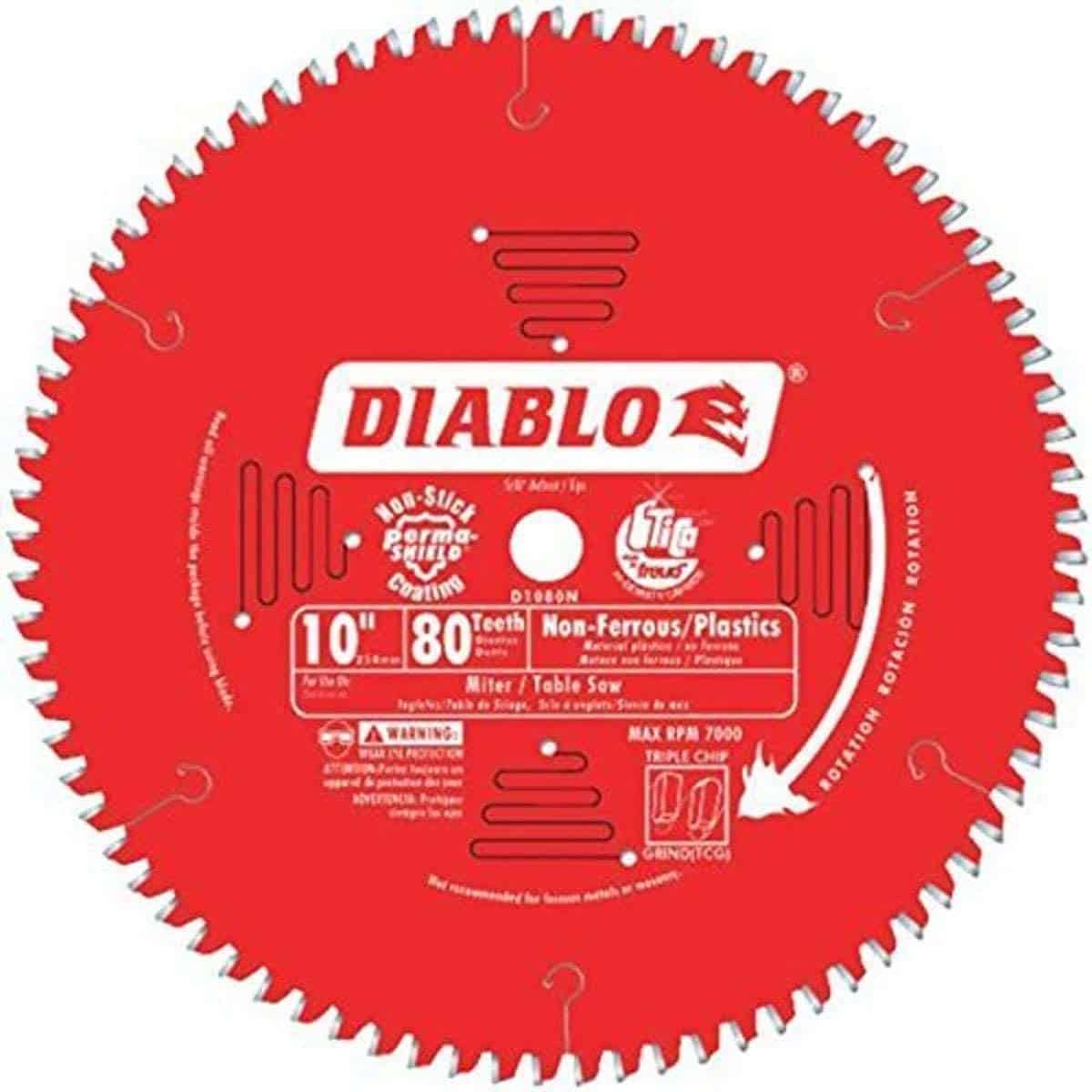 Diablo features among the leading companies known to produce high-end circular blades.
The 1.45 pounds Diablo blade is for tackling plastic materials, especially ( acrylic) and non-ferrous metal cuts.
This 0.2 by 12 by 14″multi-color saw blade craftsmanship is from impact-resistant carbide material. Its rugged teeth will not wear or dull quickly as they are secured by the (TiCo )Hi- dense carbide formulation. They can remain sharp up to 4 times more than the regular carbide blades.
The blade features a protective nonstick Perma shield coat. It provides thermal insulation and makes it corrosion-free.
The laser-cut stabilizing slots catch noise and control vibration, maintaining the blade cool and eliminating blade warping chances. They allow for blade expansion keeping your cuts precise.
The 10 inches diameter Diablo blade has 80 (TCG) sharp teeth that cut clean and accurately. These will stand for long and intensive use.
This blade's teeth are a 0.094″ kerf and laser vents that allow easy feeding giving you more blade control. This way, you realize maximum accuracy and efficiency for an excellent job in the shortest time.
We find the most outstanding feature of Diablo is the versatility it displays. It can fit many circular saws like miters and sliding saws.
Features
Laser vents trap noise and eliminate vibration
High-density carbide teeth for sharpness and accuracy
Perm shield no-stick protection
TCG teeth for clean un-splintered cutting
3.Concord ACB0725T040HP TCT Non-Ferrous Saw Blade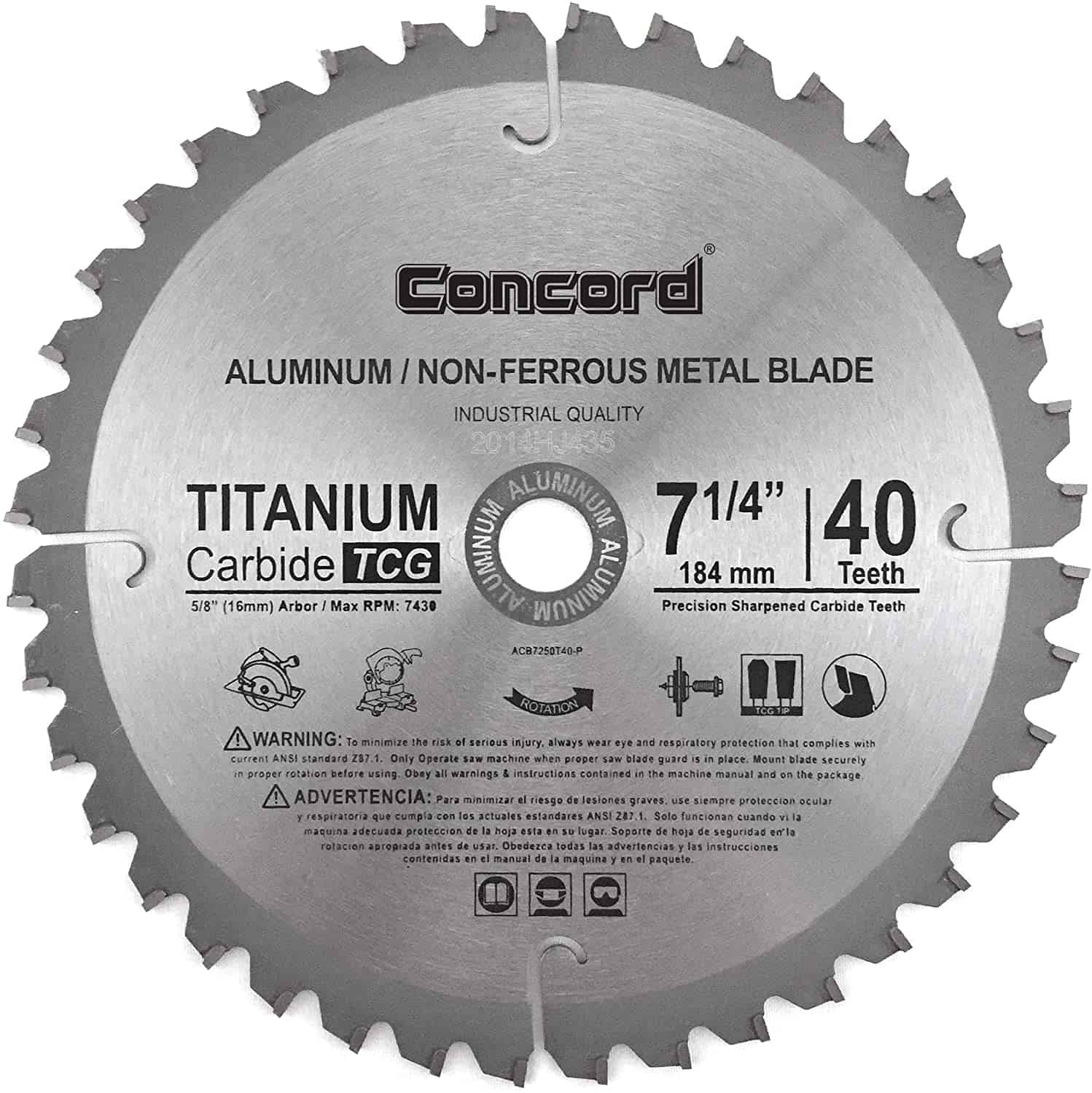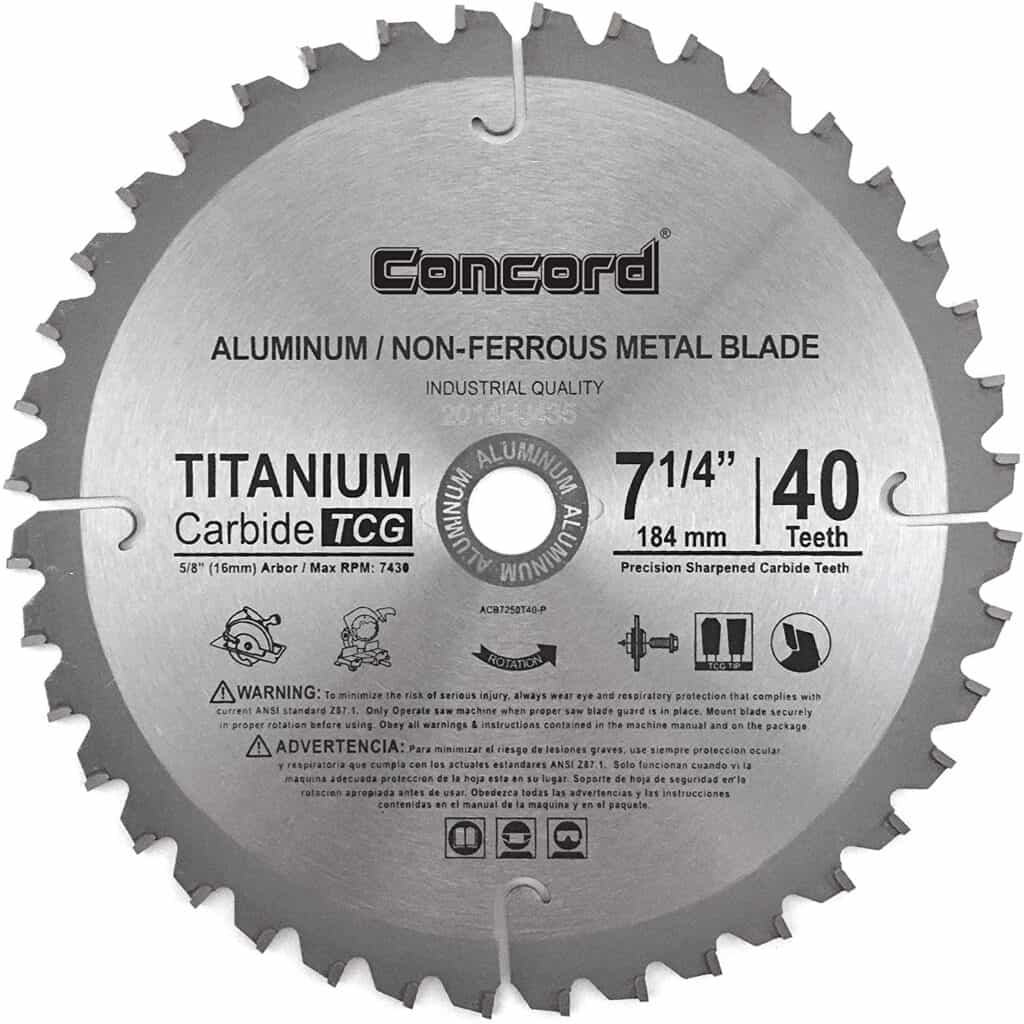 The Concord's non-ferrous seven ¼" saw blade presents you with irresistible features to make cutting a straightforward affair.
This 40 teeth TCG grind saw blade is specially made to easily slice through aluminum, plastics, fiberglass, and non-ferrous metals.
This 7.25 by0.3 by7.25″ tough titanium carbide saw blade is sharp. A combination of its 2.4mm kerf, the TCG grind, and 50 give a super fine finish.
Concords 11.5 pounds circular saw is usable with a miter saw and table saw.
It's 2.4 mm kerf configuration, the TCG grind, and a -50hook together provide easy and quick clearance of debris.
Features
TCG grind permits easy cutting of non-ferrous metals
Solid build with sharp teeth
4.Diablo 3-5/8″Bi-Metal Jig Saw for Plexiglass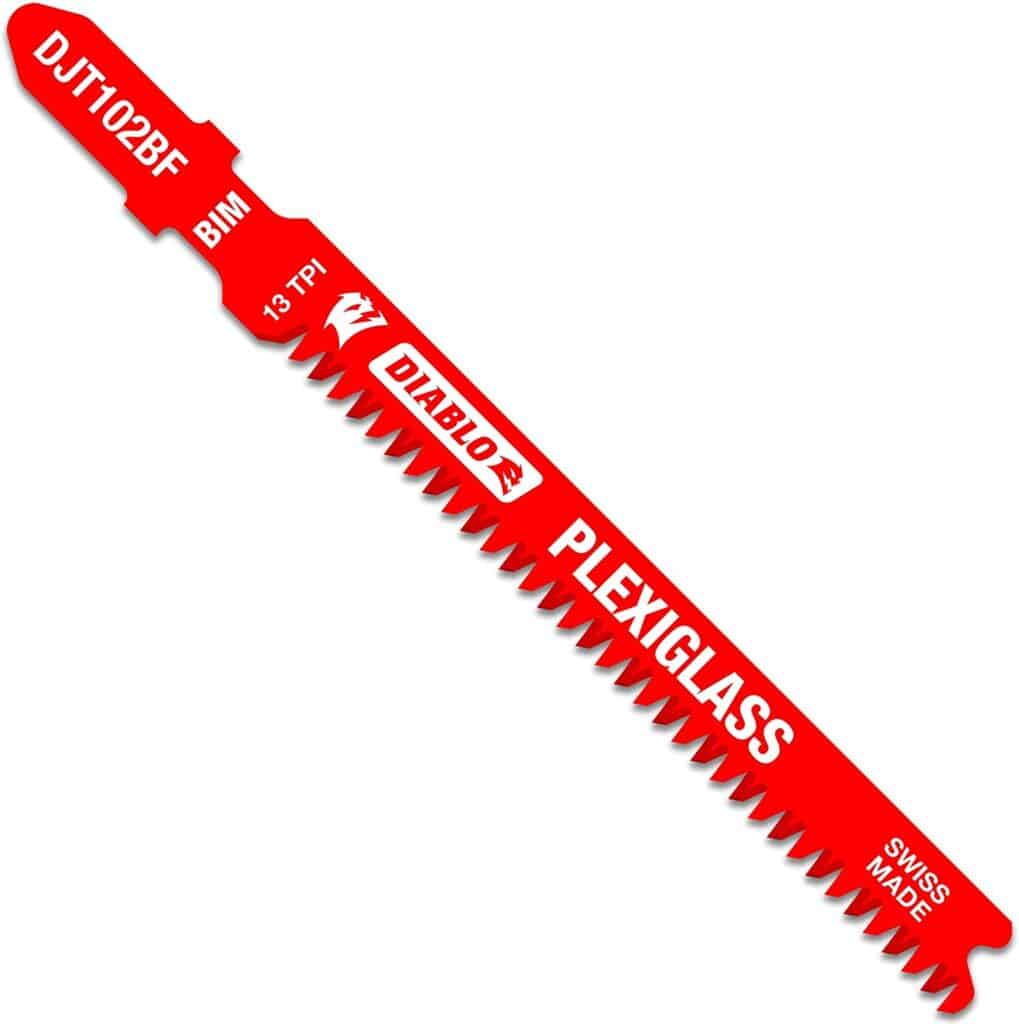 Diablo features a second time on our list. If you are searching for a durable and cost-friendly jigsaw blade for making smooth curved cuts on Plexiglass, Diablo got you sorted. The Diablo Bi-metal blade cut edge is ultra-hard up to 5times longer than typical blades. If you want to make straight cuts, this is not the type of blade.
This 0.07 pounds jigsaw blade is improved to make the best out of it. The blade configuration helps in reducing overheating to make melt-free cuts on your materials.
The Diablo 5pack 13 T.P.I. jigsaw blade features a PERMA SHIELD non-adhesive coating to reduce friction, preventing heat-build-up. You definitely can't stand the sight of a marred and deformed material.
Its T-shank configuration suits U-shank and combo jigsaws. You can expect to see a maximum performance with this Diablo jigsaw, both with jigsaws with and without cords.
Features
Teeth designed to last long
Ultra hardened edges deliver maximum performance
Improved design and Permashield reduce heating formelt free cuts
T –shank configuration fits corded and uncorded jigsaws.
5.BOSCH 5 pieces 14 TPI Plexiglas Jig Saw Blades

If your current project involves cutting Plexiglass, Bosch presents you with this amazing jigsaw to make your work very easy. The 14 T.P.I. reasonably priced jigsaw employs an aggressive teeth configuration to give you fast, smooth and precise edges on plexiglass sheets with a thickness of 5/64″ to 3/4″ and Aluminum materials measuring 5/64″ to 3/8″ as well as non-ferrous metals.
BOSCH 0.05 pounds jigsaw blades feature an H.S.S. (high-speed steel) built for strength and long life.
It comes in 5 pieces per pack hence reducing downtime and maximum productivity. Remember to use some cooling fluid anytime when cutting metal. That will help you increase its lifespan and also significantly reduce wear.
It comes with a T-shank which implies that it is universal, but you cannot operate it on a U-shank jigsaw.
Features
Made from High-speed steel for longevity
14 teeth per inch for clear and precise cuts
Ground teeth for more fine cuts
F.A.Q.:
DoI need a special blade for cuttingPlexiglass?
You need sharp teethed carbide-tipped saw blades for best cuts and longer life of the cut edges. Set aside blades for cutting Plexiglass, and do not use them on other materials since they may end up dulling, resulting in low performance. The teeth design need to be the triple chip of which the cut edges are beveled for fast clearance and splintering reduction. The top clearance should be between 10 to 15degrees to minimize friction for less melting.
The recommended blade diameter and teeth configuration is 10 inches diameter, 60 -80 tooth.
Can you cut Plexiglass with a grinder?
Cutting Plexiglass with a grinder is possible, but that will only melt the plastic. The result will be marred and splintered edges. It will cost you more time to smoothen and sand the poorly cut sheets.
What is the best tool to cut Plexiglass?
There are various tools for cutting Plexiglass, but it all depends on the sheet's thickness you want to cut. For thick sheets, power saws will solve the equation conveniently for you.
In this case, a circular saw is best since understanding its use is easy and produces excellent results. Pick a blade depending on the size of the materials at hand.
Can you drill holes in Plexiglass?
Typical drilling bits would chip and cause cracks on Plexiglass. You can, however, alter to make them work with Plexiglass. Modify them by grinding the flats on the cut edges. That would aid the bits to scrape Plexiglass instead of seizing and shattering the material. Alternatively, find specialty boring bits for the safe and neat completion of your project.
Related Articles:
Plexiglass vs fiberglass. What are the differences?
Last Updated on January 23, 2022 by John G. Anderson