Why would you wax your table saw or band saw? Apart from the pretty look, your table saw or band saw gains from waxing, it also becomes easy to clean, avoid a buildup of rust and allow workpieces to glide freely. So we are going to guide you to find the best wax for table saw and band saw to maximize performance and help improve surface finishes.
Some paste wax excels in value for money, some are a little expensive. and we have considered all that in this review. Avoid car wax or any that has silicone and abrasives, as it may get transferred to your wood which may cause issues during finish application.
Follow closely as we get into finer details about table saw and band saw waxes.
Best Wax For Table Saw & Band Saw Review
1.Miniwax 785004444 Wax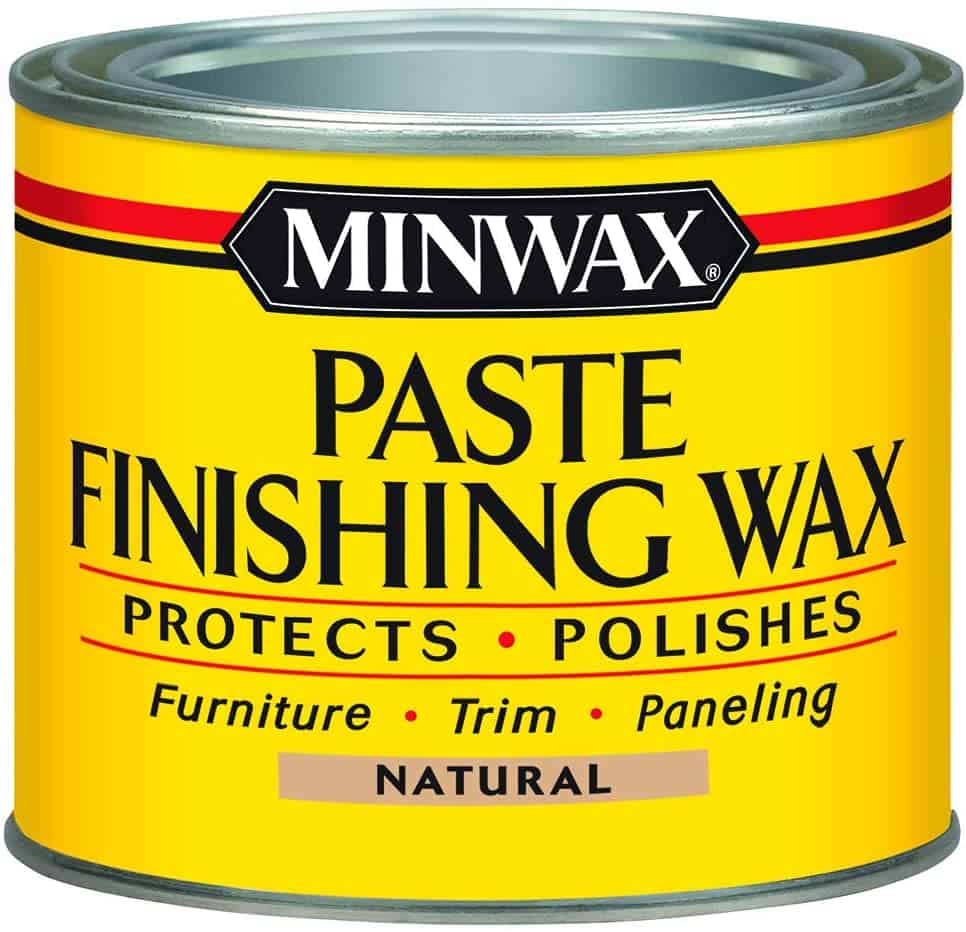 The Minwax 785004444 comes in a natural clear color and is recommended for use on light-toned paints.
Minwax Natural Paste Finishing Wax adds a protective lustrous appearance on surfaces. For best results, use on furniture, woodwork, and antiques that don't require a tough polyurethane coating.
The product is easy to apply, buffs into a great satin finish. Minwax paste is affordable since its prices are fair and you require a little amount for not soo big project.
Scoop a thin film of wax using a bristle brush. Brush it in a circular motion ensuring you cover your surface evenly. Go over it again using a white cloth and then buff it in a short while.
The result is a professional and durable satiny luster finish.
Features
Drip-free
Affordable
Stunning Polish Look to any Wood Surface
Wax safeguards and creates a lustrous look to spotted or finished wooden surfaces
Apply 1 coat over a previous finish, Or 2 cover raw wood
Recommended for furniture, antiques, woodwork, cabinets, doors, paneling, Etc.
It takes 10-15 minutes to dry
Product Details
| | |
| --- | --- |
| Brand | Minwax |
| Can Size | 1lb |
| Stain Type | Interior Stain |
| Coverage Area | (sq m) 10 m² |
2.SC Johnson Paste Wax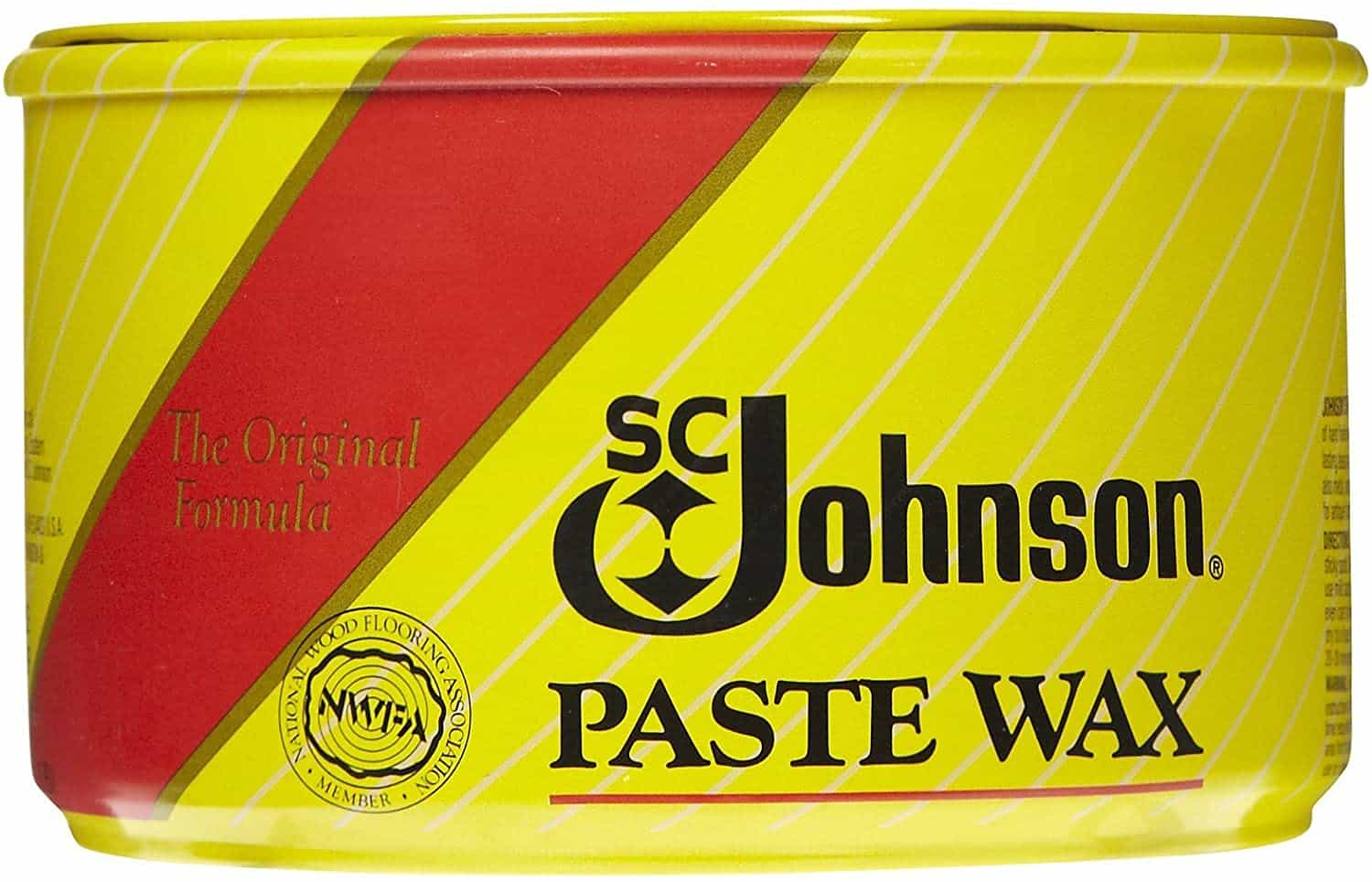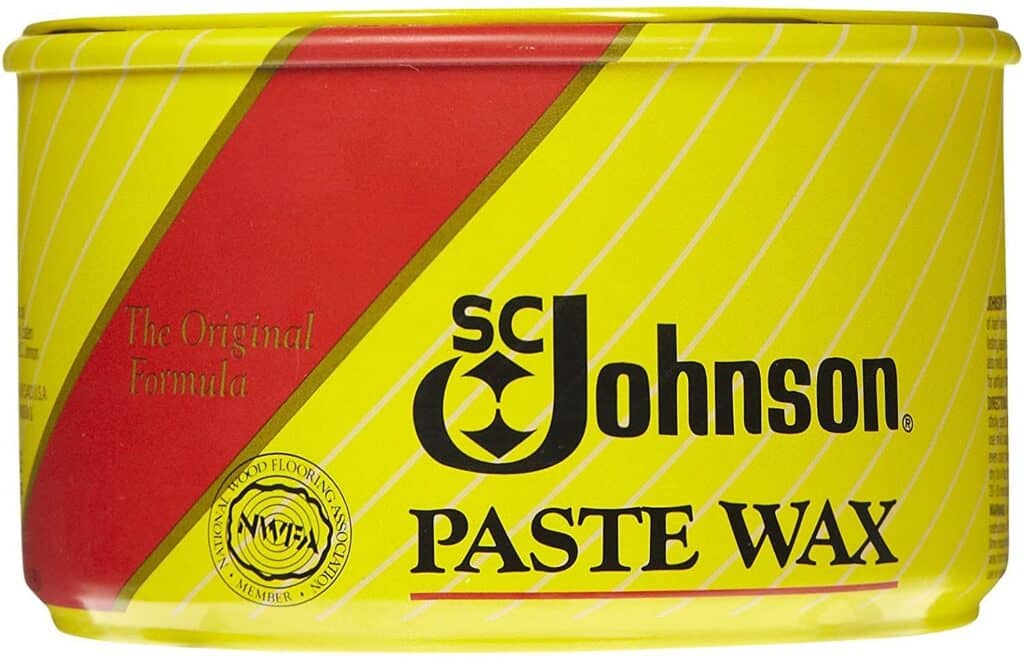 A versatile deep cleaning product for metal and a variety of surfaces including cork, vinyl, staircases, and hardwood floors. It has been used for centuries to produce smooth finishes on woodwork projects.
Johnsons paste comes in a waterless formula suitable for cleaning, removing old wax, and protecting surfaces from buildup. In a single application, the wax produces a nice satiny luster.
Very efficient in protecting metal and other surfaces from scuffing and scratches. Apply a thin and even coating of the wax directly on the surfaces and buff with a soft material.
Key Features
Deep cleans surfaces for a restored and shiny look
Versatile protector
Safe to use on metal, plastic, and other types of surfaces
Gives a rich, lustrous, and long-lasting beauty
Collects old wax and keeps build-up at bay
It is a combination of finishes
Single can carries 16 oz. of the paste wax
Product Details
| | |
| --- | --- |
| Brand | SC Johnson |
| Origin | U.S.A |
| Form | Paste |
| Weight | 1 Pound |
3.Bostik Aerosol Top-Cote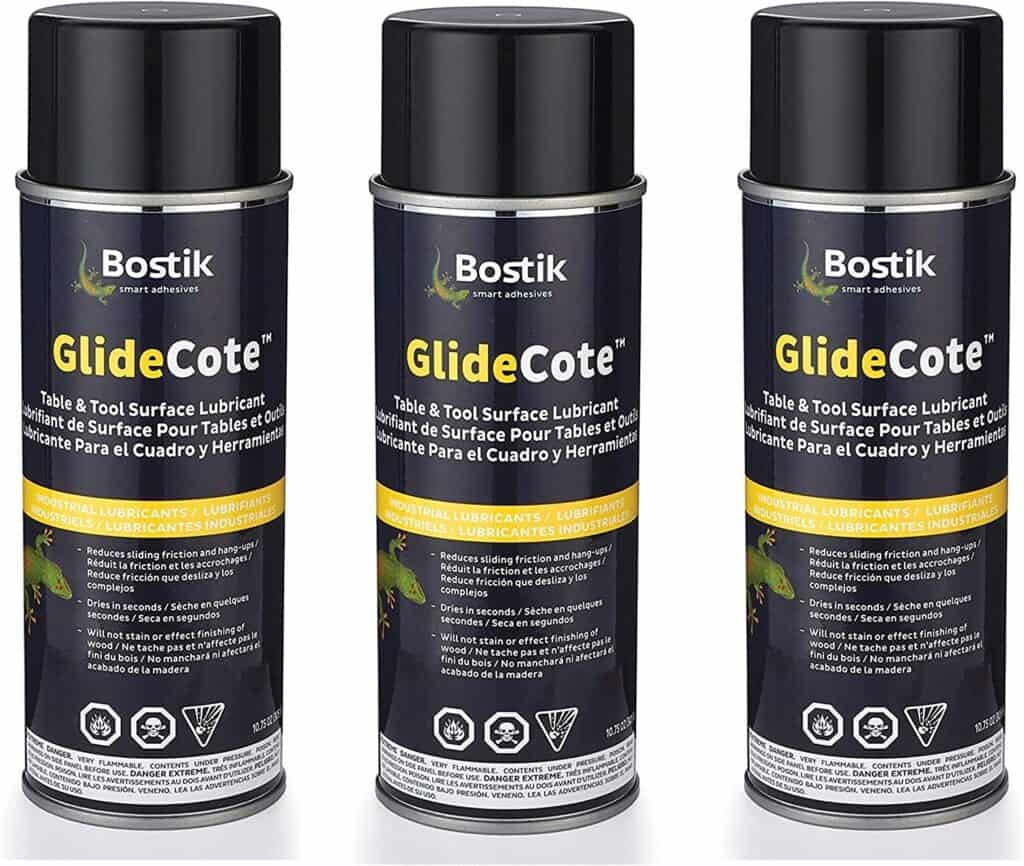 Bostik Glidecote (previously Bostik TopCote) is specifically formulated for coating surfaces. It significantly eliminates sliding, resistance, and hang-ups on metal by creating a long-lasting, water-repellent film on your table saw and other tools.
The aerosol is a strong anti-corrosive. Apply evenly on thoroughly prepared surfaces in humidity not above 60% to form a smooth surface.
The lubricant is easy and faster to apply than paste wax and contains no oil or silicone. It also does not leave stains or affect your finishes.
Top-Cote surface sealant enables your tools to work better as it reduces friction and allows you to easily handle heavy wood sheets.
Features
Resists friction dirt, and moisture
Prevent surface build-up
Performs better than paste wax
Surfaces sealant
Prevents oxidation
Product Details
| | |
| --- | --- |
| Brand | Bostik |
| Manufacturer | Denco Products |
| Item Weight | 10.4 ounces |
| Package quantity | 1 Pack |
4.Trewax, Paste Wax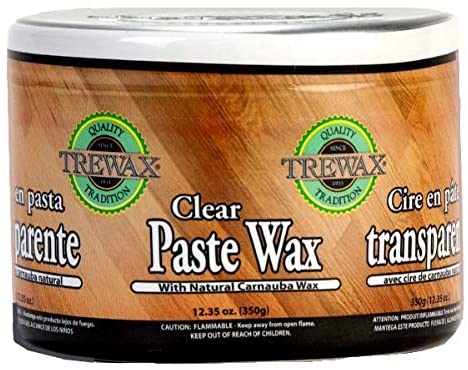 The Paste wax has been in the market from as early as 1935 and is popular for the protection and restoration of product surfaces. It has continued to earn unmatched trust from many users all over the world.
TrewaxPaste wax is well known for its high percentage of Brazilian carnauba wax and leading in the global toughest natural vegetable extracted wax. It is expressly made for use on hard wooden surfaces to restore a brilliant and durable sheen. It is also perfect for use maintenance of marble, bronze, granite, and fine furniture.
A 12.35 oz. can of Trewax paste wax covers an 8002 ft. area.
The application process is easy, rub a thin layer on the surface of your item, wait for 5 minutes and proceed to polish with a clean towel. You will notice how fast the wax dries out quickly and is slip-resistant. If your basic finish is well done, one or two coats of Tre wax paste is enough.
Features
Restores a lustrous,brilliant,and long-lasting appearance
Works best on wooden floors,granite,marble, and bronze
Contains high levels of the Brazilian Carnauba a super hard and natural wax known worldwide.
Quickly dries out and is slip-resistant quickly
Product Details
| | |
| --- | --- |
| Brand | Trewax |
| Floor Type | Multi-surface |
| Container Size | 12.35 Oz |
| Product Form | Paste |
5.Lundmark Carnauba Wax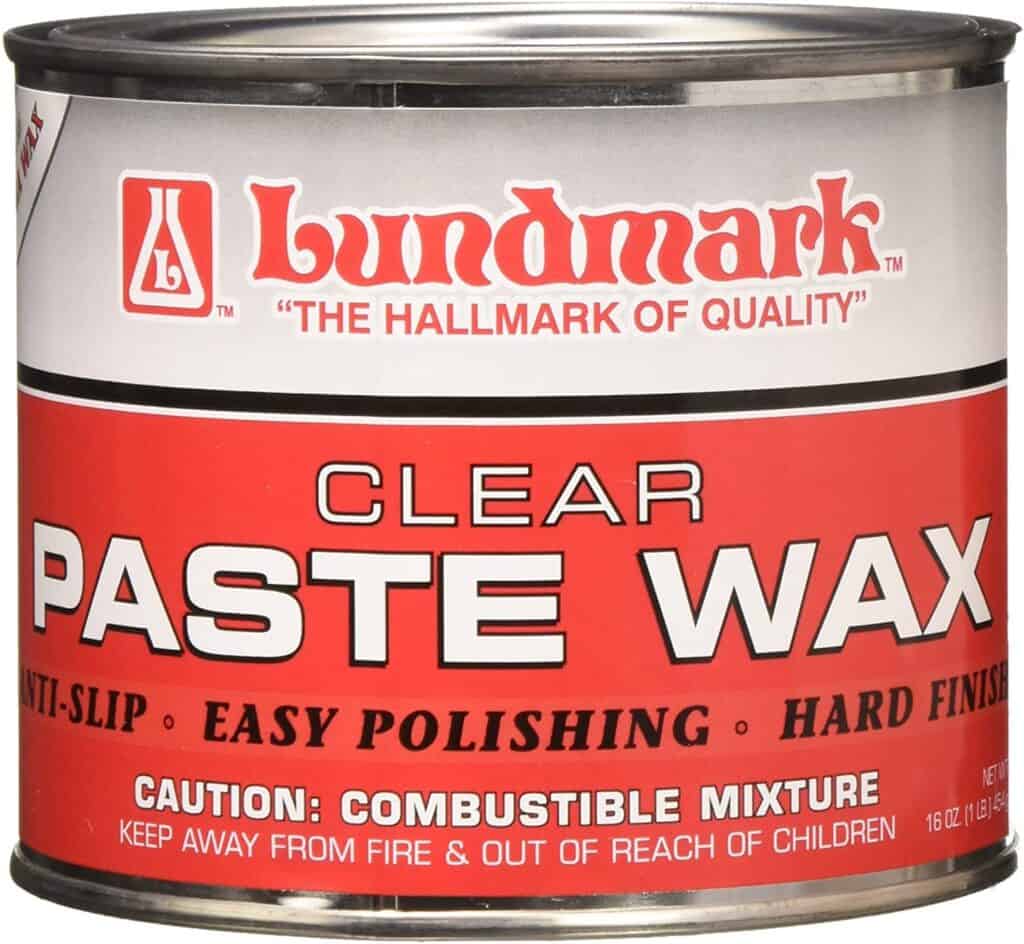 The Lundmark carnauba is a reputable paste wax suitable for cleaning metal surfaces. When your table saw gets soiled and the surface looks dull, the Carnauba wax does the cleaning job for you.
Effortlessly apply a thin film of the paste on the table saw surface using a piece of towel. It leaves a long-lasting firm film that keeps your tool in a clean condition.
Key Features
Suitable cleaner for metal surfaces and woodwork pieces
Forms a strong and durable Carnauba layer
Can be used any time:simply apply on a clean piece of towel
The formula protects wood surfaces from discoloration
Easy to use polish producing hard finishes
Product Details
| | |
| --- | --- |
| Brand | Lundmark Wax |
| Item Weight | 1.2 pounds |
| Height | 3.5 inches |
| Components | Floor-cleaners |
6.Bostik GlideCote

Bostik Glidecotecan is used as a sealant and a lubricant too. It is a fast-drying, incredibly useful Fluoropolymer-based lubricant designed for tool maintenance. It is specially manufactured for tools, table saws, and other types of furniture.
It works very well on metal as it safe guards from moisture and oxidation. The sealant has no elements of petroleum or silicone and you need not worry about it having to stain wood or cause problems with your project finishes.
The application is super-fast and easy. As compared to paste wax, Bostick Glidecote is far more durable. A 10.75 oz.sealant is capable of covering a 135about 1352ft area.
Bostik creates a lasting and water-resistant coating on your table saw and other hand tools surface to eliminate sliding resistance as well as hang-up.
Key Features
Reduces sliding friction and eliminates surface 'hang-ups'
Creates a lasting water-resistant film on the table saw and other tool surfaces
Has no silicone
More effective in preventing rust build up many times thaneither wax
Seals the surface to repel moisture and reduce rust and corrosion
Product Details
| | |
| --- | --- |
| Brand | Bostik |
| Weight | 15 ounces |
| Model | V207501 |
| Material | Aerosol |
We also have reviewed some of the best 110v table saw
Table Saw Wax Buying Guide
Points to Consider when selecting Best Wax for Table Saw
Settling on the best wax to buy for your table saw is quite a task. However, knowing the quality, features, and performance of the different types of table saw waxes will help you a big deal.
Since wax is an additional bonus over necessity, you are flexible to choose what wax to use.
We have discussed in detail the factors you must put into consideration before deciding on which wax to purchase.
Choose a type of wax that is straightforward to apply to save time and energy. Check the manufactures directions and consider the technicalities involved in the application process.
A long-lasting paste will save you from spending more than your budget in a short time.
Some wax contains toxic substances. Carefully select wax that is safe for use and will not expose you to any health hazard. Read instructions and directions of use before use.
Consider getting a product that has beeswax or Carnauba. The two elements leave some layers on the surfaces that tend to protect your table saw from rust and scratches.
What is the difference between Carnauba and beeswax?
Beeswax
This is a naturally available ingredient obtained from beehives. Beeswax contains awesome properties like resistance to dust and water a good way to protect your table saw and wooden furniture. Table saw wax containing beeswax does not give you a headache when applying and leaves a smooth and durable finish
Carnauba wax
Unadulterated Carnauba Wax is harder than concrete. This coveted component found in the wood wax formula is completely natural. It majorly safeguards the surface of your tool, even under intensely hot temperatures. Expect an extra hard scratch resisting surface.
If Carnauba Wax is used in your wood wax, you have to expect a solid hard scratch-resistant finish.
Before making your purchase, be mindful of the components used to manufacture the wax. Watch out for waxes containing silicone and abrasives.
The kind of project you are working on affects the type of table saw wax you decide to buy. There are light, clear, and dark-colored waxes. If you apply a dark-colored wax on the table saw and use it on pieces of wood that no color is needed, the appearance of that wood will be changed. Select your wax depending on the project you are working on to avoid messes.
Let's say you want wax from top brands, you are likely to get the best value of your money from that purchase. If you want a pocket-friendly product, compare the prices of different brands as you also mind the quality.
Precaution
Other waxes contain highly flammable components. Mishandling the products could unexpectedly start a fire. It is simple to avoid such mishaps by handling carefully and storing them away from fireplaces. Dispose of used cans as per the bylaws in your locality.
How to Wax Your Table Saw
Frequently Asked Questions
What kind of wax should I use on my table saw?
Paste wax is the most excellent way to lubricate a table saw as it reduces friction and allows pieces of wood to glide smoothly as you make cuts. You will also notice a significant reduction of resin sticking on your table saw and an overall increase in production and performance.
2. How do I make my table saw top smooth?
Using a clean piece of rag, wipe the surface of the table saw off any dust or clutter. Thoroughly apply a light coating of the wax on all surfaces coming into contact with wood. Leave it for approximately 8-10 minutes to allow the wax to dry, lastly buff in a circular motion using a clean towel.
3. Can I use car wax on my table saw?
Car wax is not ideal for table saw, it contains silicone and abrasives that can directly or indirectly be transferred onto your wood pieces and cause problems with finishes.
4. What is the best wax for wood furniture?
Paste wax when used in the right way produces a beautiful, hard, and durable finish on wood furniture. The wax offers protection to the finish and in return, the finish offers protection to the wood. Use wax specifically formulated for wooden furniture.
Related Articles:
Check Best 9 inch table saw blade
Check Best 8 inch table saw blade
Additional Resources:
https://www.woodworkingtalk.com/threads/how-often-to-wax-a-table-saw-top.186329/
Last Updated on January 30, 2022 by John G. Anderson