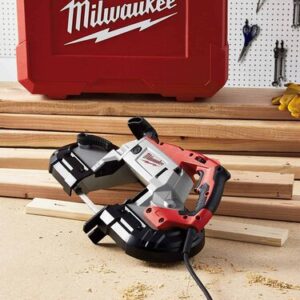 Are you happy with your old hand saw for cutting irregular or circular cutin woods, plastics, or metals? It will be very rare that your answer to the question is positive. However, it's time to welcome a new guest to your workstation, and the best guest may be a bandsaw. No need to worry about which brand should you invest your money in as we are here to let you introduce yourself to one of the best deep-cut portable band saws. So you should go through our whole Milwaukee 6232-21 portable bandsaw review to know the product well.
This Milwaukee 6232-21 review will make you happy telling you that the saw has the capability of working with different types of material like plastic, wood, and metal. Its portability and compactness will add an extra flavor to your experience. You need not be a veteran user to operate the Milwaukee deep-cut bandsaw as it is user-friendly and very easy to operate.
The brand Milwaukee has given much importance to the effective design, durability, usability, and warranty of its products. You will find these thriving features in Milwaukee portable band saw.
Milwaukee 6232-21 Bandsaw Full Review
The corded Milwaukee 6232-21 portable bandsaw has a superb capacity of cutting at 5'×5'. The use of constant power technology with powerful 11 amps motor increases its performance more. Your love for the tool will be increased more knowing that it is only 14.5 lbs. with a dimension of 7.1"×21.4"×14.4". The Cutting speed of the blade is up to 380 SFPM(surface feet per minute). It helps one to calculate the cutting time of the materials.
You can't think of a bandsaw without a blade. So, it is one of the important parts of a bandsaw. The shape and size of the Milwaukee deep-cut bandsaw blades depend on the materials you are going to cut. Milwaukee 6232 21 bandsaw accepts the blade that is 44.875-inch length, 0.5-inch width, and 0.20 inches thick. You will get the extreme tooth life of the blade.
The Milwaukee deep cut portable band saw has a wonderful trigger that is very smooth and reactive. It holds control of the variable speed of the blade. This speed depends on the materials needed to cut. An accurate cut may be gained with the control of variable speed.
Dropping of Milwaukee metal bandsaw will not make you much concerned as it is made with proprietary composite materials and it also includes the crush zone barriers. The combination of these two protects the saw from being damaged.
Key Features Of Milwaukee 6232-21
If you have the knowledge of some important features of the product you are looking for, it helps you to choose the right thing. Some features of Milwaukee 6232 21 are given below so that you may select the right thing for you.
High performance: Milwaukee 6232-21 bandsaw uses constant power technology to increase its performance and durability. This technology keeps up the cut speed in control for content performance. The use of a powerful motor of 11 amps with the constant power technology ensures the extreme Performance of the bandsaw.
Job site armor technology: You might be here the name of job site technology. This is an exclusive edition of Milwaukee electric tool corporation to its products. The technology consolidates the durability of the brand with modern technologies to provide protection.
The rugged protection of the bandsaw is ensured through the job site armor technology that comprises proprietary composite materials and crushes zone barriers.
Gear protecting clutch: The Milwaukee 6232 21 deep throat bandsaw includes the all-metal direct gearing system that will maximize the life of the tool. This gearing system needs less servicing while a chain drive requires comparatively more.
The protecting clutch connected with gear increases the durability of the gear and motor. It absorbs the high forces produced by the blade lock-up. As a result, the gear protecting clutch keeps you free from the tension of decreasing gear and motor life.
Cut visibility: The design that includes a slimmer motor housing in Milwaukee 6232 21 portable bandsaw extends the user line of sight by providing maximum cutting accuracy. The user line of sight is very important while you are cutting metals or woods in your workstation because it helps you to get your cut accurately.
LED-light: You should have enough light in your station because of the lack of light may hamper your working activities. Keeping this in mind, Milwaukee has added an LED light in Milwaukie 6232-21 electric bandsaw to lighten up the surface area. So, you will get more accuracy in your work. It will fasten your productivity by removing darkness from the workplace when necessary.
Lightweight: What will be your feeling if you find yourself free from fatigue at the end of the working Day? The lightweight tool will give you that feeling it is only 14.5 lbs. It is possible to move the tool very easily wherever you want. So it will reduce your muscle fatigue giving great comfort.
Debris protection: Any kind of debris may reduce the pulley life of a bandsaw gradually. The new debris protection system of 6232-21 Milwaukee provides prolonged pulley life. This protection system will increase your expectation of durability protecting the pulley.
Compatible design: The body of Milwaukee 6232 21 portable bandsaw has been designed in a balanced way. It will bother you if the tool doesn't rest in your hands comfortably or naturally. To release you from that botheration, the body of Milwaukee bandsaw 6232-21 was constructed in a way that is compatible in your hands naturally.
Adjustable shoe: The quick adjustment of an expanded shoe to no shoe is possible in Milwaukie 6232-21 bandsaw. The saw includes a tool-less design that actuates to adjust the shoe. This adjustable shoe limits the rotation of the tool during the cutting of the material above 5".
Warranty: In comparison to other renowned brands, Milwaukee electric bandsaw offers a decent period of warranty. You will get a warranty of 5 years. You should be happy with it.
Affordable price: Investment is the main factor while you are going to select a power tool for your workplace. You may be tension free if you are intended to have a Milwaukee 6232 21 portable bandsaw. You will often find the Milwaukee bandsaw price within your range.
Pros
Use of LED-light to enhance visibility.
More powerful in spite of being compact in size.
Great for both experienced and amateur users.
Carrying case included.
Much comfortable to use.
Flexible to use without any complexities.
Accurate cut.
Cons
No blade included.
Little it uncomfortable for one hand users.
Though the tool comes without any blades with it, you can buy it separately. It will not be a big issue for you. Again, some users are accustomed to toa one-hand operation. They will find it a little bit uncomfortable at first because it needs both hands to operate smoothly. They may feel flexible when they will start to use it.
Milwaukee 6232-21 Deep Cut Bandsaw Specifications:
| | |
| --- | --- |
| Product Weight | 21.9 Pounds |
| Product Dimensions | 7.07 x 21.44 x 14.39 inches |
| Part Number | 6232-21 |
| Product Material | Plastic |
| Power Source | Corded Electric Powered |
| Voltage | 120 Volts |
| Model Number | 5619-20 |
| product Color | Red |
| Batteries Included? | No |
| Batteries Needed | No |
Who needs to buy Milwaukee 6232-21 portable bandsaw?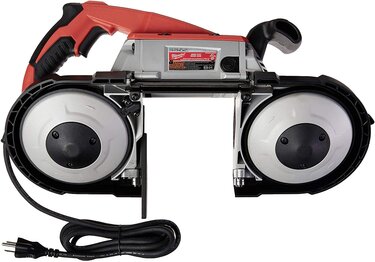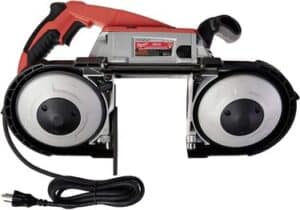 The 6232-21 Milwaukee heavy-duty bandsaw may be the best choice for hobbyists or professionals. An amateur user doesn't need the experience to operate the saw. Both professionals and beginners will be able to handle the Milwaukee bandsaw 6232-21 efficiently. The peak point of the Bandsaw is the Simplicity it poses.
An accurate cut of materials is desirable to every DIY Professionals, woodworker, or metalworker. The portable bandsaw won't disappoint you in that case.
Another important feature is variable speed controlled by a smooth trigger. The variable speed helps to get the desirable cut in materials.
Milwaukee provides a warranty of 5 years. Their time of delivery of the products is quite decent. Again, their customer service is also recommendable. So you may consider the product for your workstation.
FAQ
Q: Where is this band saw made?
Answer: Made in China.
Q: What is the difference between 6232-20 and 6232-21 bandsaw?
Answer: Almost close enough only 6232-21 bandsaw comes with a blow-molded carrying case.
Q: Does this band saw come with a blade?
Answer: No
Q: Does Milwaukee 6232-21 have an oil sight glass?
Answer: No. It uses grease instead of oil.
Q: Is Milwaukee 6232-21 variable speed?
Answer: Yes
Q: What is the blade size this band saw use?
Answer: 44-7/8
Q: What is the actual depth of Milwaukee 6232-21 mouth?
Answer: Little more than 4.5 inches.
Q: Does Milwaukee 6232-21 come with a case?
Answer: Yes
Q: Does Milwaukee 6232-21 bandsaw cut bone?
Answer: yes, it can.
Q: Does this bandsaw have a hanging hook?
Answer: yes, it has a hook.
Q: can it cut through a cast iron waste stack?
Answer: It should cut through a cast iron waste stack.
Q: How wide is the cutting area of this bandsaw?
Answer: It has the capacity and versatility to cut up to 5 in. x 5 in. the material in a single pass.
Q: Does this tool have an LED light?
Ans: Yes. It has.
Final Words
Now, we firmly believe that you have a clear idea of our Milwaukee 6232-21 portable bandsaw. The review was a little attempt to present an overall picture of the product to you. So, keeping all the facts in mind, you can take a chance to have it. Won't you?
Related Post:
Dewalt DCS374b Deep Cut Bandsaw
Resources:
Last Updated on January 22, 2022 by John G. Anderson