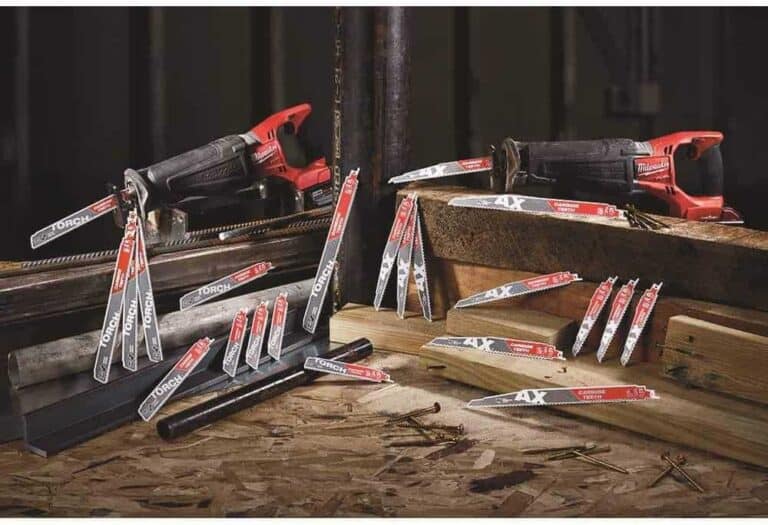 If you have an excellent reciprocating saw, you need not think about the demolition or reshaping works for your home or other projects. Here, you need to select the right blades purposefully assigned for the task only. So, you should gather the proper knowledge of different types of reciprocating saw blades to accomplish your desired jobs. If you flip through our review of reciprocating saw blade types, you will have a proper understanding of several blades for the reciprocating saw.

Reciprocating saw blade types orientation
The reciprocal saw ( also known as Recip saw) is a versatile saw. You can make different use of a reciprocating saw. It can serve you in various works such as cutting wood, metal, drywall, etc. To do this, you will meet with numerous Sawzall blade types in the market because every particular task needs different blades to perform the job correctly. Here are some sorts of reciprocating saw blades that differ in materials, patterns, and TPI ( teeth per inch).
Reciprocating saw blades for wood cutting
Generally, each reciprocating saw blade is different from the others based on the teeth per inch(TIP). Recip saw blades for general woods need a TPI of 5-10. With this tooth pitch, you will have a faster cut in small tree branches, embedded nails, lumber, etc. A standard TPI is 6 for cutting woods usually. These Sawzall blades for wood are small by length. As a result, the blades cut very aggressively. You should maintain the thickness of the blades with the increase of blade length.
Reciprocating saw blades for metal cutting
If you intend to cut the harder or thicker materials, you need the blades with higher TPI. Besides, the metal cutting blades for reciprocating saw should be bi-metal or carbide tipped. Usually, most of the reciprocating saw users typically go with 12-18 TPI blades for cutting metals. Also, they can go up to 24 TPI according to their needs. To have a more delicate cut in thinner metals, you should use the blades with a tooth pitch of 18-24. Furthermore, use a tooth pitch of 14-18 TPI for cutting thicker metals quickly. You can utilize these types of reciprocating saw blades in wood for a finish cut also.
Reciprocating saw blades for demolition
If you are a regular DIY worker, you are quite familiar with demolition works. You can complete the demolition works like embedded nail cutting or drywall cutting very easily with reciprocating saw demolition blades. These blades are thicker. You can use them for heavy-duty work. Usually, demolition blades have a tooth pitch of 6-11. Typically, they go for faster cuts lacking a smoother edge. Demolition blades are a little wider. You may see some demo blades also ranging from different TPI for the demolition job.
Carbide tipped Reciprocating saw blades
The teeth of the carbide-tipped blades are ended with a carbide tip. The tip may be a tungsten carbide. Again, some tips are found with titanium carbide. These carbides make the blades more heat resistant. They also increase the durability of a bi-metal blade. These blades are mostly suitable for cutting cast iron, hard materials like high-strength alloys. Usually, carbide-tipped blades have a tooth pitch of 8. They are more standard for cutting hard materials than the other blades, which get destroyed by the metals they are cutting.
Reciprocating saw combination blades
You can use the combined reciprocating saw blades for multiple uses, such as cutting wood or metals. The combination of two different TPI is the main feature of the blades. The configuration of variable TPI helps to cut the alternative materials. You can change the cut based on your requirements. For this, You have to set the right position of the blades to have the cut.
Carbide grit blades for Reciprocating saw
You can use your reciprocating saw for cutting tiles or masonry. You have to use the carbide grit blades for the job. It's an interesting fact that the blades have no teeth at all. It cuts the tiles with its grit surface.
Diamond grit reciprocating saw blades
Diamond tipped blades are well-known for their precision. It can slice glasses, ceramics through a unique cutting process. These blades have a special technique of cutting that is very effective for cutting glass. This blade is one of the most expensive reciprocal saw blades. You won't be able to cut with these blades if you do not have prior experience.
Reciprocating saw pruning blades
The pruning of small tree branches can be very significant with a reciprocating saw. You can have your thick branches cut efficiently without much effort with the reciprocating saw pruning blades. Usually, pruning blades for reciprocating saws have a low tooth pitch to cut the branches aggressively.
Reciprocating saw scroll blades
If you want to cut heavy metals with a higher gauge or hard rubber, the reciprocating saw scroll blades may help you. These blades are suitable for radius cuts.
Flush cut reciprocating saw blades
Are you quite frustrated during the cutting out of the door and window? The flush-cut Sawzall blades can give you relief from frustration. These blades are efficient in a plunge cut during the cut-out of windows.
Reciprocating saw scraper blades
If you need to rip through linoleum, tiles, paint, adhesive, etc. You can go with the reciprocating saw scraper blades to finish the tasks. These blades execute the ripping very smoothly
Related Articles:
Cutting straight with the reciprocating saw
Additional resource:
Last Updated on January 31, 2022 by John G. Anderson