Title
Top Pick
DEWALT 20V MAX* XR Chainsaw, 12-Inch, Tool Only (DCCS620B)
Best for Money
Greenworks 40V 12" Cordless Compact Chainsaw (Great For...
Premium Choice
Husqvarna 966997203 T435 Top Handle Saw, Mid Size, Orange
Best corded Electric
Sun Joe SWJ698E 12-inch 9-Amp Electric Chain Saw with...
Best gas
Chain Saw, Gas, 12 in. Bar, 26.9CC
BLACK+DECKER 40V Max Cordless Chainsaw, 12-Inch (LCS1240)
Image






Top Pick
Title
DEWALT 20V MAX* XR Chainsaw, 12-Inch, Tool Only (DCCS620B)
Image

Best for Money
Title
Greenworks 40V 12" Cordless Compact Chainsaw (Great For...
Image

Premium Choice
Title
Husqvarna 966997203 T435 Top Handle Saw, Mid Size, Orange
Image

Best corded Electric
Title
Sun Joe SWJ698E 12-inch 9-Amp Electric Chain Saw with...
Image

Best gas
Title
Chain Saw, Gas, 12 in. Bar, 26.9CC
Image

Title
BLACK+DECKER 40V Max Cordless Chainsaw, 12-Inch (LCS1240)
Image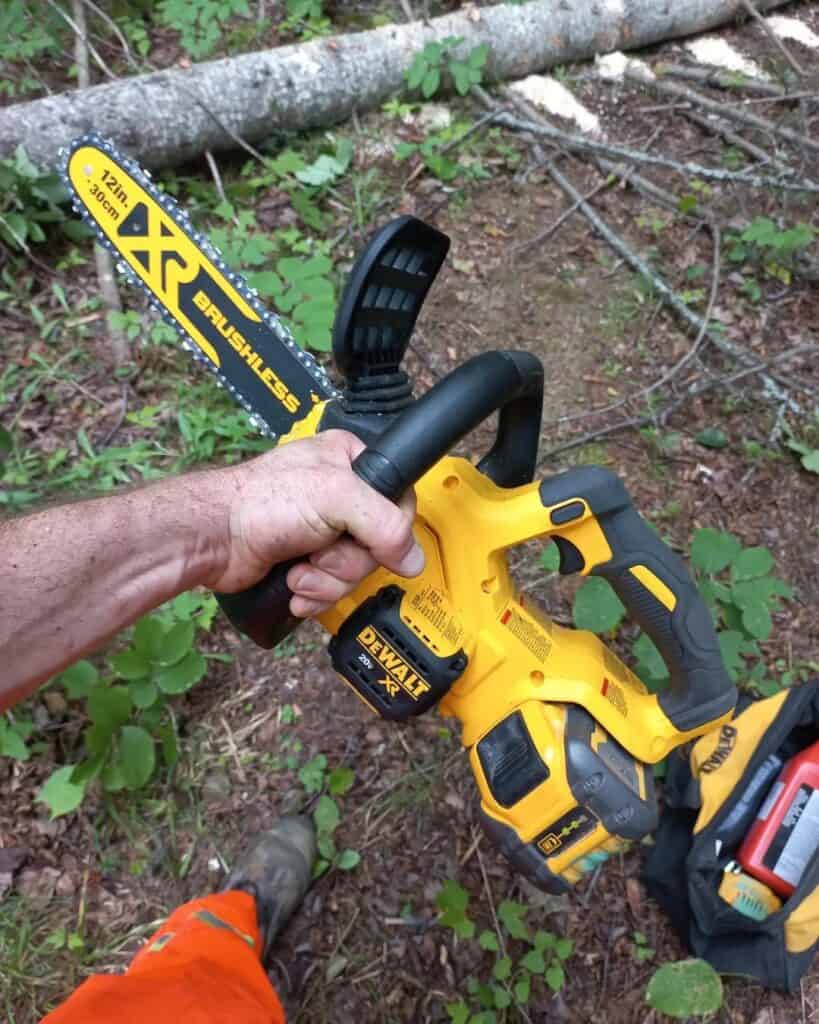 If you are reading this review, it means you probably want to know the best 12-inch chainsaw available in the market and one suitable for your lumbering operation. Hence, whether you are a professional chainsaw user or you need the 12-inch chainsaw for small-duty cutting tasks, this review is for you.
Our top pick is the Dewalt 20V 12-inch Cordless chainsaw, having lightweight, cuts up to 90 cuts of 4×4 treated wood per charge, and operates with a brushless engine, to mention a few. We also reviewed some other 12 inch chainsaws after careful and detailed research based on various considerations highlighted in our buying guide. Thus, whether you need a corded, cordless, or gas-powered chainsaw, there is one for you in this review.
Let's dive into the review.
6 best 12 inch chainsaw reviews
1.Dewalt 20V 12-Inch Cordless Chainsaw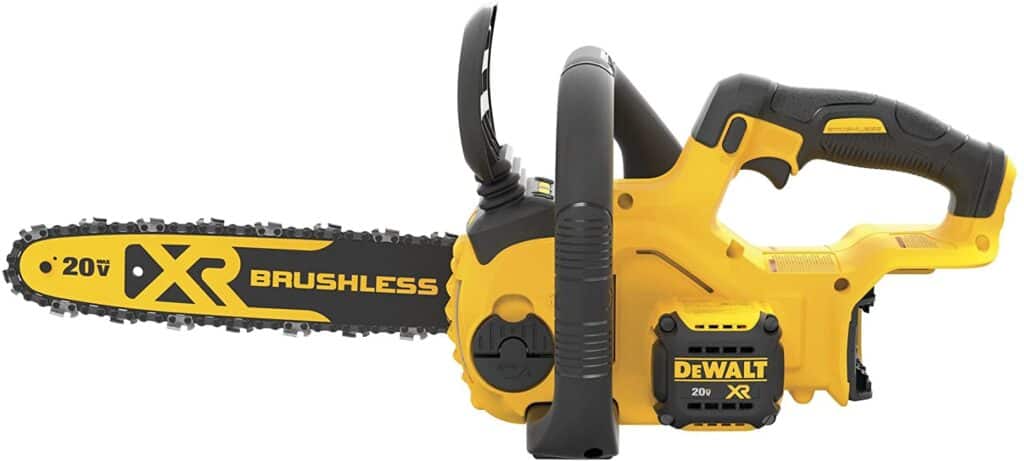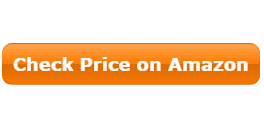 Key Features:
8.8 Pounds weight, 20V Max
Brushless motor engine
Low kick Back Chain and Bar
Up to 90 4×4 lumber cuts per charge of a 5Ah battery
High-efficiency brushless Motor
Chain Brake
Tool-free tensioning and bar tightening knob
This versatile 12-inch cordless chainsaw manufactured by Dewalt, a subsidiary of Stanley Black and Decker Company, is a good addition to your array of power tools. Especially for Arborists, homeowners, and individuals that want to perform lumbering activities like pruning, cutting limbs, or other outdoor cutting applications.
Our top pick: Why?
This chainsaw is pre-sharpened – thus, the blade is not dull, and you can also sharpen it to gains its full potential. Apart from this, the chainsaw function with a brushless motor availing the user much efficiency, extended runtime, an average of 90 cuts on a 4×4 treated wood, and a longer lifespan. Interestingly, this product is cheaper than some other 12 inches 20V chainsaws like the Stihl and Husqvarna brands and others in this review.
Further, it has a compact and ergonomic design, thus giving its user maximum control. Fortunately, you can also change the 12-inch blade to a 14-inch without affecting the seamless service the chainsaw offers. It also has a low kickback feature and an adjustable tightening knob for proper bar clamping. Unfortunately, it doesn't come with a battery and charger.
Pros
Very quiet during operations
The chainsaw is well-balanced
Extended runtime
No pull-start, cheap, and has a lightweight
Cons
Bar oil often leaks during storage
Absence of felling marks for aligning cuts
No proper felling dogs for smooth and effortless cuts
2.Greenworks 12 inch Cordless Chainsaw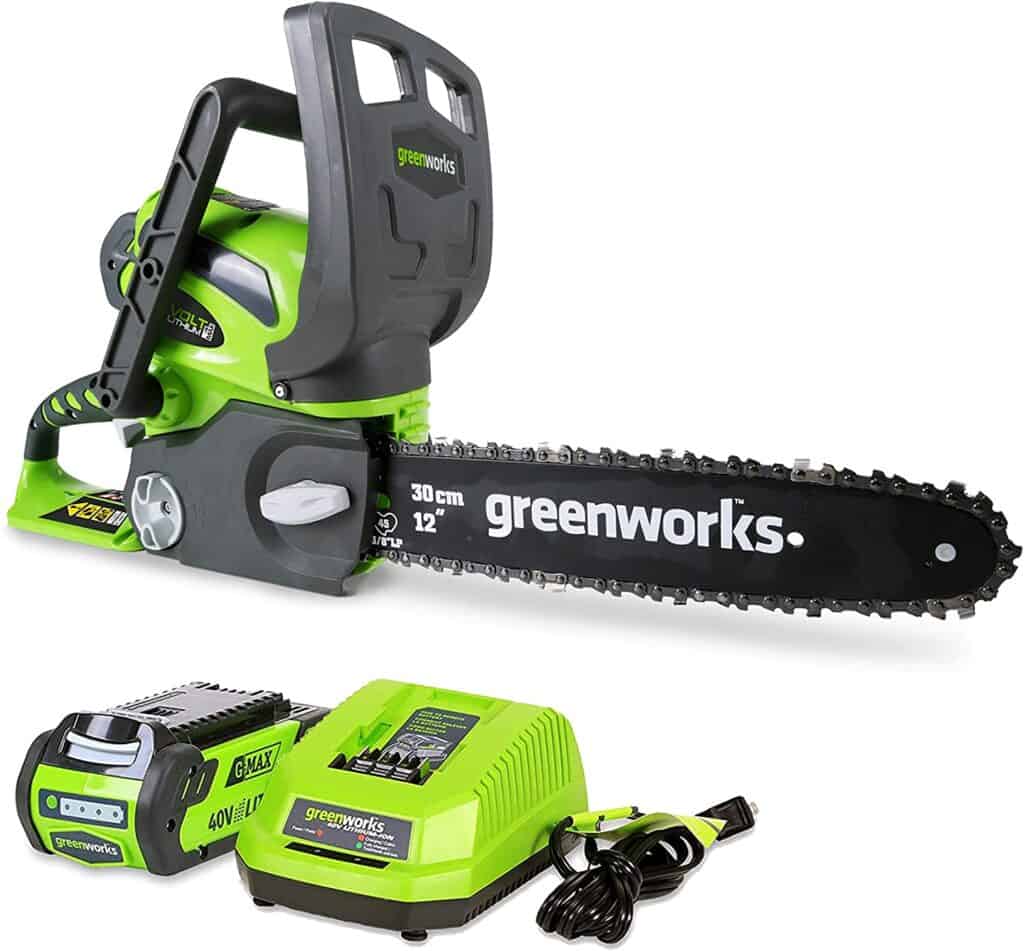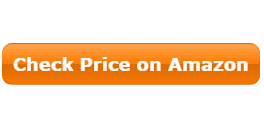 Key Features
6 pounds weight, 40V G-Max 2Ah battery
Up to 65 4×4 lumber cuts per charge of a 2Ah battery
Tool-less chain tensioning
Automatic oiler and translucent oil tank
Wrap around handle
Battery and charger included
Hand Guard
Scabbard
This GreenWorks chainsaw is a 12-inch cordless 40v chainsaw, similar to the Dewalt 12 inch chainsaw in some features except for power rating, motor type, number of cuts per charge, and battery capacity. Nevertheless, it's a durable and efficient tool in cutting firewoods, small garden trees, and trimming limbs.
The best value for your money: Why?
It is comfortable to work with, as it has a chain adjustment knob that makes it easy to adjust the chain without searching for any tool. Further, like the Sun Joe 12 inch chainsaw in this review, this chainsaw has a sheath to cover the chainsaw blade after use. Its 3/8 chain pitch also ensures effective cutting or trimming with a reduced level of kickback. 
After a close examination of this product, another fascinating feature it possesses is the wrap-around handle. This handle allows for the comfortable cutting of logs of wood in any position. It also has an automatic oiler for consistent lubricating of the chain and bar without stopping the engine.
Pros
Include battery and charger
Less noise
The battery last long
No memory loss after charging
Con
Works with only 40V G-Max rated battery
Its leaks oil
3.Husqvarna 12 inch 2 Stroke Gas Powered Chainsaw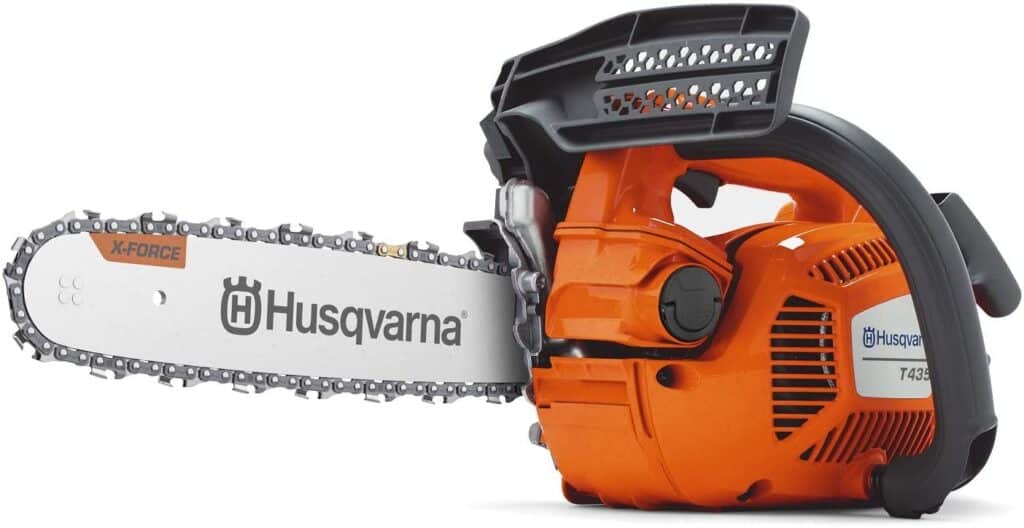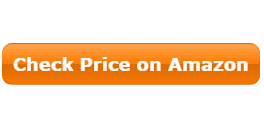 Key Features
Powerhead weighs 7.5 pounds, 2.01 Hp, engine size – 35. 2 cm3
Anti-vibration system
Sidechain Tensioning
X torq engine
x-cut chain and x-force bar
Chain brake
This 12 inch Husqvarna is the first gas-powered chainsaw in our review. With this chainsaw, Arborists and professional users can perform pruning or felling of small trees. Its mid-sized x-torq engine also guarantees a low fuel consumption while working. Interestingly, it has a lightweight powerhead compared to other gas chainsaw counterparts of the same level. When the bar and chain are merged with the powerhead, it weighs about 12 pounds, obviously heavier than other battery-powered chainsaws in this review.
Our Premium Pick: Why?
We evaluated the 12-inch chainsaw for professionals and found this tool an excellent option for a professional lumberjack or Arborist. The first reason is the top handle it possesses. It is useful especially for professional arborists or good tree climbers to make cuts seamless on treetops and difficult spots. The user can hold the chainsaw with one hand and with adequate balance and maneuverability. Second, it's cheaper when compared to other top handle chainsaws of some other brands like the Stihl chainsaw brand.
Other features that make it outstanding are its anti-vibration system to reduce fatigue on the user body joints and side-chain tensioning for easy chain adjustment while performing lumbering activities. The noise level is also minimal per environmental regulation. While the manufacturer claims that this chainsaw comes with an x-chain and x-bar, many users have faulted this assertion, though, quoting that the accompanying bar and chain are very durable.
Pros
it has several safety features
It is easy to start and handle
It can be handled with one hand
Can use longer chainsaw blades
Low fuel consumption
Cons
Has less speed for professional jobs compared to larger chainsaws
Leaks out oil
4.Sun Joe 12 inch Corded Chainsaw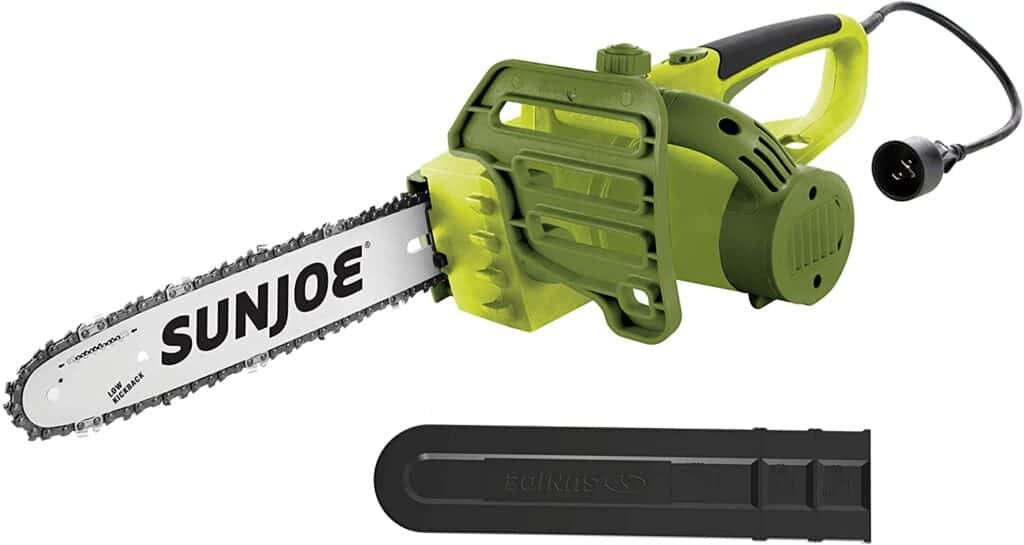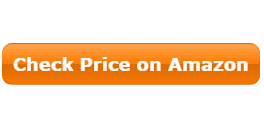 Key Features
Weigh 7.3 pounds, 9 amp motor
Plastic blade cover
Instant motor start and safety switch
Extension cord hook
Automatic chain lubrication system
The handguard and Kickback safety brake
While we were conducting adequate research on 12-inch chainsaws suitable for your outdoor operations based on various yardsticks, we spotted this chainsaw. This chainsaw is compact, easy to maneuver, and has an ergonomic design. It is a corded 9 amp motor chainsaw and is also the cheapest chainsaw in our review, though suitable in areas having a power source.
What makes this product suitable for your outdoor lumbering operations?
Why it made our list
Apart from the lubrication system that ensures proper lubricating of the chain for efficient operation, it is an ideal power tool for pruning and trimming limbs and branches of up to 11-inch thickness in the garden and other simple outdoor tasks. With its 12 inch Oregon bar and chain, it makes quick as smooth cuts.
It also has a kickback brake for safety against accidents and a safety switch to prevent accidental starting of the chainsaw. The plastic sleeve also protects the user from getting injured during storage.
Pros
It's lightweight and easy to use
Great customer service
Possess adequate safety features
It is very cheap
Cons
The chain often loosen during operation
Not the best tool for a professional lumberjack
Sometimes, the chain oil drips
5.Echo 12-inch 2-stroke Gas-powered Chainsaw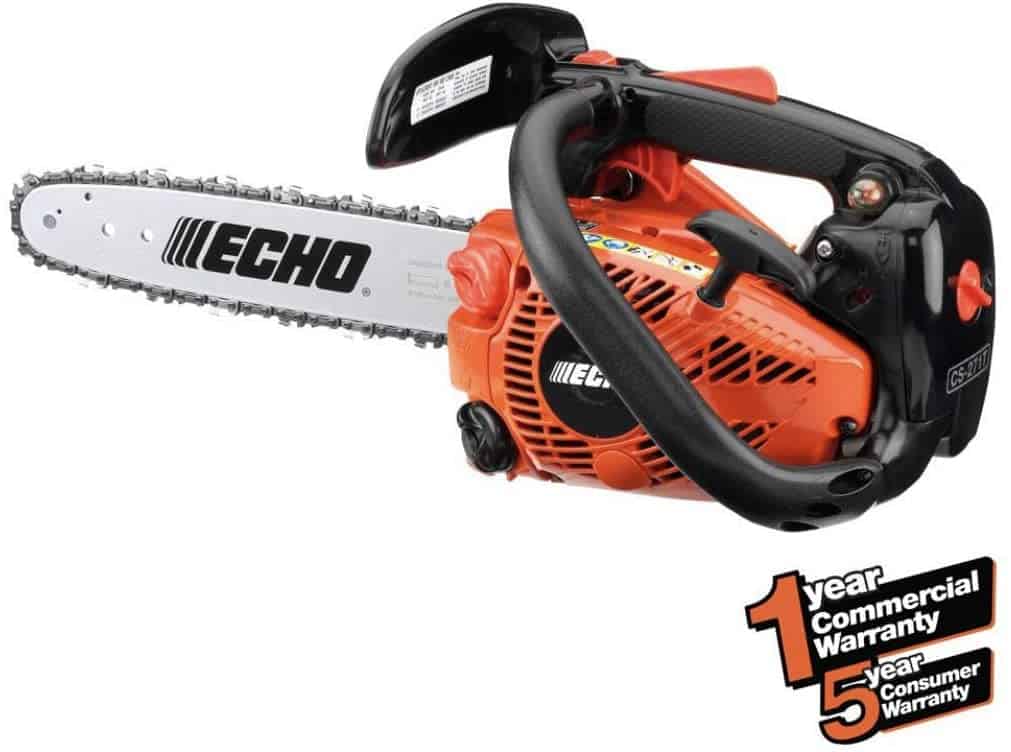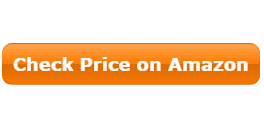 Key Features
Weighs 11 pounds, 1.5Hp, engine size 26.9cc
Side Access chain tensioning
Anti-vibration handle
Chain brake and throttle lock
Air pre-cleaner and purge bulb
Clutch driven oiler
Bar cover
This Japanese-based product is highly rated by several of its users. Most users' points mention its durability, maneuverability, ease in usage, lightweight, and fair cost, compared to other similar options. Users can also use blades of higher lengths like 14 and 16 inches without any hassle.
Echo 12-inch chainsaw: Why purchase this tool?
Though compact, features such as a side-access chain tensioner assist in the quick adjustment of the chainsaw blade, even due to operation. Its clutch-driven oiler also minimizes the level of oil consumption. The Air pre-cleaner prevents specks of dirt from getting into the engine, thus elongating the engine lifespan and lowering engine maintenance costs. It also has a lanyard clip that makes it comfortable to carry or attached the chainsaw to your body while climbing trees.  
Also, apart from this chainsaw using a G-force engine, it uses an i-30TM starting system which makes starting the engine much easy. Its chain brake and throttle lock also ensure the user's safety in case of accidental breaking of chain or starting of the chainsaw engine. The operation manual that accompanies this package is also self-explanatory for users to get acquainted with this chainsaw.
Pros
It comes assembled, but you have to fix the bar and chain
It's easy to start and durable
It is easy to start
Provides plenty power
Cons
Sometimes, difficult to hot restart
6.Black and Decker 12 inch 40V Cordless Chainsaw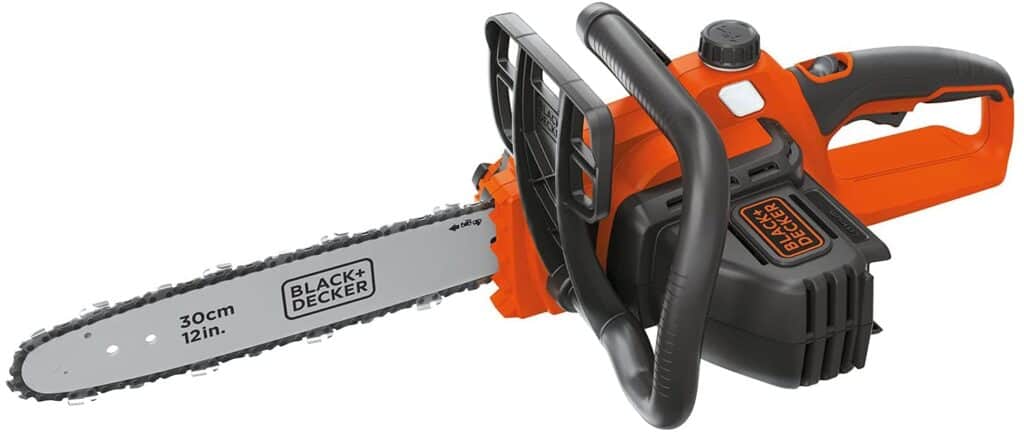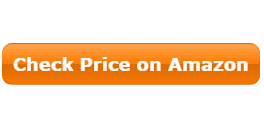 Key Features
Automatic oiler
10.4 pounds, 40V power rating, Speed 5m/s
Adjustable chain tensioning knob
Front handguard
Possess Scabbard, and low kickback chain, and bar
Up to 60 4×4 lumber cuts per charge
At a speed of 5m/s and lightweight, users have found this chainsaw to be a beast for their lumbering jobs. Though, not for big trees, but for works like pruning, limbing, harvesting of firewoods, and felling small trees. It also possesses a wrap-around grip for easy cutting and at any angle. Intermittently stopping to lubricate the chainsaw is also not needed as it has an automatic oiler. And like other chainsaws above, it has low kickback.
Does it worth it! check this out
Let's discuss its safety features. It has a bar cover to cover the cutter chain from inflicting injury on its user. Besides, it features a lock-off button to prevent accidental ignition of the engine, while its handguard also protects the arm against chain break.
Also, it has an adjustable knob that the user uses to tighten or free the chain during operation. The chainsaw operation is quiet compared to the gas chainsaws in this review. When it's overloaded, it trips off.
Pros
It possesses a scabbard
It's easy to handle and quiet during operations
Includes battery and charger
The battery is compatible with other 40V Black and Decker lawn tools
Cons:
It leaks oil
Battery charges slowly
Buying Guide
Purchasing a 12-inch chainsaw is easy if you know every detail to consider before buying one. Nevertheless, we have written down in detail what you need to check before you purchase that chainsaw.
Details to check
Weight:
12-inch Electric chainsaws, corded or cordless, are of less weight compared to gas chainsaws. And this is visible in the selected chainsaws. The Echo and Husqvarna gas chainsaws weigh more than others in this review. The heaviest electric chainsaw – Black and Decker weigh 10.4 pounds.
Cost:
Unarguably, the cost is a vital factor often considered before purchasing a chainsaw. If you are on a low budget, electric chainsaws, especially corded chainsaws, are cheaper. The price of Electric chainsaws in this review ranges between $50 to $180, with the Sun Joe 12 inch chainsaw being the cheapest. On the contrary, the gas chainsaw cost $400 and above. If by chance you are thinking, why that margin? You will find a detailed answer to our frequently asked questions.
Power:
Gas power chainsaws are often more powerful than electric-powered ones. Electric powered chainsaws having more voltage and a blushless motor engine are almost equally powerful. The Echo and Husqvarna gas chainsaws are more powerful than others.
Comfortability:
Electric chainsaws are more comfortable than gas chainsaws as they have lightweight. Notwithstanding, other features make a 12-inch chainsaw comfortable. For our 12 inch chainsaws, one particular feature we consider is the top handle, which makes cutting easy; especially, in difficult positions, and the Husquarna 12 inch chainsaw has this feature. Other features are an anti-vibration feature, a lanyard clip for ease in carrying the chainsaw, to mention a few.
Safety:
Safety features are also an essential factor to consider when buying a 12-inch chainsaw. For instance, there should be an anti-kickback feature for better control of the chainsaw, throttle lock against sudden ignition, chain catch to rescue chain break. Almost all these chainsaws listed above have these features. It is also vital to buy safety gear before using the chainsaw. Some of them are safety boots, pants, safety glasses, earmuffs, and head protection.
FAQ
Usually, store a chainsaw in a dry and dust-free area. Also, clean it before storage, as it makes it fit for use on the next operation. When you want to store a chainsaw, drain the carburetor. Then, empty the fuel tank, and clean the tank. Afterward, dismantle the chainsaw and clean the metallic parts with protective oil. Then keep it in a cool and dry place: free from children and sun.
How do I Prevent oil leakage when my chainsaw is in storage?
The perfect option is to drain the bar oil and fuel always before storing the chainsaw. However, in an instance where you cannot do that, lay the chainsaw sideward while you allow the oil-cap point upwards and slightly open the cap.
Should I Run My Chainsaw at Full throttle?
Yes! Some reasons why you should operate the chainsaw at full throttle are to reduce the risk of kickback, to prevent dullness of the chainsaw blade, and also to prevent damage to the chainsaw engine. Nevertheless, you should know that; the chainsaw engine should be warm before running at full throttle while cutting logs of woods.
We believe, with this review, you must have chosen the most suitable option for your lumbering task, so have a wonderful experience while sawing.
Related Articles:
What are the best carving chainsaws?
What are the best 2 stroke oils for chainsaws?
What is the best electric chainsaw sharpener?
Last Updated on January 23, 2022 by John G. Anderson