Title
Top Pick
BLACK+DECKER 40V Max Cordless Chainsaw, 12-Inch (LCS1240)
Premium Choice
Greenworks 40V 16" Brushless Cordless Chainsaw (Great For...
Best Budget
Greenworks 40V 12" Cordless Compact Chainsaw (Great For...
WEN Cordless Electric Chainsaw, 16-Inch Brushless with 40V...
Ryobi 14 in. 40-Volt Baretool Brushless Lithium-Ion Cordless...
Image





Top Pick
Title
BLACK+DECKER 40V Max Cordless Chainsaw, 12-Inch (LCS1240)
Image

Premium Choice
Title
Greenworks 40V 16" Brushless Cordless Chainsaw (Great For...
Image

Best Budget
Title
Greenworks 40V 12" Cordless Compact Chainsaw (Great For...
Image

Title
WEN Cordless Electric Chainsaw, 16-Inch Brushless with 40V...
Image

Title
Ryobi 14 in. 40-Volt Baretool Brushless Lithium-Ion Cordless...
Image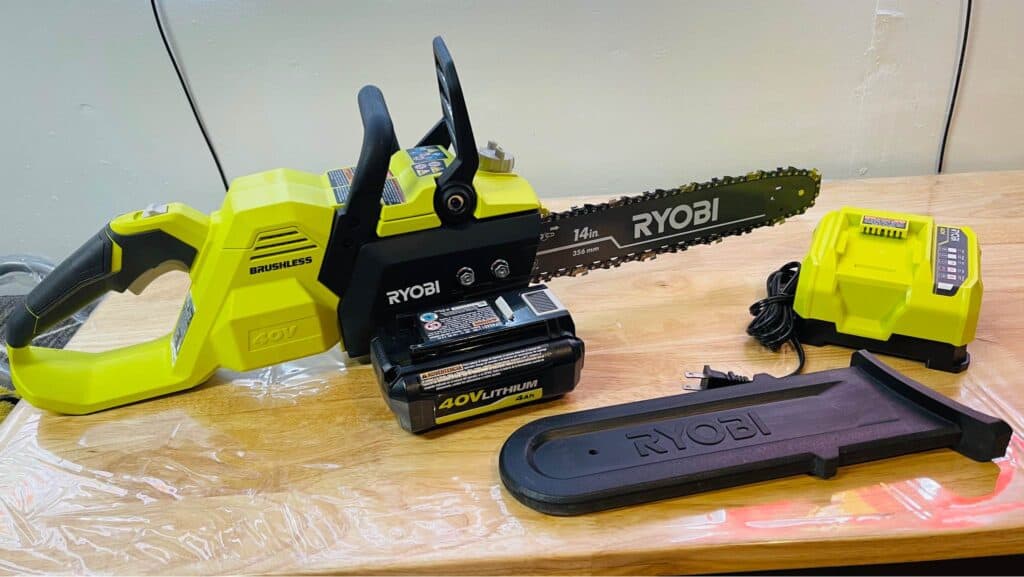 Do you need a portable and powerful battery-powered chainsaw for your lumbering operations? Then a high-end battery-powered chainsaw like the 40v or 80v chainsaw is what you need. In this article, we will discuss the best 40V chainsaws. These 40V chainsaws have great features that make them more versatile, powerful and perform operations seamlessly and with ease than some other 40V chainsaws available out there.
Some of these features include the brushless motor, translucent oil tank, automatic oiler, and handguard, to mention a few. A good example is our top pick, Black and Decker 40V 12 inch Cordless Chainsaw. It weighs 10.4 pounds, possesses a scabbard, and cuts efficiently with up to 60 smooth cuts per charge. We have also listed other durable 40V chainsaws and their key features.
Check them out below. You could also check out our buying guide and frequently ask questions for more information on choosing the best 40V chainsaw.
5 Best 40v Chainsaw Reviews
1.Black and Decker 40V 12 inch Cordless Chainsaw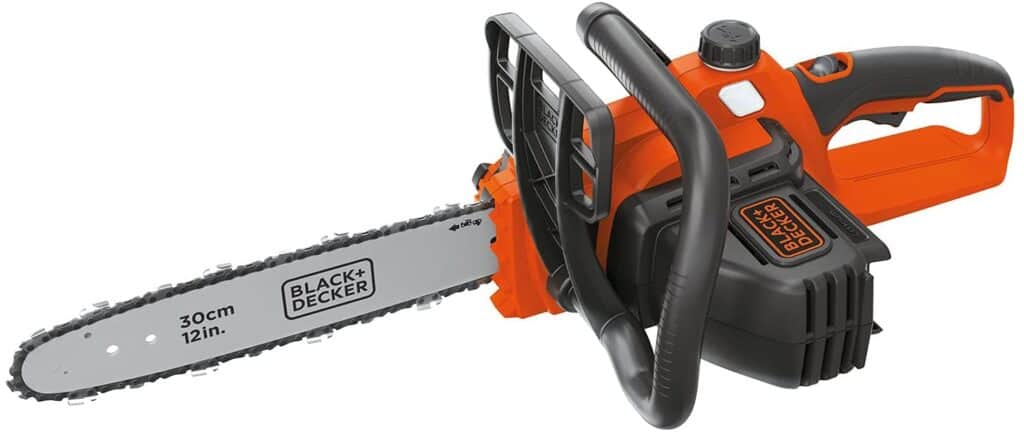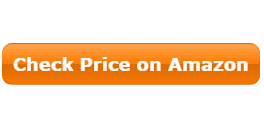 Key Features
Up to 60 4×4 lumber cuts per charge
10.4 pounds, 40V power rating
Possess Scabbard, handguard, and low kickback chain and bar
Automatic oiler
Adjustable chain tensioning knob
Apart from the high power of 40V that this chainsaw supplies for quick cuts, the safety components of this cordless safety electric chainsaw also make it unique. Some safety features it possesses are; a scabbard that covers the cutter chain from causing injury to its user when not in use. Further, it features a lock-off button to prevent accidental activation and a handguard, low kickback bar, and chain.
Does it worth it, check this out
It has a wrap-around grip handle that aids easy maneuvering and cutting at different angles. This chainsaw also cut through wood quickly and efficiently, thanks to the low kickback 12 inch Oregon chain, bar, and the automatic oiler that lubricates the chain at intervals. Besides, the user does not need any tool for adjusting the chain as it has a chain tension adjustable knob.
Fortunately, this cordless plastic 12-inch electric chainsaw is quiet compared to a gas-powered chainsaw and stops when overloaded. It's also lightweight and handy suitable for cutting tree branches and other garden trees.
Pros
The package comes with a battery and a charger
It comes with a saw cover
It's quiet during lumbering operations
The battery is compatible with other 40V Black and Decker lawn tools
Con:
The battery does not charge fast
2.GreenWorks G-Max 40V 16-inch Cordless Chainsaw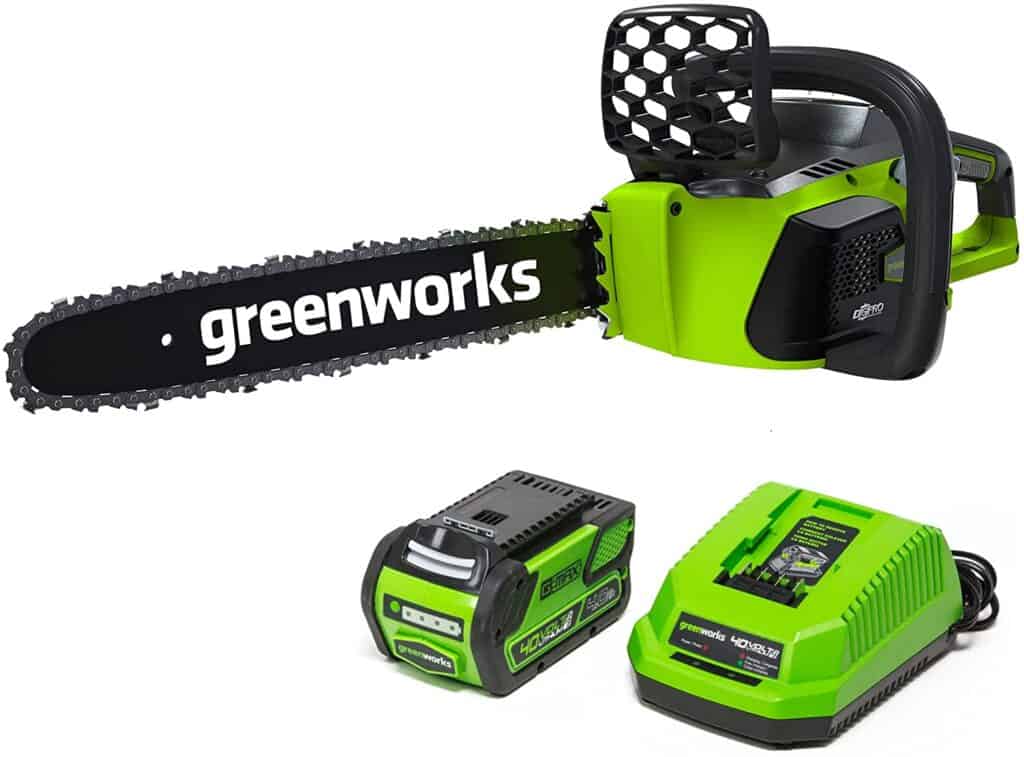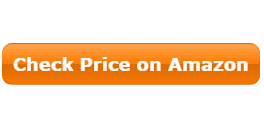 Key Features
10.36-pound weight, 40V G-max 4 AH Battery
Up to 140 4×4 lumber cuts per charge
Brushless Motor
Efficient electronic chain brake
Tool-less chain tensioning
Translucent oil tank
This chainsaw is arguably one of the best 40V cordless chainsaws out there because of its brushless motor. This brushless motor makes the chainsaw provide better engine performance, quiet operation, more torque, a longer run time before the need to recharge, and an increased lifespan for the chainsaw, as there is reduced stress on the motor.
Why it is our premium pick
If you have other GreenWorks tools powered by a 40V Li-ion system, the battery is compatible. The oil tank also has a transparent view for the user to view the oil gauge. It also has an automatic oiler that performs chain lubrication for efficient cuts and friction reduction. Besides, with the reduced stress on the motor, there is a whopping 70% reduction in vibration.
Interestingly, the chainsaw also prevents accidental kickbacks with its low kickback chain and chain brake. It also has a chain tensioning knob for chain adjustment; hence, the user needs no tool for adjusting the chain. While using this chainsaw, there are no emissions or fumes. And it is straightforward to use whether by a homeowner or for lawn care. It is also ideal for aged people due to the features that make it comfortable to use, especially with the absence of gas and oil mixing or cord pulling.
Pros
Charger and battery included
Battery charges very fast
Chainsaw possesses push-button start
Longer lifespan of the chainsaw
Minimal noise level and low vibration compared to other 40V cordless chainsaws
Con
Under overload, the chainsaw goes off
3.GreenWorks 40V 12-inch Chainsaw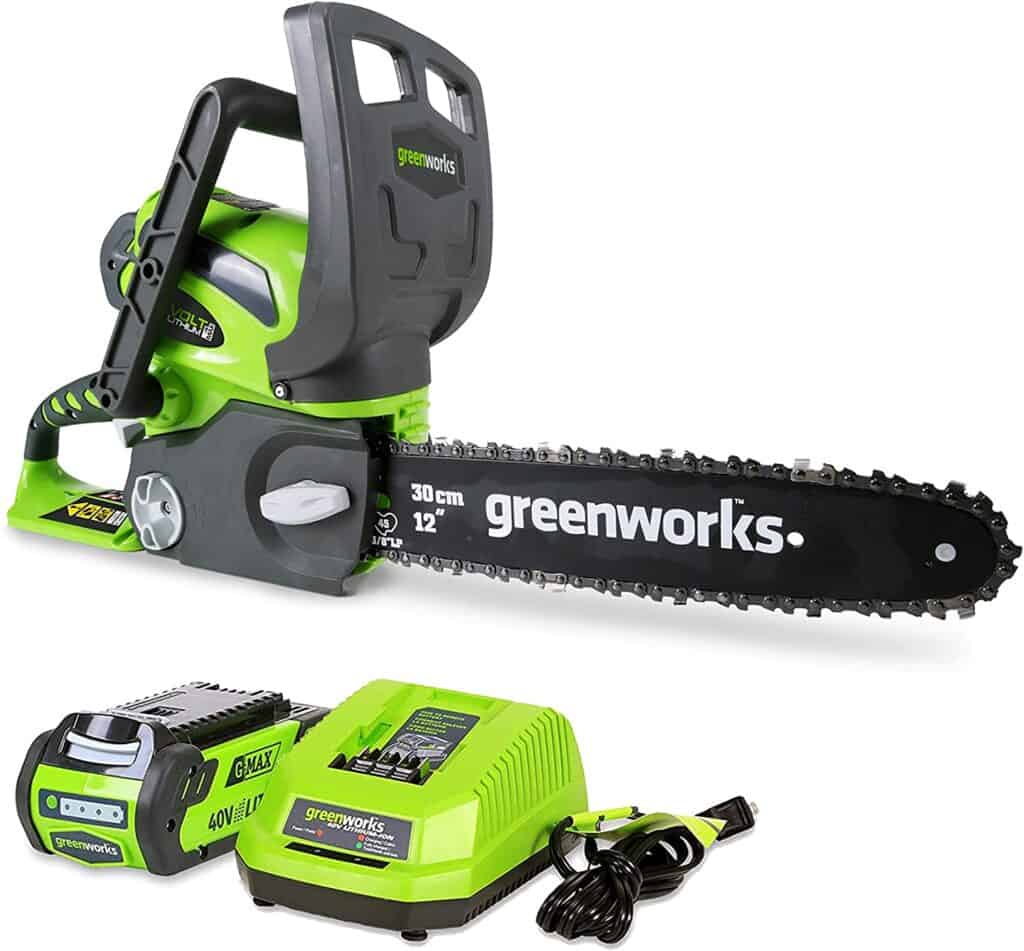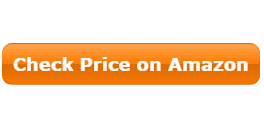 Key Features
7.1 pounds weight, High-Performance G-MAX 40V Li-Ion Battery System
Tool-Less chain tensioning
Translucent oil tank
65 cuts per charge of 4×4 blocks of wood
Automatic oiler
Ever tried a GreenWorks chainsaw before? Regardless of your answer, try this out. This 40V cordless chainsaw allows you to perform your lumbering work anywhere and without any emissions. Also, it costs a small amount, less than 70 bucks.
Reasons why you should purchase this:
It's an ideal power tool for landowners, homeowners, and individuals that are not regular chainsaw users: for cutting limbs and dead trees. It uses a highly efficient 40V lithium battery, capable of making a whooping 65 cuts per charge of woods less than 11-inch thickness, and also recharges in less than 150 minutes.
Its tool-less tensioning features also aid chain adjustment without switching off the engine while operating it. What about it automatic oiler? It consistently and automatically oils the chain and bar and ensures efficient cutting while increasing the chain's lifespan. The oil level is also easily noticeable, thanks to its transparent oil tank.
Additionally, the chainsaw comes with safety features such as a hand guard to protect the hand in case of an accidental chain break and a wrap-around handle for safety while working in multiple positioning in felling wood. Interestingly, no pumping of primer bulbs, mixing of gas, or cord pulling.
Pros
Comfortable push-button start
Quick charging with no memory loss
It is cheap and lightweight
Battery system compatible with many other Greenwood tools
Cons
User has to purchase battery and charger separately
4.WEN 40V Max Lithium-Ion 16-Inch Brushless Chainsaw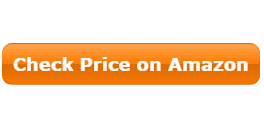 Key Features
12-pound weight, 40V G-max 4 AH Battery
49 feet per second speed
Brushless Motor
Emergency chain brake
Tool-less chain tensioning
This next chainsaw, similar to the GreenWorks brushless chainsaw, is the WEN brushless chainsaw, and it's a perfect alternative for the GreenWorks brushless chainsaw; it's cheap and does not leak oil while having almost the same features. Its noise level is about 102db, which is deemed low compared to the gas chainsaws. Therefore, you can for chopping branches, cut fell logs of wood within the neighborhood by homeowners, and for commercial purposes on woods less than 15-inch thick.
Why the Hype?
The chainsaw comes with an emergency chain break to control the chain in case of any accidental breakage. It also has a sheet to keep the chain and bar from injuring its user, especially when not in use. It uses an automatic lubrication system for consistent oiling of the bar and chain and elongating the lifespan of the chainsaw. There is also a transparent view for the user to view the level of the oil. It is essential to check the oil level every 10 minutes to ensure it has not gone down the minimum oil line.
Further, this tool runs at 49 feet per second and also makes clean cuts. Besides, there is an absence of unhealthy gas emissions or oil mixing. Its lightweight also ensures minimal fatigue during lumbering operation. The fade-free battery and its chain tensioning adjustment knob for chain adjustment also make this tool a perfect tool for your lumbering duty.
Pros
Very strong battery life
Does not leak oil like GreenWorks chainsaw
Has a well explanatory manual
Chainsaw is easy to set up.
Cons:
Getting a spare battery this chainsaw cost about 65% the price of getting a new one.
The Chain oil drain a bit faster
5.Ryobi 14 inch 40V Brushless and Cordless Chainsaw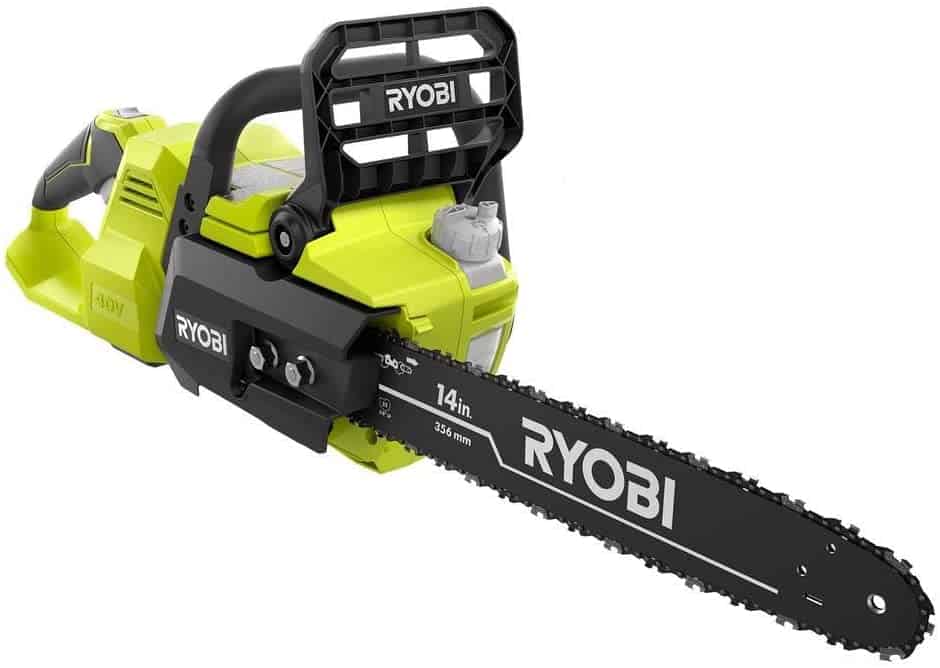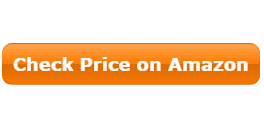 Key Features
11 pounds, 40V power Rating
Variable speed trigger.
On-board tool storage
Brushless Motor
Side access chain tensioning
Third, on the list of the brushless motor chainsaw in our review is the Ryobi 14 inch chainsaw. Two unique features the Ryobi 40V 14-inch chainsaw brings to the table is the onboard tool storage that allows easy and quick-adjusting of chains and more user control with the aid of a variable speed trigger.
Why purchase this
And like the gas chainsaw, the Ryobi chainsaw has high cutting speed and more torque, thanks to its high capacity 40V battery and brushless motor. This chainsaw works with all 40V li-ion batteries. Further, its wrap-around handle makes it more comfortable to cut in several positions while also helping the user make cleaner cuts.
The chainsaw is also very quiet; no need for protective earmuffs. The chain tensioning adjustment can be done with ease by the side of the chainsaw. Conclusively, are you a lumberjack or a homeowner? You can use this chainsaw on medium and small trees with ease.
Pros:
Lightweight and easy to maneuver
Works with any 40V li-ion battery
Very fast and efficient
Very quiet with an added control trigger
Cons:
No battery or charger included
Leaks oil occasionally
Average battery life
Buying guide
If this going to be your first purchase and you are not sure what to look out for before purchasing a 40V chainsaw, go through our extensive buying guide. You will find useful tips. 
Safety:
When purchasing a 40V cordless chainsaw, the first consideration should be its safety features. Safety features like a low kickback mechanism or emergency chain brake, scabbard or bar sheath, and handguard are vital for a 40V cordless chainsaw.
Hence, when we were selecting the chainsaws listed in this review, we ensured that these safety features are incorporated. Other safety gear is also vital for the user to get before using the chainsaw. Some of them are safety boots, pants, safety glasses, earmuffs, and head protection.
Compatibility:
Most brands produce other power tools such as mowers, weedeaters, and many others, and most times, they have compatible batteries or chargers; this becomes an added advantage for such buyers.
Brushed or brushless motor:
The advantage of a brushless motor in the 40V chainsaw is enormous. It ranges from increased efficiency, power/torque, numbers of cut per charge, lifespan, and reduced friction. The 40V WEN, 40V Ryobi, and 40V 16-inch GreenWorks chainsaws fall in this category.
Cost:
In purchasing a 40V chainsaw, the cost is also a prime factor to consider. Including a charger and a battery, innovation such as a brushless motor, and the chainsaw blade length, affects the cost. The GreenWorks 12 inch chainsaw that comes without a charger and battery is the cheapest on our list at $80. The cheapest chainsaw with the brushless motor innovation is the Ryobi 40V chainsaw.
Other costs like that of spare battery, charger, and oil should be considered, amidst maintenance costs.
Bar Length:
The bar length of the 40V cordless chainsaw also determines the wood thickness the chainsaw can conveniently cut. The highest bar length in this review is 16 inches which will conveniently cut a 14-inch thickness.
Comfort and Weight:
While purchasing a 40V chainsaw, check out for the weight and the features that promote comfort. For instance, the Greenworks 12 inch chainsaw listed above weighs less than 8 pounds. Apart from the portability, all the chainsaws except the Ryobi 40V chainsaw have the automatic oiler for ease in chain tensioning adjustment without the tools. The wrap-around features are also a common feature possessed by most chainsaws in this review for efficient cutting in several angles. Overall, these features should ensure minimal fatigue after extended use. 
Do you still have questions, check through the frequently asked question below.
FAQ:
Are battery-operated chainsaws worth the money?
Answer: Why not? The battery-operated chainsaw is worth every penny. Battery-powered chainsaws are mostly lightweight compared to gas chainsaws, thus portable for its user. Battery-powered chainsaw weight as low as 6 pounds and the gas chainsaw as low as 8 pounds. Electric chainsaws are also easy to maintain than gas chainsaws.
Battery chainsaws also perform operations quietly compared to gas chainsaws. And it is more suitable for homeowners and lawn owners and a versatile tool for lumberjack using it for medium and less duty, though, not the best for heavy-duty. So, overall, battery-operated chainsaws are worth the money.
Which is better Ego or Greenworks chainsaw?
Answer: Rating the better chainsaw depends on a variety of criteria. Let's have a look at a detailed rating from test results shown by tooltestbuzz.com. In terms of the runtime, lesser weight, chainsaw features, and lesser noise, the Ego Cordless chainsaw is a better brand.
However, when looking at the overall size and balance, cutting speed, overall ergonomics, and lesser price, Greenworks appears superior. Therefore, depending on the features you desire most in a chainsaw, you can determine the better one for you.
What better gas or battery chainsaw?
Answer: Generally, the better chainsaw depends on the factor under consideration. Most professional chainsaw users compare the chainsaw in terms of power, and definitely, the gas chainsaw cuts trees with much power compared to the battery-powered ones. Nevertheless, with much innovation by battery-powered manufacturing companies in producing brushless motor engine chainsaws, there is much efficiency, more torque/power, almost like the gas chainsaws.
While in terms of noise, weight, and maintenance, the battery chainsaw is better. Thus, for professional and heavy-duty tasks, gas chainsaws are a better option. While battery-powered ones are suitable for yard cleaning and other small duty. 
From this review, we believe you have made the right pick from our Best 40V chainsaw. With the right 40V chainsaw in your arsenal, you can be sure of making cuts with high efficiency and speed and less fatigue after extended use. Have a happy sawing with utmost comfort and less noise.
Related Articles:
Best 2 stroke oil for chainsaw
Best electric chainsaw sharpener
Last Updated on January 23, 2022 by John G. Anderson