Title
Top Pick
JET JWBS-18-3, 18-Inch Woodworking Bandsaw, 3 HP, 1Ph 230V...
Premium Choice
Powermatic PM1800B, 18-Inch Woodworking Bandsaw, 5HP, 1Ph...
Best Budget
18|bx Bandsaw 220V 3HP
Best for cutting metal
Grizzly Industrial G0807-18" 2 HP Variable-Speed Vertical...
RIKON 10-345 18-Inch Band Saw
Image





Top Pick
Title
JET JWBS-18-3, 18-Inch Woodworking Bandsaw, 3 HP, 1Ph 230V...
Image

Premium Choice
Title
Powermatic PM1800B, 18-Inch Woodworking Bandsaw, 5HP, 1Ph...
Image

Best Budget
Image

Best for cutting metal
Title
Grizzly Industrial G0807-18" 2 HP Variable-Speed Vertical...
Image

Title
RIKON 10-345 18-Inch Band Saw
Image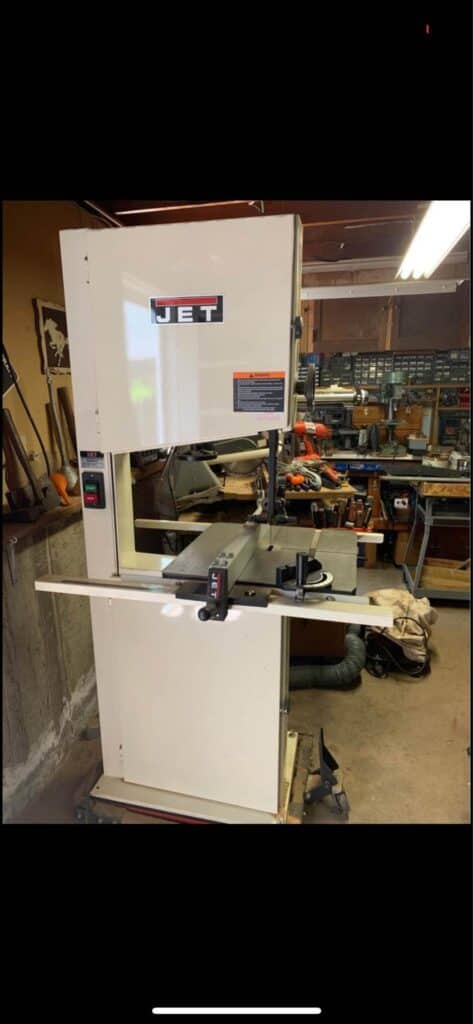 Bandsaws are helpful for smooth and aesthetically beautiful layouts when resawing wood, planks, and slates of plywood during construction. In addition, you can use a bandsaw in cutting metals and wood for different shapes and sizes. The tool can cut in curves, straight lines, and even irregular patterns for unique designs.
Though choosing the best bandsaws can be confusing for most people, an 18-inch bandsaw remains outstanding. Some of the best 18-inch bandsaws suitable for your construction works include JET JWBS-18-318-Inch Woodworking Bandsaw, Powermatic PM1800B 18″ Bandsaw, LAGUNA TOOLS 18 In. Bandsaw, etc.
This article reviews the best 18 Inch Bandsaws, covering their outstanding features, efficiency, cost, and what distinguishes them. Also, we'll discuss the important factors to consider when choosing a bandsaw. Then, get to the end to discover even more about bandsaws.
Our Top Picks
Our top picks in 18 Inch Bandsawas areJET JWBS-18-318-Inch Woodworking Bandsaw, Powermatic PM1800B 18″ Bandsaw, LAGUNA TOOLS 18 In. Bandsaw.
5Best 18 Inch Bandsaws – The Review
A bandsaw always provides perfect control during a cutting process. This makes it the right tool in delicate works other than other power saws.
The following is our review of the best 18 Inch Bandsaws for construction works.
1.JET JWBS-18-3, 18-Inch Woodworking Bandsaw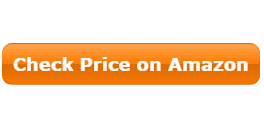 JET JWBS 18-Inch Woodworking Bandsaw is capable of many resawing operations. With its horsepower and throat capacities, you can conveniently cut through bigger boards to produce smooth and clean edges. With the blade tracking window, you can get a clear view of the cutting blade during tracking. Moreover, the blade tension scale is very easy to read from the door window. This will help you to maintain precision through intricate cuts. The heavy-duty tensioning has a quick release and three settings for user control. It has partial tension, full tension, and full release settings. Also, the castiron offers maximum stability and support during operation.
This bandsaw gives the users excellent safety and protection. It comes with a safety switch and electrochemical engine brake that are helpful during cases of emergency. Also, the machine has an easy-to-access belt release lever that ensures its replacement. Furthermore, a compatible magnetic door on the front of the guidepost facilitates efficient blade changes for the bandsaw. Also, the large adjustable guides are toolless and will save time during the setup process.
Furthermore, the manufacturers designed the saw to be health compliant. This Jet Bandsaw comes with dual 4-inch dust collection ports. These ports gather all the dust from the cutting process, keeping the users safe from inhaling them. Thus, it's the best bandsaw for people with respiratory health issues such as asthma and bronchitis.
One of the major concerns to users is that the bandsaw is mostly suitable for professionals. The installation process is way too long and can only take a professional user to set it up properly. Also, the table is large and heavy. It weighs over 50lbs and may require assistance for its installation.
Main Features
3 HP motor power
16-inch resaw capacity
Dual 4-inch dust collection ports
Blade tracking adjustable knob
Heavy-duty tensioning
Table insert leveling screws
Blade tracking window
Pros
Excellent tool for accuracy and precision
Provides high-quality cutting power.
Great throat capacity or verticle cutting up to 16 inches.
Perfect dust control system.
Cons
Set up process may be too technical for non-professional users.
Very large and heavy table.
2.Powermatic PM1800B 18″ Bandsaw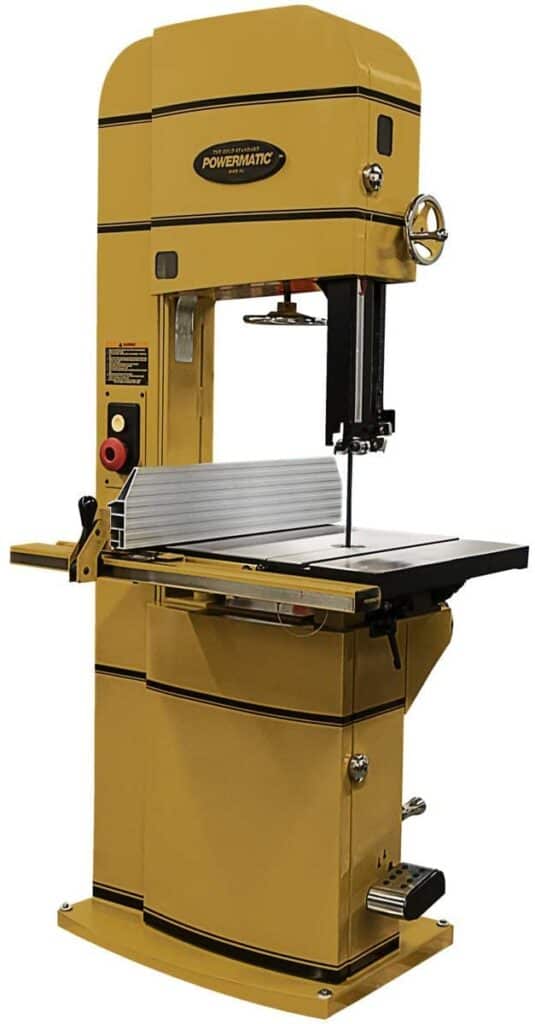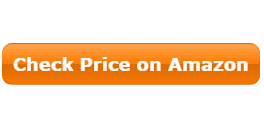 Powermatic PM1800B 18-Inch Bandsaw produces standard performance with its great features in resawing and woodcutting. The machine is powered by a 5HP motor that ensures precision and accuracy with its super blade guides. The tool is a really large one in every sense if you're looking for a large bandsaw. It weighs over 900lbs and is the heaviest among the saws in this review.
The tool has a blade tension lever that accounts for easy blade tracking and changes through the three setting options. This means that users can set the full tension, partial tension, or full release during operations. Also, its dual 4-inch exhaust ports provide effective chips and dust removal and management. This capacity eliminates the possibility of dust inhalations from the workspace.
Furthermore, the miter gauge is adjustable with stops at 45and 90 for setting and controlling the cutting depth of the blades. You can get a cutting width (throat capacity) up to 18 inches. Moreover, you can get increased accurate performance from the tool's Accu-fence.
Additionally, the strong cast iron table and trunnion assembly provide maximum strength and rigidity even for large stocks. Also, an electrical interlock with the blade tension release prevents the tool from starting if the blade is de-tensioned.
However, this Powermatic Bandsaw is very heavy. Therefore, even on a custom mobile basis, it remains too cumbersome when trying to move the machine. Also, besides being huge and heavy, the tool has a higher price than most other bandsaws.
Main features
5 HP motor power
Heavy-duty upper wheel
Adjustable miter gauge
Magneti starter
Computer balanced cast iron wheels
Micro-adjustable tool-less bearing guide system
Blade tension with electrical interlock
Pros
Maximum rigidity.
Increased accuracy in performance.
Two-speed pulley for fast cutting
Dual positioning of the fence to vertical and horizontal.
More horsepower than all the saws in the review
Less vibration and noise.
Cons
3.LAGUNA TOOLS 18 In. Bandsaw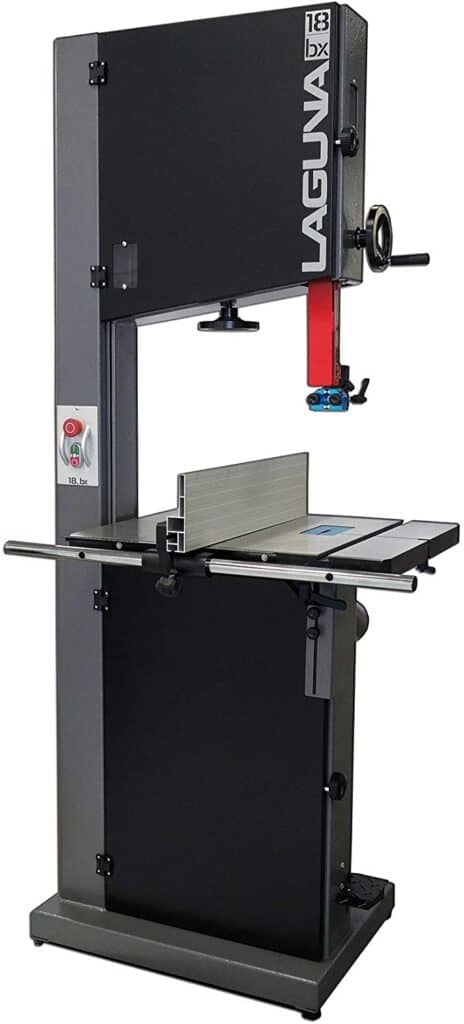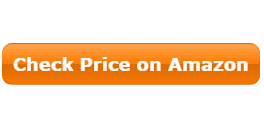 With its 3HP motor, this LAGUNA Bandsaw can deliver great and smooth cutting with ease. The solid cast iron wheels are dynamically and electronically fitted and balanced with good rolling tires. These allow the machine to tilt and move such that you can engage resawing processes with convenience.
The bandsaw has a resaw capacity of 16-inch that puts the machine on the fore-front for tough cuts in a daily professional workshop. Also, there's the pyramid-shaped spine that reduces frame distortion during a full tension of the blade. The overall outcome is a high-quality cut with accuracy and precision.
The tool has a double window that enables the checking of both tracking and tension during operation. With the anodized aluminum throat plate, you can adjust the bandsaw for increased accuracy. Furthermore, the machine has a fitted foot-operated brake system. The brake's performance comes in two stages when you press the foot pedal. The first is to cut off power from the motor, while the second is a full activation of the disc brake to halt the saw instantaneously.
Also, the manufacturers of the tool have the health of users in mind while designing the bandsaw. The Laguna tool comes with double 4-inch dust ports. This helps the machine to exhibit efficient dust extraction during operation. As a result, there's no potential for dust inhalation while working with the tool.
One of the outstanding benefits of this bandsaw is its famous blade guide system designed with ceramics. They produce ten contact points on the blade. This maintains great setup and accuracy even during a process of deep timber resawing. Moreover, the ceramic guides will ensure a larger contact area and support for the blade.
But the downside of this bandsaw is the generation of much Styrofoam.
Main features
3HP motor power
Magnetic starter
18-inch throat capacity
Disc brake with micro switch
Viewing window with tension
Recommended breaker
Pros
Unique foot-operated disc brake system.
Efficient dust extractor.
High accuracy with its famous blade guide system.
Cons
Generates a lot of styrofoam.
4.RIKON 10-345 18-Inch Band Saw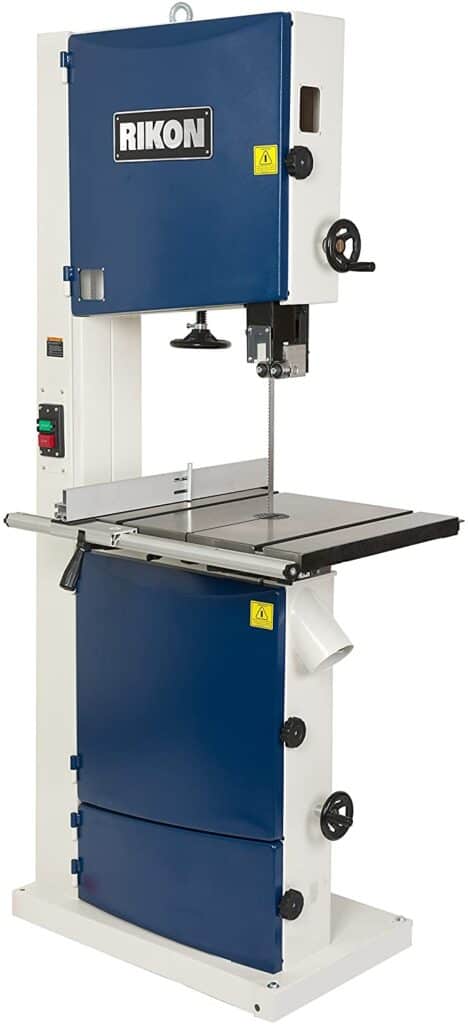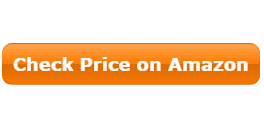 This Rikon Bandsaw is an amazing tool designed for the cutting of wood and non-ferrous stocks. The machine is powered by a 2 – 1/2HP motor for powerful and smooth cuts that depict accuracy and precision. With the balanced cast iron wheels that are solid, the machine maintains consistency in its operations. Also, having a 12-inch resawing capacity allows users to resaw larger stocks that are suitable for their work projects.
The tool can make right tilts up to 45 degrees that are great for resawing stocks. Also, with the 2 speed of 1510/3220 ft/min, you can conveniently cut non-ferrous materials with ease. Moreover, this enables great performance for a variety of applications. You can easily switch to another speed using the belt-tensioning handwheel.
Additionally, the quick-release fence is a great feature that ensures straight cuts. You can readjust the blade drift according to your cutting pattern. Also, there's the possibility of attaching a resaw bar to prevent the blade from shifting during resawing operations.
When it comes to pricing, this Rikon is the less expensive among all the bandsaws in this review. Depending on your project, this machine will give you a good performance for your money.
Though this tool has great features and performance, it has some downsides as well. The machine has no built-in work light in its design. This means that you will solely rely on the lightning in your workspace when using it. Also, you may constantly have to adjust the machine's height to suit the height of your workbench.
Main Features
2 – 1/2HP motor power
Double bearing blade guides
Dual 4-inch dust ports
Quick-release blade tension
2-speed operational tool
Hinged blade guide with viewing window
Pros
Easy adjustment with quick-release blades.
Excellent dust protection
Powerful performance with uniformed, smooth, and clean cuts.
Two speeds enable different cutting applications.
Cons
No working light.
Constant readjusting of height.
5.Grizzly Industrial G0807-18″ Vertical Metal-Cutting Bandsaw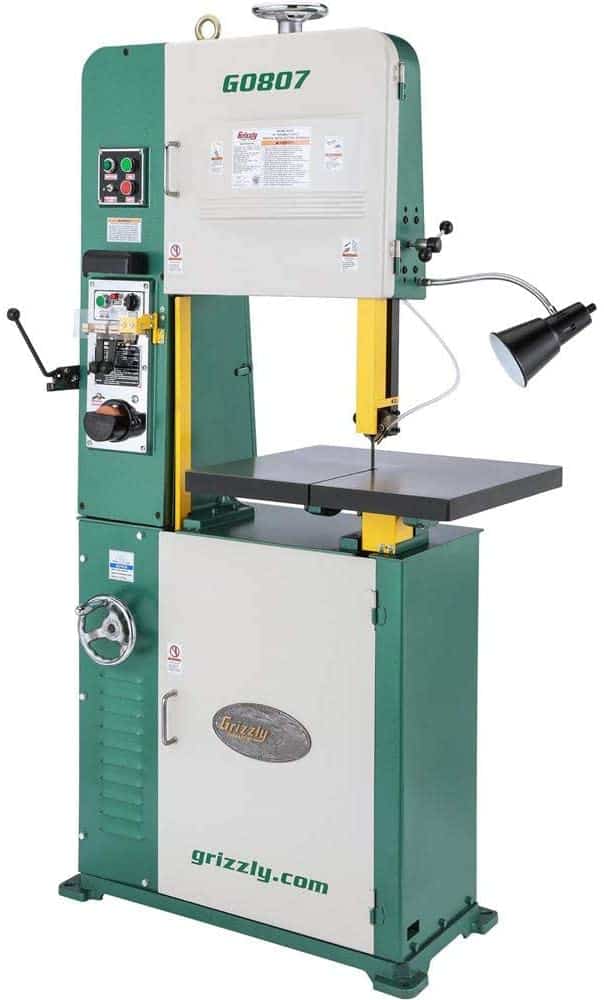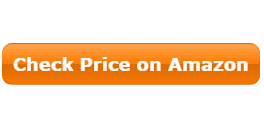 Grizzly Industrial Bandsaw G0807 portrays great quality performance with its unique features. This makes the cutting experience smooth without hassles. The tool is quite durable and proves to be a valuable asset in today's modern workshop.
The machine is powered by a 2HP motor that drives the cutting operations through a wide range of works. The bandsaw has great stability and gives no vibrations during its performance. It's all thanks to the durable cast iron top end. Also, the work light offers extra lightning even in dim workplaces.
The bandsaw produces excellent cuts on metal, the best for metal cutting among all the bandsaws in this review. Also, with the variable speed control of the machine, you can maintain precision and accuracy through your cuttings. Moreover, you can cut the blade and reweld it to achieve seamless cuts inside
with the blade welding station.
The tool's large table makes some tilts possible, front to back and side to side. This tilting ensures squarest cuts irrespective of how tight a work contour may be. Also, the bandsaw comes with variable speed blade control that allows cutting most tough stocks by just turning the handle.
The major setback of the tool is the price. The bandsaw is relatively expensive.
Main Features
2HP motor power
Variable blade speed control
Upper blade guide with chip blower
Worklight
Balanced cast iron wheels
Built-in blade shear, welder, and grinder
Rack and pinion upper blade guide adjustment
18-inch throat capacity
Pros
Great lightning from the work light, even in dim areas.
Enhance stability and rigidity from the cast iron base.
Excellent protection with limit switches.
Great tool for metal cutting.
Cons
Considerable Factors for Choosing Bandsaws
The precision and versatility of bandsaw remain unmatched and supersede those of table or miter saws. Getting a good and right bandsaw will make your work easier and give precision in your cuts for unique projects.
But when you plan on getting a bandsaw for your works, you should consider factors:
Cutting capacity
The cutting capacity of a bandsaw comprises two figures, the throat and resaw capacities.
The throat capacity is a measure of the distance between the vertical column of the frame and the saw blade. This accounts for the maximum material width the saw can cut. So the larger the throat capacity, the greater the cutting width from the bandsaw. Manufacturers usually indicate a measurement either in the tool's name or description. This represents the throat capacity of the machine. So, an 18-inch bandsaw has a throat capacity of 18.
The resaw capacity, also known as the cutting depth, is a measure of the distance from the bandsaw table to the peak of the blade guides. This provides the maximum material thickness the tool can cut—the common cutting depth range between 6 to 12 inches.
Motor Power/Horsepower
To choose the right motor power for your bandsaw, you'll have to consider the size of materials you will be working with.  So, the horsepower of your bandsaw depends on your cutting demands. Where the materials are smaller stocks, such as in a normal DIY, you can go for a tool with horsepower between 0.5 to 0.75. However, if you'll be dealing with larger stocks of hardwood and all that, a higher saw of up to 1 to 3 horsepower is recommendable.
You should understand that motors with higher horsepower ratings require greater electricity output to drive them. For instance, a motor with 2 HP will need an electricity output of about 220V. So, consider that too.
Blade Guides
We can never overemphasize the need for quality blade guides in a bandsaw. With a good blade and motor, a bandsaw blade tends to cut very fast. So, to maintain precision as well as speed, the blade guides are there for the works.
A bandsaw comes with both upper and lower guides, each comprising of two components; trust support and side supports.
There are two prominent bandsaw types; the ceramic blade and bearing blade guides. The former is notable for its stability and durability. The latter normally offers guidance through the use of sealed bearings. So, make sure the bandsaw you choose comes with blade guides.
Bandsaw Blades
Bandsaws have different blades types for different stock cutting. Understanding the blade types will help you to choose the one suitable for your work. For instance, a skip-tooth blade saw is better for non-ferrous materials such as plastics and wood. On the other hand, when you desire to cut thick wood, you will get a quicker result using a hook-tooth blade saw. This's because the blade has stronger and larger teeth. For thin and fine materials, the best option falls on the most versatile and general blade bandsaws with a regular tooth.
Frame Style
The frame style of bandsaw comes in two popular types; steel frames and cast-iron frames.
Steel frame bandsaws have just a single-piece frame. They are made from heavy welded sheets of steel. Its popularity is in its construction process, where manufacturers increase cutting capacities while retaining strength and deflection. Steel frame bandsaws have now taken a greater stance in the European markets, especially in the US market.
Cast-iron frame bandsaws are quite helpful in everyday usage as traditional bandsaws. However, they have limited horsepower and cutting capacities. In addition, they usually come with two huge machined castings, the upper and lower components.
Fence
If you will engage in daily projects, the best choice of the bandsaw is the one with a heavy fence. Also, ensure to pick the one with a simple adjustable mechanism. With a good fence, your bandsaw will resaw wood and rip tough lumber accurately with great precision.
Price
While every other factor is necessary for choosing the right bandsaw for your work, you can never go beyond your pocket. The price of the tool goes a long way in affecting your choice. Though it can be worth the cost to invest in a quality bandsaw in the long run, you should avoid overspending. Keep your budget in line with your pocket and select a great bandsaw that will serve you.
We also have reviewed the best budget bandsaw.
FAQs
What is the use of an 18-inch bandsaw?
An 18-inch bandsaw can be used for cutting different materials ranging from simple wood to tough timber. They have higher throat and resawing capacities that will produce smooth and clean cuts with accuracy and precision.
Should I buy a 17 or 18-inch bandsaw?
There are some important factors to consider when choosing a bandsaw to buy. You will most importantly consider the type of project you're engaging in and your budget despite all odds. Both a 17 and 18-inch bandsaw are great tools for woodwork operations. However, an 18-inch will give a larger throat capacity in cutting.
What is a horizontal bandsaw used for?
A horizontal bandsaw is commonly used in the cutting of metals. Its usage is mainly in industrial applications and is more available in commercial shops.
With a horizontal bandsaw, the material to be cut remains stationary while the saw operator moves the tool horizontally for the cutting.
Related Articles:
Last Updated on January 23, 2022 by John G. Anderson