title
Top Pick
Grizzly Industrial G0513X2-17" 2 HP Bandsaw w/Cast-Iron...
Best for resaw
Grizzly Industrial G0555XH - 14" 1-3/4 HP Extreme Series...
Budget metal saw
KAKA INDUSTRIAL Metal BandSaw 3.3x4.1 inches Benchtop Metal...
Best for metal cutting
KAKA INDUSTRIAL BS-712R, 7"x12" Metal Band Saw, the bow can...
Grizzly G0561 Metal Cutting Bandsaw, 7 x 12-Inch
Image





Top Pick
title
Grizzly Industrial G0513X2-17" 2 HP Bandsaw w/Cast-Iron...
Image

Best for resaw
title
Grizzly Industrial G0555XH - 14" 1-3/4 HP Extreme Series...
Image

Budget metal saw
title
KAKA INDUSTRIAL Metal BandSaw 3.3x4.1 inches Benchtop Metal...
Image

Best for metal cutting
title
KAKA INDUSTRIAL BS-712R, 7"x12" Metal Band Saw, the bow can...
Image

title
Grizzly G0561 Metal Cutting Bandsaw, 7 x 12-Inch
Image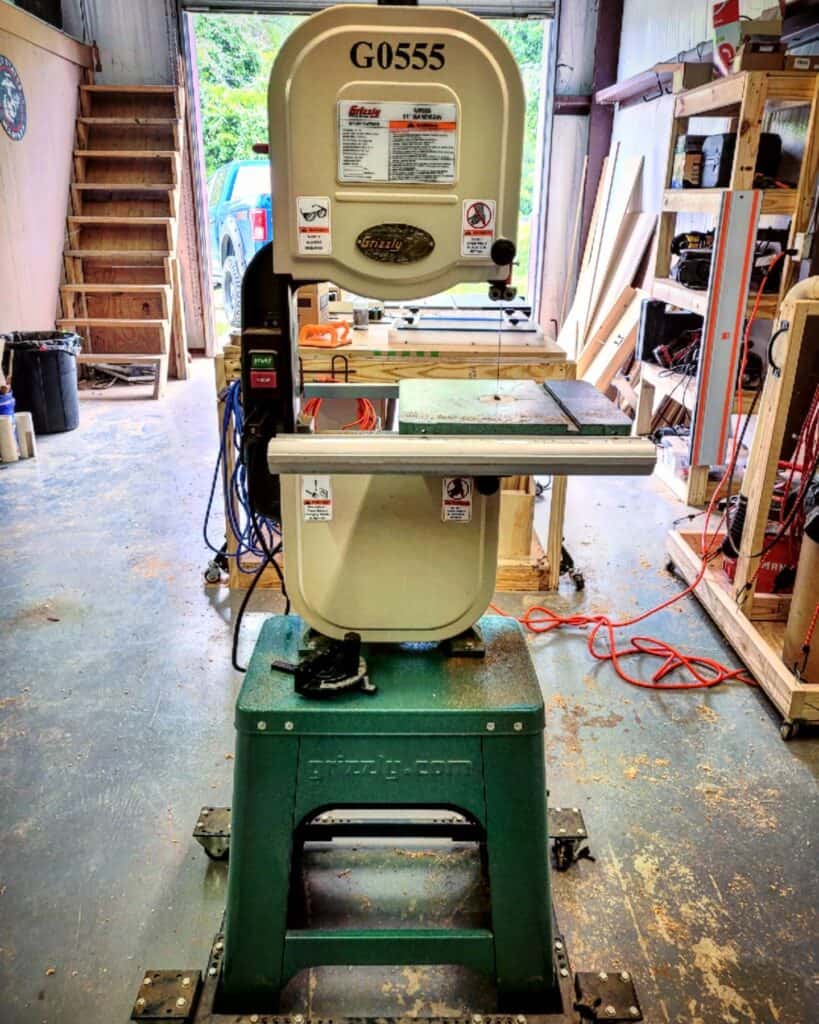 An industrial bandsaw is a great and important machine for industries and larger workshops. This tool is a perfect asset for achieving accuracy and consistency while cutting materials. Industrial bandsaws are used in different operations such as metalworking, woodworking, lumbering, and others. With the higher quality in their blades and strength in functionality, they produce uniform cutting action.
Also, they are the best tools for cutting curved or irregular shapes, such as a jigsaw. These account for their versatility in operations. Some of the best industrial bandsaws for higher cutting performance include Grizzly Industrial G0513X2-17″ Bandsaw, Grizzly Industrial G0555XH – 14″ Bandsaw, Kaka Industrial BS-85 Bandsaw, and others.
Through this article, we'll give you a review of the best brands available in the market. Also, you will understand their differences in functionality, features, and what to consider when choosing them.
Our Top Picks
Our top picks for the best industrial bandsaws are Grizzly Industrial G0513X2-17″ Bandsaw, Grizzly Industrial G0555XH – 14″ Bandsaw, and Kaka Industrial BS-85 Bandsaw.
Industrial metal bandsaws are known for their versatility and the ability to cut shapes on different materials. They enable users to perform various operations in wood, metal, and other works areas.
Below is the review of our picks for the best industrial bandsaws.
5 Best Industrial Bandsaw Reviews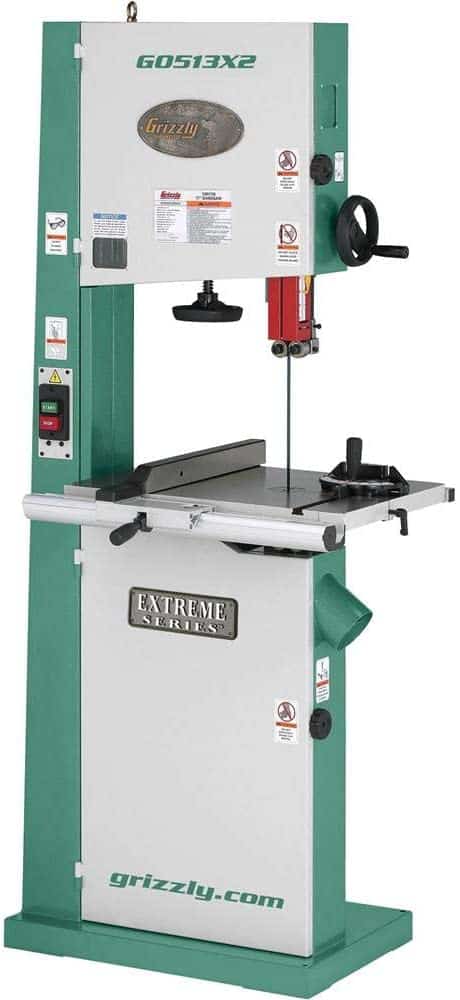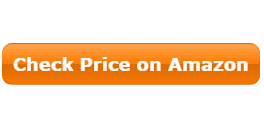 When you desire a bandsaw with a high cutting capacity for woodwork projects, Grizzly G0513X2 bandsaw is the top choice. The machine gives excellent performance with great precision and accuracy. In addition, it's reputable for its versatile application, especially in heavy-duty projects.
It is powered by a 2HP motor that produces up to 1725 RPM. This stands as the highest motor drive in this review. Also, the machine comes with a dual blade speed of 1,700FPM and 3,500FPM. This makes it easy for a user to conveniently select the suitable cutting speed based on the material for his project. With a throat capacity of 16 – ¼ inches and a cutting height of 12 – 1/8 inches, you can expect a higher cutting prowess from the tool.
Furthermore, the machine has a heavy-duty cast iron trunnion that tilts for great resawing operations. Also, the tool features an extra-wide table that is firmly locked on the cast iron for cutting larger materials. You can comfortably utilize the micro-adjusting option during cutting without missing your pattern. Moreover, the table can tilt up to 45o to increase accuracy in your works.
The overall performance of this Grizzly industrial bandsaw is great and satisfactory. The manufacturers designed the machine in compliance with ISO 9001, which depicts quality construction. The wheels of the machine get maximum stability and balance, which minimizes vibrations and noise. This makes the bandsaw an outstanding tool with less noise during operation.
The releasing and tensioning of the blade are simplified with the quick-change blade release and tensioner. There's no need for external tools for such a purpose. What's more, the machine protects the users from dust inhalation during operation. It has an excellent dust extraction system that traps all the dust particles during operations leaving the workplace clean and healthy.
The major setback of this industrial tool is that the blade continues to spin a bit longer after shutting off the machine. So, the user must be vigilant and wait for some period to ensure that the blade has completely stopped before leaving the tool.
Main features
2 HP motor power
Computer balanced cast-iron wheels
Blade tension indicator
Quick-change blade release or tensioner
Miter gauge
Cast iron table trunnions
Blade tracking window
Pros
Great stability with minimized vibration and noise.
Excellent roller guides for high precision and accuracy.
Great dust extraction system.
Powerful and speedy cutting operations
Cons
The blade spins a little longer after the machine is shut off.
It is the most expensive in this review.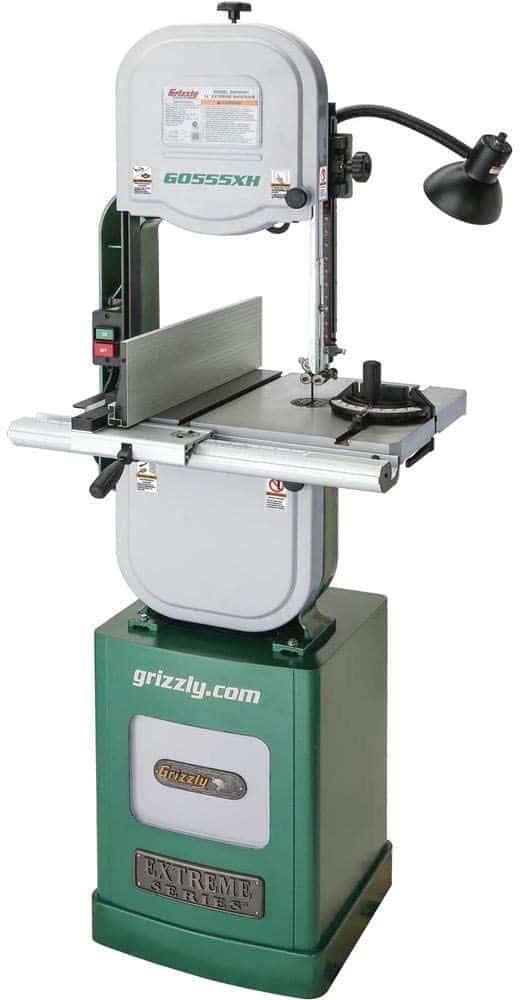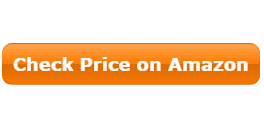 When you're all for high quality, accurate performance, and value, this Grizzly Industrial Bandsaw stands as your choice. The machine features superior top and button blade guides that maintain precision in cutting, just like an auto-pilot. You are sure of the complete elimination of blade deflection. Thus, the blade follows the cut lines and patterns to produce the desired shape.
Powered by a 1.75HP motor, this industrial bandsaw can move seamlessly through sections of materials of even larger sizes. This Grizzly model has the great capacity of cutting and resawing wood up to 12 inches thick. This doesn't require the addition of any expensive riser kit.
The tool is CSA Certified as it is designed in ISO 9001 standards. This alone shows the great standard and high quality. With the magnifying cursor, you can conveniently monitor the cutting pattern of the blade. Also, with the quick-change blade release and tension, you can control the movement and tension of your blade.
Furthermore, this industrial bandsaw is equipped with a precision-ground cast-iron frame and table. These provide the stability and balance you need during cutting as they are computer balanced. Also, it reduces vibrations and noise in your working environment. There's room for tilting the table up to 45oright to accommodate different shapes and patterns that suit your project.
Moreover, the heavy-duty cast iron stand has aluminum wheels with tires made of rubber. These enhance easy mobility within the workplace conveniently.
However, the tool has no critical adjustments on both the trunnion riser and base. Instead, they seem to be with solid alignment key casting without adjusting provisions.
Main features
1.75HP motor power
Extruded aluminum resaw fence
Computer balanced cast iron wheels
Blade tracking
Magnifying cursor on fence scale
Miter gauge
Quick-release blade tensioning
Ball-bearing blade guides
Pros
High-quality performance for all industrial and home cuts
Great rugged design for durability
Great stable stance with low vibrations
Cons
Lacks critical adjustments on both the trunnion riser and base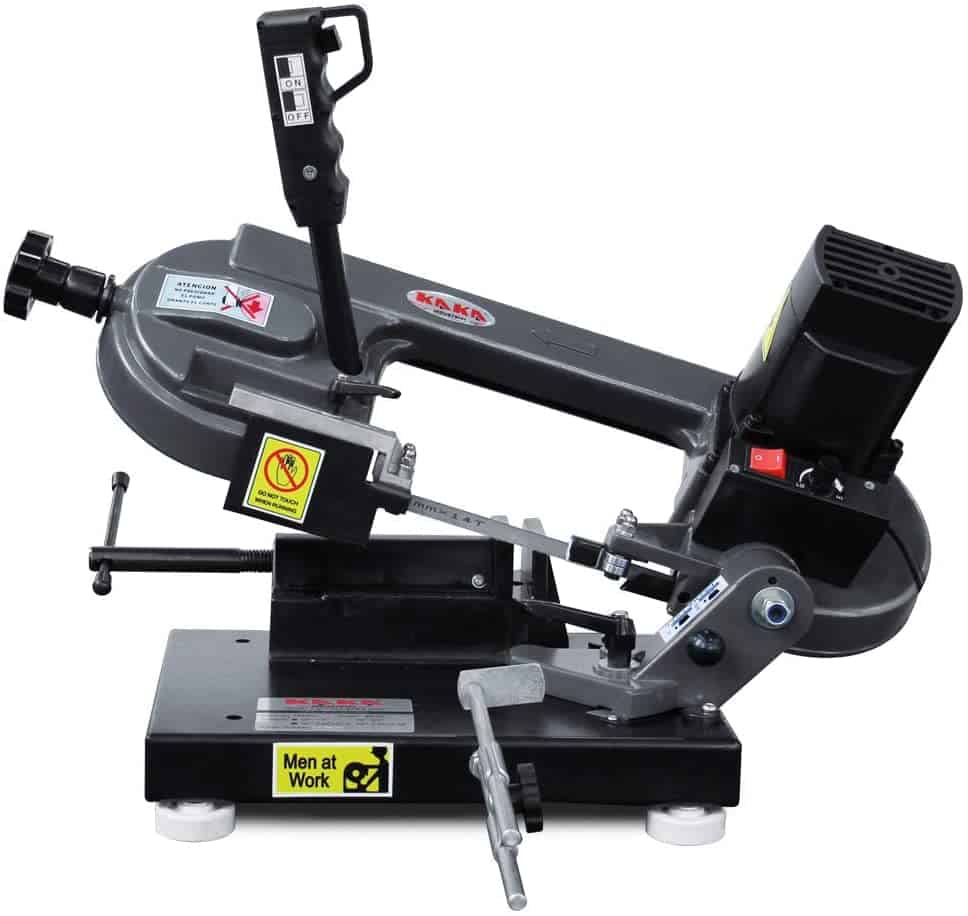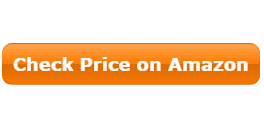 This Kaka Industrial BS-85 Bandsaw is a unique, highly portable tool used in several work projects. Its efficiency and precision make it an applicable tool for easy cutting of wood, aluminum, brass, steel, copper, etc. It can cut through virtually anything.
The benchtop bandsaw is designed with aluminum casting. It's lightweight and highly portable that you can easily move it around the workspace. The machine has several safety features that make it a desirable tool even for home-based projects. The bandsaw comes with a block feeder and step-less speed regulator.
Furthermore, the manufacturers designed the machine for the maximum safety of the users. There's the automatic shutoff button that users will enable for safer operation. It ensures protection in cases of emergency. Moreover, the tool features adjustable roller blade guides that eliminate deflection. Thus, there are no unnecessary losses during cutting operations.
Also, the machine has a clamping vise handle that enables users to unfasten their workpiece on the tool. You can conveniently rotate the machine from 0 to 45 degrees during cutting for easy resawing of a desirable pattern. When it comes to pricing, the KAKA industrial tool has a low price. It stands out as the lowest bandsaw in this review, and its overall quality is still great. We'll say that the machine will be a suitable option for users with a low budget.
The major setback in this bandsaw is that it only operates with 110V. So, its usefulness falls in places that utilize 110V output.
Main features
1.5 HP motor power
Adjustable roller blade guides
Frame lock
Clamping vise handle
Block feeder
Automatic shutoff
Pros
Simple controlling of cutting angles.
Stable cutting procedures and lightweight
The least expensive bandsaw in this review.
Stepless speed control
Cons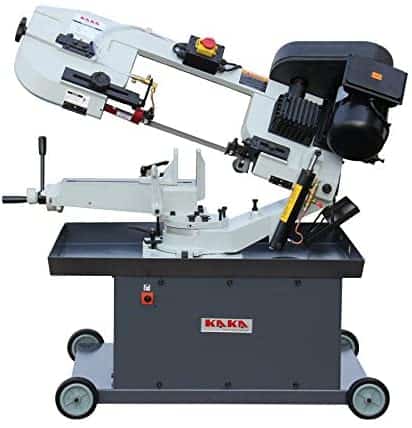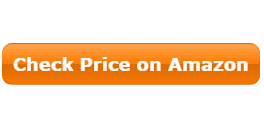 KAKA Industrial Metal Cutting Bandsaw is a great tool that helps users to achieve high precision in their projects. It is powered by a 1.5HP motor that drives the tool and operates with four different speed measures for excellent cutting capacity.
This KAKA Industrial Bandsaw gives you versatility in resawing and cutting metal materials like aluminum, steel, and others. With its operational switch, you can select either the vertical mode or the horizontal mode based on the shape you're creating. With its 7" X 12" rectangular capacity, the tool can cut through metals of several densities.
Furthermore, the machine offers you a miniature storage unit with its roller cabinet where you can put up some small materials and tools. Thus, the industrial tool is quite portable. Also, it comes with a set of four wheels fixed at the bottom of the machine. This accounts for easy mobility around your workplace without stress.
Cutting procedures with this KAKA tool are simplified through the use of its great features. First, there are the quick clamps used for securing and fastening workpieces during cutting. Also, you have the option of adjusting the clamps up to 45o to get the right desired patterns for your projects.
This industrial bandsaw has an excellent cooling system that regulates the temperature of the cutting blade. Thus, the blade is protected from overheating. This ensures continuous precision in cutting and promotes the durability of the blade. In addition, with the hydraulic control, you can select the best feed rate that impacts the blade's pressure for performance.
One of the downplays for this tool is that it has no wheel locks to keep it steady. So you will devise a means to maintain stability during operations. Also, the machine is not wired for 230V.
Main Features
1.5HP motor power
Cooling system
Power break protection
Hydraulic feed
Vertical working table
Pros
High precision metal cutting tool.
Used both vertically and horizontally.
Excellent built-in protection device.
Highly portable
Cons
Not wired for 230V
No wheel locks.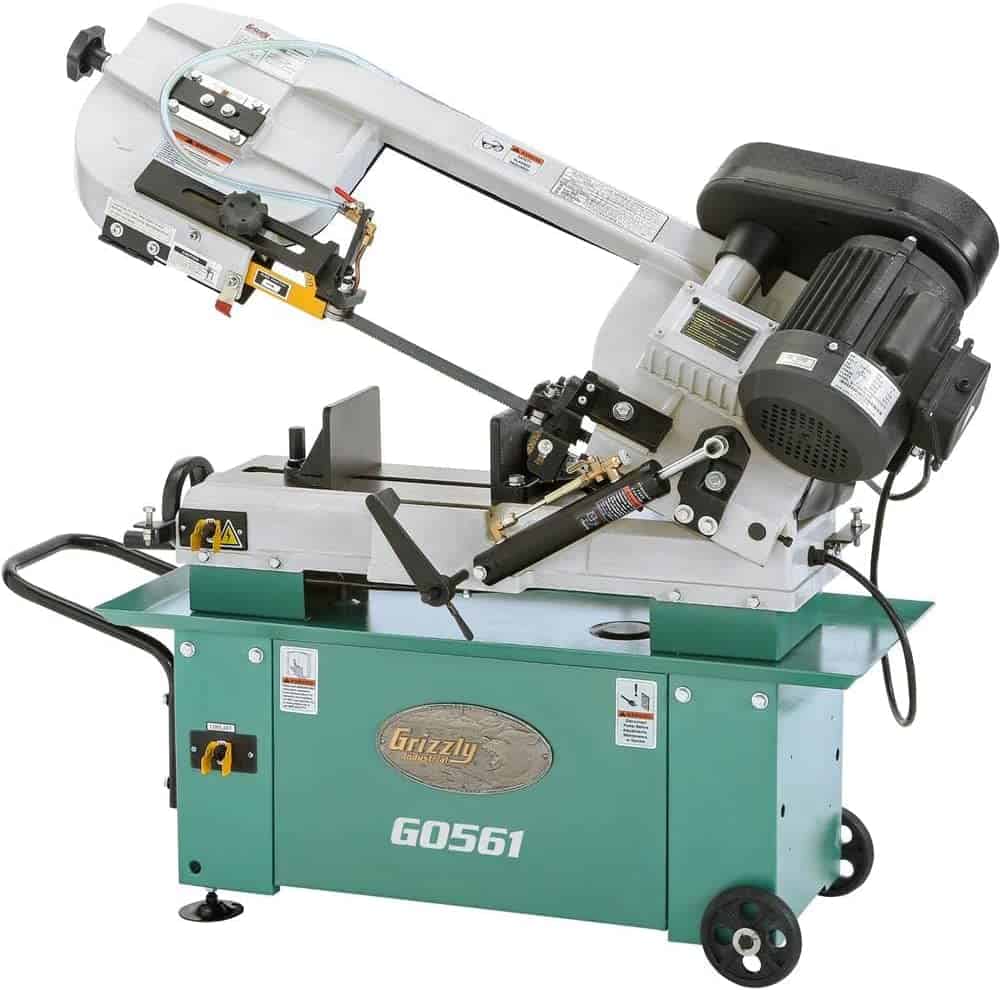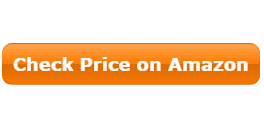 This is a great brand of Grizzly industrial tools that is completely mobile. It has a large capacity for metal cutting with precision and accuracy. This bandsaw is designed and equipped to cut up to 7" X 12" rectangular and 7" circular stocks. Also, this machine cuts both in vertical and horizontal positions.
The tool is powered by a 1HP motor that impacts with four-blade speed capacities of 90, 135, 195, and 255 FPM. This enables the blade to cut through wood up to 7" X 12" as well as short stocks of metals. You can easily adjust the blade speed by moving the V-belt location on the motor and wheel pulleys. The tool comes with a steel base that holds the saw from rattling during operation.
Furthermore, there's the quick-release vise that clamps and holds a workpiece firmly to ensure precision. The clamps allow adjustments during operation from 0o to 45o. Also, you have the option of adjusting the feed rate and feed pressure. This will depend on the characteristics of the chips that fall from the cuts.
Equipped with a great coolant system, the manufacturers designed the blade of the bandsaw for optimal performance and extended longevity. The system regulates the temperature of the blade, keeping it from overheating. This results in consistent smooth and clean cuts with accuracy.
A downplay of this tool is the difficulty in adjusting the blade speed in steps. Also, this industrial bandsaw has the least horsepower among other saws in this review.
Main Features
1HP motor power
Automatic shut off
Great coolant system
Quick-release vise
Includes blade and its brush
Hydraulic feed control
Wheels for mobility
Pros
Great consistency in performance.
Extremely powerful cutting tool
Minimized footprint
Cons
Has the least horsepower in this review.
Difficulty in blade speed adjustment
Considerable Factors When Selecting an Industrial Bandsaw
Industrial bandsaws are cutting and resawing tools with powerful and high-performing capacity. They are used for larger applications, especially in industrial and other workspaces, for much demand. Here are some factors to consider when choosing an industrial bandsaw.
Design
Industrial bandsaws are meant to perform heavy-duty works. They are designed with some basic components and features to cut materials. There are two major types of design; vertically cutting and horizontally cutting types. Also, there are the ones that can cut in both positions. Good performance comes from the basic features and components of the machine. A tool with its built-in frame and table designed from cast iron will provide more stability and less vibration.
Motor power/Horsepower
This is what drives the bandsaw to operate and deliver the expected task. The higher the horsepower of a tool, the greater the output if all other factors are kept constant.
Wheels
The wheels play a major role in the productivity of an industrial bandsaw. Heavy-duty wheels will easily rip into materials even through denser metals like steel and copper. A great performing wheel made from cast iron will produce consistent cuts with high precision and accuracy. However, the lightweight wheel from aluminum casting is not the best option for denser materials.
Blade Guides
The good blade has the potential for fast movement and rolling during operation without any restriction. However, it takes the presence of the blade guides to maintain precision and accuracy. Thus, a good industrial bandsaw will always have the top and bottom blade guides that will prevent deflection of the blade during operations.
Safety Components
Industrial bandsaws are notable for their high speed and precision in performance. However, without adequate safety features, there will always be accidents and casualties. Consider selecting a tool that has great protective features to reduce injuries in cases of accidents and emergencies.
FAQs
What is the best metal cutting bandsaw?
Not every bandsaw can cut through metal. The most suitable for metal cutting is the industrial bandsaws such as KAKA Industrial Metal Cutting Bandsaw.
What industries use the bandsaw?
Several industries utilize bandsaws for their operations. These industries include the rubber industry, automotive industry, biomass energy industry, wood processing industry, and others.
What is the best industrial band saw?
There are many great and high-performing industrial bandsaws out there in the market. The rating of a bandsaw will majorly depend on its features and the specific project for its utility. Our top pick in the review of industrial bandsaws is the Grizzly Industrial G0513X2-17″ Bandsaw.
Related Articles:
Last Updated on January 23, 2022 by John G. Anderson