Title
best 7 inch blade
IRWIN 7-1/4-Inch Metal Cutting Circular Saw Blade, 68-Tooth...
best 10 inch blade
Freud LU77M010: 10" Medium Stock Aluminum Blade
best 8 inch blade
Oshlun SBNF-080060 8-Inch 60 Tooth TCG Saw Blade with...
best hacksaw blade
LENOX Tools Hacksaw Blade, 12-inch, 14 TPI, 10-Pack...
best sawzall blade
Diablo DS0908CF 9" Steel Demon Carbide Recip Blade for Thick...
best jigsaw blade
BOSCH T227D 5-Piece 4 In. 8 TPI Special for Aluminum T-Shank...
Image






best 7 inch blade
Title
IRWIN 7-1/4-Inch Metal Cutting Circular Saw Blade, 68-Tooth...
Image

best 10 inch blade
Title
Freud LU77M010: 10" Medium Stock Aluminum Blade
Image

best 8 inch blade
Title
Oshlun SBNF-080060 8-Inch 60 Tooth TCG Saw Blade with...
Image

best hacksaw blade
Title
LENOX Tools Hacksaw Blade, 12-inch, 14 TPI, 10-Pack...
Image

best sawzall blade
Title
Diablo DS0908CF 9" Steel Demon Carbide Recip Blade for Thick...
Image

best jigsaw blade
Title
BOSCH T227D 5-Piece 4 In. 8 TPI Special for Aluminum T-Shank...
Image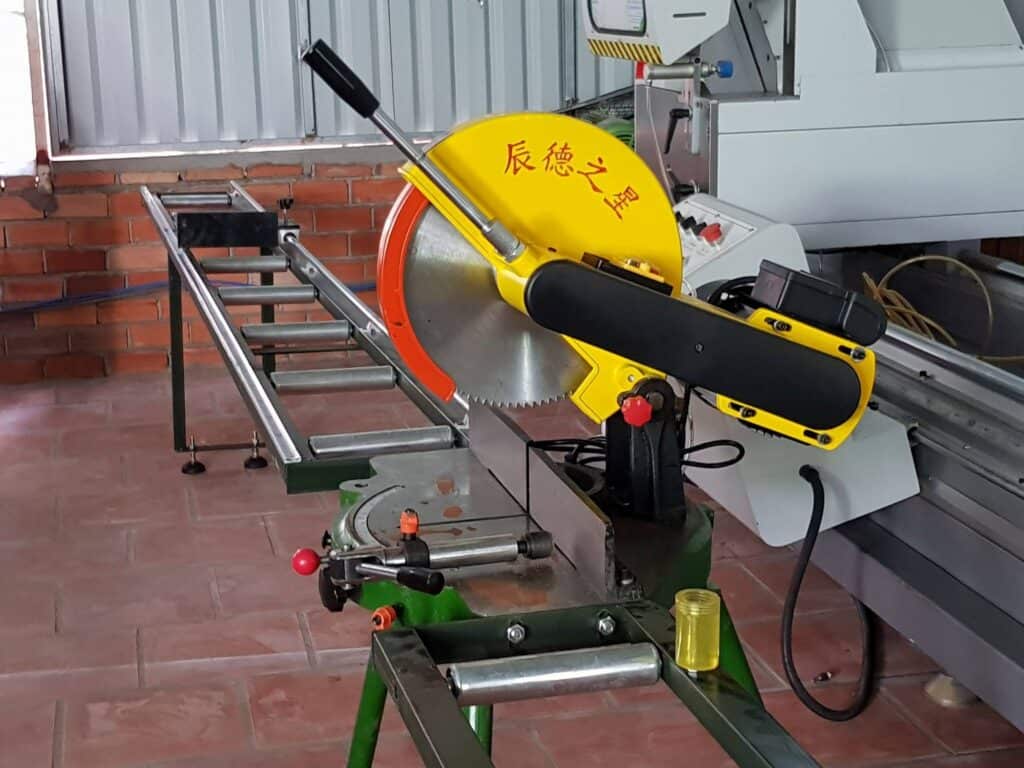 Aluminum is one of the common materials you will be cutting as a DIYer or a professional. Maybe you will cut wood and wood composite some more. Aluminum is a relatively soft metal you would need for many home and professional projects.
Cutting aluminum could be challenging for first-timers. A big concern is knowing what tool is appropriate to cut without ruining the material or damaging the blade. Besides, using the wrong tool is also stressful and could predispose to workshop injuries. Cutting aluminum might give off some sparks and generate heat which might scare you.
These concerns are why we curated this review to help you determine the best blade for cutting aluminum. Check out our picks for different types of saws – circular, miter saws, hacksaws, reciprocating saws, and jigsaws.
What Type of Blade is Ideal for Cutting Aluminum?
You can use various types of saws to cut aluminum, depending on the use. For example, a good reciprocating saw blade is ideal for aluminum that is tough to reach. But it is not a good idea to cut bulks of aluminum tubes with it. We will consider various blade types in this review depending on the type of saw.
There are things to consider while choosing a circular saw blade. One is the number of teeth, as it determines your result. Blades with more teeth will give you a better cut than a blade with fewer ones. But blades with fewer teeth are ideal for cutting thick aluminum. The blades with triple chip grind teeth are best for aluminum because they reduce chipping.
For durability, the blade teeth should be carbide-tipped. The blade diameter determines how deeply your blade cuts and how fast it cuts. If you want to make deep cuts, you should consider getting a big blade above 7½ inches. It is usually better to use blades with thin kerfs for precision and cutting speed.
You need a reciprocating blade to cut aluminum in places you would not be able to reach with other types of saws. The higher the blade's TPI (teeth-per-inch), the better it is. It should also be bi-metal and have carbide tips. For thin aluminum sheets or pipes, consider using a blade of 18 – 24 TPI to achieve a very smooth cut. A blade with 8 or 10 TPI is also great for aluminum.
Hacksaw blades with high TPI have shorter teeth and can cut thinner aluminum better. Blades with low TPI cut faster and better for thick aluminum when smoothness is not a priority. If you want to cut curves or shapes on aluminum, consider a jigsaw blade that has a T-shank. This improves grip and gives the blade some stability. The blade should have a minimum of 24 fortified teeth.
9 Best Blades for Cutting Aluminum Review
Suppose you are considering getting the best blade for cutting aluminum. In that case, you need one that can give a smooth cut, last long, and guarantee some safety. The blade should also suit your saw and the type of cut. Here are some of the best blades you can get for circular saws, miter saws, hack saws, jigsaws, and reciprocating saws (Sawzall).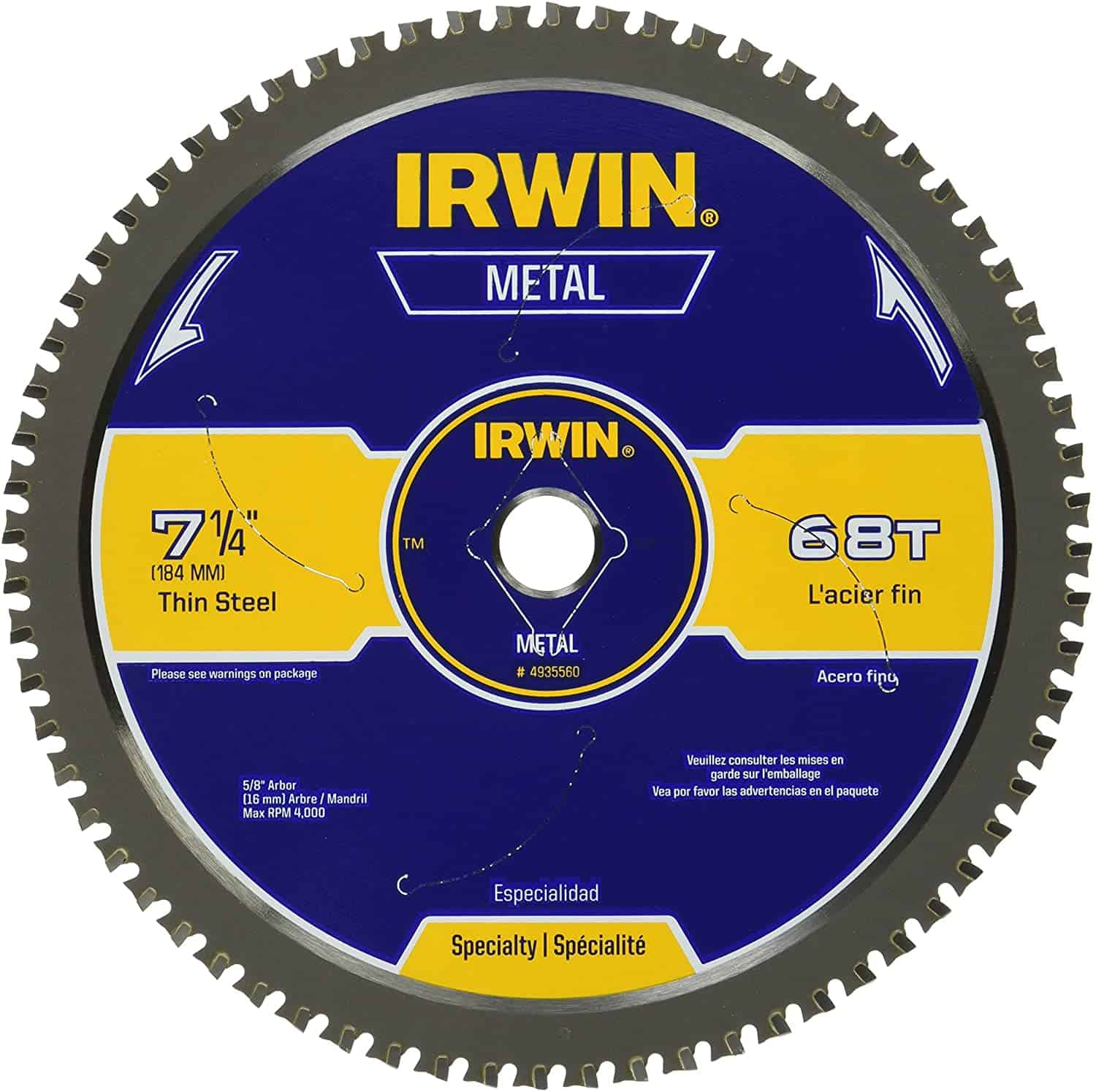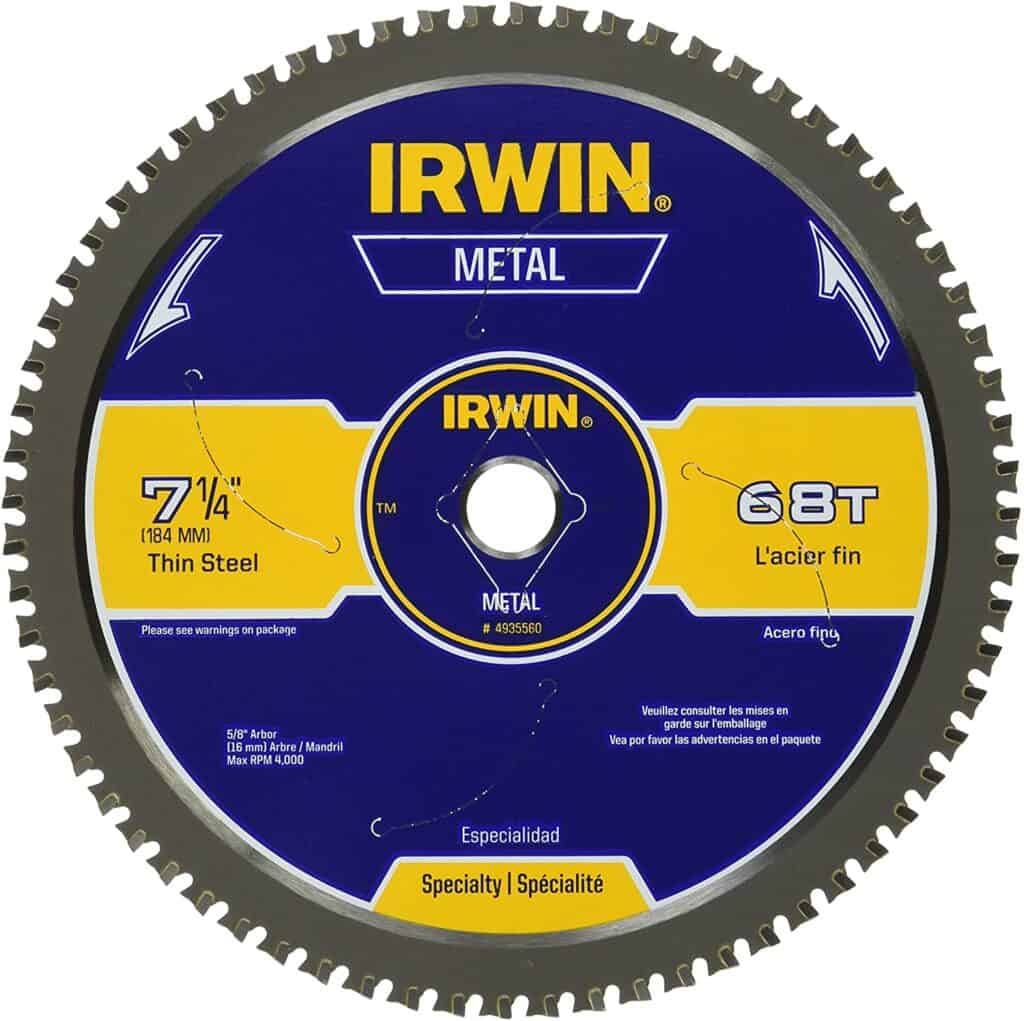 The 7¼-inch Irwin blade is one of the best circular saw blades for cutting aluminum and other high-gauge metals. It has a small diameter, so it is best used for shallow cuts. The blade features anti-vibration vents that minimize noise and vibration to keep the blade steady during cuts. This should give you more accurate cuts.
We recommend this blade for cutting thin aluminum. And because it gives a neat finish, it is especially good for trimming aluminum sheets and pipes to fit your measurement. In the splendor of its range, the blade can also cut thicker metals like ribbed steel. Its 68-tooth carbide tip makes the blade last longer and cuts smoother.
The blade is big on safety as it is designed to prevent kickbacks and reduce the sparks during cuts, which could predispose to workshop injuries. It also has a lower dust production when you compare it with other blades.
Key Features
Anti-vibration vents
Has anti-kickback shoulders
Ideal for thin aluminum sheets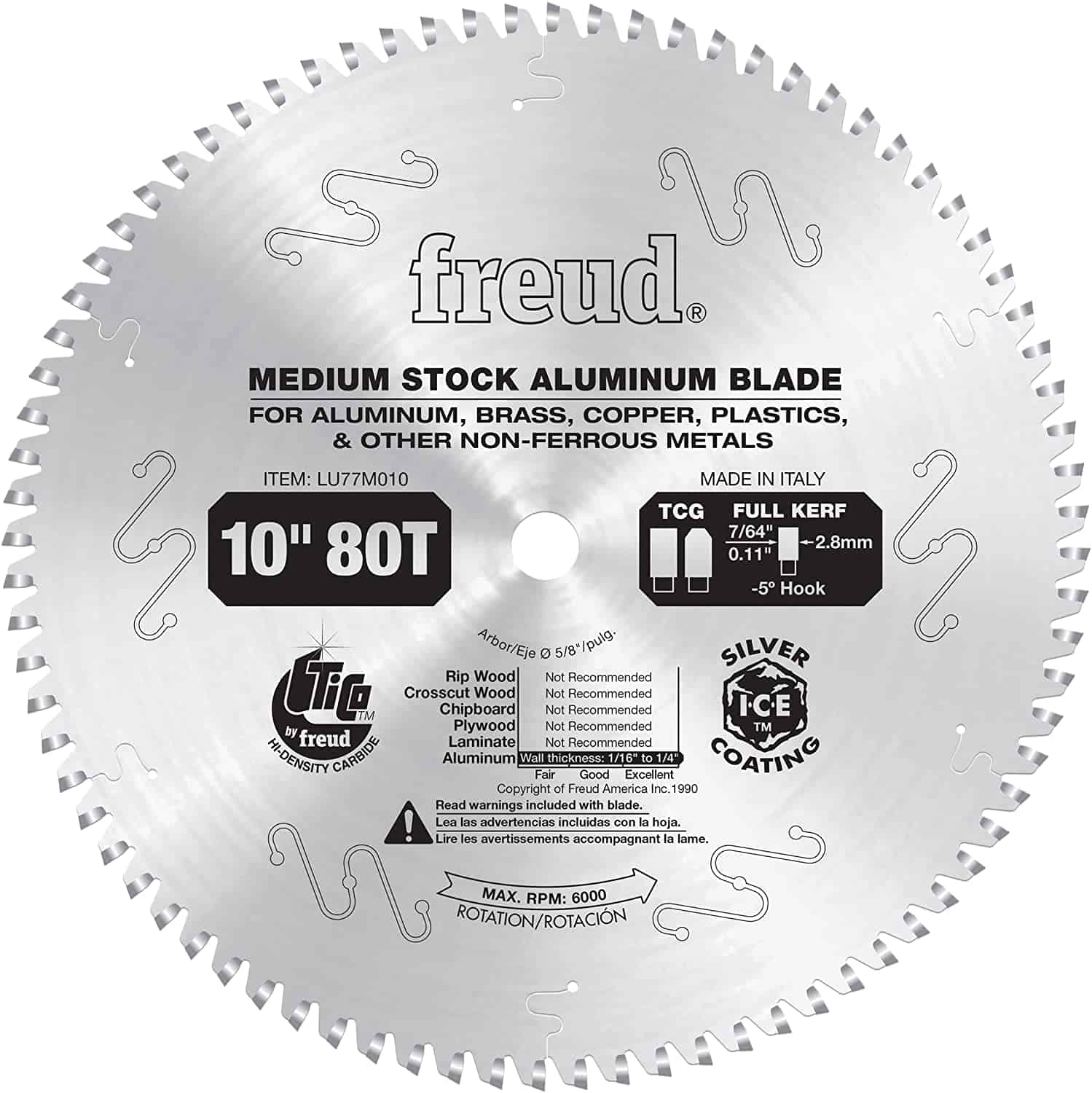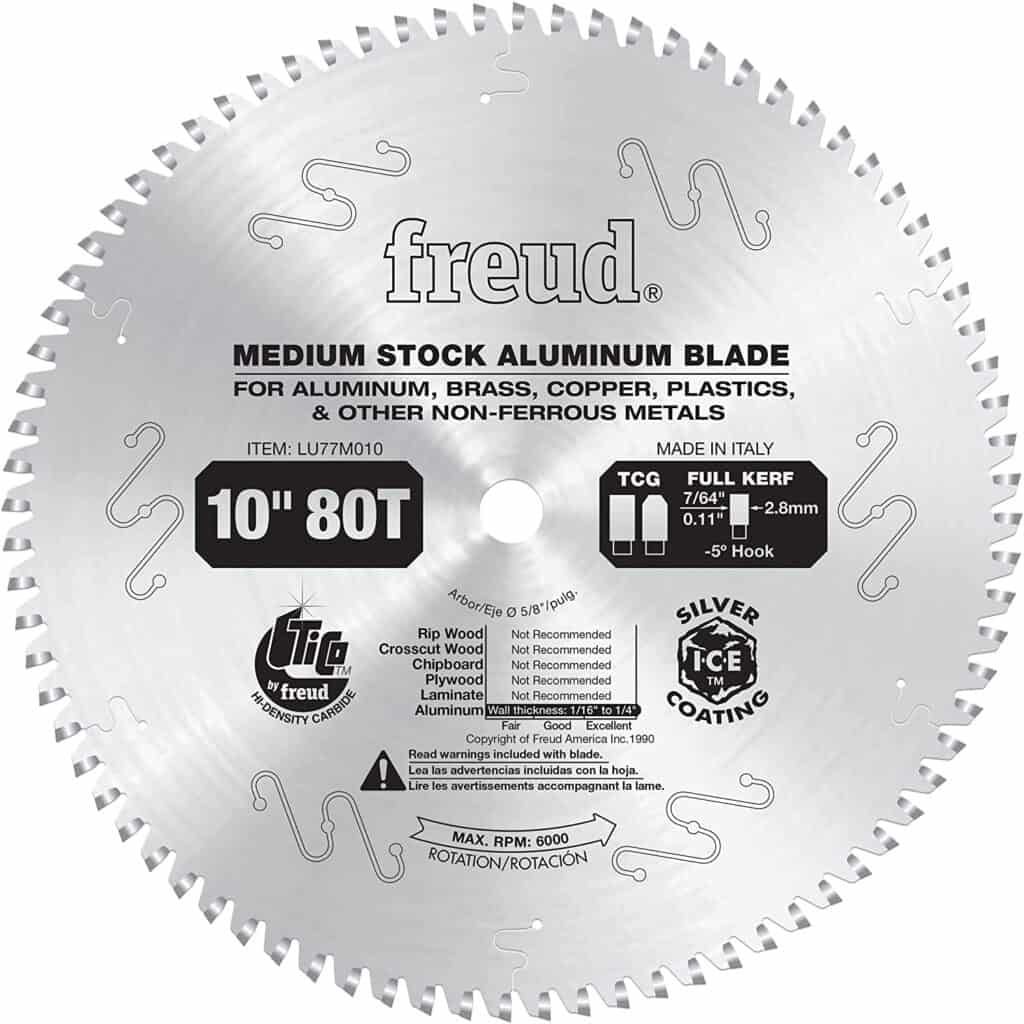 A prominent feature of this 10-inch Freud blade is its ultra-thin kerf line. This helps you reduce waste, enjoy better accuracy and a faster feed rate. It is wider than the Irwin, which means it can cut a little deeper. It is a heavy-duty blade with impressive HI-density carbide tips on its 80 teeth. These prolong the life of the blade and reduce the frequency of sharpening.
There are four gullets to demarcate these teeth to remove the aluminum chips. It has a -5 degrees teeth hook and a triple chip grind (TCG). Asides from cutting aluminum, it is also an excellent blade for brass and copper. The manufacturers recommend you use a lubricant after 4 or 5 cuts. The blade withstands rust and corrosion with a silver ice coat.
This blade fetches you a good value for your money. Many reviews attribute this to the longevity of the blade and its accuracy while cutting. People have used the blade on the extruded aluminum and got desirable results.
Key Features
Has a very thin kerf
Blade tips are made from premium TiCo™ HI-Density Carbide
Ideal for aluminum and other medium non-ferrous materials.
Silver Ice Coating – reduces friction, keeps the blade from rust and corrosion.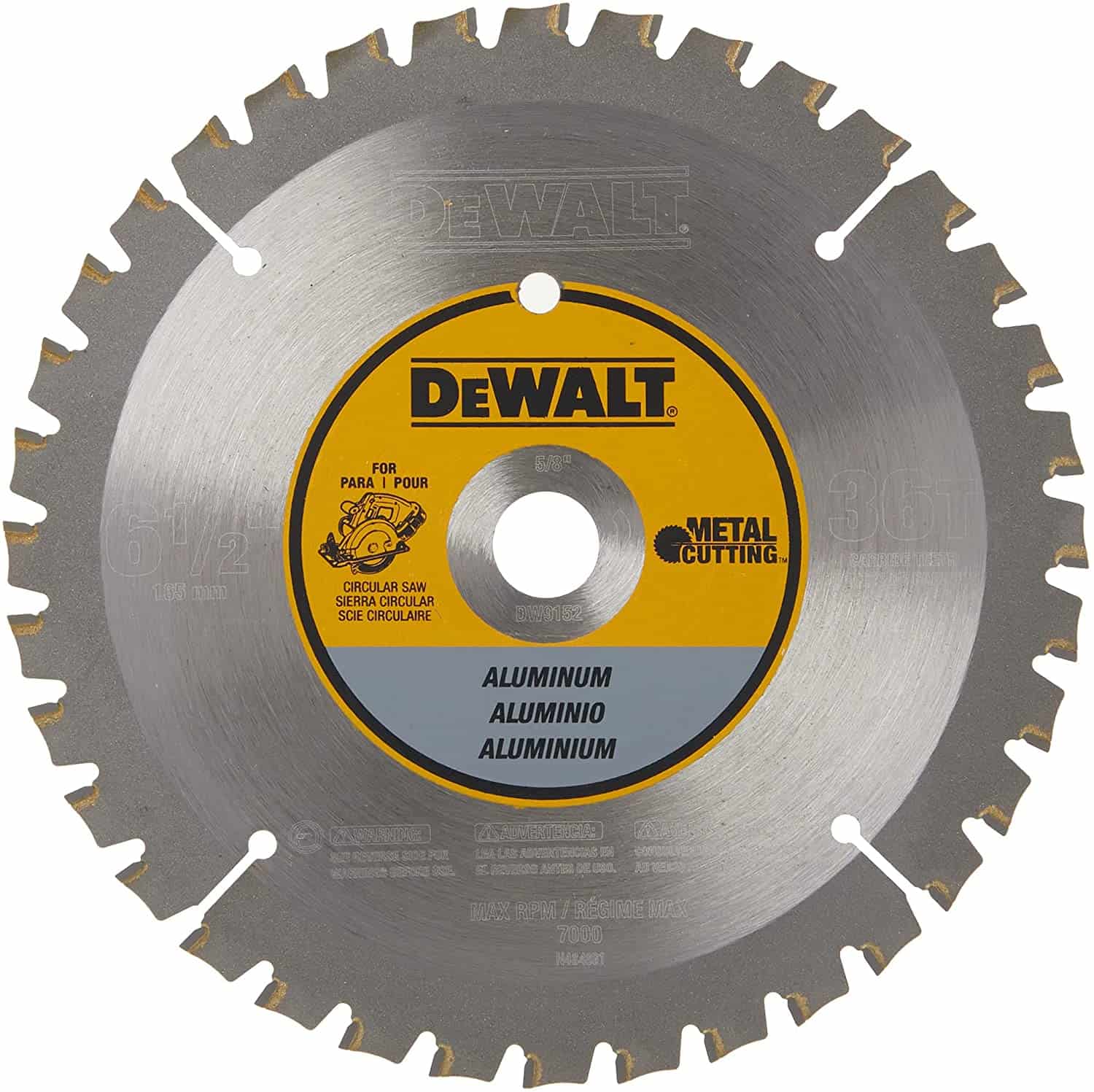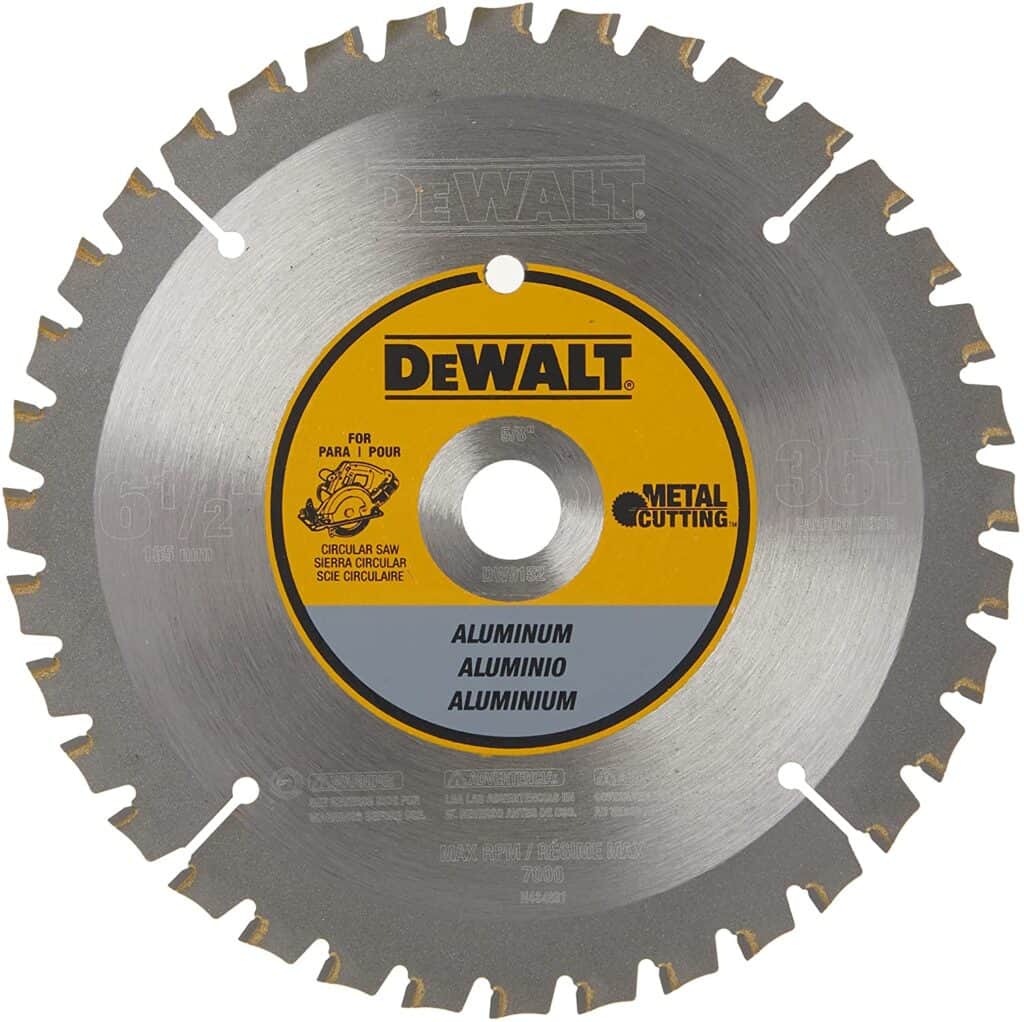 DeWALT is one of the oldest blade manufacturers still around. This blade typifies its legacy by providing superb cutting speed and durability. It also works well with a good range of materials, whether thick or thin. Its ultra-thin kerf gives a fast feed rate and reduces the dust generated. This improves your accuracy and reduces waste. 
The DW9152 blade arbor measures 5/8 inches. It has just 36 teeth spread over the blade with 6½ inches of its diameter. This is why professionals use it to cut thick aluminum pieces. The blade features an anti-stick rim that significantly reduces friction when cutting through your aluminum. People saw this contributes to its efficiency.
The blade design makes it an excellent choice for cordless saws but does not have anti-kickback. So, it might give off chips and shavings. So, you must have your protective gear. Its alternate face bevel (AFB) tooth grind gives it an excellent cutting edge that leaves you with good results.
Key Features
It has an ultra-thin kerf line
Can cut thin or thick aluminum
Anti-stick rim to reduce friction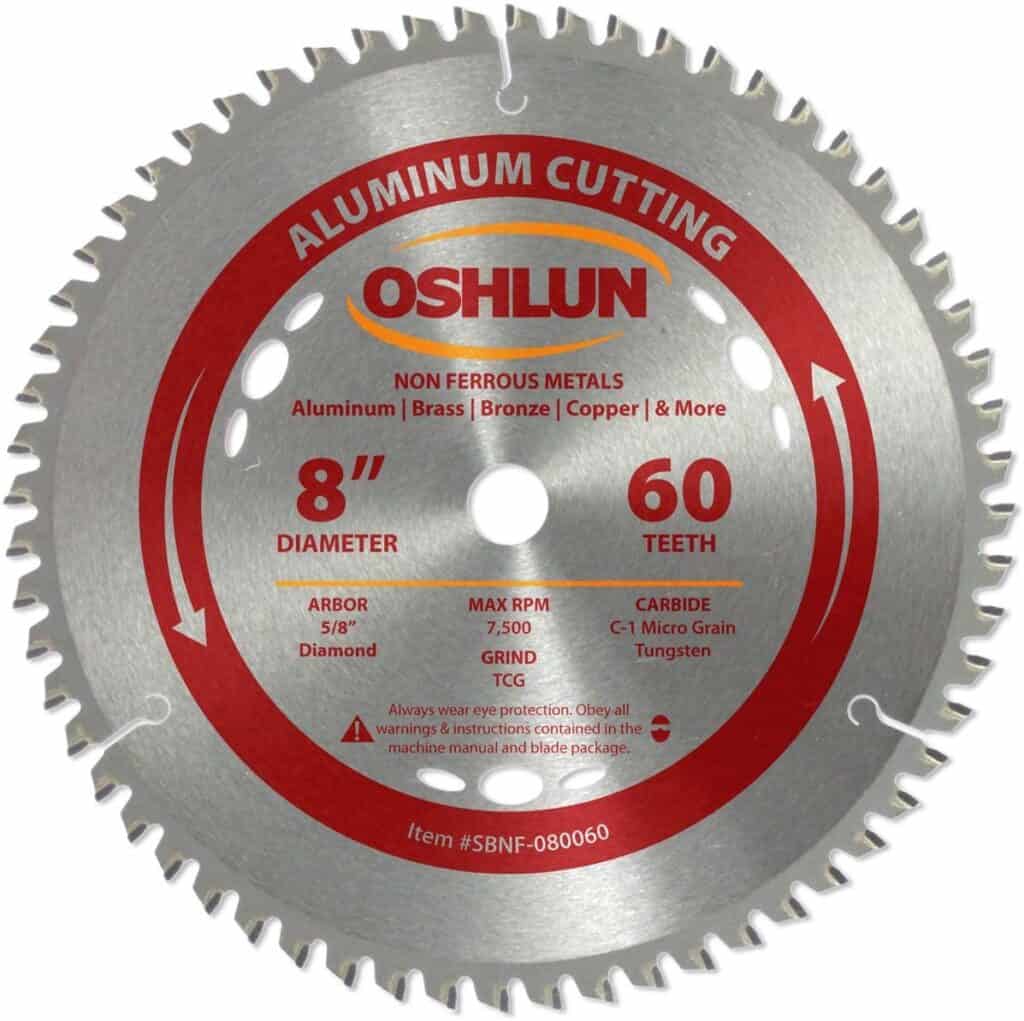 Oshlun gives you a lot more for less money with their pocket-friendly price tags and excellent quality. You can use the blade as an 8- or 8½ -inch saw. This is as long as the saw has a 5/8-inch arbor – a diamond knockout. This triple chip grind (TCG) 60-tooth blade gives you burr-free results when you cut your aluminum or other non-ferrous metals.
There are heat vents that allow the blade to adapt to the heat generated while cutting and lengthens the blade's life. It will likely do well with various thicknesses. The tungsten carbide significantly improves the durability of the blade. You can use the blade for copper, bronze, and brass. We just advise you use a coolant.
Many users consider the saw blade a great option for angled cuts with compound miter saws. This blade is not known to spray aluminum chips or shavings. It leaves you with only a little clean-up to do on the edge of the piece after cutting. You might not need recurring after using the blade. It is considerably slower than many blades on this list, but it makes up for this with its great precision. 
Key Features
Affordable
Reduced waste generation
Heat vents for cooling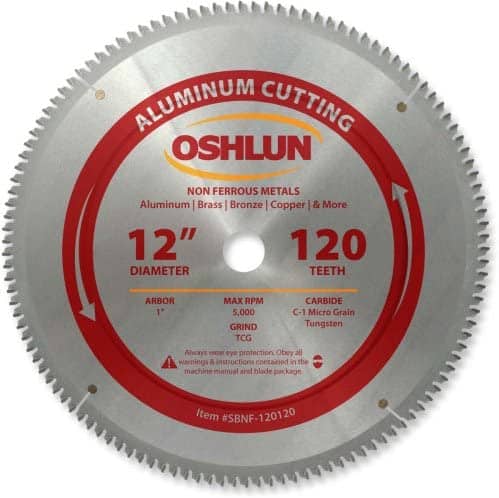 This is the widest blade on this list and could be the best for making deep cuts on aluminum. There are 120 teeth over the 12 inches blade with an arbor of 1 inch. The blade has long-lasting and precise micro-grain tungsten carbide tips. The triple chip tooth arrangement gives burr-free cuts with clean results for aluminum and other non-ferrous materials like copper, brass, and bronze.
It gives you a conducive work environment with noise reduction thanks to its copper-plugged expansion slots. The slots also reduce the vibration and contribute to the precise and smooth results seen with the blade. Generally, you may have to use a lubricant while cutting any non-ferrous metal.
The blade is of reinforced steel to prevent it from bending or deflecting while cutting. This helps to deliver straight cuts. It is designed to cut heavy metals like extruded aluminum. Make sure you clamp the aluminum. Else, you might break one or more teeth. The blade will still cut like it is not missing anything, though.
Key Features
Surface ground steel plate
Precision micro-grain tungsten carbide-tipped teeth
Expansion slots – for vibration and noise reduction
Heat vents – for cooling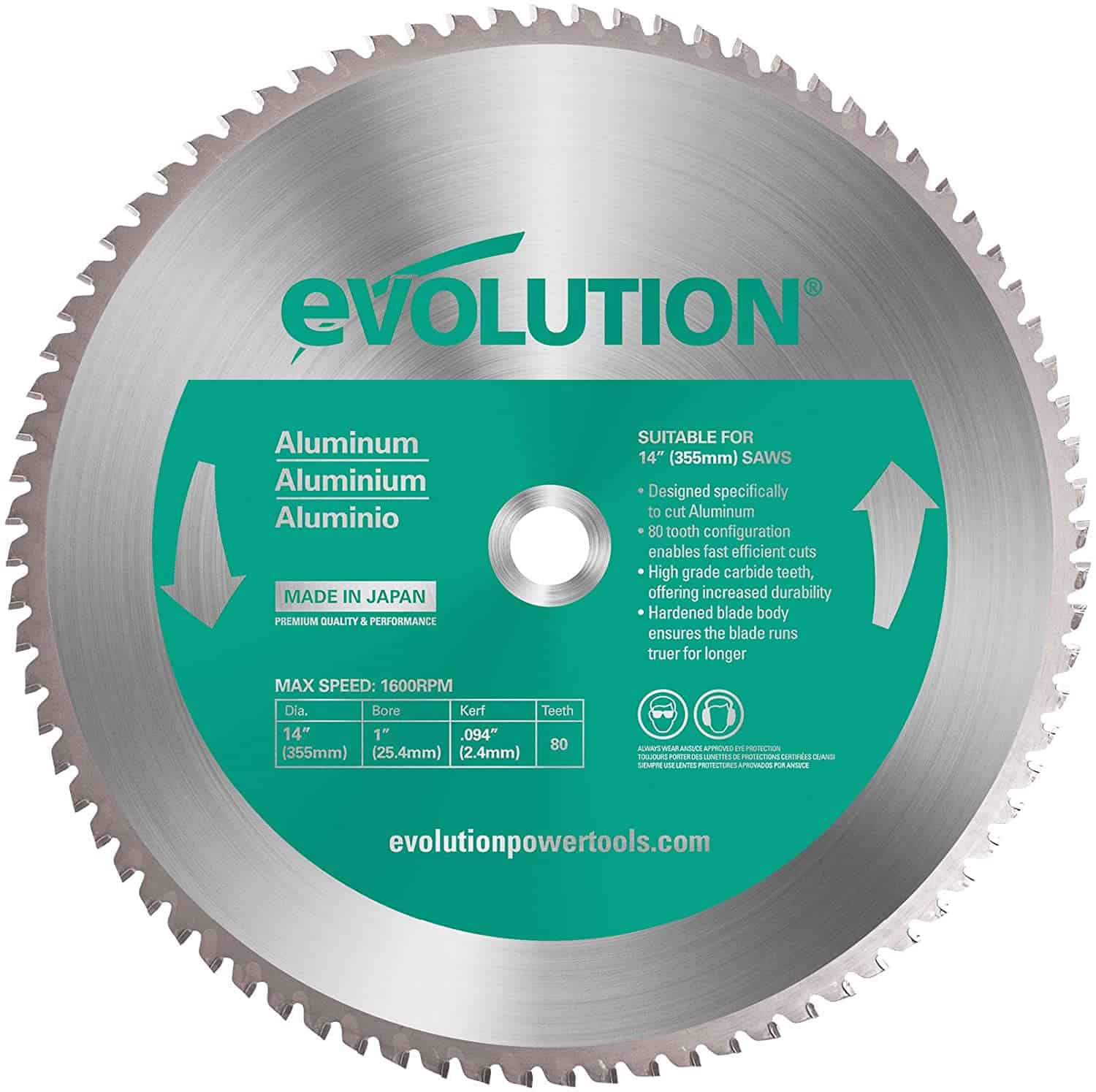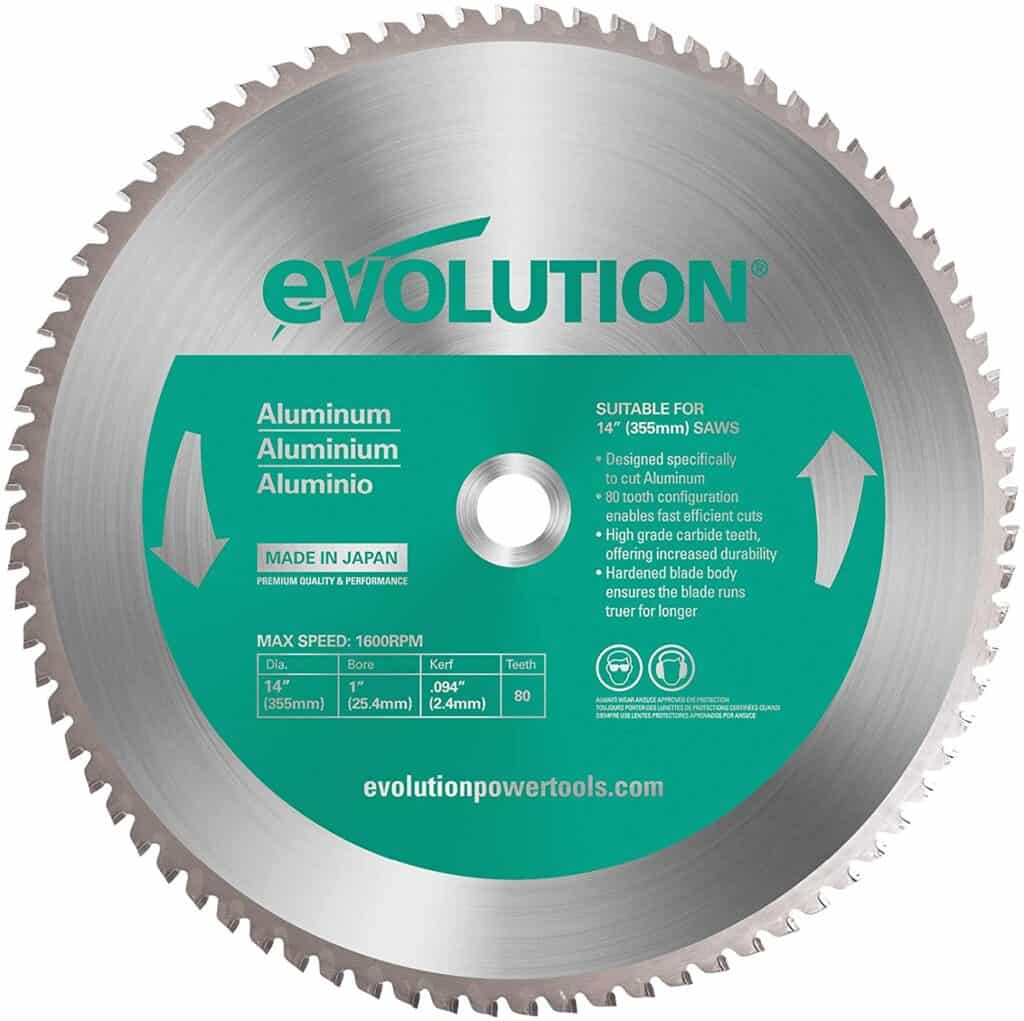 The large green exquisite blade is suitable for cutting aluminum. Its favorite feature should be its dry-cut technology. Using the blade only generates little heat with a few burrs so much that you can handle the aluminum almost immediately after cutting.
The 14-inch wide 80-tooth circular blade is carbide-tipped to extend its life. As it is not an abrasive blade, it lasts a lot longer. It is also a relatively safe blade because it gives off reduced dust and sparks. It is a fast-cutting blade with a very thin kerf that gives excellent precision. The maximum rpm of the blade is 1,600 RPM. 
A few users have suggested that this blade does not last long enough. It is important you use this blade appropriately – with the right saw and for the right materials. This is the only way you get to enjoy the blade for long enough. Feed the blade slowly and spray with oil.
Key Features
Very thin kerf
Dry-cut tech
Reduced heat and spark generation

You can manipulate your saw without much worry about breaking the blade. This makes it an ideal blade to cut aluminum in cramped-up areas and tight corners. This hacksaw blade is an improvement over other Lenox blades in terms of longevity.
The bi-metal construction allows the blade to flex without breaking. It is appropriate for heavy metal use. It has a sharp and tough tooth design that allows you to work faster. The 12-inch blade has 14 teeth per inch (TPI). It comes in a 10-piece pack that is easy to move around and has a shatter resistance.
Its high-speed steel offers you an excellent and long-lasting cutting edge. You may use the blade with any Lenox hacksaw frames or mount it on other brands of hacksaw frames. It can cut metals of 1/8 inch thickness.
Key Features
Bi-metal construction
Spring steel blade body
Shatter resistance
Long-lasting blade
Tough tooth design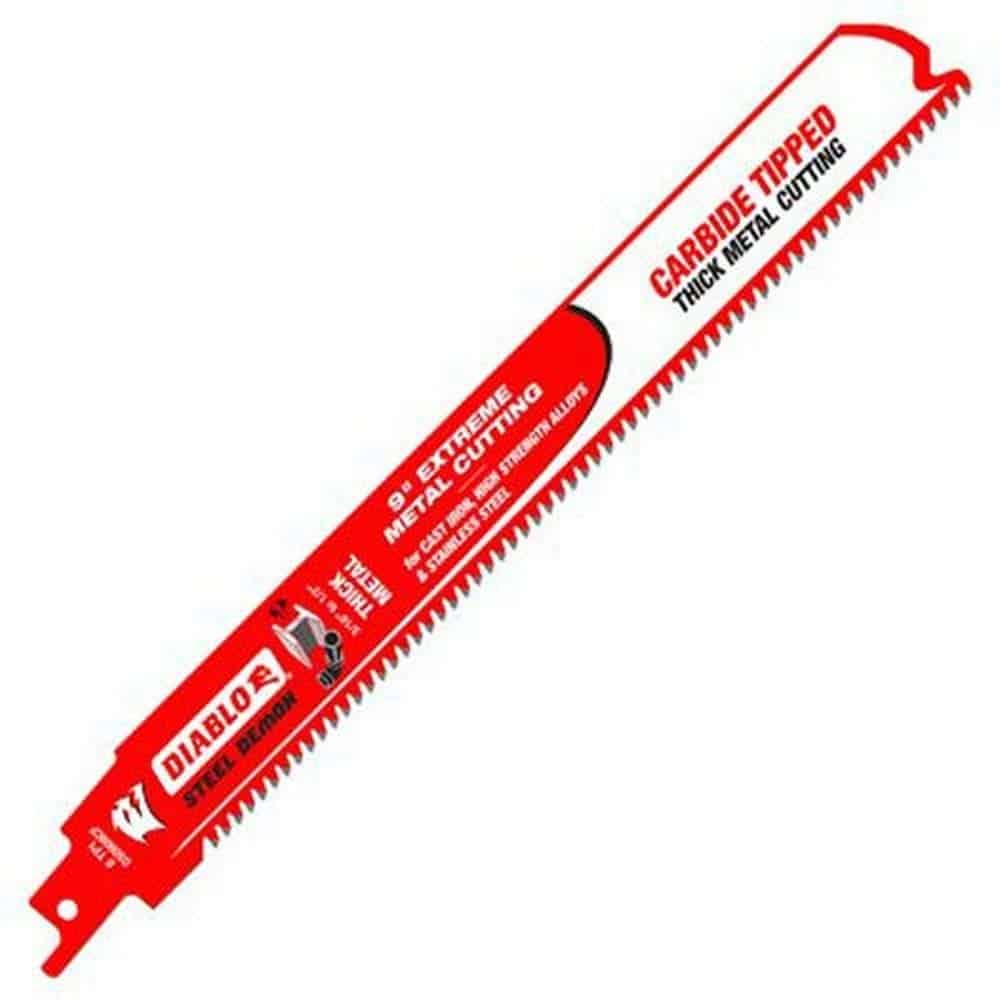 If you need a great metal-cutting Sawzall blade, this one is perfect for you. This blade offers the best performance for your reciprocating saw with its carbide-tipped teeth for durability and an increased impact. It is a single blade acclaimed to be 50 blades in one. It has an inch oversized body to reduce vibration and give straighter cuts. It is ideal for cuts that are difficult to reach using other saws.
You can use the blade to cut a good range of materials apart from aluminum. You can also use it to cut stainless steel, high-strength alloys, and iron (cast). It can cut metals with a thickness between 3/16 and 9/16 inches.
It is a 9-inch steel blade with 8 TPI. It is coated with non-stick Perma-SHIELD. This coating improves your user experience – reduces the heat generated and friction. It also protects the blade from rust and corrosion.
Key Features
Single blade
Perma-SHIELD non-stick coat
Good range – can cut stainless steel, high-strength alloys, and iron (cast).

This is the only jigsaw blade on the list, and deservedly so. Its versatility is one feature that sets it aside. You can use it for either straight or curved cuts. It can cut between 3/16- and 5/8-inch-thick aluminum. You can also use it to cut fiberglass with thickness up to ¾ inch and even plastic.
The 4-inch blade has a working length of 3 inches and 8 TPI. The blade itself is an inch thick and delivers fast and smooth cuts. The HSS construction of the blade teeth improves the blade life. However, you would need a proper lubricant while cutting your aluminum.
The T-shank design makes it comfortable to handle and prevents the blade from wobbling while cutting. It provides stability to ensure your cuts have even edges. You can use the blade with almost all brands of jigsaws.
Key Features
Ideal for straight and curved cuts
It cuts for fiberglass and plastic.
Fortified HSS teeth
Comfortable T-shank
FAQ
What is the best tool for cutting aluminum?
The best tool for cutting aluminum largely depends on the type of cuts you want to make. Power tools are more reasonable for a professional. While a DIYer could be okay with a hacksaw or Sawzall, depending on the type of cut. Jigsaws are ideal for cutting in curves or shapes. Big industries might use lasers for their cutting.
Is cutting aluminum dangerous?
Yes, it can be dangerous if you do not use the right tools or take precautions. Cutting aluminum might give off some sparks and generate some heat from the friction, significantly if you are cutting with a power tool. In that case, you should wear protective gear – goggles, thick rubber gloves, an apron, and suitable footwear.
Can a carbide blade cut aluminum?
Yes, it can. A carbide blade is ideal for cutting aluminum because it gives smoother cuts and prolongs the life of the blade.
Can I use a hacksaw to cut aluminum?
Yes, you can. In fact, hacksaws are originally designed to cut metals like aluminum and alloys. A handheld hacksaw with 32 teeth should cut your aluminum without stress – unless the aluminum is very thick. That might take some time, and it would be better to use a power tool.
How do you cut thick aluminum?
Use an excellent carbide-tipped blade mounted on a circular saw. If you are making a miter or bevel cut, you should mount the blade with a miter saw. The fewer the number of teeth the blade is, the easier it will cut the thick aluminum. Handheld saws would need a lot of physical exertion and consume time. You might require a lubricant to cool the blade intermittently.
Related Articles:
Last Updated on January 23, 2022 by John G. Anderson