Title
Top Pick
MK Diamond 156651 MK-215GL 7" x .050" x 5/8"
best 10 inch blade
DEWALT DWA4769 Continuous Rim Glass Tile Blade, 10"
Best budget
4.5Inch Super Thin Diamond Tile Blade for Cutting Porcelain...
Best 8 inch blade
BOSCH DB869 8 In. Rapido Premium Continuous Rim Diamond...
Also good
Delta Diamond Piranha 7 Inch Glass Tile Diamond Blade, 5/8"...
Image





Top Pick
Title
MK Diamond 156651 MK-215GL 7" x .050" x 5/8"
Image

best 10 inch blade
Title
DEWALT DWA4769 Continuous Rim Glass Tile Blade, 10"
Image

Best budget
Title
4.5Inch Super Thin Diamond Tile Blade for Cutting Porcelain...
Image

Best 8 inch blade
Title
BOSCH DB869 8 In. Rapido Premium Continuous Rim Diamond...
Image

Also good
Title
Delta Diamond Piranha 7 Inch Glass Tile Diamond Blade, 5/8"...
Image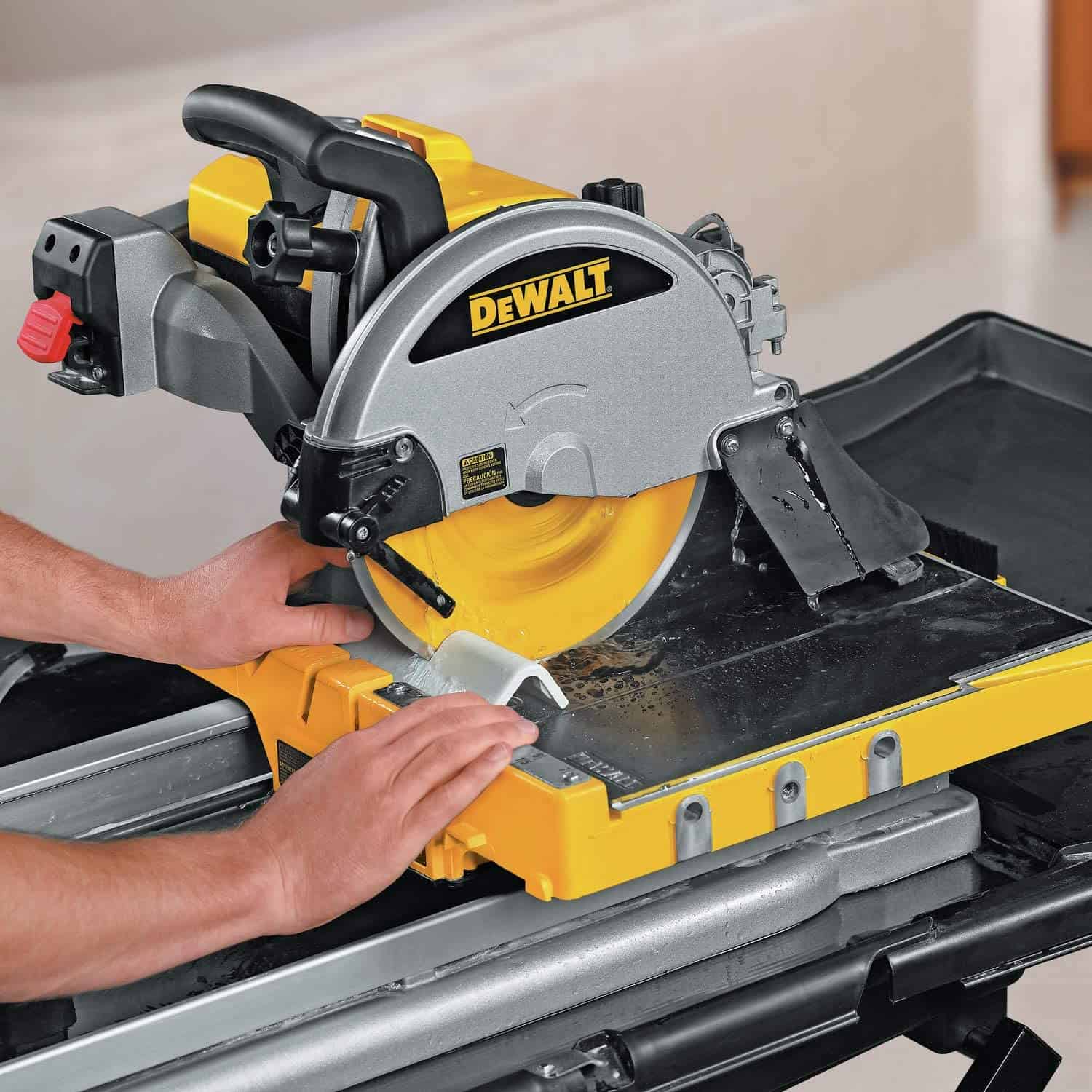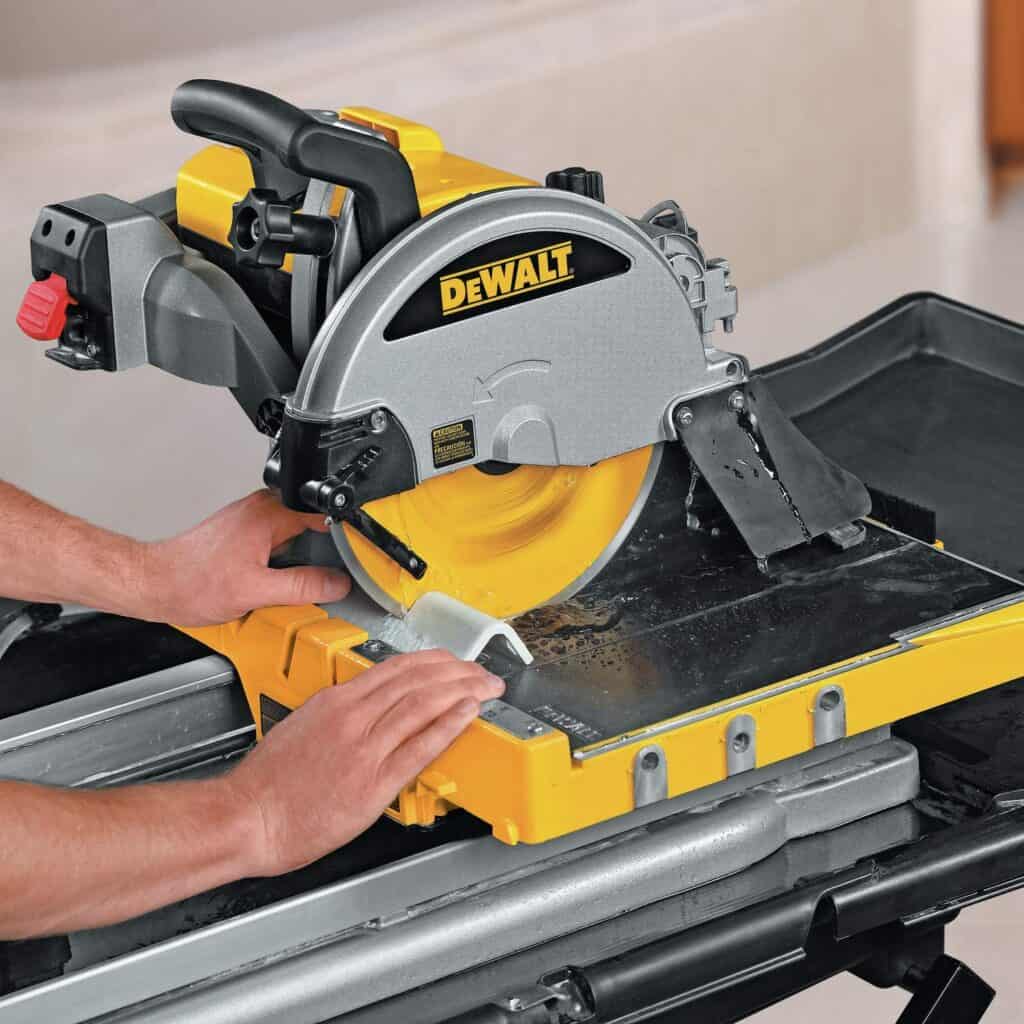 Whether you are going to design your bathroom or kitchen with new tiles, glass tile is probably your favorite. Because it is extremely beautiful, easy to clean, and environment friendly. It always gives a beautiful look and shiny look to your home. Though glass tile is very beautiful, it is also fragile and slippery. So it requires extra care while cutting.
Also, the smooth edge finish is the key factor. Glass tile has a clear surface with a top coating which gives it color. When the coating chip off when you're cutting, it will be visible from an angle. To avoid this, you need to have the best blade for cutting glass tiles. So we are going to guide you to the top 6 blades for cutting glass tile.
What type of blade is ideal for cutting glass tile?
You can use a typical porcelain saw blade to make cuts on glass tiles. But it will not give the best result. A diamond blade will give you the best results you are looking for to cut glass tile. Since they have fine diamonds at the edge that will make you have a smoother cut.
Choose a high-quality dedicated diamond blade for glass tile. Don't go for a cheap diamond blade. A little price difference can make a huge difference in your project. Check the customer review, cutting diameter, and blade material carefully. It will take a good amount of time. Fortunately, we have done this for you. We have picked 6 best diamond blades for cutting glass tile. We made this list by putting hours of research so you can pick any blade from this list and rest assured.
6 Best Blade for Cutting Glass Tile Review
1.MK-215GL 7-Inch Grade Diamond Blade for Glass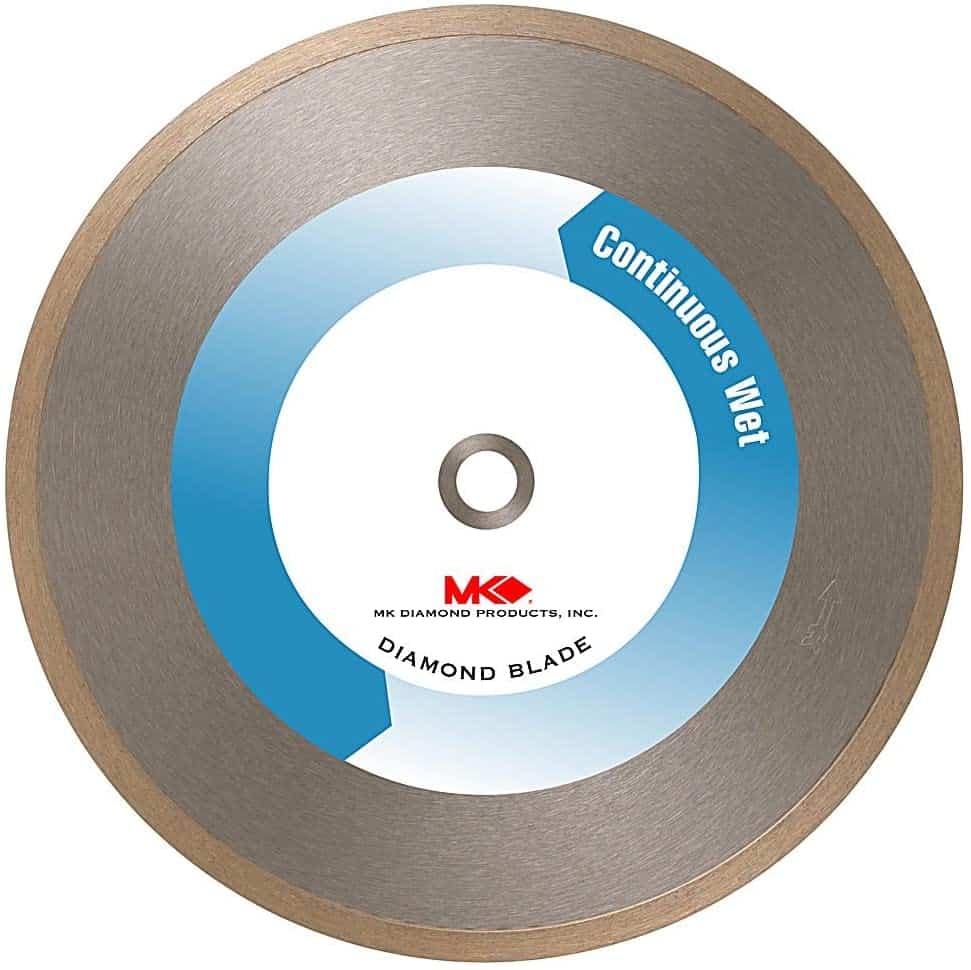 Our top pick is MK Diamond 156651. The MK-7" tile glass cutting blade is highly recommendable for craftspeople and glass artists. Although it's a bit pricey, it actually deserves every penny. The MK-Diamond blade is a super quality diamond blade with very satisfying results.
This premium quality metal bond blade is dedicatedly designed as a premium glass cutting blade. It also cuts porcelain tile very smoothly.
This 7-inch metal bonded glass blade helps you make neat and smooth cuts without chipping. This is a blade that can be used for mass production for a long period of time. It will give you the ultimate premium experience.
The Metal bond composition and the diamond chip combination offer you non-chip glass tiles, blocks, and fused glass cutting. This feature also works very well to reduce breakout. In fact, it doesn't take a break out usually.
More importantly, this blade can be used at 6000 RPM very smoothly without any problem. So overall this blade is easily held first place at this race with supreme quality and performance.
Features:
Premium quality diamond blade
Ideal for heavy duty
Premium metal bond formulation
Built with high quality steel
2.10 Inch DWA4769 Continuous Glass Blade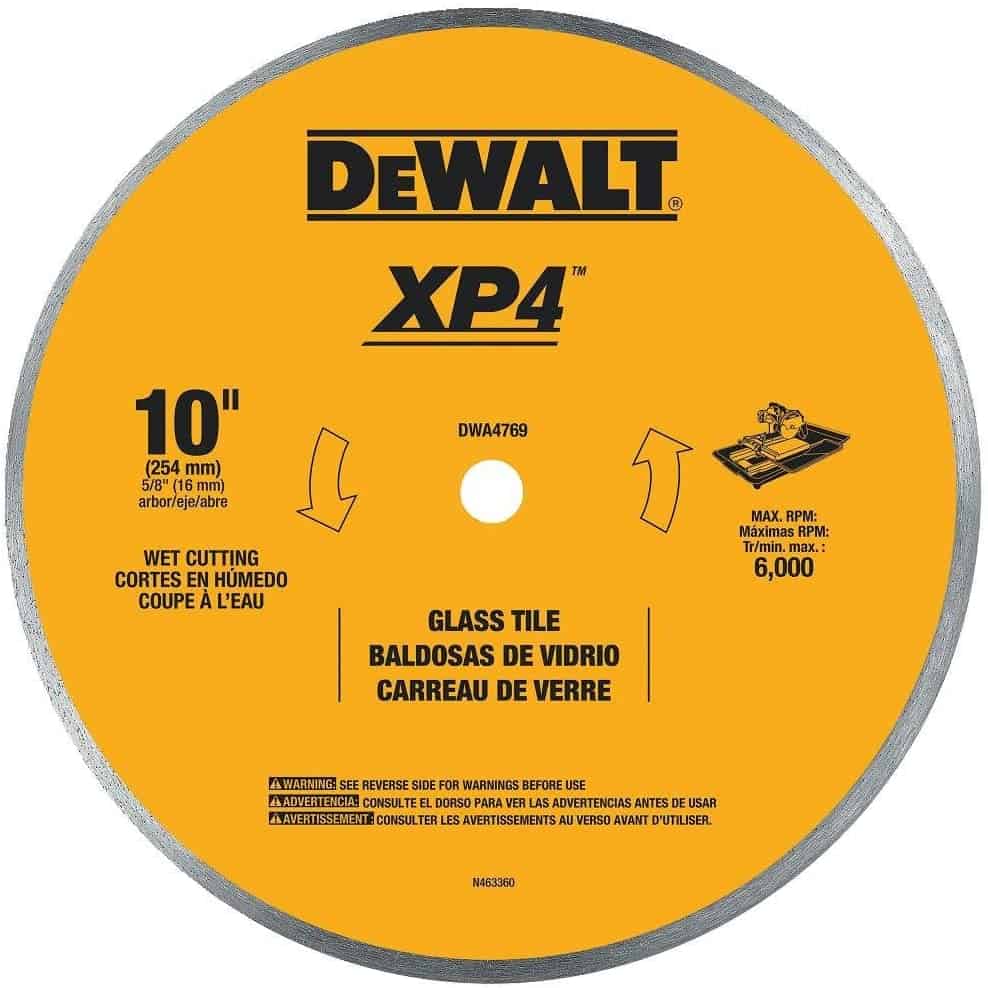 The 2nd product on our list is DEWALT DWA4769 10 inch diamond blade. This Dewalt's continuous rim blade provides a clean and fast cut with longevity.
The 10" blade has a dense mixture of diamonds vital in preventing chipping and glass breakouts.
This glass blade configuration is for wet cutting on glass and tiles made from ceramic. This blade has a 5/8 inches arbor.
This extra tough blade works with a maximum of 6000 Rpm for high-quality performance. If you sharpen a little bit every time before working, it will just give you the best performance. Also, you can make a lot of cuts one after another and the sharpness will last long.
Proper usage of these blades will increase productivity, eliminate chipping and make your work experience a smooth one. It gives the ultimate quality cuts with a glossy finish.
Features:
A dense concentration of Diamond
Ideal for both ceramic and glass tile
Reliable and durable
3.Casa Verde 4.5" Thin Diamond Blades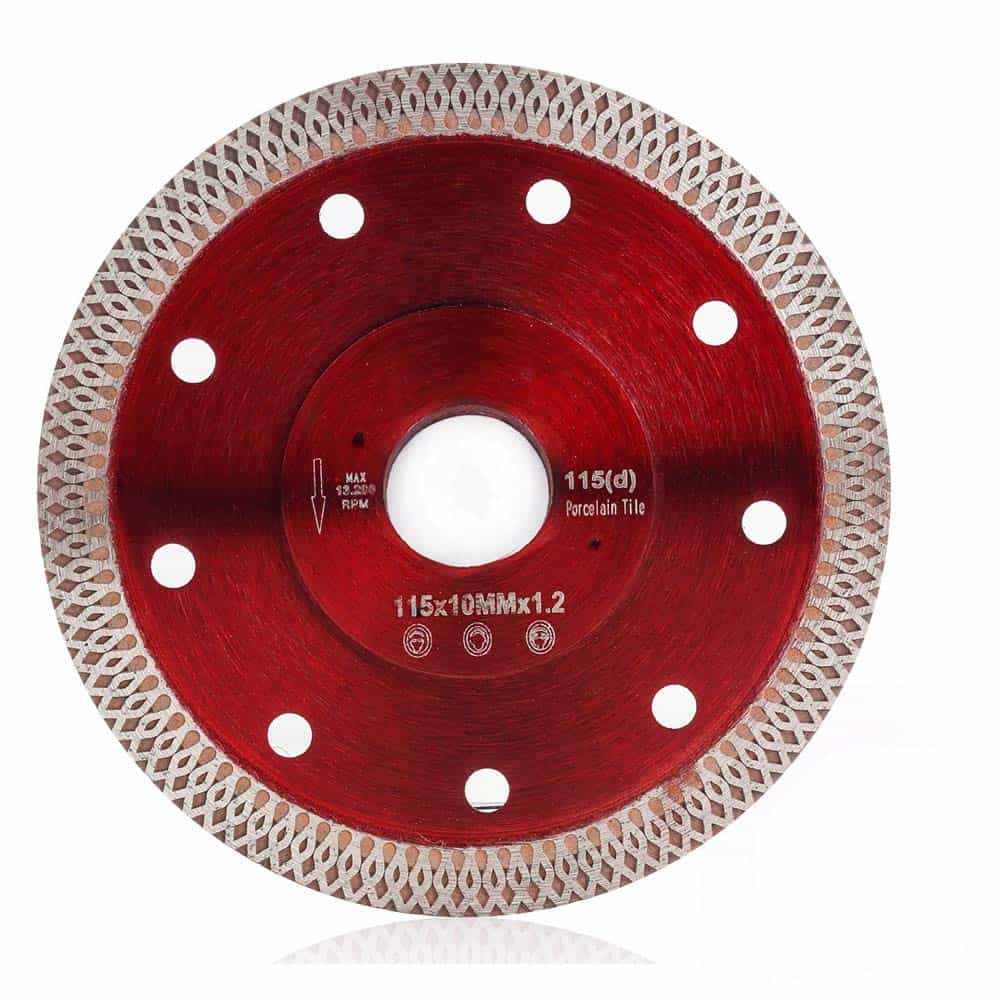 This 4.5 inches super-thin Diamond blade is a durable, sturdy, and well-performing universal blade for both wet and dry cuts. You can use this blade on glass tile without any doubt and trust us it will give you precise cuts almost every time. More importantly, it is a highly versatile blade that you can use in porcelain tile, ceramic tile, granite, marbles, and masonry tile project.
The blade is configured with X shape teeth to help you make fast and ultra-smooth cuts.
This diamond blade has an extra thin turbo webbing around the rim for a quick, accurate, smooth, and non-chip cut experience.
It also features a thick center that majorly prevents vibrations and jiggling. The highly performing Diamond matrix enhances durability and removes of clippings waste materials.
This blade also is a very good value for money. It comes at a very reasonable price. This turbo mesh feature is very helpful to give a smooth, clean, and precise cut. So this blade will be an ideal purchase at a budget-friendly price.
Features
Have x teeth for fast and accurate cuts
Turbo mesh prevent chipping and allow quick and smooth cuts
A thick center rids vibrations
Universal blade for wet and dry cuts
4.QEP 7-Inch Continuous Diamond Blade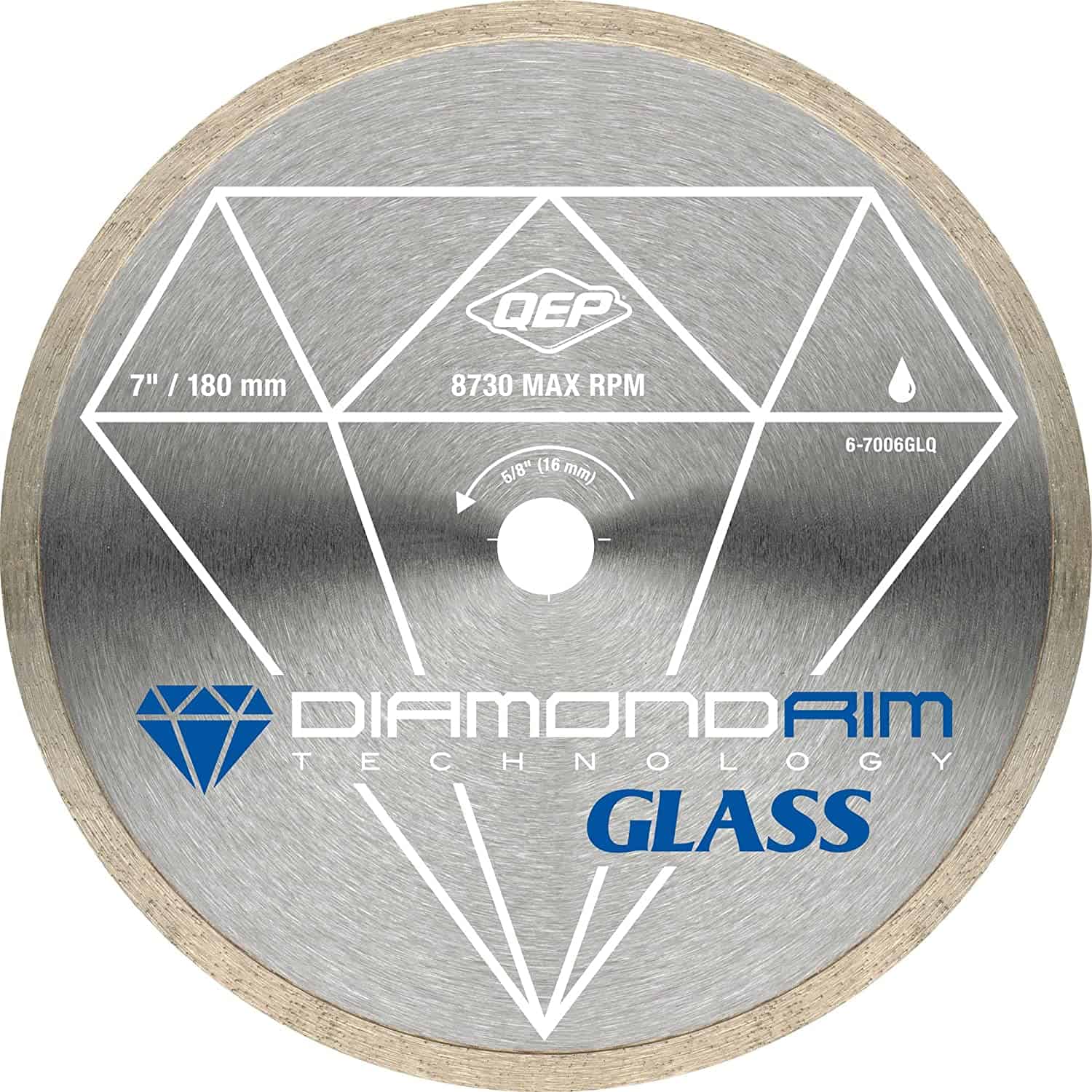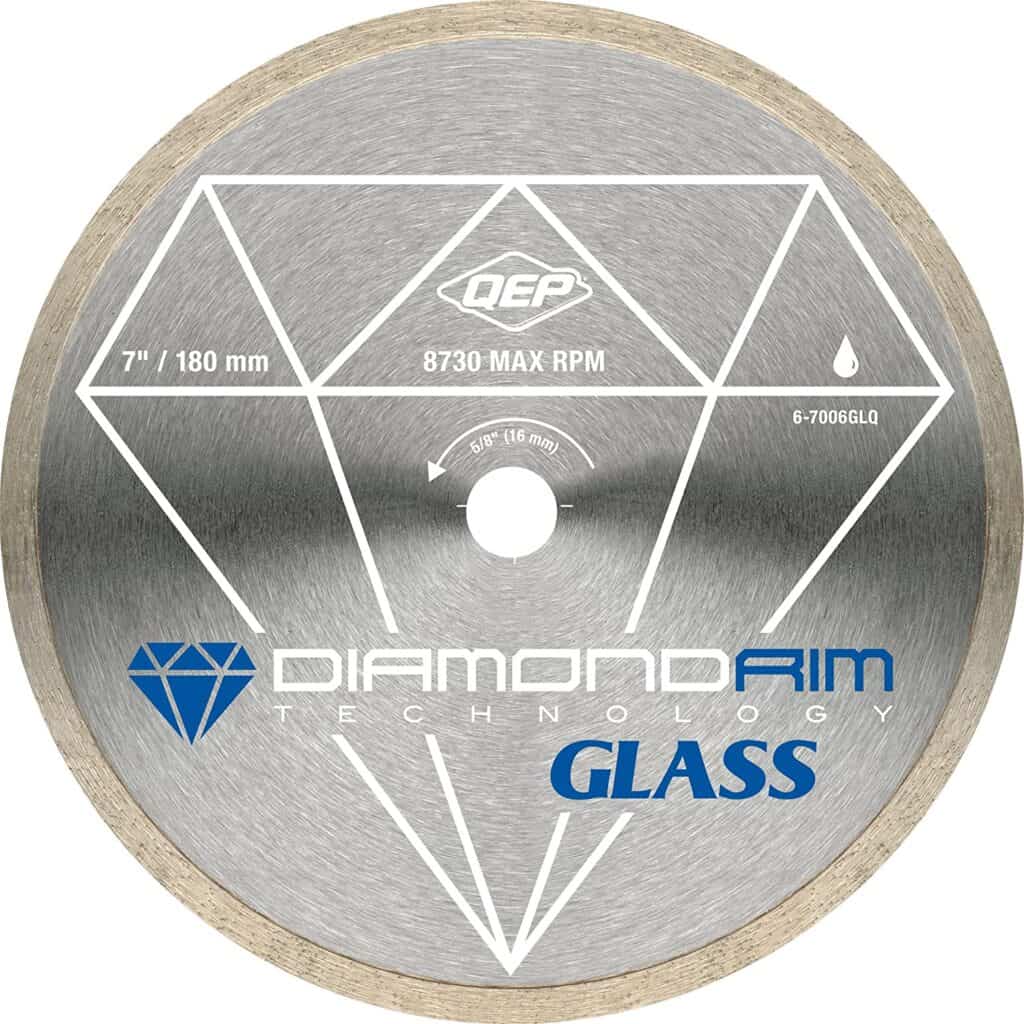 The QEP 7 is another budget-friendly option on our list. This 7-inch blade comes at a very affordable price with very good quality. It can be an excellent addition to the tile project. The configuration is for use with a wet saw for tiles.
This implies that you will need to use water on this blade as you cut tile.
This blade is a very versatile option as it has a 5/8" arbor which suits most of the wet saws. More importantly, this blade can be cut at a very high 8730 RPM speed which will give you a very fast cut.
Also, it has a cutting edge of 7mm which is diamond coated. This hi-rim cutting edge is Diamond coated for hardness, durability, and minor chipping. The blade is of high-quality steel and is dedicatedly made for cutting glass tile. Finally, the continuous 7mm hi-rim is good enough to support a large project.
Note that dullness may occur if you don't use enough water during operation. If you tried using this blade dry; expect a lot of dust and rapid heat buildup unless you run it very slowly. As it is mainly designed for wet cutting.
.
Features
The maximum speed is 8730 RPM
5/8" standard arbor
Steel blade
7 mm Diamond-coated edge
7mm (continuous) hi-rim
5.RIDGID 8" Glass Blade
Unfortunately, RIDGID 8 inch diamond glass tile blade is not available now, so we have picked this BOSCH 8-inch premium grade diamond glass tile blade instead of that.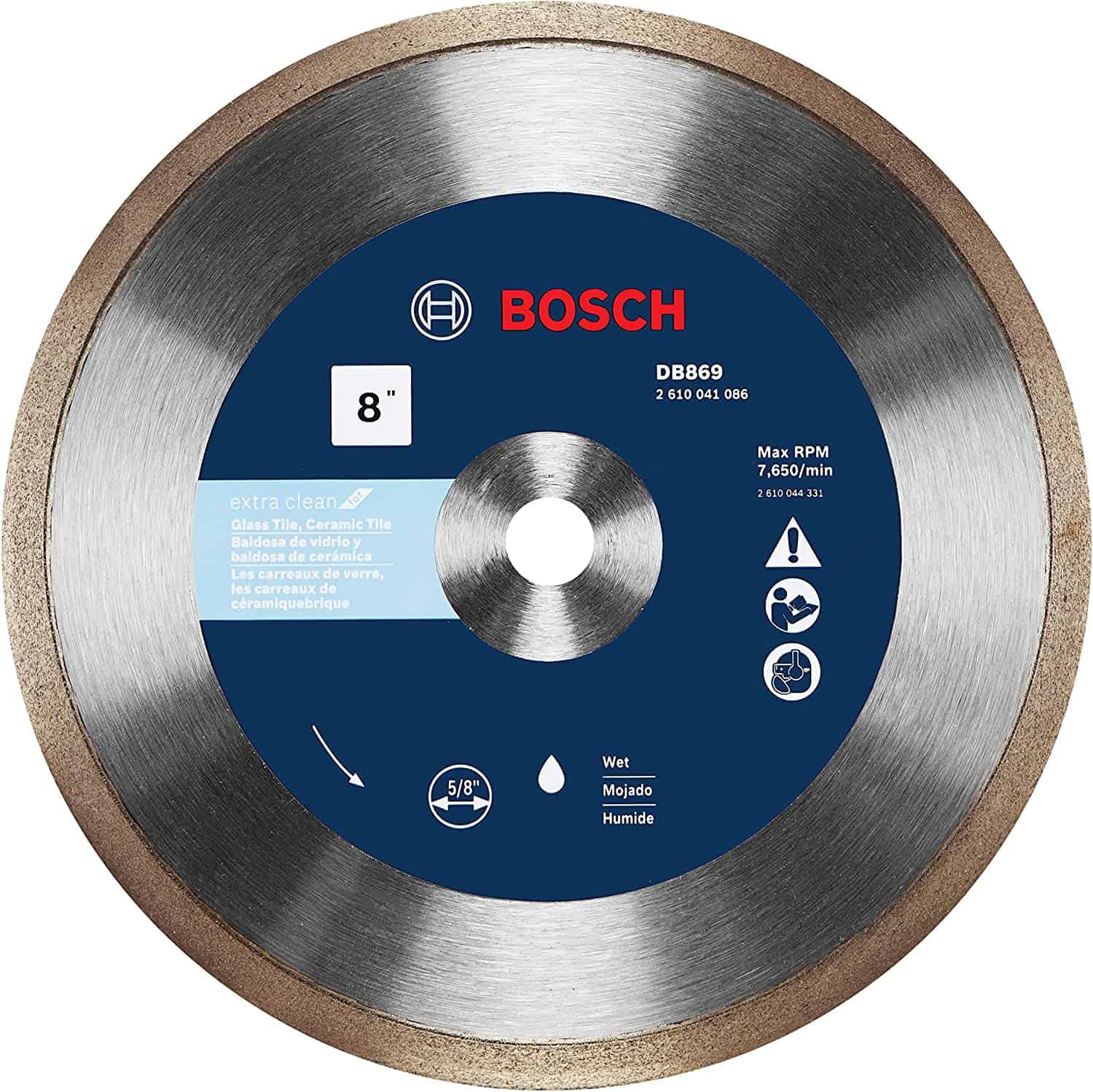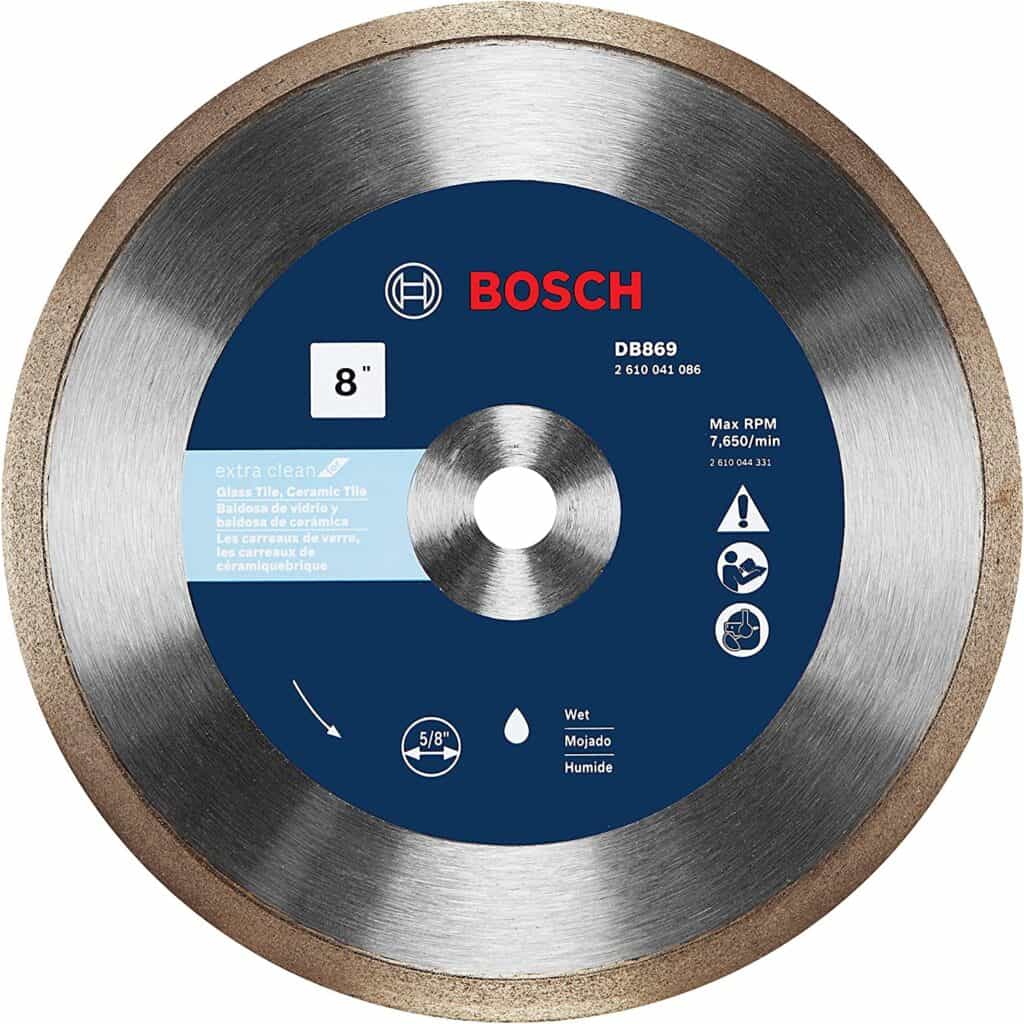 The 8 inch Ridgid Diamond blade is another sturdy and durable tool for cutting mosaic and glass tile.
Its continual rim configuration constitutes extra-fine diamond bits that play a role in getting accurate and non-chipping ends. This makes you work fast and with excellent efficiency.
The Ridgid glass tile blade is best for wet saws, which come with a 5/8" arbor.
Its continual rim configuration construction of top-grade ultra-fine diamond dust and an exclusive bond matrix helps you make clean and chip-free cuts. This blade is professionally designed with high quality engineered for cutting especially glass and mosaic tiles.
The maximum RPM is 7,640 which is very high to make fast cuts This saw blade is durable and makes very smooth cuts better than typical abrasive blades.
As a result of cutting glass continually, this blade could turn dull and drag your work. That should not alarm you. Simply reshape the diamond blade by running it on a dress stone or paver.
Features
Continuous rim construction with diamond fragments
Highest RPM of 7640
High quality blade with longer life
Specialized for glass and mosaic tiles
Top grade ultra finish diamond coating
6.7-Inch Piranha Continuous Diamond Blade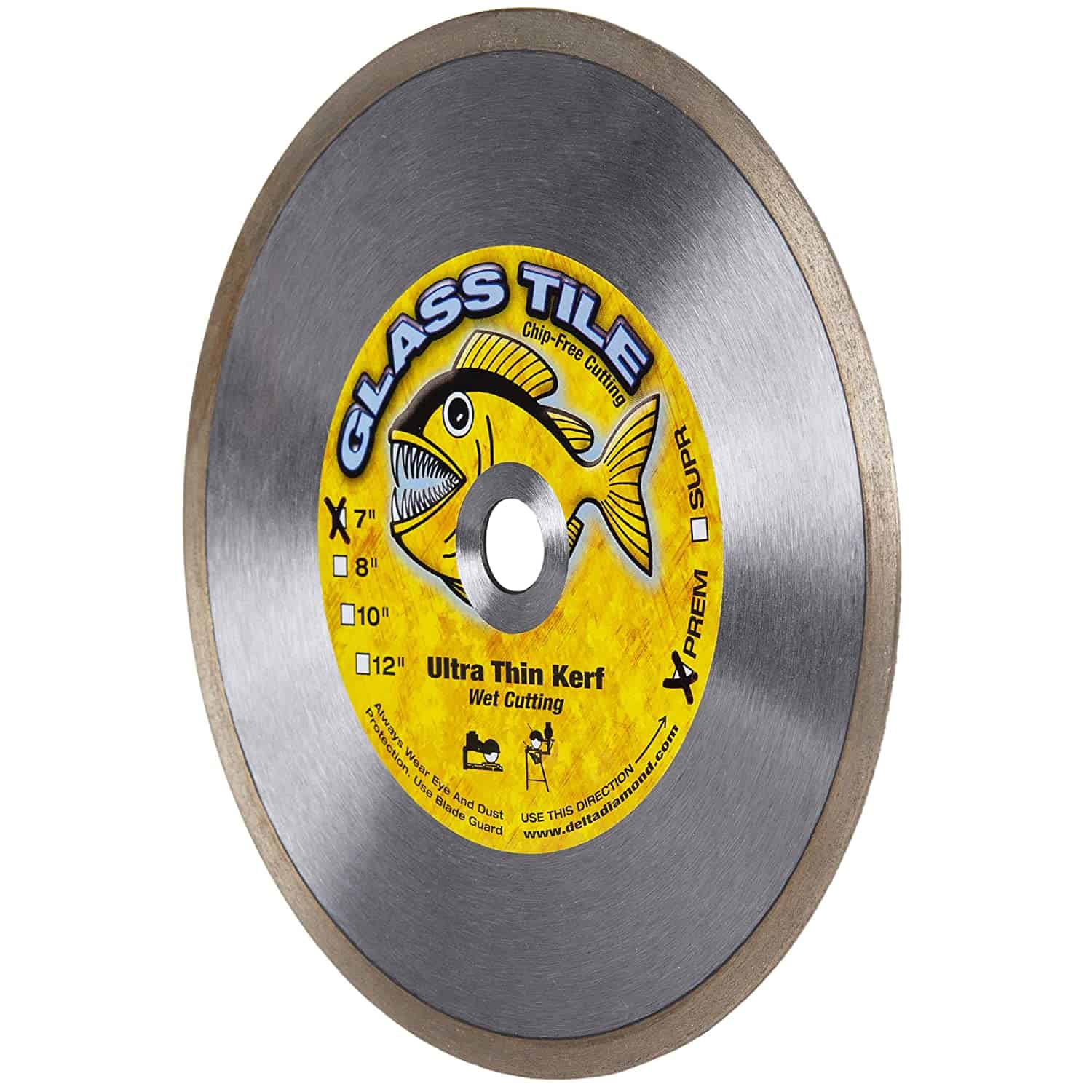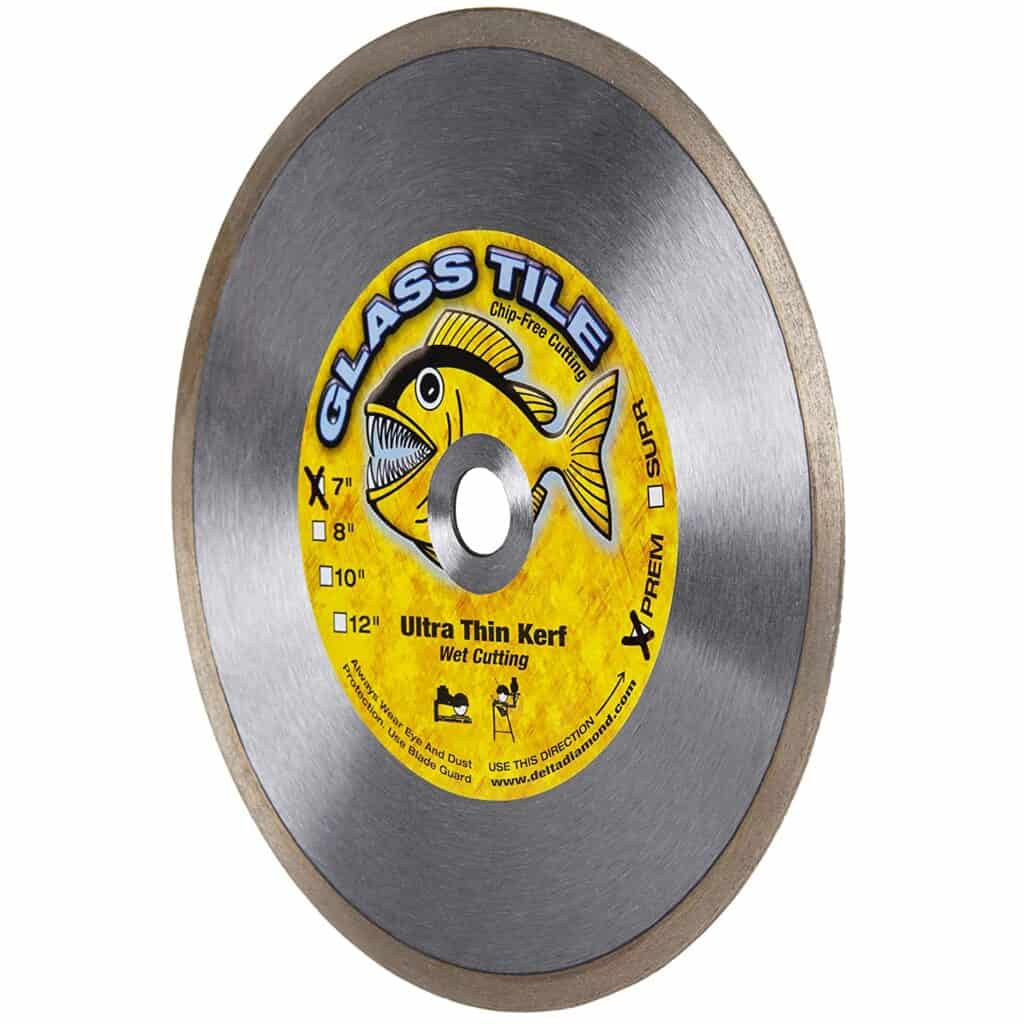 The Piranha 7-inch Diamond blade is the last product on our recommended list. This is another premium quality diamond blade capable of making 3cm wet cuts in materials like glass tile and glass mosaic.
This blade is made of premium quality diamond particles so that it gives a brilliant cut every time. This blade cuts smoothly without causing chippings on the surfaces of the glass tiles.
It is specially designed for wet cutting and gives a chip-free and smooth finish. That is why this blade is very ideal for big construction projects.
This Diamond blade measures 7 inches by .060 by 5/8inches arbor. The results you get from cutting with this blade are incredible and desirable. Use a dressing rock for sharpening whenever necessary. This blade is not suitable to use on ceramic tiles, stones, or even porcelain tiles.
The Piranha continuous blade is a high-grade US-made blade and comes with a full lifetime warranty. In case you notice breakouts, warping cracking, or any other kind of defect, you can file for a return to get a new one.
Features
Made with fine and uniform diamond particles
US made
Continuous Rim blade
Fee replacement
Specially made for glass tile
FAQ
What kind of blade do you use to cut glass tile?
Circular diamond tile saw blades are the most suitable for cutting glass tile. It gives a very smooth and clean-cut to glass tile.
Canyou cut glass tile with an angle grinder?
The best tool for cutting glass tile is a wet saw. If you have an angle grinder, you can use it to cut glass tile. But it will not give the best result as a wet tile saw. You can make round cuts, corner cuts with an angle grinder. But for cutting straight lines, a wet saw will be the best choice.
3. Can you use a tile cutter on a glass tile?
Tile cutters will do the job but they won't give you the best finish Tile cutters are much more suitable for ceramic and porcelain tile. However, if you want to cut a glass tile, don't use a tile cutter. That is because glass tile is fragile, so it can crack and chip while using the tile cutter. If you can use a diamond blade with a wet saw, that will be the best method to go.
4. Does glass tile need bullnose?
Glass tile has a very different edge compared to other types of tiles like ceramic and porcelain tile. The material and the color of the glass tile don't change like other tiles. So the bullnose doesn't applicable for glass tile.
Related Articles:
Last Updated on January 23, 2022 by John G. Anderson