Title
Rannb 75mm/2.95" Carbide Hole Saw Hole Cutter for Steel...
LENOX Tools Hole Saw with Arbor, Speed Slot, 2-Inch...
Bi-Metal Hole Saw Kit, HYCHIKA 17 Pcs High Speed Steel 3/4"...
DIABLO 14PC BIM GP HOLESAW SET
5-1/2 Inch 140mm HSS BI Metal Hole Saw Cutter with Arbor for...
Image





Title
Rannb 75mm/2.95" Carbide Hole Saw Hole Cutter for Steel...
Image

Title
LENOX Tools Hole Saw with Arbor, Speed Slot, 2-Inch...
Image

Title
Bi-Metal Hole Saw Kit, HYCHIKA 17 Pcs High Speed Steel 3/4"...
Image

Title
DIABLO 14PC BIM GP HOLESAW SET
Image

Title
5-1/2 Inch 140mm HSS BI Metal Hole Saw Cutter with Arbor for...
Image

Aluminum is a soft metal that you should be careful with when cutting or drilling. For this reason, it's advisable to use the best hole saw for aluminum in any project to get satisfactory results. With the correct hole saw, you can create a hole in aluminum for decoration purposes or install wires on it. What type is the best that can perfectly work in a thin, soft but hard-to-drill aluminum? Read on to understand this.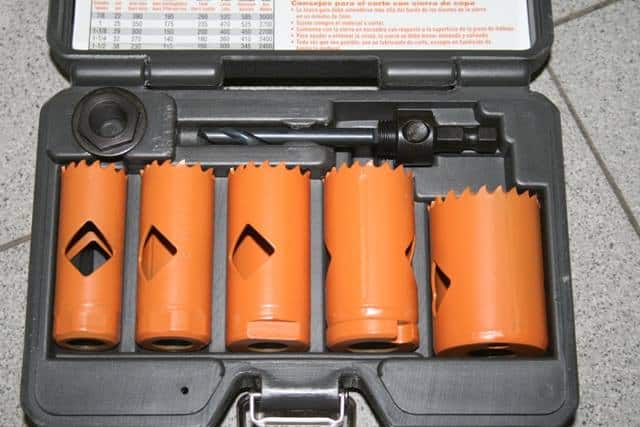 What Type of Hole Saw Is Best for Aluminum?
There are several types of hole saw in the market; some are cheap while others are costly. The material composition of each hole saw also differs. If you want to buy the best hole saw for the aluminum project, you'll have to look more into its feature.
Also, note that what you're going to use it for will largely determine whether you'll buy the specialized or application-driven hole saw. Although aluminum is soft, it's hard to cut as its softness makes prolonged contact with the cutting material.
The best hole saw for it is the bi-metal hole saw since it can reduce vibrations with its variable pitched teeth. It also has soft spring steel, which creates a backing material that reduces the impact when cutting aluminum.
Bi-metallic hole saws also contain cobalt which helps make its teeth hard when working at high temperatures. So, its cutting edges will maintain sharpness as you work on aluminum.
5 Best Hole Saw for Aluminum Reviews
1.Rannb (75mm/2.95″) Carbide Hole Saw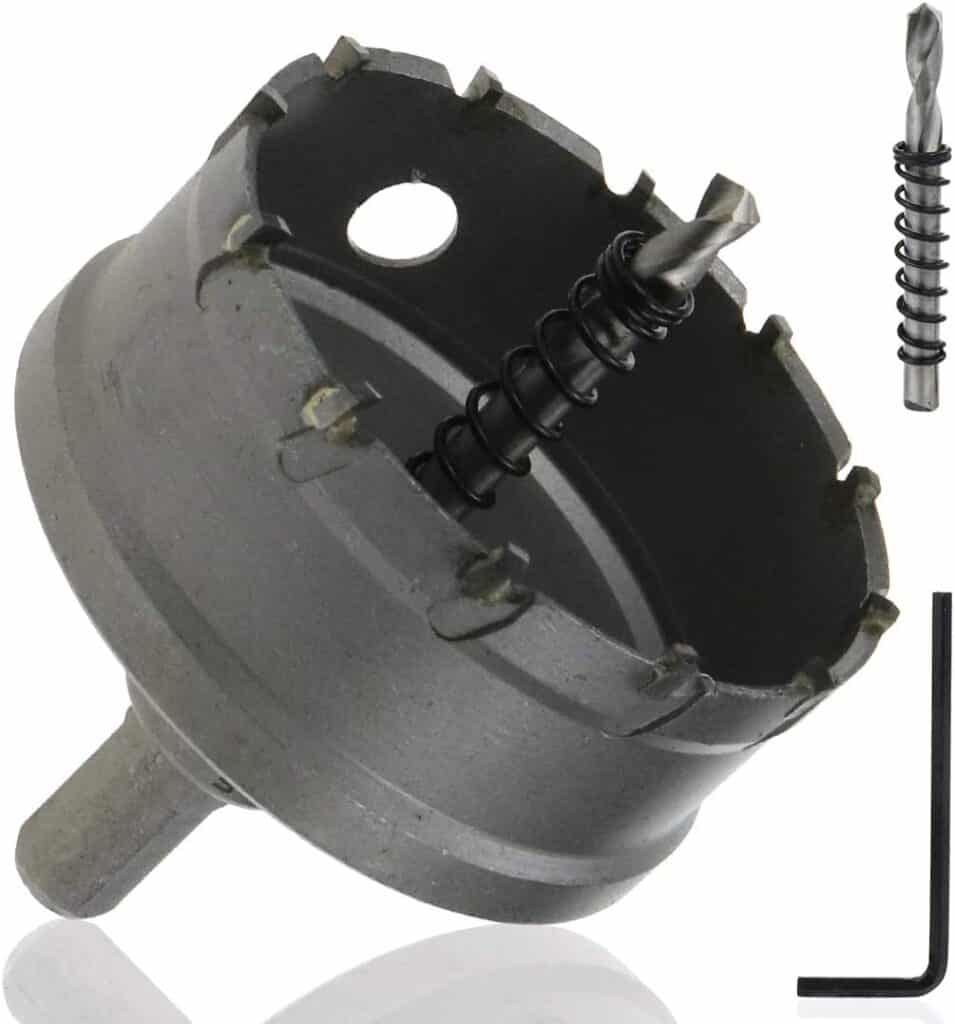 Rannb presents you with this decent carbide hole saw for cutting metal. If you want to make nice, clean, and fast cuts of between 5mm-25mm thickness, the tool for the job is right here. Rannb 2.95 inches is able to cut aluminum, PVC, copper, wood, and stainless steel.
The Rannb hole saw is carbide-made, which makes it strong, highly durable, and wear-resistant.
The drill bit, wrench, and spring are included in this package. That makes your job easy and very convenient. It also comes with a detachable pilot drill.
We love the tools great design. It has three cut edges make. The inner edge, medium edge, and outer edge. Due to all this, you will get a quick and precise position location as well as cuts. It also safeguards carbide teeth from impact.
With this hole saw, you can use either a bench or an electric hand drill. Expect a difference in the cut effect of the electric hand drill due to torsion and power.
The package contains one hex wrench, one hole saw, two boring pilot bits.
RPM for various metals is as follows: Stainless steel use 25 to 35m per minute. Ordinary steel 40-60 m per minute. Aluminum plate 60/100 m/minute.
Cool the hole saw with water to avoid overheating when drilling.
Features
Three cutting edge design
Carbide material guarantees durability
It measures 2.95 inches in size
| | |
| --- | --- |
| Brand | Rannb |
| size | 75mm |
| Weight in Ounces | 15.4 |
| Material | Carbide Alloy |
| Dimensions | 5.12 by 4.84 by 3.98." |
2.LENOX Tools 2" (1772779)Hole Saw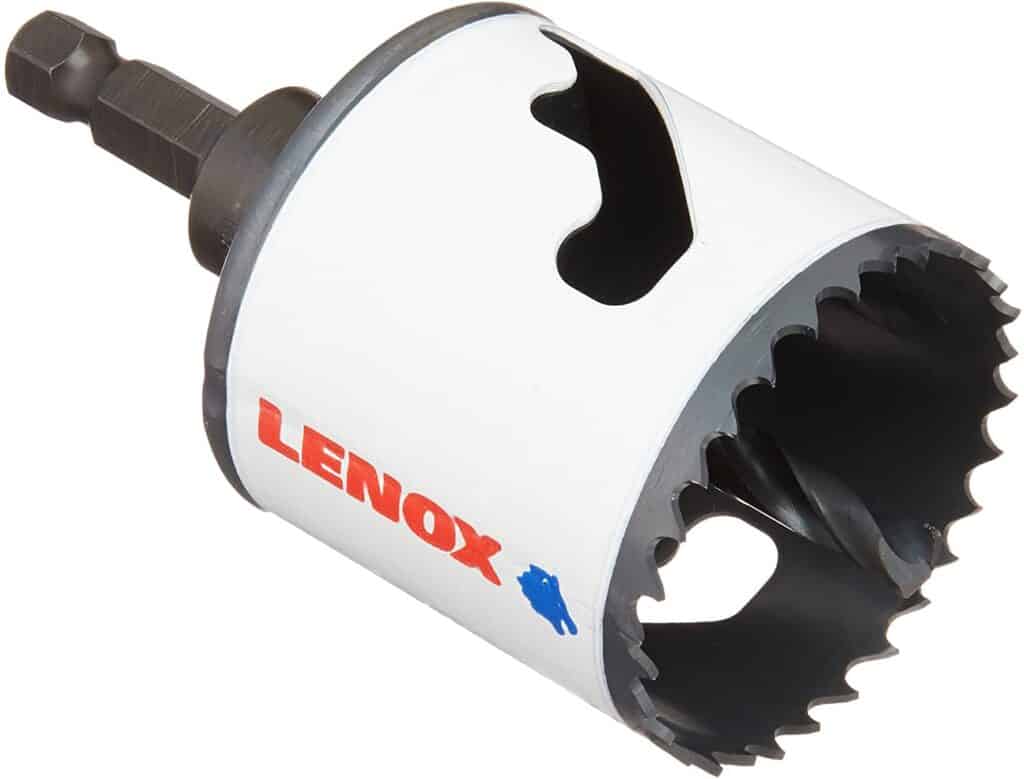 The 2 inches LENOX Bi-metal hole saw is an innovation enhanced to last long two times than previous Lenox tools of its kind. This is a little taller in comparison to the previous ones for more precise cuts.
Its walls are thick to help lessen the loss of teeth and maintain good performance as it cuts tough materials. The exclusive speed slot configuration with staircase construction makes plug removal a straightforward exercise in three quick steps. The leverage ends to make it easy for you to work out sawdust or metal chips using a screwdriver. That avoids debris from sticking in there.
The bi-metal standard arbored hole saw features T3 technology, which lasts long and quickly cuts metal faster than earlier Lenox hole saw models. Its large, sharp, and optimized teeth penetrate metal easily for faster cutting.
The hole saw is sturdy, durable, cuts fast even through the toughest of materials for unmatched and efficient performance.
Its thin kerf configuration, advanced coating, and enhanced teeth geometry increase efficiency by quickly removing materials, hence less heat generation during operation.
Features
Speed slot (staircase) configuration allow quick removal of dirt
Thick wall to enhance longevity
It has a standard arbor
Large and sharp teeth for faster cutting
| | |
| --- | --- |
| Brand | Lenox Tools |
| Weight | 6.4 ounces |
| Dimensions | 5.7 by 3.3 by 2.7." |
| Size | 2 inches |
| Package Quantity | 1 |
3.HYCHIKA 17 Pcs Bi-Metal Hole Saw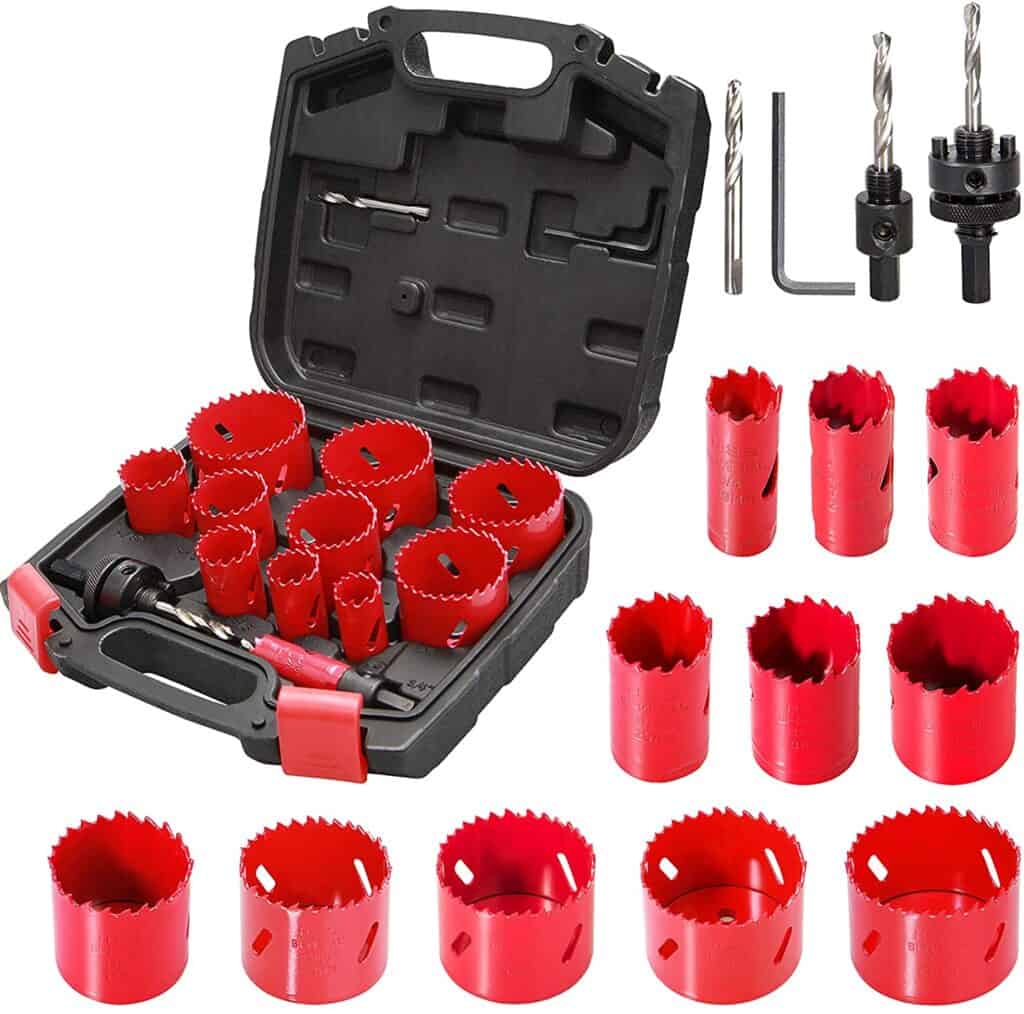 Hychika Bi-metal HSS hole saw is a good choice if you are tired of short-lived and thin metal saws. This is an affordable tool crafted from tough alloy steel and is very strong and durable.
The sharp teeth tear through materials in no time, giving you an easy cutting time. You can cut various materials using this saw, including PV board, drywall, metal, and plastic.
The hole saws exhibit high accuracy and quick cutting. Its teeth are optimized and enhanced for decent, clean and smooth cutting with high efficiency and precision. On its side is a hole purposely created for rapid chippings removal.
What should you expect from the package? The package contains 11 hole saws of different sizes and six accessories. The sizes ranges are (3/4inches, 7/8inches, 1inch, one to1/8inch, 1 to 3/8inch, 1 to 1/2inch, 1 to 3/4inch, 2inch, 2 to 1/8inch, 2 to 1/4inch, and 2 to 1/2inch )of the maximum cut depth of 40mm. You will also find 2pcs mandrels, 2pcs drill bits, one pc extra replacement pilot drill, and 1pc hex key.
The set comes with various mandrels fitting various saw sizes that get along with drills from other brands. You need not worry about how to store this set. This package contains a small and strong store box convenient and easy to move around.
Features
Bi-metal and HSS material for durability
11 hole saws and six accessories
Small, sturdy storage box
| | |
| --- | --- |
| Brand | HYCHIKA |
| Material | Metal |
| Dimensions | 9.64by8.85by2.87" |
| Style | Hole saw (set) |
| No. of Pieces | 17 |
| Item shape | Round |
4.Diablo 14Piece DHS14SGP Hole Saw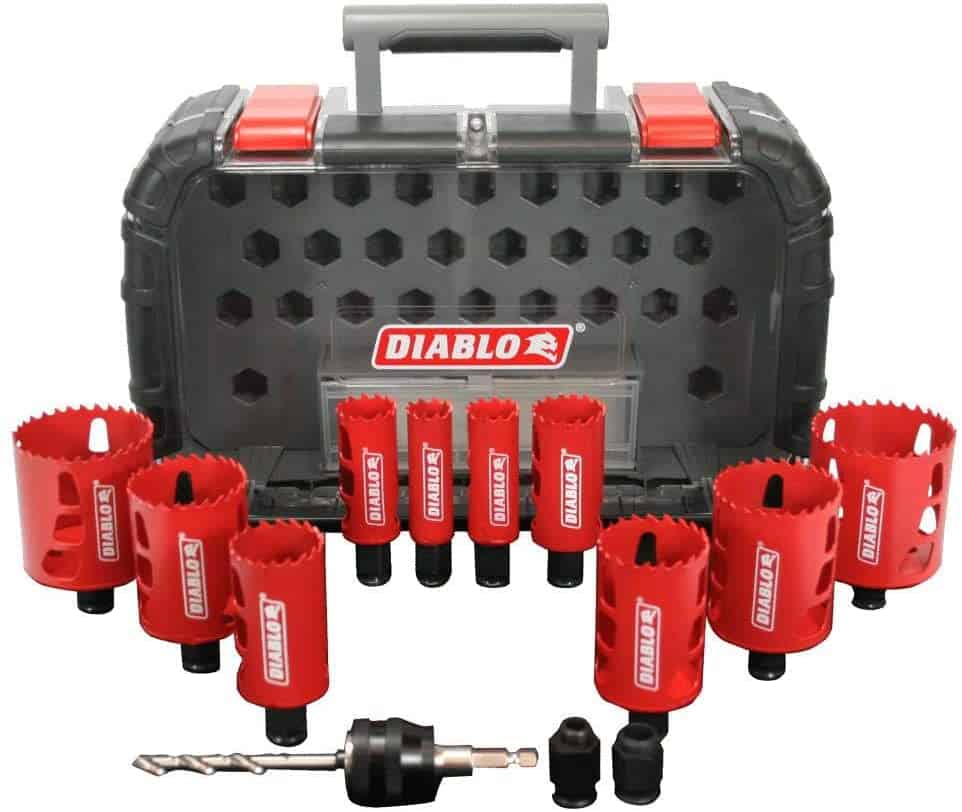 The 14 piecesDHS14SGP Diablo kit is a tool worth spending your money on. It cuts up to 60mm and 40 percent deeper holes in a single pass, increasing its productivity.
Diablo set teeth cut fast and efficiently. The holes come out neatly and smoothly without the need for sanding. This high-performing hole saw kit offers quick-cut performance in comparison with the regular bi-metal saws. It is also effortless to swap cups for maximum and excellent performance.
The teeth configuration allows easy removal of the plug that takes place in 3 stages.
The hole saw from Diablo features a Snap lock Plus mandrel that includes ( mandrel, pilot bit, 5/8"). (A threaded adaptor that gets into a diameter of ¼ inches – 6 inches. A threaded diameter fitting into 9/16 inches – 1/16 inches).
1-Size tends to fit all mandrel and diablo hole saws, starting 5/8 inches -to 6 inches in diameter.
This hole saw has a longer working life, up to 20 times and ten times quicker in cutting very tough materials.
The set comes with a robust and long-lasting carry bag for hassle-free and easy storage of the saws.
Features
2-3/8 inches cut depth
Tool-free debris ejection design
14 pieces set saw blades
| | |
| --- | --- |
| Brand | Diablo |
| Material | Blend |
| Color | Multi |
| Weight in pounds | 6.6 |
| Dimensions | 4.02by8.39by13.66" |
5. MKC 95mm 3-3/4 bi-metal hole saw cutter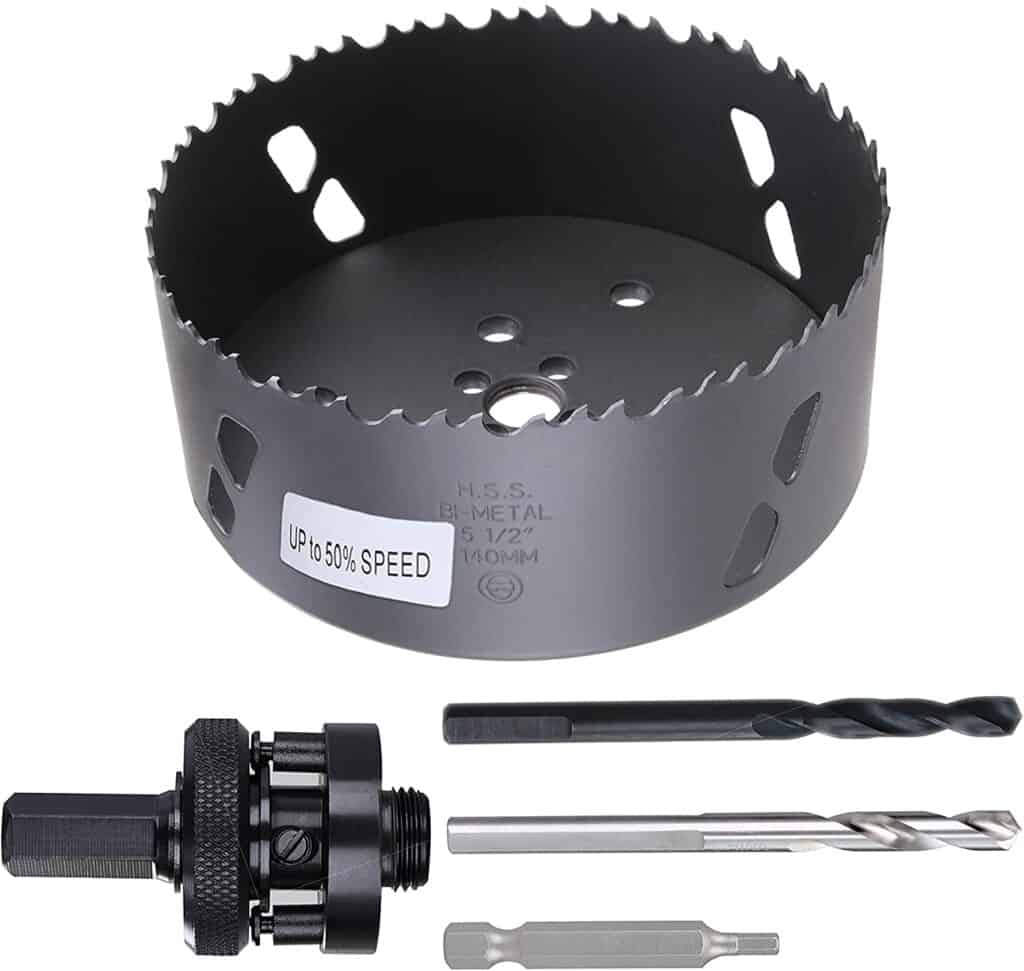 MCK bi-metal hole saw is best for cutting aluminum sheets. It comes as a package containing three pieces bundle with extra six pieces as a gift. The kit has 95mm silver saw blades, one drill bet, and one mandrel. It also contains other six CRV screwdriver bits, which you can use for various purposes.
It's a universal application since it can work with most drills. Also, you can use the mandrel and pilot bits on any hole saw. You can use it for cutting either wood, drywall, PVC metal, or stainless steel.
This hole saw has a bimetal strip made by a laser welding machine and vacuum heat treatment, making it stronger. It also makes it hard and increases its life span.
Working with this hole saw makes the holes smooth and clean. You also get an easy time operating this hole saw because of the generational improvement it has gone through.
MCK hole saw is toothed back and forth, so it will make your work easier when using it. With its thick walls, it can work well on aluminum without losing teeth. It has a chip removal hole that removes the materials you cut on the hole saw.
Features
It contains a smart chip removal hole
It's a Bi-metal alloy material
It can be toothed back and forth
Has thicker walls
| | |
| --- | --- |
| Brand | Mck |
| Material | Bi-metal |
| Dimensions | 95mm3-3/4inch |
| Weight | 0.51kgs |
| Kit Package | Silver saw blade One drill bit One mandrel Six extra CVR screwdriver bits |
FAQ
Will a hole saw cut through aluminum?
A hole saw can cut through aluminum. They make bigger holes within a shorter time and give a clean, smooth surface. If you're using a hole saw on aluminum, have a plywood scrap for backing its pilot bit and protecting your work surface.
But ensure you work with a low speed as the heat can interfere with the aluminum. Also, make a sandwich to get clean holes. Use two pieces of wood to sandwich aluminum and then clamp them down on your working table.
2. What Is the Best Type of Drill Bit for Aluminum?
It would help if you chose the right drill bit, which will work on aluminum perfectly since it's soft but hard to drill metal. You can use micro-grain carbide, which has a hardness of between 93 and 92 HRA for low silicon alloys.
But if the type of aluminum you're using contains more than 11% silicon, use drills tipped with PCD or diamond-like carbon.
3. Can I Use WD-40 For Drilling Metal?
Yes, you can use WD-40 for drilling metal. It is a multi-purpose cutting oil that can improve performance and extend your drilling equipment's life. If you use it for cutting the metal, the process will be more straightforward. You can use it on metals like stainless steel or titanium.
WD-40 is best for cutting or drilling equipment and machines. But you can also use it for power cutting and hand-cutting machinery. When you use it, it will help prevent metal seizures, pitting and also reduce frictional heat.
 It will also prevent machinery and equipment wear as well as improve the machine finished metal items. With it, your machinery will be lubricated throughout, reducing tip welding and prolonging the life of the cutting equipment.
If you want it to work well, put it under extreme pressure either in a hand or power metal cutting and drilling machinery.
4. Can A Hole Saw Cut Stainless Steel?
Yes, you can use a hole saw for cutting stainless steel. But its performance will largely depend on the material it's made of. If it's made of quality materials like cobalt steel, it will work perfectly on stainless steel. But cobalt steel can also cut softer materials like PVC or wood. 
Related Articles:
Check the best hole saw for drywall
What are the best holes for concrete
Best hole for fiberglass review
Last Updated on January 23, 2022 by John G. Anderson