Title
Top Pick
MAGBIT - MAG-8967 625.6616 MAG625 4-1/8-Inch Carbide Grit...
Most versatile
ZELCAN Hole Saw Kit, 4pc Drill Hole Cutter Set with 30 50...
Best budget
BINOTA Concrete Hole Saw 40 mm, Arbor SDS Plus 220mm, for...
best concrete hole saw set
Concrete Hole Saw Kit,SDS Plus/Max Shank Concrete Cement...
Monster
Toolocity SCB0114D 1-1/4-Inch Monster Dry/Wet Diamond...
image





Top Pick
Title
MAGBIT - MAG-8967 625.6616 MAG625 4-1/8-Inch Carbide Grit...
image

Most versatile
Title
ZELCAN Hole Saw Kit, 4pc Drill Hole Cutter Set with 30 50...
image

Best budget
Title
BINOTA Concrete Hole Saw 40 mm, Arbor SDS Plus 220mm, for...
image

best concrete hole saw set
Title
Concrete Hole Saw Kit,SDS Plus/Max Shank Concrete Cement...
image

Monster
Title
Toolocity SCB0114D 1-1/4-Inch Monster Dry/Wet Diamond...
image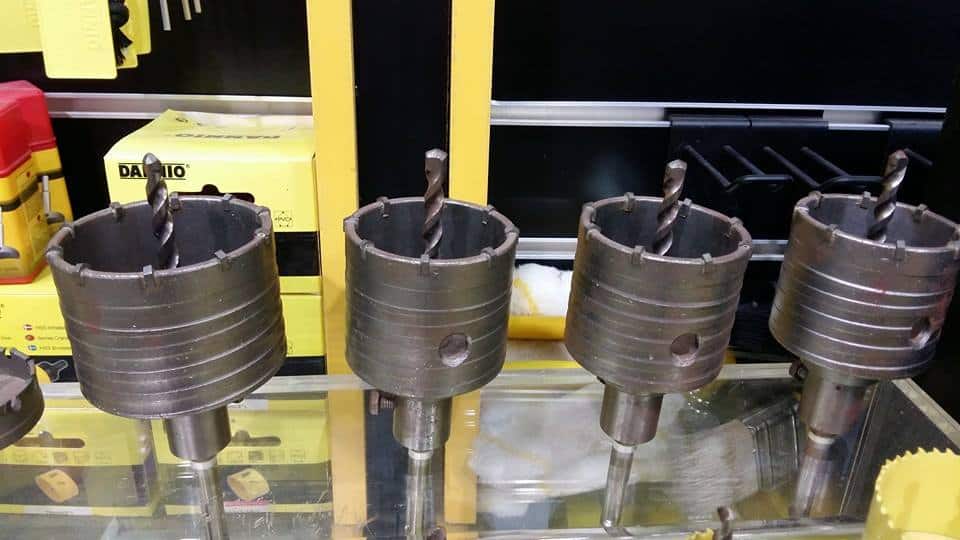 The ability to drill holes through concrete is a handy technique. You could mount shelves up, hang artwork, put up lights, and accomplish more tasks fast and safely.
If you use the right tools and some minor effort, this process is not complex. You need to select the best hole saw for concrete and commit yourself to understanding its proper use to get perfect holes. That will help you save money instead of paying a contractor to do the drilling for you.
In this write-up, we discuss selected hole saws for cutting concrete. Read on for a detailed review.
What type of hole saw is best for concrete?
When it comes to drilling some holes on concrete, you need to select the most appropriate tool for this purpose. Remember that concrete is complex and very dense and contains some aggregate stones embedded in it. These would hinder proper penetration of the drill bit, and you don't want to crack the concrete in that process. You also can't afford to use a tool that would take you long to punch a hole.
Both carbides tipped and a diamond hole saw will do a very good job to make holes in concrete. So you should use either carbide-tipped or diamond hole saw in concrete or masonry. Don't use any bi-metal hole saw in concrete.
A 3" Carborundum grit hole saw will cut perfect holes into concrete without turning dull quickly. Carborundum has a high hardness degree, resists heat and wear. This makes it most suitable for cutting concrete quickly and with satisfactory results.
5 Best holes saw for concrete review.
1.MAG625 4-1/8-Inch Hole Saw – Top Pick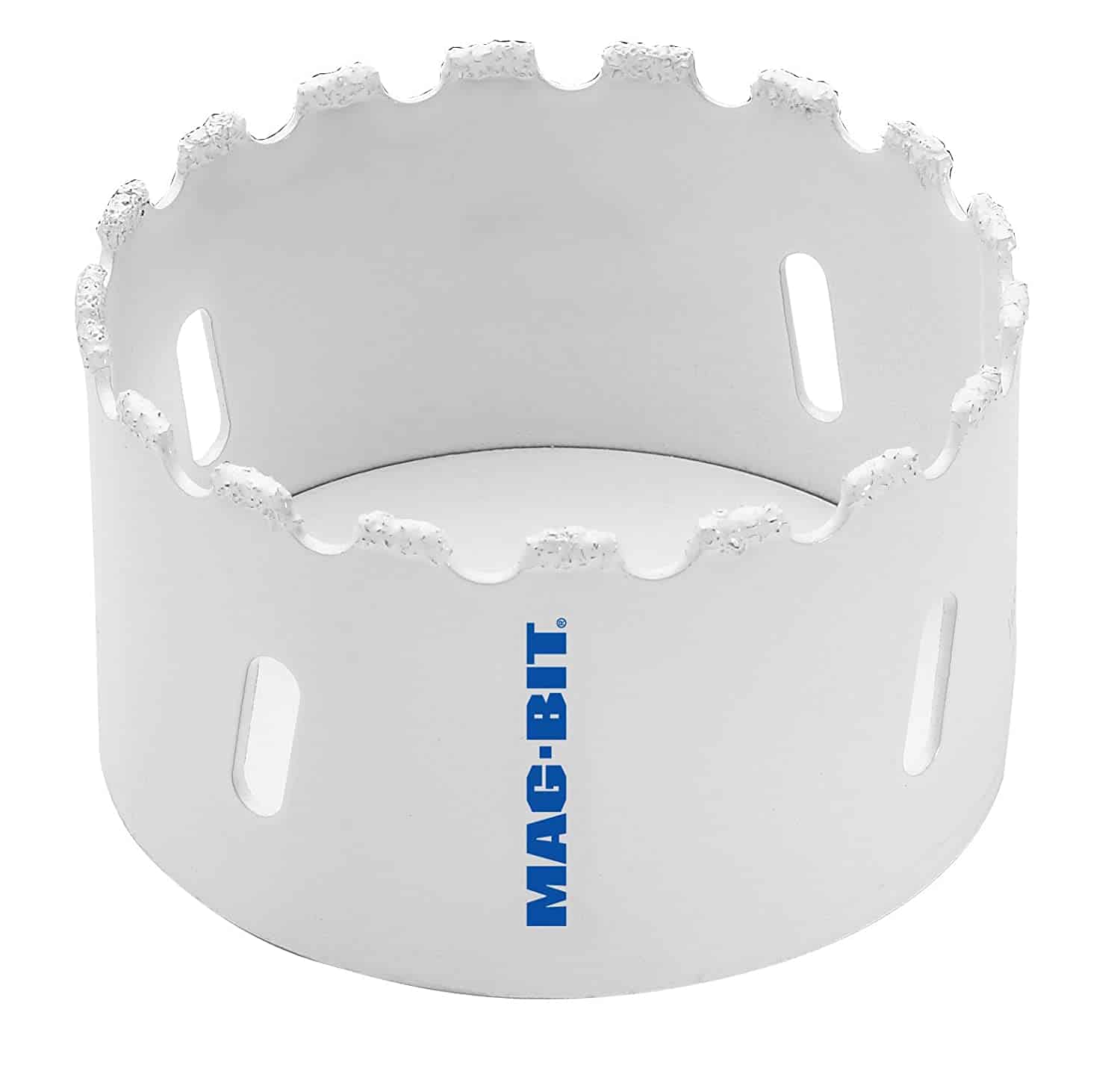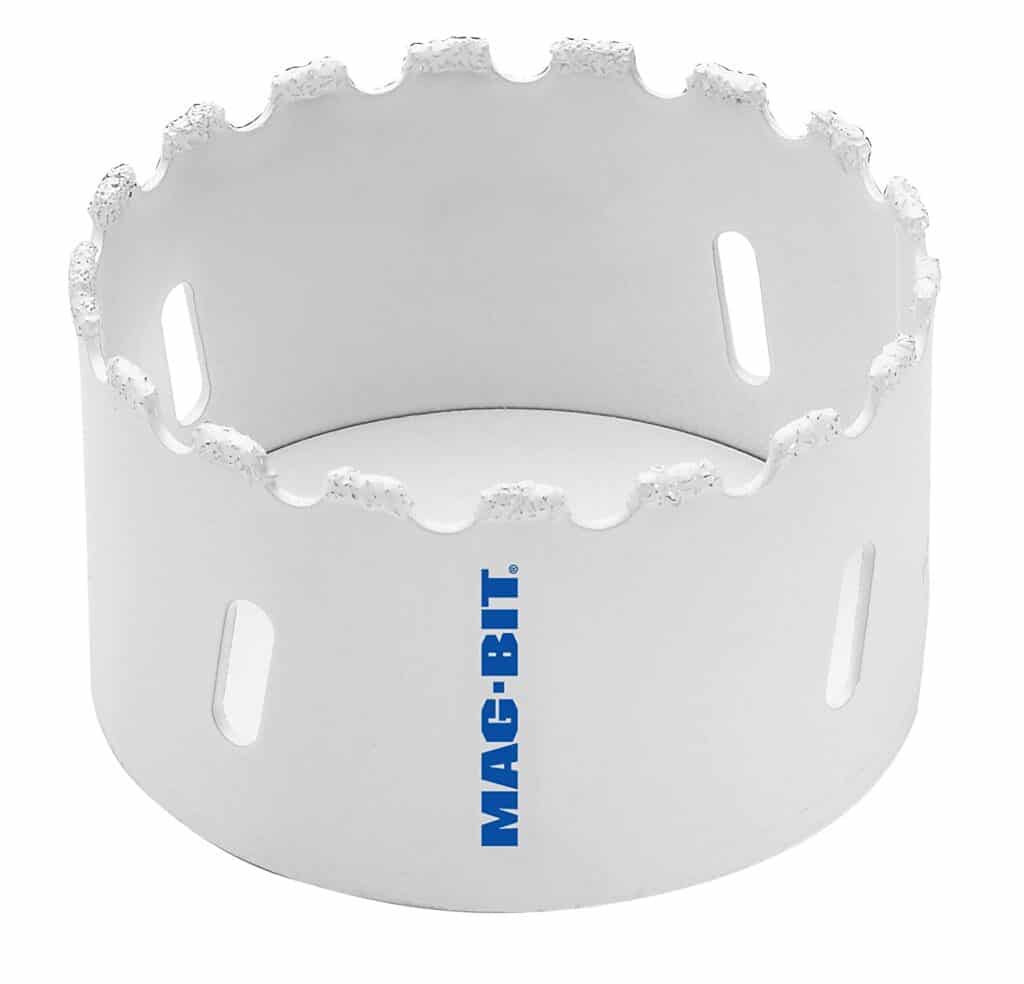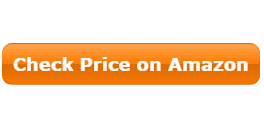 The Magbit625 is a must-have masonry hole saw for drilling holes on brick, concrete blocks, fiber cement siding, stucco, and old plaster.
This hole saw cutting depth is 4-1/8 for making holes on a concrete wall. You may need to keep chiseling out the core to keep drilling. Use low drill speed and plenty of water to avoid burning and also wash the dirt away.
The Magbit carbide grit hole saw is sturdy and functions in two ways SDS and hammer mode. You can use it in a forward and backward manner(reverse) if needed.
The tool cuts fast and neatly, and the carbide grit minimizes dust build-up. It uses a standard mandrel(shank arbor) which can accommodate any brand of a hole saw.
The highest speed you can use on this hole saw is 250 rpm, and you need to find a drill that would match this speed.
Although the hole saw may wear out quickly after short use on very rough surfaces, it works well on plaster walls without getting dull or tearing the sides. For safety reasons, always plug your drill into a GFIC.
Features
It uses a standard arbor shank
250 RPM maximum speed
It cuts holes fast(less than 7s)
Carbide grit holes do not tear materials.
It uses a standard mandrel
1-3/8" depth
Cuts forward and reverse
| | |
| --- | --- |
| Brand | Magbit |
| Dimensions | 6.3 by 5.2 by 2.4 inches |
| Weight in Pounds | 1.05 |
| No of pieces | 1 |
| Depth | 9/16" |
| Maximum Speed | 250 RPM |
2.CO-Z Hole Saw Kit – Runner up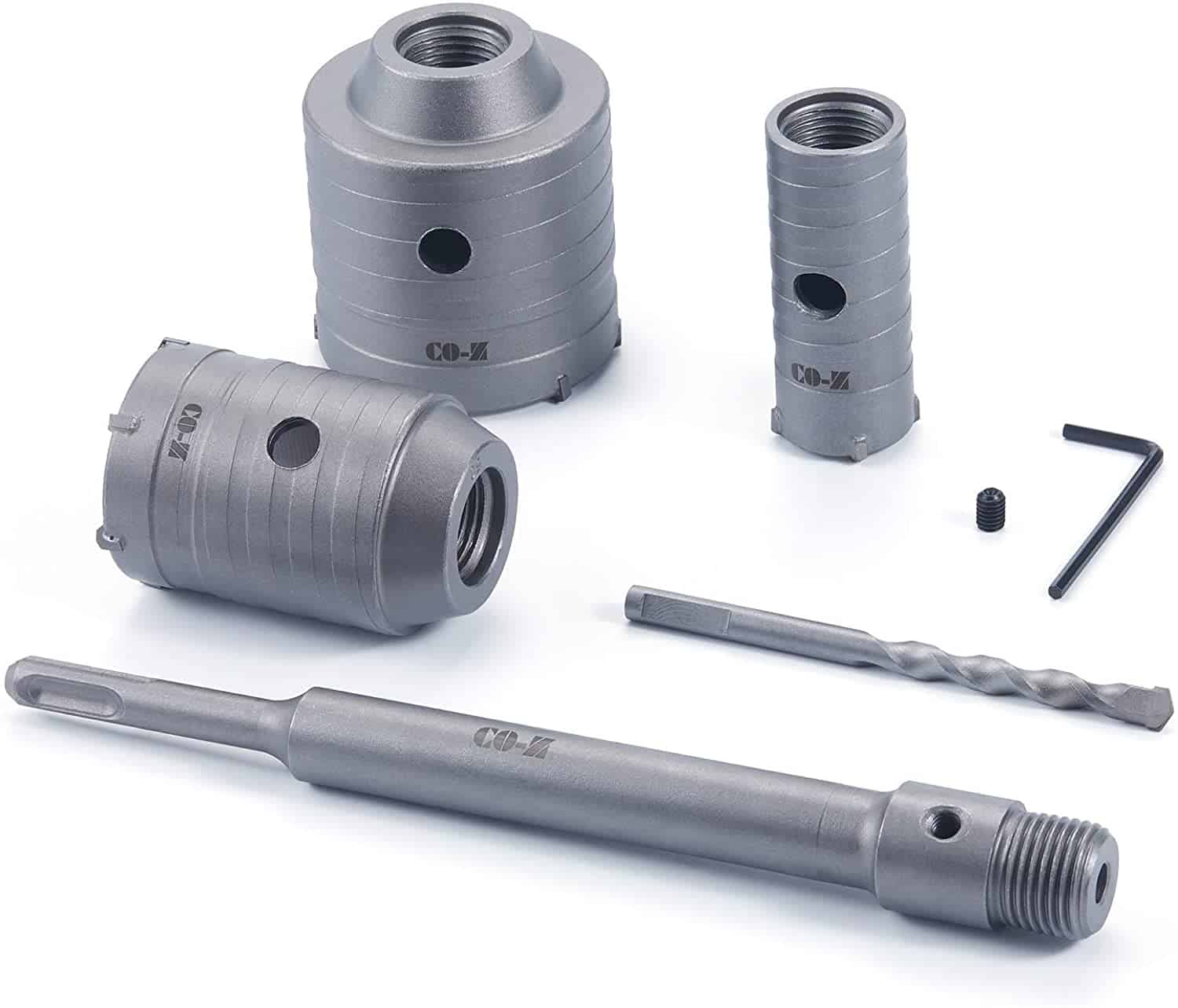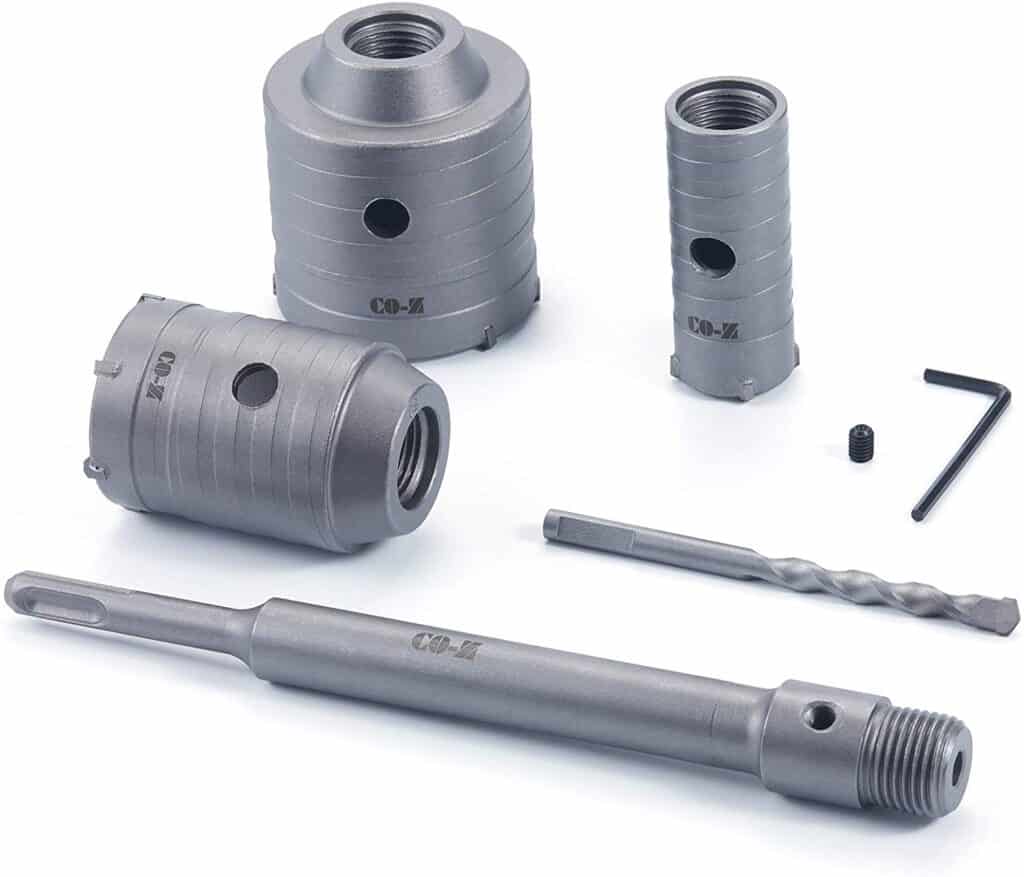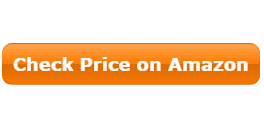 The CO-Z 4-in-one hole saw kit is a durable and good price tool for cutting clean holes faster than expected on various materials. This drilling bit set has a pilot drill of 4.4 inches and three diameters hole saws of 30mm,50mm, and 65mm.
CO-Z is a long-lasting tool crafted from steel and an alloy of Tungsten. It lasts long, even with the harshest use.
You can use it with a standard driveshaft plus hammer drills. The shank on its connecting rod does well with popular brands like (Dewalt, Bosch, Makita, and many others)making the hammer drill more valuable than before.
You can use this masonry tool on a wide variety of wall materials such as cement, stone, and brick to install pipes, exhaust outlets, AC tubing, and many others.
The inner and outer grooves rid off chippings during the performance for non-stop, and efficient working and internal grooves cleanly remove chips during use for a continuous and efficient work experience.
The tool has triple-edged sharp teeth to allow clean and faster drilling.
Features
Strong steel and Tungsten build
Sharp and triple edged teeth for faster drilling
Fit for most wall materials(brick, concrete,cement, and stone)
1350 drilling pilot allow the opening of holes accurately with precision
Three sizes are cutting bits of 1.2″, 2″, and 2.6."
It fits slotted drive shafts plus hammer drills
4 in one set consisting of pilot drill inch measuring 4.4 inches and three-hole saws of different diameters
| | |
| --- | --- |
| Brand | CO-Z |
| Material | Steel and Tungsten alloy |
| Dimensions | 9.45 by 3.15 by 3.54 |
| Works with | SDS plus hammer drill |
| Weight | 3.44 pounds |
| Package contains | 3pcs Hole Saw Bits 1pc Connecting Rod 1pc Pilot Drill Bit 1pc Hex Bolt 1pc Hex Wrench |
3.BINOTA 40 mm Concrete Hole saw– Value for Money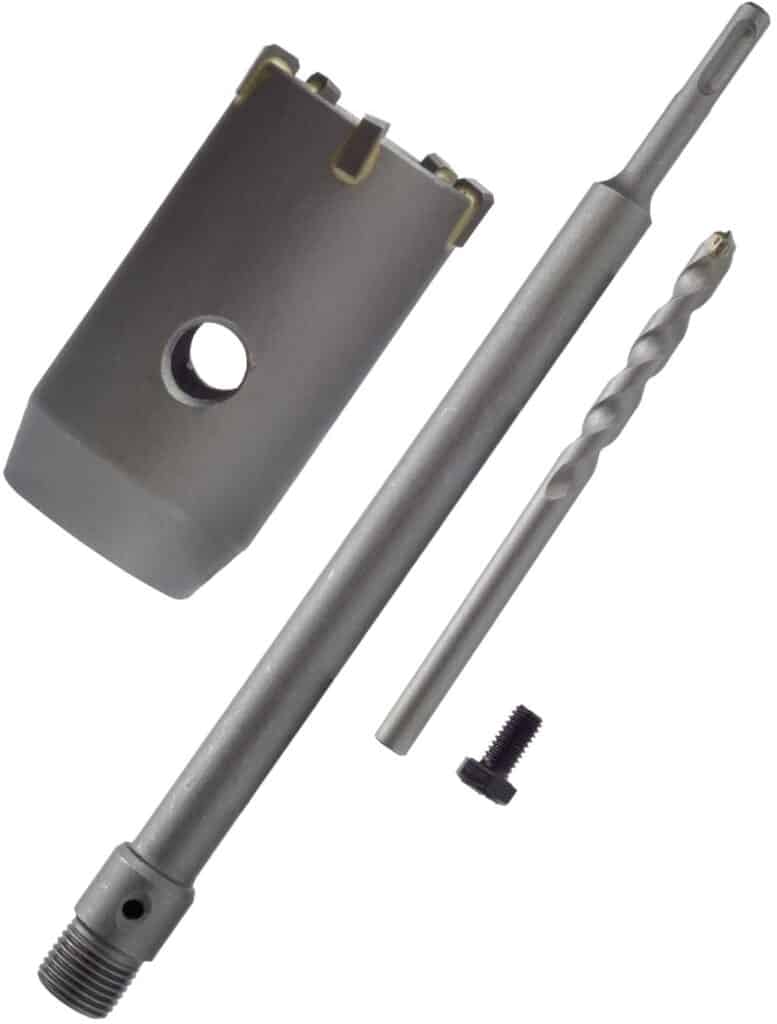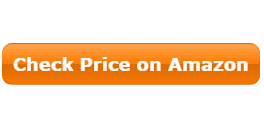 The Binota 40mm hole cutter is a pocket-friendly easy-to-use three-pie set that includes a hole opener, connecting rod, screwdriver, and a drill. It comes with a hexagonal wrench and a 1* 220mm-8.66"shank.
Cutter head material is alloy YGB that is suitable to drill cement, brick, and concrete wall.
The connecting stick shank length is 220mm that is capable of drilling many wall thicknesses.
The 48 mm, –1.89 inches hole saw is fit to open thick walls to install water heaters, sewers, and air conditioners, among others.
The connecting shaft features the SDS PLUS design that is fit for use with a round shank four-pit electric impact drill.
| | |
| --- | --- |
| Brand | Binota |
| material | carbide |
| Color | components |
| Style | Circular saw |
| weight | 1.79 pounds |
| Size | 40mm |
| | |
Features
Set contains 3pcs a hole opener, connecting rod, a screw, and a drill
The cutting head is made from alloy YG8
220mm connecting shaft suitable for drilling wall thicknesses
You can use it to drill holes for (sewers, fume pipes, water pipes, and many more.
Connecting rod shank has (SDS) plus design.
4.SDS Max Shank Concrete 3pcs Hole Saw – Premium Choice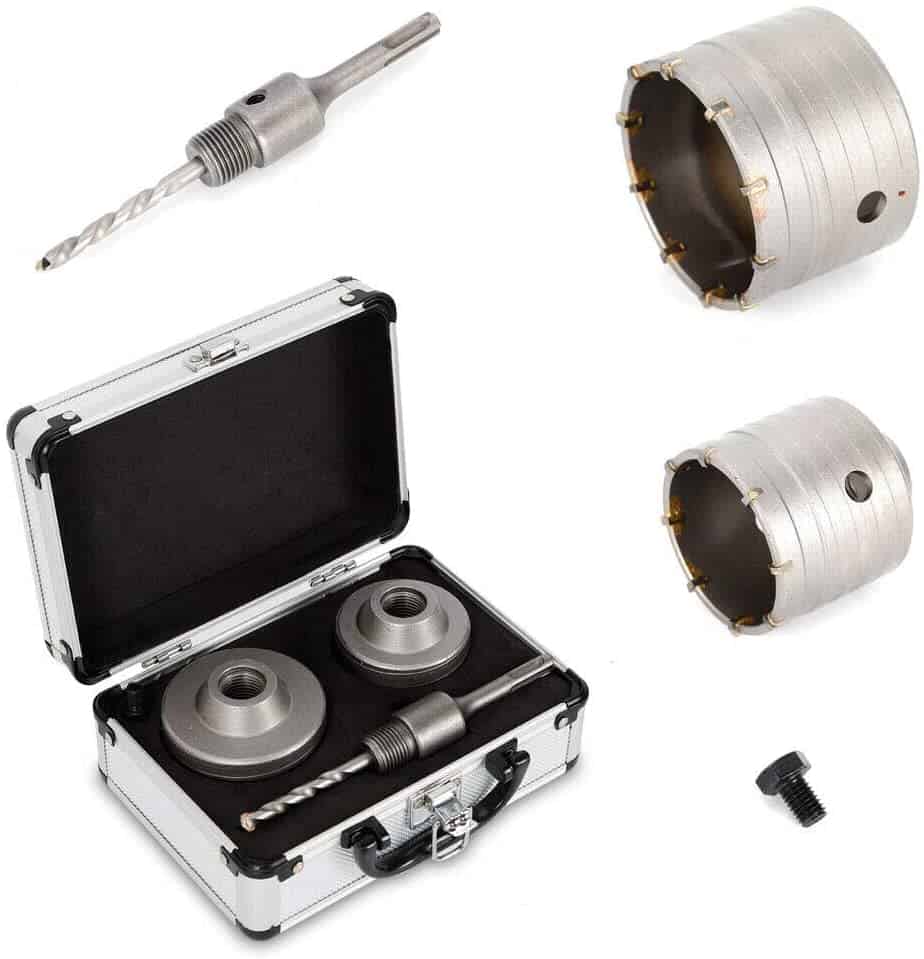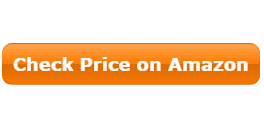 SDS max rod shank is a sturdily built non-brand, and affordable concrete hole saw great for boring holes on a wide range of materials like cement walls and red brick. The 3pcs kit material is a mixture of alloy and tungsten steel. The sturdiness enhances its durability.
The SDS max shank core drills feature an outer blade angle of 135 °. It is made from Tungsten Carbide and is easy to use to create well-rounded holes on the concrete of up to 50mm depth. However, it would help if you had a giant hammer drill to use on them.
This 40mm cutting diameter and 50mm blade length is a high-performing alloy blade combination. It resists chipping around the edges and allows you to drill fast and effortlessly.
It is portable as it comes with an Aluminum storage carry case. You can move about with it quickly.
The TCT hole drilling saw is for use with a twist, rotational, circular, or spinner kind drill.
You definitely want a sturdy and durable concrete hole saw, and this is worth trying.
Features
Made of tungsten and alloy for strength and durability
Portable
Wide application on foam brick, hollow brick, brick wall, and cement wall
Tungsten carbide tipped
High performance
50mm maximum cutting depth
12mm handle diameter
72mm overall length
| | |
| --- | --- |
| Brand | Unbranded |
| Material | Tungsten Steel |
| Type | Drill Bit |
| Weight | 4.8 kgs |
| Shank Diameter | 12 mm |
| Diameter | 68/80mm |
| Maximum cutting depth | 50mm |
| Package items | One pc drill bit of 68 mm One pc drill bit of 80 mm One pc SDS-Plus shank of 110 mm 1pc aluminum carry case |
5.ToolcityConcrete Core Drill Bits SCB0114D 1-1/4-InchHole Saws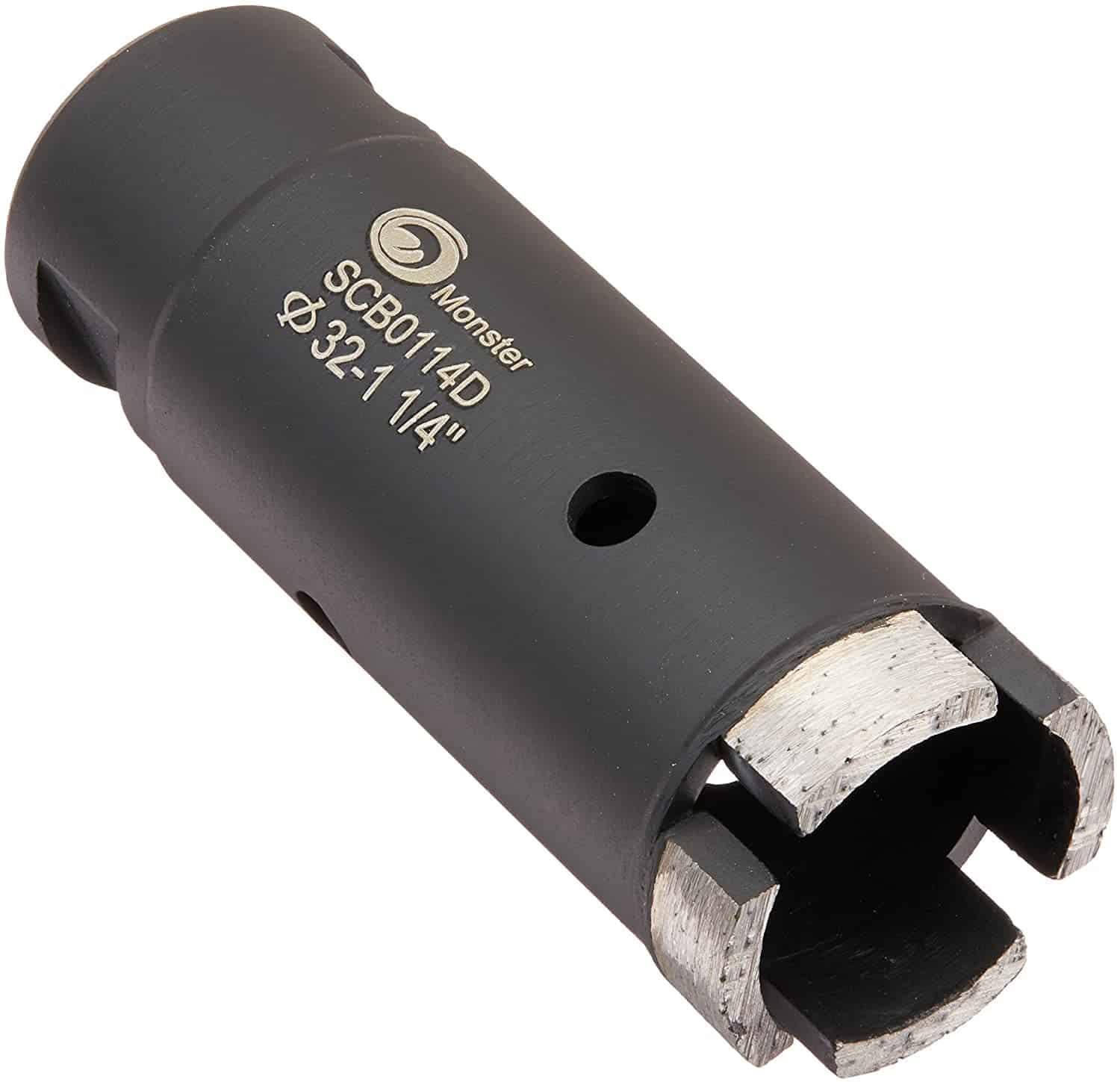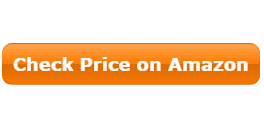 The toolcity 1-1/4" drill bits are strongly built for contractors or home use to bore holes for various applications. These are used to make a lot of holes in a short time and with minimal effort.
It's safe and straightforward to use. However, you can use them to drill holes on concrete and granite, both dry and wet, but it's advisable to use water to cool them down for longevity.
Expect some cleaning if you use it with a holder or column. It still works well when handheld, but the holes are not that perfect  Holes are not as round when the tool is hand-held, but it still works fine.
If you are not worried about edge chipping, you can consider drilling holes on porcelain tiles using this SCB0114D 1-1/4-Inch Toolcity Monster Granite/Concrete core drilling bits.
The highest speed you could use on these is 3000 – 6000 RPM. Remove slug and debris to increase the tool's life.
Features
Compact diamond and steel body
It can be used both dry and wet
A maximum speed of 3000-6000
Durable
Best for boring holes on granite and concrete
| | |
| --- | --- |
| Brand | Toolcity |
| | |
| Weight | 7.2 0unces |
| Quantity in Package | 1 |
| | |
| | |
FAQ:
How do you cut a hole in concrete?
Although cutting concrete can be challenging, using the appropriate tool makes it easy.Use a masonry hole saw that properly fits in the uniquely made drilling bit and cuts holes of between 1/2" to 31/4".
2. Will a diamond hole saw cut concrete?
The diamond hole saw is durable, rugged, and has high thermal and wear resistance. You can use them to drill and cut through concrete efficiently without quickly getting blunt.
3. What kind of drill is best for concrete?
Concrete is dense and tough. It contains stones that would hinder drill bits and quickly turn them dull. The hammer drill is suited for drilling concrete. It features an impact mechanism that makes a hammering motion allowing for better penetration into the rugged surface.
4. How do you cut a 2-inch hole in concrete?
Attach a core drill to a high SDS power drill. Identify the area you want to drill. Slowly start boring into concrete with the guide drill attached to the core drill. Maintain a smooth and slow speed. At 0.5 inches, unscrew the guide rail. Keep drilling up to 2 inches, and finally, remove the core drill. It will remove the centerpiece leaving a clean hole.
5. Can you drill a hole in concrete?
Yes. Begin drilling at a low speed for easy control. Continue drilling forward with light and steady pressure without applying any force to the drill. Cut the drill hole 1/8 to ¼ inch, stop the drill, remove debris, and pull your drill out.
Related Articles:
Check what are the best diamond hole saws
Check what are the best hole saws for aluminum
Best hole saw for fiberglass reviews
Best hole saw for drywall reviews
Last Updated on January 23, 2022 by John G. Anderson