Bamboo flooring has been around for a couple of decades. Asides from its physical and aesthetical properties, it has gained a lot of popularity for being environmentally friendly. As the name implies, it is a processed bamboo plant made into hardwood flooring.
Bamboo flooring is durable and strong but could splint easily. As such, you need the best saw blade for cutting bamboo flooring to achieve a good, clean, and straight cut. There are numerous options if you are looking for an excellent saw blade. In this article, we will review the best options for cutting bamboo flooring.
What Type of Saw Blade Is Best for Bamboo Cutting?
In curating this list, there were a number of things we considered. These factors contribute to your bamboo flooring's overall outcome and your experience in terms of ease of use. The type of bamboo flooring is similarly important. The best type of saw blade for cutting bamboo is a carbide-tipped saw blade. It is best to use a blade with, at least, 40 teeth.
The traditional bamboo flooring could be vertical or horizontal-grain. The orientation of the bamboo during processing is the sole difference. This gives some difference in the appearance, but the strength and durability are still the same. Hence, you can use the same type of blade for vertical or horizontal bamboo flooring.
On the other hand, strand-woven bamboo flooring has higher density, strength, and durability. Strand-woven bamboo is often used for floors with much traffic because it does not wear out easily. If you are cutting strand woven bamboo floor, you would need a stronger saw blade.
The number of teeth a saw determines how fast and smooth it cuts. However, both are mutually exclusive. The more teeth a saw blade has, the slower but smoother it cuts. The type of bamboo also matters. You will get a superb finish on vertical or horizontal bamboo with a 40-tooth blade. But a strand-woven bamboo flooring will require an 80-tooth saw blade to achieve a desirable result.
Best Saw Blade for Cutting Bamboo Flooring
Do you plan on installing bamboo flooring in your home or office? If the accident was serious enough, not at this time. There are many good blades out there for cutting bamboo flooring. But you could get the most suitable at a very reasonable cost.Check out best blades.
Freud 7-1/4″ x 60 Thin Kerf Ultimate Plywood & Melamine Blade (LU79R007)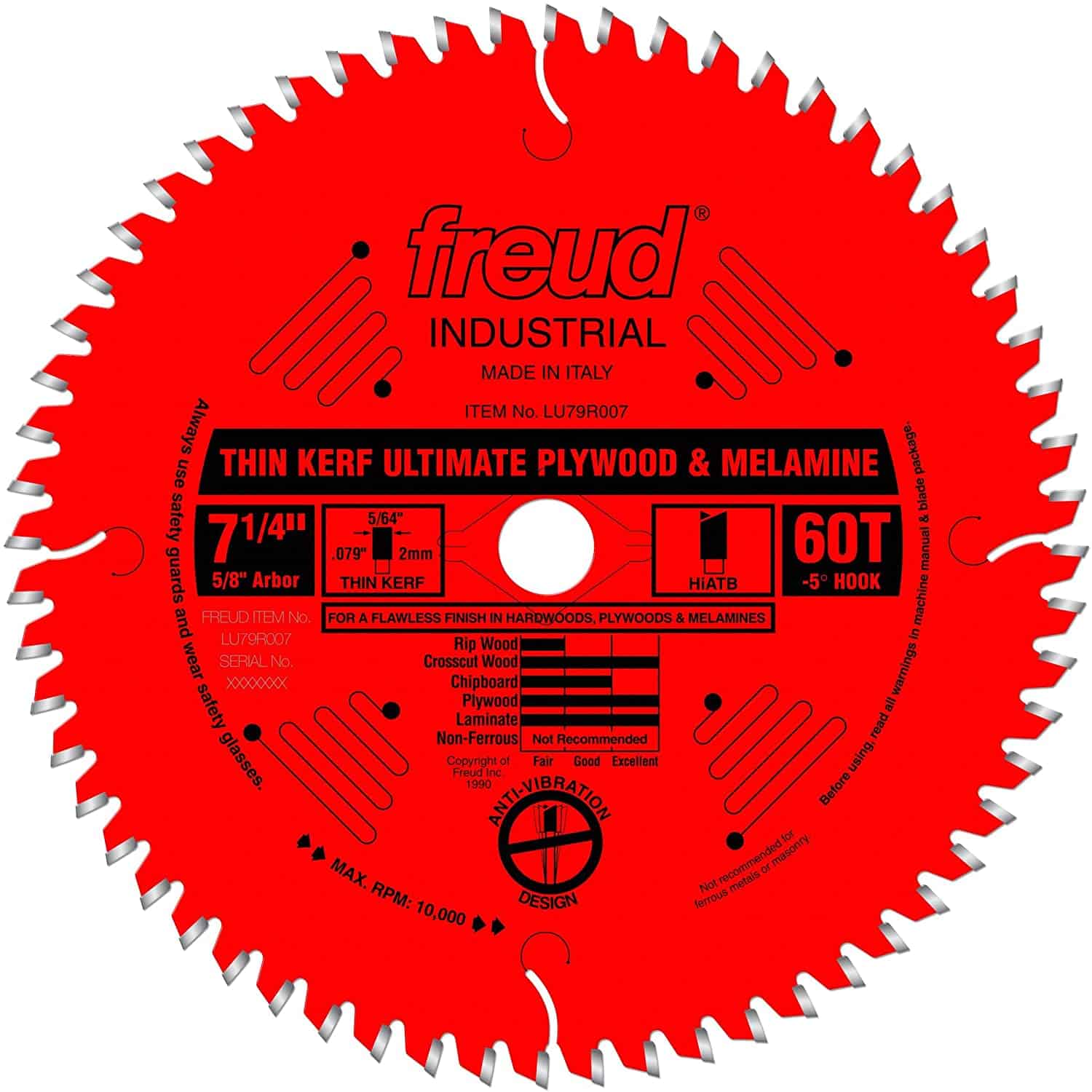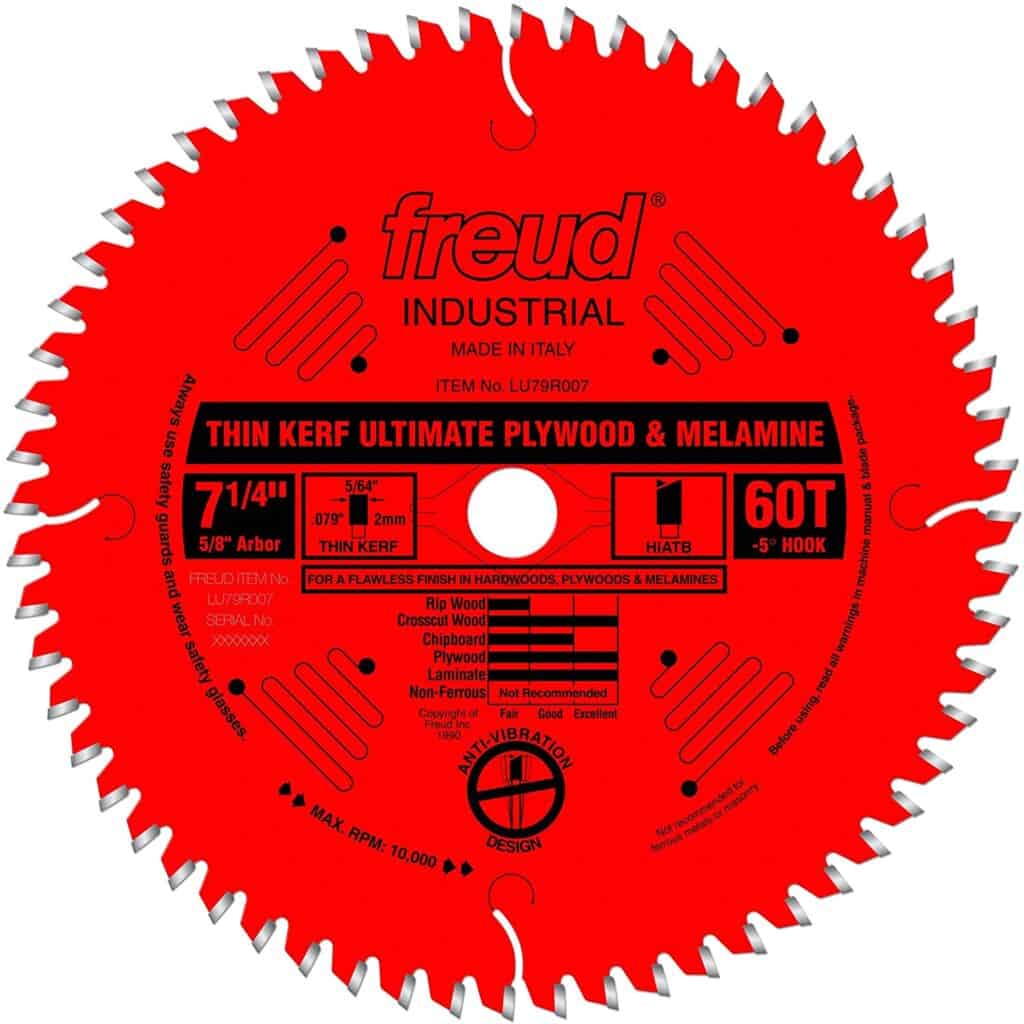 If you are looking for a blade that guarantees splinter-free cuts for your bamboo flooring, this is an excellent choice. The 60-tooth blade helps you cut fast enough without compromising on the smoothness.
The blade uses laser-cut so it has a thin kerf line of 0.079" that reduces waste and ensures accurate measurement. This gives you flawless chip-free edgesif you decide to have your bamboo floors veneered.You also get to use it for fine moldings, melamine, laminates, and cross-cuts.
The blade edges have highly compact Titanium Cobalt Carbide, TiCo Hi-Density carbide. The carbide compacted at the edges are as small as 1 micron.But they make the blade cut a lot better and takelonger to wear out.You can use the blade on a track saw, table saw, miter, or a radial arm saw.
The combination of the anti-vibration slots and the Hi-ATB tooth design gives you the ultimate clean cut. The anti-vibration slotsalso eliminatethe noise and excessive vibrations known with standard blades.Unlike with traditional standard blades, you no longer need a stabilizer or a scoring blade.
Key Features
FinestTiCoTM Hi-Density Carbide Crosscutting blend
Modified Triple Chip Grind (MTCG) Tooth Design
Has High Alternate Top Bevel (HiATB) Tooth Design for clean cut
HasPrema-Shield TM Non-Stick Coating to prevent clogging
Has cut-depth up of ¼ inches minimum to 1-5/8 inches maximum.
Table
| | |
| --- | --- |
| Manufacturer | Freud |
| Material | Blend |
| Blade diameter | 7-1/4″ |
| Other Benefits | Prema-Shield TM Non-Stick Coating to prevent clogging Cut-depth up of ¼ inches minimum to 1-5/8 inches maximum |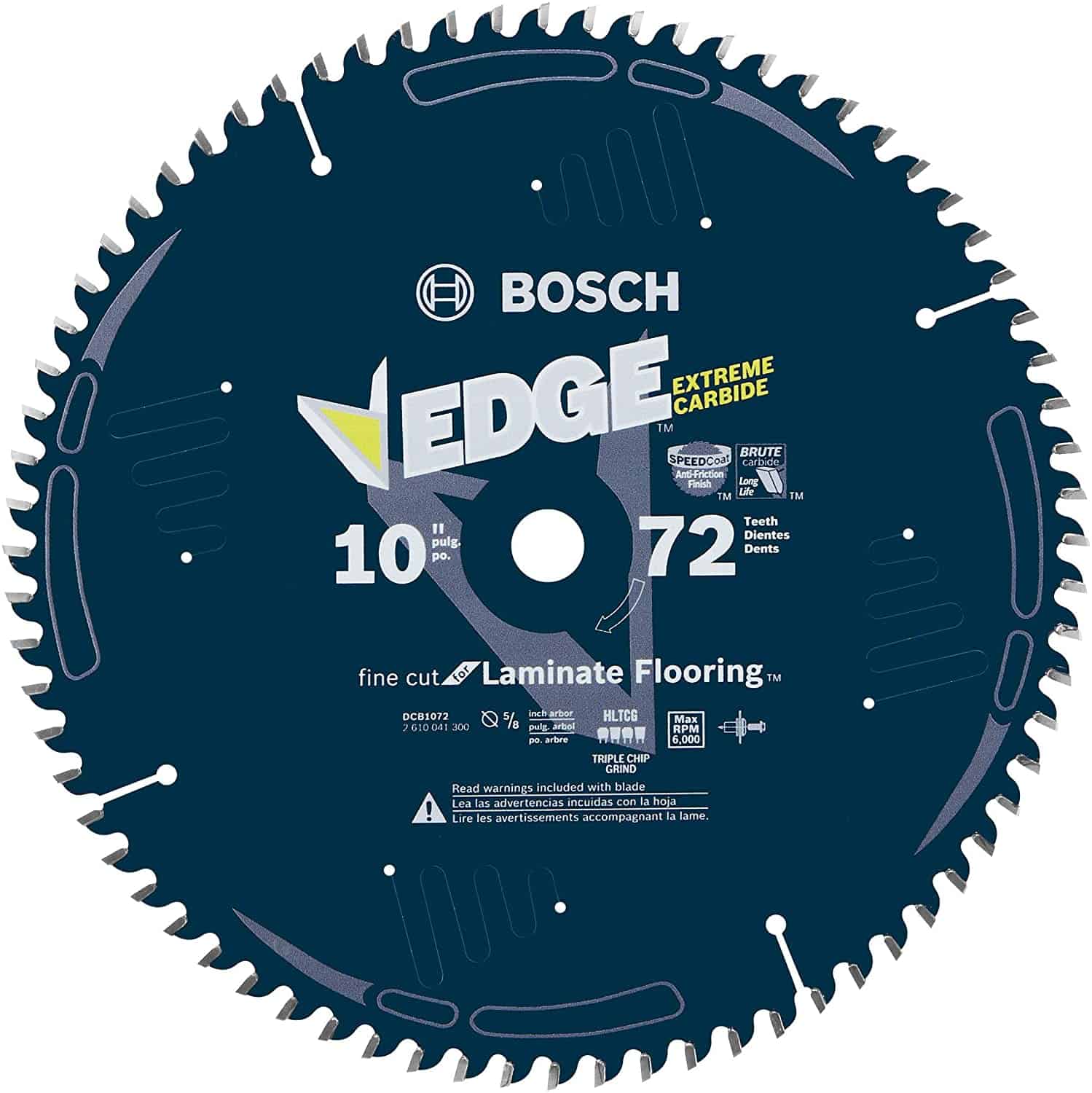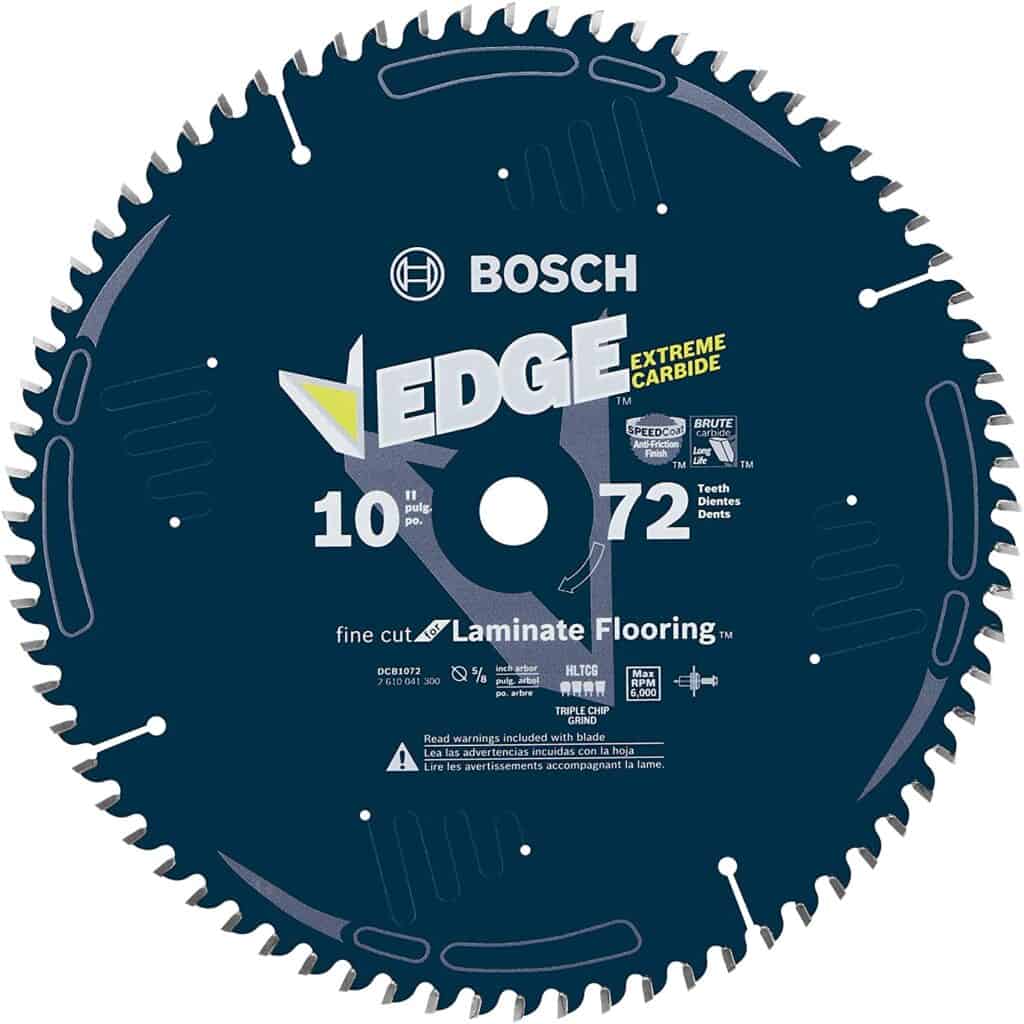 The Bosch DCB1072 Daredevil is a good choice that gives you durability and good impact resistance in the same blade. This is thanks to the brute carbide that come with the micro-grain formulation. The teeth have a negative hook angle that eliminates chipping and also makes the blade last longer.
If your priority is smoothness the Bosch Daredevil is for you too. The blade has a plate diameter of 10 inches. This means you will have a shorter cut-depthbut with excellent smoothness. It has 72 teeth, with triple sharp/ground C4 carbide tips, that cut through laminate flooring like a daredevil that the blade is.
It is an excellent choose for cutting your bamboo flooring, as well as, plywood, wood, melamine, and other building materials. The steel body is so hard it does not bend while cutting. This is the secret behind its outstanding true cutting precision.
It has miter saw blades that come with thin kerfs that aid faster and smoother cuts and less waste. The blades are extra-hard steel with a laser-cut body that prevents kickbacks, extreme heat, bending, and noise/vibration that is common when you cut with traditional blades.
The C3 micro-grain carbide boosts the sharpness of the blade reduces damage upon impact with very hard substances. Its non-stick blades referred to as Speed coat finish, prevent stickiness with wet lumber.
Key Features
The edges C4 carbide tipped
Thin Kerf
Triple sharp/ground teeth
Perfect for cutting Laminates
Non-Stick coating
Expensive but worth it
Table
| | |
| --- | --- |
| Manufacturer | BOSCH |
| Material | Carbide |
| Blade | 10" by 72 teeth |
| Size | 12 x 14 x 0.31 inches |
| Other Benefits | Negative hook angle to prevent chipping Speed coat finish, prevent stickiness with wet lumber. |
SKIL 75540 Carbide Flooring Blade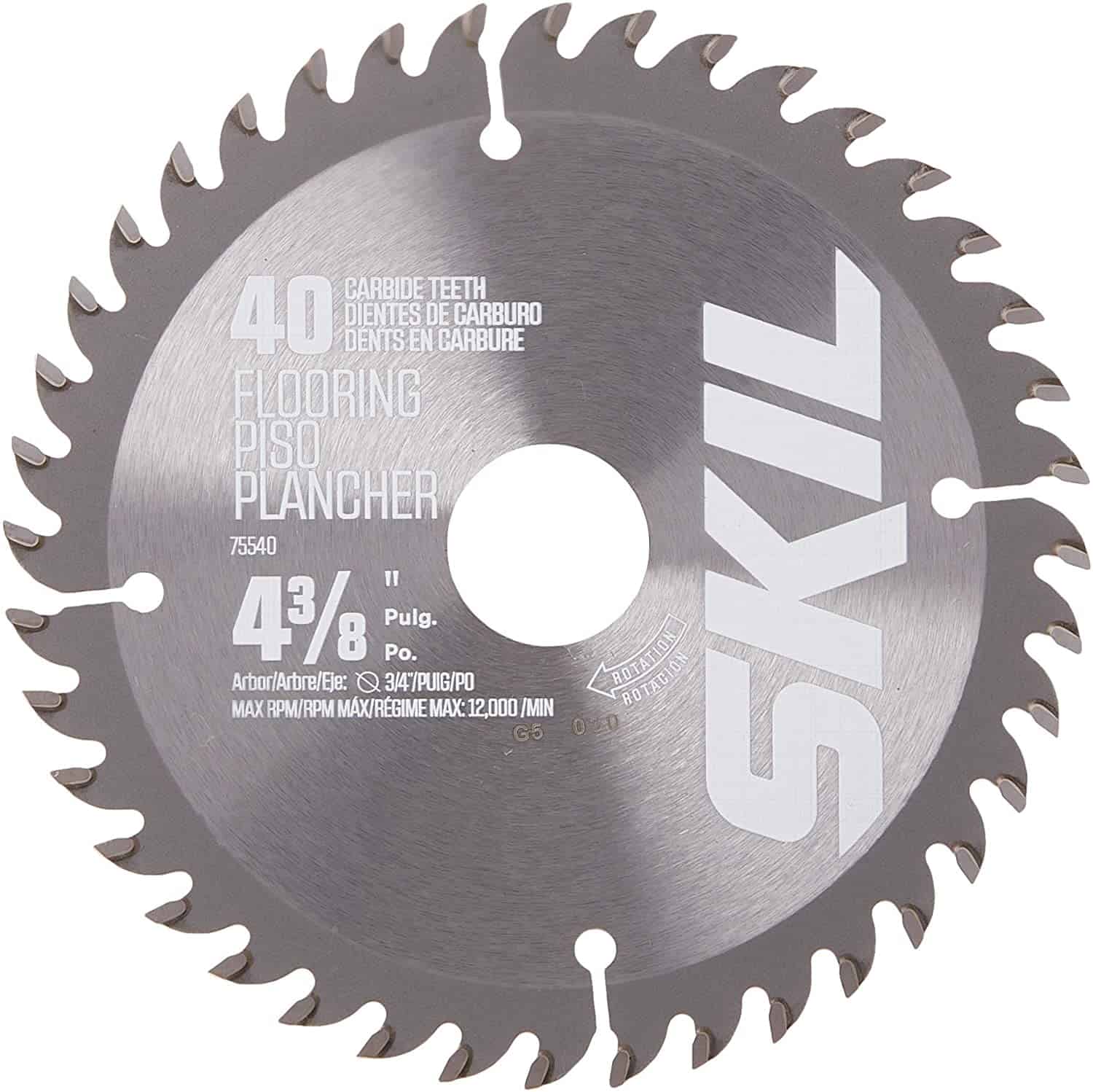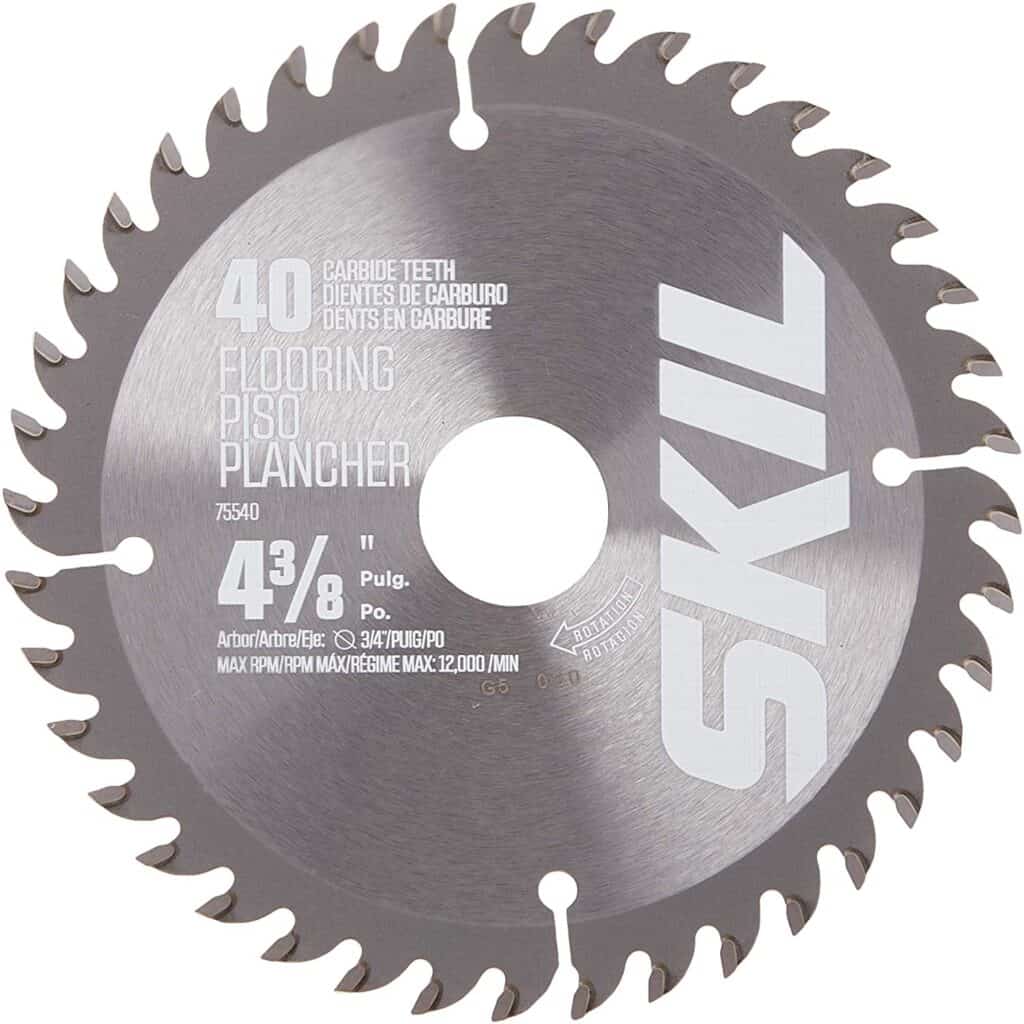 This is a great blade for cutting bamboo floorings. It also cuts laminate, solid wood, and engineered wood floors neatly. It can even be used to rip cover floorings like rugs. This 40-tooth carbide-tipped blade gives you a quick and stress-free cutting experience. Thanks to the carbide tip, the blade lasts longer and can resist heat better than most other blades.
It is a small blade, measuring less than 5 inches. The cut depth is smaller than other blades we've looked at this far. This means you are most likely limited to slim flooring cuts. interestingly, what the blade lacks in size is complemented with great cutting speed.
Key Features
Carbide blade tip
Cuts laminates and cover-floorings well
Cut depth is small, but the blade is fast
Durable and more very heat resistant
Table
| | |
| --- | --- |
| Manufacturer | Skil |
| Material | Carbide |
| Blade | 40T |
| Other Benefits | Easy to use and light weight Durable and more very heat resistant |
UTOOL Pruning Saw Folding Hand Saw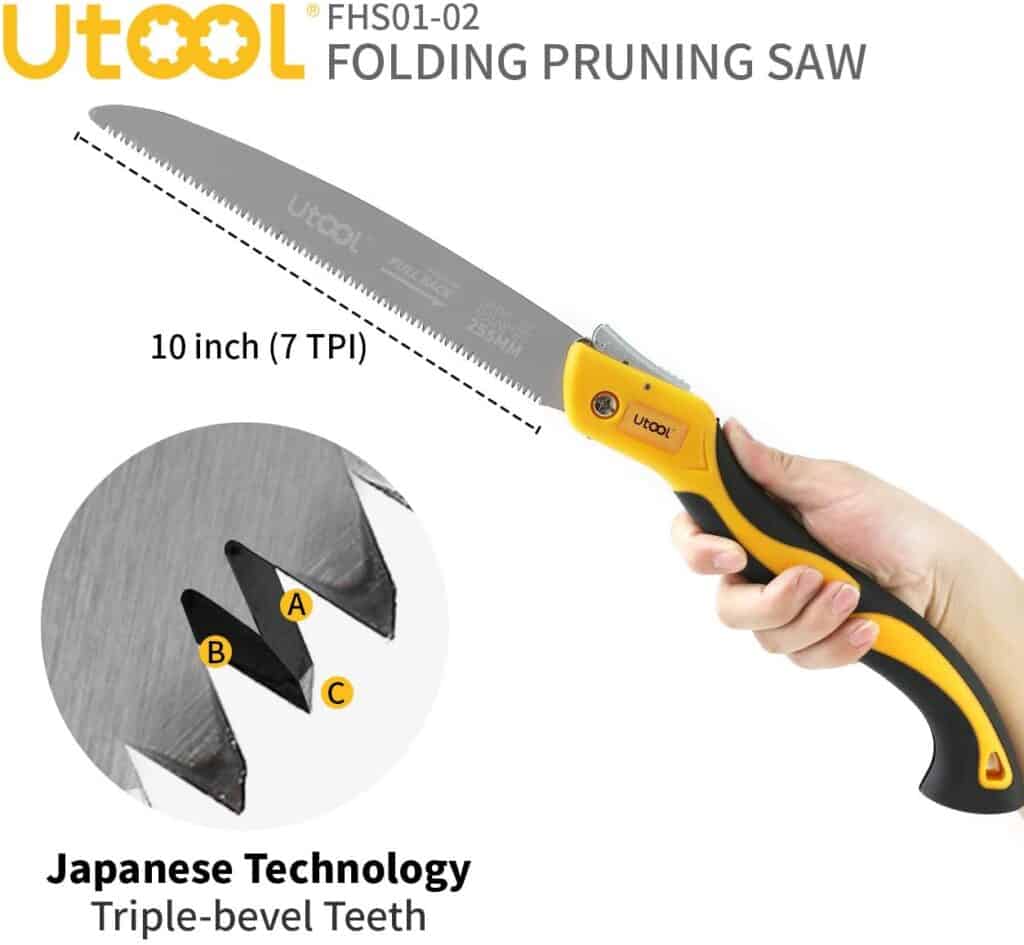 UTOOL Pruning Saw Folding Hand Saw is a handy tool with a thin blade. This makes it ideal for light cuts. It has scattered Japanese Style Triple-bevel teeth that makes it 25% faster than the traditional saws. These teeth also prevent clogging and binding to give you an ultra-sharp and smooth cut.
You can fold the saw into its handle. This makes it very easy to carry around. A secure gear lock covers the blade in this folded position, so none of the teeth are exposed.This ensures there are no accidents. Still, for your safety, it usually comes with thick hand gloves.
As the blade is fully covered by the handle, you don't fear it might rust or spoil if forgotten outdoors for sometime. You do not even have to worry about rust. It has an anti-rust finish, and the blade is replaceable.
If the blade wears out from prolonged use, you simply change the blade. The blade is very durable,though. And it can do several cuts, including rip-cut, cross-cut, and miter cut.
Asides from cutting bamboo flooring, the saw is ideal for pruning, trimming, gardening, camping, hiking, and hunting. Let just say, with this, you have the multipurpose domestic but rugged blade.
Key Features
The blade folds into the handle
Has Secure gear lock
Has Triple-bevel staggered teeth
Versatile in making cuts—rip-cut, cross-cut, miter-cut
Anti-rust finish rugged blade
It is very suitable for itinerant artisans
Suitable for scouts
Table
| | |
| --- | --- |
| Manufacturer | UTOOL |
| Size | 10 inches |
| Other Benefits | Has Triple-bevel staggered teethAnti-rust finish rugged bladeIt is very suitable for itinerant artisans, scouts |
Milwaukee 48-22-0012 Compact Hand Operated Hack Saw

The hack saw has a 10-inch blade and 3-inch throat depth just like most standard hacksaws. Milwaukee 48-22-0012 has a compact design that makes it easier to move around. The blade is adjustable. You can easily flip down a lever on top and slide it into the ergonomic plastic handle. This makes it handy and you can easily carry it around.
The lever on top that allows you adjust the blade. You can also change the blade without tools which is a lot easier and faster.
The blade is strong enough for cutting several metals like brass. It should have no problem cutting your bamboo flooring too with a some pressure. The ergonomic plastic handle is coated with a rubber mold for comfort and firmer grip. It also ensures your hands to not get blistered during or after use.
Key Features
Has handle coated with rubber for maximum grip
Adjustable blade
Compact design.
Table
| | |
| --- | --- |
| Manufacturer | Milwaukee |
| Blade | 10 inches |
| Other Benefits | Portable Rubber over-mold for good grip |
BOSCH T503 3-Piece Hardwood/ Laminate Flooring T-Shank Jig Saw Blade Set


The silver-coloured blades have 14 teeth per inch arranged in two rows. They allow you to cut your bamboo flooring faster. The counter-directed teeth allow you to make curved cuts. You can use the blade to cut bamboo, hardwood, and laminated flooring because they have a bi-metal construction. This construction allows you to use them for straight and curved cuts.
The set has two T101BF clean blades for hardwood and one T1101AOF special blade for laminate. All three blades have an aggressive carbide edge technology that delivers a 10X life versus standard bi-metal blades. Hence, they can cut withstand wearing from abrasive laminates, deck building, and general construction.
The blades avail maximum grip will not slip out of your dry hands due to their T-shank design. This design makes them very stable during use.
Key Features
Can cut straight and in curves
Has a bi-metal construction for durability
Cuts laminates and thick materials precisely
It is quite affordable with a limit of $6
Table
| | |
| --- | --- |
| Manufacturer | Bosch |
| Material | Other |
| Size | 0.3 x 2.1 x 6.65 inches |
| Other Benefits | Has a bi-metal construction for durability3-piece set |
                                          We also have reviewed best saw blade for mdf
FAQ
What can I use to cut bamboo?
Bamboos have a hollow and can be easily cut with manual saws. Use bigger saws for bigger bamboos. If you are doing a lot of cutting, use an electric saw – band saws or large circular saw blades. You may use a miter saw to cut at angles.
Can you cut bamboo with a jigsaw?
It depends. Jigsaws pull the bamboo fibers apart but might be great for cutting curves. The BOSCH T503 3-Piece Hardwood/ Laminate Flooring T-Shank Jigsaw Blade Set is great for both straight and curved cuts.
Is bamboo wood hard to cut?
Bamboo is technically a grass but cuts like dense hardwood when dried. Traditional bamboo (vertical or horizontal) has a Janka Hardness rating of around 2300. It, however, splinters easily if you do not use the right blade. Stand-woven bamboo has a Janka Hardness rating of over 4,000. That is, at least, 2 times harder than an oak flooring.
What saw blade for cutting hardwood floors?
Cut hardwood floors with a carbide-tipped saw blade that has, at least, 40 teeth.
How do you cut bamboo planks?
Measure and map out the area you are going the cut at the back of the board
Cut from the back to reduce chipping with any of those blades.
Cut the board face up, along the length of the planks.
For curved pieces, cut with a jigsaw or a band saw
How do you install bamboo flooring?
Pre-installation
Unpack your bamboo flooring and let it acclimatize for at least 72 hours.
Clean and prepare the subfloor.
Seal off your crawl space with thick polyethylene film to protect from moisture.
Dehumidify and install a moisture barrier over the subfloor.
Get your tool
Installation
Measure, mark out, and cut the bamboo flooring
Layout the bamboo and leave a quarter of an inch at the edges for expansion.
Glue, nail or stapple the bamboo flooring to the subfloor.
Carefully align the edges with a rubber mallet.
Install the transition moldings to cover the expansion spaces.
Clean up the floor.
Last Updated on April 7, 2021 by John G. Anderson