7 Best Pole saw of 2019(Comparison, Reviews, and Buying Guide
Pole saw is an unbeatable tool to cut or trim high tree branches. There is nothing better than a good pole saw for cutting or trimming high branches of the trees.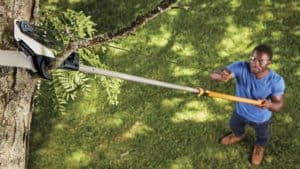 But you have to choose the best pole saw for your work. Otherwise,e you are going to have a problem with your work if u chose a bad one.
Why Trust Us:
If you have decided to buy a pole saw but you are having a problem to make a buying decision or you don't know much about a pole saw, you don't need to worry at all.
Because you have come to the right place and we are going to help you to make an easy and perfect buying decision.
We researched the pole saw, we studied the market, and we have tasted the performances. So you don't need to spend the time to do all the researches.
So we have done the homework for you. So, you just need to relax and follow the guideline.
We can assure you that you are going to be benefited.
Know Before Buy:
We need to trim tree branches, dense vines, and foliage to maintain the healthy growth of a tree. A pole saw is a very handy tool to do that job. Basically, pole saw is a chainsaw on the end of a pole for tree trimming which can be powered or not.
You can reach the high branches of a tree with a pole saw by keeping you safe in the ground.
So please stay with us. Also, we want to inform you that the saw planet participates in affiliate programs with Amazon, which means we may get a commission if you buy a product from Amazon through our link.
7 Best Pole Saw Reviews
1.   Black & Decker LPP120 20V 8 Inch Battery-powered Pole Saw-Best cordless pole saw
Black+Decker is a very popular company for manufacturing a high-quality product.
Black & Decker LPP120B provides an excellent value for delivering high quality and durability at an affordable price.
It has a massive 20-volt battery which provides a sustainable cutting power with an 8-inch cutting bar.
The 8-inch cutting bar and chain allows to cut branches up to 6-7 inches in diameter.
One of the most attractive features that we love about this unit is that it has a great reach of up to 14 feet.
It is one of the lightest poles saw which weighs only 6.3 pounds. So, you should not feel any trouble with lifting it for a long period of time.
Another key feature is that it has a powerful lithium-ion battery which can hold a charge for an extended period of time.
But if you have a heavy work, it would be a good idea to keep ready a second battery.
Pros
Very lightweight.
Strong cutting power
Long reach up to 14 feet
Best use of money
Massive 20-volt lithium-ion battery
Cons
Bar and chain needs to oil manually
The battery needs to charge for a long time
2. Greenworks 40V Cordless Pole Saw-Best electric pole saw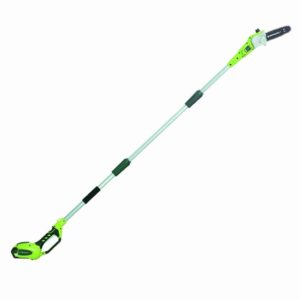 This unit is the best electric pole saw that we came across. People love its lightweight feature which makes work really easy to trim high branches over the head.
It has a powerful 40-volt Lilon battery that should provide about as much power as a battery-powered unit can give.
This unit is the best for thick branches. It has an 8-inch bar and chain for easy tree trimming. It also features a 3-piece aluminum shaft that can be extended up t0 8 feet.
This unit has an easy-adjust chain tensioning system for the quick tightening of the chain.
Another noticeable feature is it has an automatic oiler that applies oil to the bar and chain to ensure durability.
It also has a translucent oil tank to view oil levels. When there is a matter of price to consider, it is relatively an affordable saw for anyone looking for top-tier personal use quality at a more affordable price.
The only issue is this unit has a reach of only 8 feet which makes it challenging to reach high branches.
Pros
A powerful 40-volt Lilon battery.
Lightweight and relatively affordable in price.
Automatic oiler system
Easy to adjust the chain tensioning system.
8-inch bar and chain
Cons
Reach is shorter than other comparable models.
3. Remington RM2599 Gas Pole Saw-Best gas pole saw
Remington RM2599 is a very well-known gas powered pole saw for its superior power and quality.
If power is the most crucial feature to pay attention to you to buy a pole saw, Remington RM2599 is the best choice for you.
This unit is a compact pole saw which is very effective for pruning harder and thicker woods.
This hardworking garden toll features a 25cc 2-cycle engine to conquer tough tasks. The 8-inch bar and chain are mounted on a 7-foot extension pole which allows the user to reach up to 12 feet.
It has the auto oilier technology, which makes sure that the chain is adequately lubricated which allows you to do less maintenance.
That is an excellent advantage of this unit because usually, gas-powered pole saw needs high maintenance. It is a very versatile pole saw which can turn into an edge, blower and head trimmer, etc.
The only thing that didn't excite us about this saw is that it is a fairly heavy tool that may fatigue you after a long day of work.
Overall, it is a great gardening tool which is appreciated by most of the users.
Pros
Powerful 25cc 2-cycle engine
7-inch bar and chain
7-foot extension pole
Automatic Oiler
Fuel efficient and great cutting power
Cons
Heavier than the other comparable units.
4. Sun Joe SWJ800E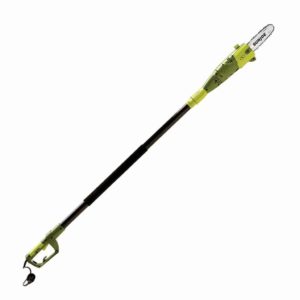 If you want a high-qualified, budget-friendly unit, Sun Joe800 can be a great option for you.
It has a powerful 6.5-amp motor that can cuts branches up to 7.5 inches thicker.
Another special feature of this pole saw is that it comes with a high-quality Oregon cutting bar and chain which will give you a smooth and comfortable cutting experience.
It also has an automatic oiler system to keep the blade and chain fully lubricated during use. So, cutting becomes a great experience with this unit.
Also, it has a telescoping pole that can extend up to 8.7 feet to provide 15 feet of overhead reach.
It is an ideal tool for cutting overhanging limbs and thin logs. For being a very lightweight pole saw, you can lift it for a long period of time without any fatigue.
Though this unit doesn't have the best power, it has enough features to ensure that you get your money's worth.
Pros
High-quality Oregon cutting bar.
Adjustable telescoping pole.
Safety switches to prevent accidental starting.
6.5-amp motor.
Weighs 7 pounds only.
Soft grip handle.
8-inch bar and chain.
Cons
The unit may smoke from burning oil very rarely
5. Silky Professional 179-39 Telescoping Landscaping Pole Saw-Best manual pole saw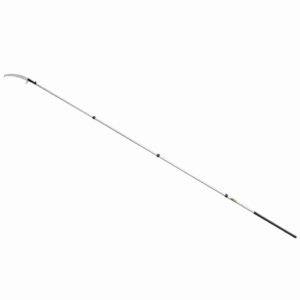 If you have a lot of trees and you need a long reach to cut or trim the branches, Silky179-39 is the best manual pole saw for you. It is also the longest pole saw in the market.
It can reach up to 25 feet which is the most distance that can be covered by a pole saw. This pole has a length of 8 t0 21 feet.
It gives you the maximum working distance of 26 feet. The pole is constructed with a rigid aluminum and weighs 8 pounds.
This pole saw has a lighter weight than some other electric, or gas-powered pole saw despite being so long.
The lightweight makes it easy to work and operate. Also, it is strong enough for heavy-duty and industrial operations.
The blade is easily removable without any tool. The oval and slag fit so well that they can never twist.
The blade has four layers of teeth, so it doesn't jam and cut wood quickly. On the tip, it is fitted with a hook which is useful to pull weeds or sawed branches out of a tree.
It has two cutting areas. The lower sickle prevents the bark from tearing back during the pruning by undercutting a branch.
The upper sickle cuts the branch. The blade doesn't slip off a branch because the back is the scabbard.
Pros 
The working reach is 26 feet. Most by any pole saw.
Can be used for all kinds of professional and landscaping need
High quality and durable pole saw with high-quality construction
Almost suitable for all kinds of work
The blade is designed ergonomically for heavy work
Cons
Everyone can't afford it very expensive.
6. Remington RM1025SPS Ranger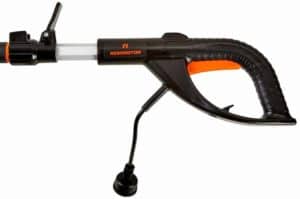 One of the most important parts of yard maintenance is taking down hard-to-reach branches.
The Remington RM1025SPS Ranger is designed with two aluminum boom which is extendable up to 10 feet to give you the extra strength and reach for high branches.
Also, the pole can cut branches from 10 feet to 15 feet overhead. The 2-in-1 functionality can detach the saw quickly from the pole to convert it from a pole saw into a chainsaw without any tool.
It features a powerful 8 amp electric motor that helps you to power through branches quickly. The motor drives the chain over the low-kickback 10-inch bar which makes lopping and pruning very easy.
It also features with flip and locks clams that allow the operator to adjust the length of the pole saw so that trimming trees of various highs become easy.
It has an anti-rotation scarf and non-slip grip which enhances comfort and stability at the time of use.
It is a highly productive pole saw at an affordable price. It has great reviews from people who are using this unit.
Pros
2-in-1 pole saw, and chain saw combo.
8-amp electric motor.
Anti-rotation scarf and non-slip grip.
10-inch bar and chain.
Quickly adjustable length.
Cons
Bard and chain oil slip when the unit is not in use.
The chain needs to lose if it gets jam during operation.
7. WORX WG309 10 Inch Electric Pole Saw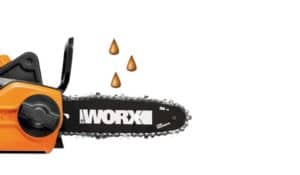 WORX WG309 is a unique and multifunctional gardening tool that is very useful for small yards.
It is an ideal pole saw for small to medium level pruning and trimming. It is powerful enough to trim branches up to five inches in diameter.
It has an 8-foot extension pole that helps to reach higher limbs, also easily can detach the pole to chop up the fallen limbs.
The chain saw can convert into a pole saw very easily because the pole needs no tool for attaching the chainsaw.
It also comes with a patented auto-tension chain system for extended bar and chain life. It has a powerful 8-amp motor which always offers consistent performance.
This unit designed with a rotatable working handle for easy pruning. Finally, if you have a small-medium yard, this unit will give you the perfection in your yard maintenance.
Pros
8-foot extension pole.
Auto-tension chain system.
Rotatable handle.
Compact and lightweight.
Ideal for small to medium yard.
Cons
The extended pole can be heavy.
Sources of Power
There are three types of power sources for a pole saw. It can be gas(petrol), cordless(battery) or electrical powered. To find the best suitable pole saw for your work, you need each of them properly. The types of power affect the cost as well as intended use.
1.   Electric Pole Saw
As a homeowner, if you have a small yard and don't have long-distance trees, an electric pole saw is a good option for you.
It will give you an emission-free power source. If you are using an electric pole saw, you don't need to worry about gas or battery power.
You just need to plug in and start trimming and pruning your trees. But you can't trim for a long distance because you have to stay close to a power outlet.
In case of that, you can use a heavy-duty extension cord. An electric pole saw is lighter than gas-powered pole saw and weighs less than 15 pounds.
Also, electric pole saw is not as powerful as a gas-powered pole saw, and the power they produce is 6 to 10 Amps which is powerful enough to cut branches 1 to 5 inches.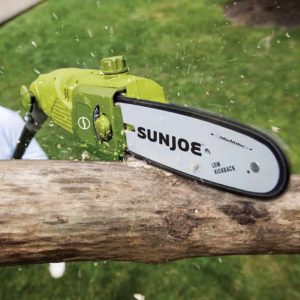 2.   Cordless pole saw
Cordless pole saw is a good choice for you if you have a medium to a large yard and you want a portable option that is transportable.
A cordless pole saw is lighter than gas-powered pole saw and weighs around 12 to 15 pounds.
Usually, a cordless pole saw has a strong motor and a strong battery which is either Lithium-ion or Ni-card. So, it is easy to cut tough tree limbs and logs with a good electric pole saw.
Also, it is ideal for cutting branches from two to eight inches in diameter. The average price of a cordless pole saw stays between $115 to $320.
3.   Gas-powered pole saw
Gas-powered pole saw is more powerful and heavier than cordless, and electric pole saw. Also, it is more expensive than the other two kinds of pole saw.
Usually, it weighs between 14 to 20 pounds. Gas-powered pole saw is very useful for working in tight spots and can cut dense tree branches.
Gas-powered pole saw is ideal for professional use to trim lots of trees and to cut large branches up to 8 inches in diameter.
They are measured by engine size. It makes a bigger noise than the other pole saws and emits fumes. Also, the gas level needs to keep checking always.
Safety Manuals
To use a powered gardening tool like pole saw or chainsaw, we always need to follow some safety manuals because there are some risks involved in it.
So, please read through the passage to make your gardening safe and enjoyable.
1.      Please read through the manufacturer's instructions before starting to use a new pole saw.
Though it will take some time, it will help you to understand the nature of the unit to use it safely and efficiently.
2.      Always stay careful to cut branches near to the power line because it can be very dangerous.
3.      Please wear safety gear, globes, protective goggles cutting high branches and limbs of trees.
4.      If you are working with a pole saw which requires oil or gas, always check it.
5.      You need to be very careful to cut or trim branches above on your head.
6.      Maintain a safe distance at the time of cutting a large branch and don't do it if you are not familiar with the machine.
7.      Take a guide from professionals if you don't have experience.
Key Factors of a Pole Saw
When you need to compare a pole saw with another one, you should consider some key factors that are given below.
1.   Working Reach
Working reach is a very important aspect for consideration of a pole saw. Because you need a good working reach to cut high branches of trees.
Nowadays some models offer telescoping pole that allows adjusting the length to reach hard to access branches. Manufacturers usually calculate the length with an estimated arm length.
So the length we get to know in the package may not the actual length of the pole saw.
Suppose, if they claim the length of a pole saw is 12 feet, they may add two or three-foot as arm length. The ideal length of a pole saw is considered around 15-16 feet.
High reach pole saw can be difficult to control safely in a windy situation.
2.   Cutting Bar Length
The maximum diameter of the branches can cut determines the cutting bar length. The cutting bar should be two-inch longer than the branch you are cutting.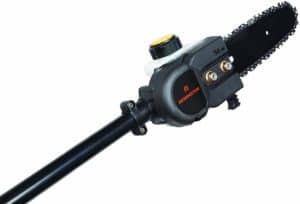 3.   Weight
Usually electric and cordless pole saws are less heavy than the gas-powered pole saw.
Gas-powered pole saw weights between 15 to 20 pounds and the other weighs between 7 to 15 pounds.
Heavy pole saw can be difficult to work for a long period of time and may create hand fatigue
Limitation of a Pole Saw
If you use an electric pole saw, you can't work on a long-distance because you always need to stay close to a power outlet with a limited cord.
In terms of cordless pole saw, you can't work for a too long time because the battery has a limitation of power.
A gas-powered pole saw is the most powerful best pole saw which can work for a long and large scale.
Though you have to keep checking the gas level and it also emits fume and makes a big noise.
Q: Which is the best manual pole saw?
Silky 179-39 is the best manual pole saw for the superior reach and quality
Q: Which is the best gas pole saw to buy?
Remington RM2599 is the best pole saw gas for high quality, durability, and efficiency at work. If you have a lot of thick tree branches to trim, it is a great tool to have.
Q: Which is the best electric pole saw?
Greenworks 20672 is the best pole saw electric according to our research. It is a very high-quality pole saw with a very affordable price.
Q: Which is the best cordless pole saw?
Black & Decker LPP120B as the best pole saw cordless for the superior quality and great value for money.
Q: Can you use a pole saw to trim hedges?
Well, you can trim hedges and bushes with a chainsaw, But a hedges trimmer will be the perfect tool for this job. As chainsaw can give you fast cut through small wood but a hedges trimmer will give you the most precision cut.
Q: How do you clean a pole saw blade?
Firstly you need to remove the blade from the pole and keep it in a container. Then soak the blade into the cold water for sometimes and then scrub the blade with a rag. Clean the blade properly and dry the blade before storing it.
Q; What is a pole saw used for?
Pole saw helps you to cut high tree branches. Tree branches are high and hard to reach, a pole saw gives you that extra reach required to cut those high branches.
Conclusion:
After all the discussions, we have finalized Remington RM2599 as the best gas pole saw, Silky 179-39 is the best manual pole saw Greenworks 20672 is the best electric pole saw and Black & Decker LPP120B as the best cordless pole saw Hopefully, now you will able to pick the best pole saw that suits the most for your work.
Related Articles:
Best manual pole saw: Click here.