Title
Top Pick
DEWALT Table Saw for Josites, 8-1/4 Inch, 15 Amp (DWE7485)
PROXXON Table Saw FET, 37070, Green
Best 120v table saw
SKIL 10 Inch Heavy Duty Worm Drive Table Saw with Stand -...
BOSCH 10 In. Worksite Table Saw with Gravity-Rise Wheeled...
Image




Top Pick
Title
DEWALT Table Saw for Josites, 8-1/4 Inch, 15 Amp (DWE7485)
Image

Title
PROXXON Table Saw FET, 37070, Green
Image

Best 120v table saw
Title
SKIL 10 Inch Heavy Duty Worm Drive Table Saw with Stand -...
Image

Title
BOSCH 10 In. Worksite Table Saw with Gravity-Rise Wheeled...
Image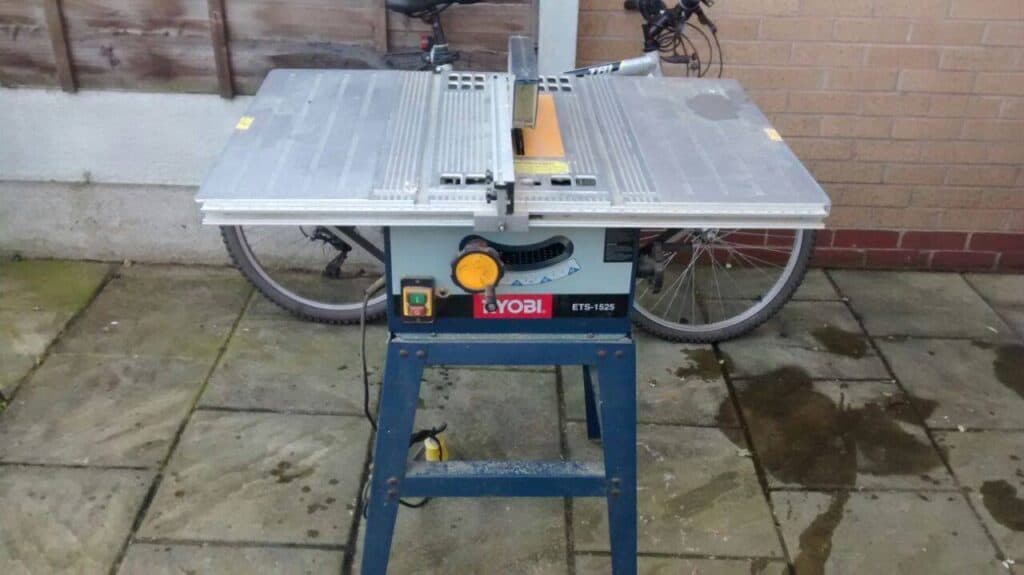 Are you eager to discover which is the best 110v table saw for your woodworking project? Also, which one is the best 112ov table saw? Read on to discover.
Given the correct techniques, set up and correct safety measurements, a table saw is the best tool for accurate, precise, and clean cuts. Every woodworker knows that.
The market is flooded with a sea of options and we agree that selecting one that suits your needs is hard. You also want to buy a tool that offers value for your money.
Our review today narrows to some of the best performing 110v and 110v table saws. Let's explore together to help you make an informed purchase.
4 Best 110v-120v Table Saw Review
1.DEWALT Table Saw, 8-1/4-Inch (DWE7485)
This job site table saw from Dewalt is an excellent choice for both professional and beginner woodworkers. It is your perfect construction tool and also ideal for making rip cuts, crosscuts, mitering, beveling.
The table saw is stable, powerful, very accurate, and has a large surface area. It is light in weight and easily portable from one workstation to another.
Rack and pinion fence adjustment are solid and its integrated measuring bar has high accuracy for almost all your job. The flip-down sub fence functions perfectly on thin rip cuts and provides additional support when it is extended to cut large panels.
DWE7485 has a small blade size that gives room for higher RPMs resulting in more clean cuts on your materials.
Has a powerful motor with sufficient strength to cut 2 inches thick materials. The table saw is compact, has a sturdy base, and is very straightforward to install and takedown.
Swappingblade is easy and the wrenches have onboard storage. One minor downside is it does not come with a dado throat plate but you can buy but make sure the blades fit well. The dado blades must not exceed a thickness of 20mm and a diameter of 200mm.
Features
Compact in size for ease of transportation and storage
Easy, fast and accurate fence adjustment
Strong build for durability
Powerful motor
Onboard storage
24.5 inches rip capacity for a variety of cuts
| | |
| --- | --- |
| Brand | Dewalt |
| Voltage | 110V |
| Weight | 54 pounds |
| Power | 15 Amp |
| | |
2.Proxxon 37070 Table Saw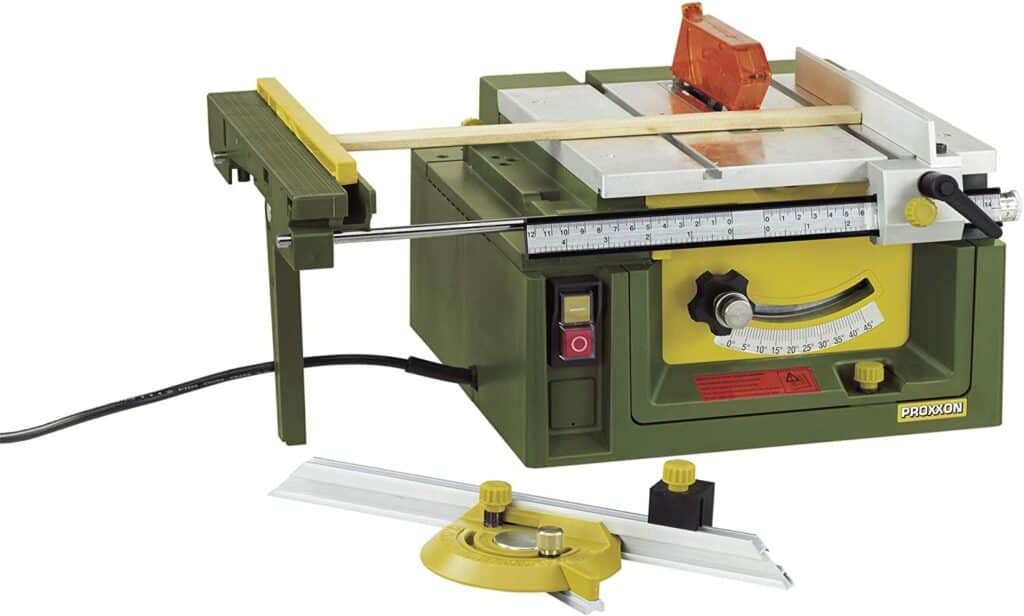 Proxxon 37070 originating from Germany is a top on list 3-11/32-Inch Table Saw engineered in Germany for perfect and straight cuts. This is the tool you need for building models, fine mechanics, construction of mold, manufacturing of toys, architects, fitters, and many other intricate projects.
Proxxon is loaded with features for accurate craftsmanship. The tool features a fence with an adjustable set screw for 5 various longitudinal adjustments measuring 0.004-Inches and 1/10 millimeter for extra accurate cuts.
You can easily adjust the angle of the blade in the range of 0-450 when you want to make miter cuts. The tool also allows you to raise or lower the blade to take in the maximum height of different materials you may be working on. If you use the 450tiltable saw blade together with the angled top, making double miter cuts becomes possible
The 110v Proxxon table saw comes with a 3-9/64inch diameter,1/16 inch wide kerf twenty-four tooth blade is suitable for normal woodcuts, non-ferrous metal, plexiglass, plastics, and many other materials.
This low noise table saw has a sturdy build since the parts bear loads and the table's construction is from die cast aluminum. It has an extendable table and an integral auxiliary stop that allows you to make accurate cuts on large materials.
The meter gauge allows the production of equal angle and length thanks to the aluminum angle stop rail.
Features
Die cast Aluminum solid build
Adjustable blade height
Less noisy
Miter adjustable upto 450
Table extendable
Adjustable setting fence
Ball bearing blade shaft
Carbide tipped saw
Integrated auxiliary stop
Meter gauge with an aluminum angle stop rail and adjustable limit stop
Vacuum cleaner adapter
DC special motor with a compound belt driver
| | |
| --- | --- |
| Brand | Proxxon |
| Color | Green |
| Weight | 4.54 grams |
| Voltage | 110V |
| Wattage | 200 watts |
| Speed | 7000 Rpm |
| Material | Die-cast Aluminum |
| Dimensions in Inches | 13.19 x 17.32 x 4.53 |
| Drive mode | Compound belt driver |
3.SKILSAW SPT99-11 10 Worm Drive Table Saw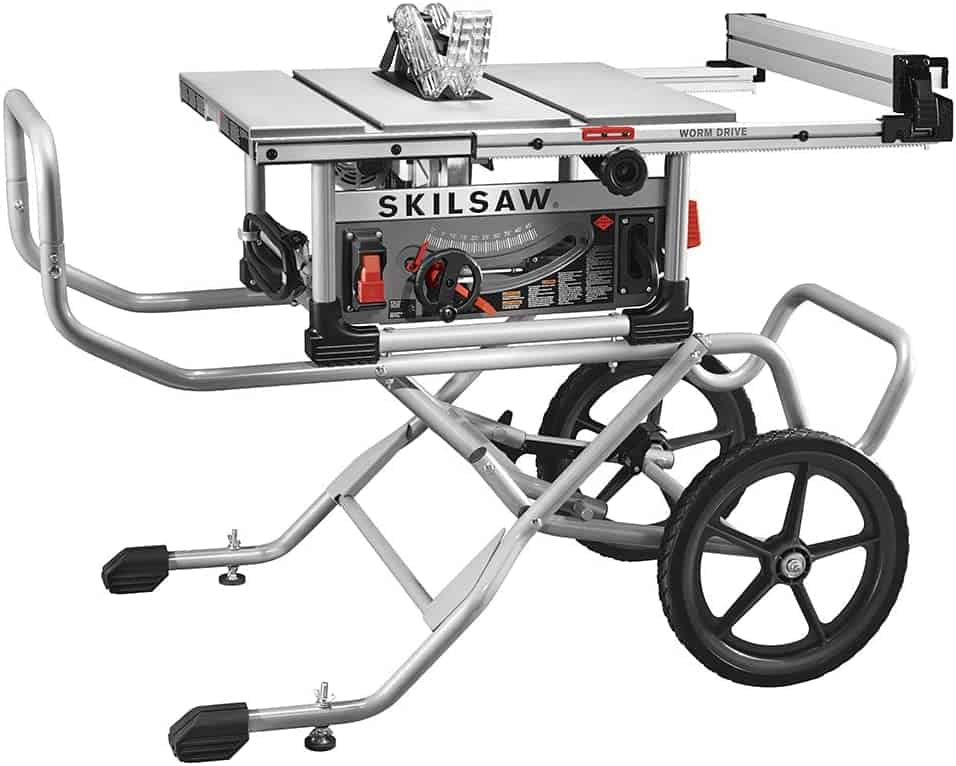 If what you need is a high-speed worm drive table saw that would make light work of various types of wood, you can barely go wrong choosing the Skil table saw.
The Skil saw will impress you with the 3-5/8 cutting depth that will help you cut through the thick wood. Add that to the 30.5-inch rip capacity, and you can say you have yourself the ideal work table saw.
The features above will mean cutting through material faster and more effectively. That's primarily due to the reduction of bogging down. You will thus easily rip through various materials with ease saving yourself a lot of time.
With a heavy-duty 15-amp motor, it is impossible not to get superior cutting performance. The motor doesn't only provide the power that runs the saw but also cools it down.
You will also appreciate how easy it is to transport this table saw. That's due to the stand it comes with, making it easy to push it around the job site. The 16-inch wheels sure play a significant role in its mobility.
With the inbuilt left side support, you can cut material of varying sizes, whether large or small.
Key Features
Inbuilt left side design to cut larger materials
15-amp dual field motor
Cutting depth of 3-5/8 inches and 30.5-inch rip capacity
16-inch wheels for more effortless movement
Precision rack and pinion fence
Easy load handles
Rugged rolling stand to allow mobility
Dust port elbow
| | |
| --- | --- |
| Brand | Skil |
| Color | Silver |
| Length of Blade | 0.1 cm |
| Power Source | electric |
| Depth of cut | 3-5/8 inches |
| Weight | 94.3 pounds |
| Style | 10-inch heavy-duty table saw |
| Motor | 15-amp dual field motor |
| Batteries | 1 A battery needed |
| Wattage | 1800 watts |
| Voltage | 120 volts |
| Other Components | (1) 4100 10" Worksite Table Saw, (1) Gravity-Rise Table Saw Stand, (1) Rear Outfeed, (1) 10" Carbide-Tipped Blade, (1) SquareLock Rip Fence, (1) Auxiliary Fence for Narrow Workpieces (1) Miter Gauge, (1) Smart Guard System (1) Push Stick (1) Throat Plate Insert (1) Multi-Function Blade Wrench (1) Adjustment Wrench |
4. BOSCH 10 In. Worksite Table Saw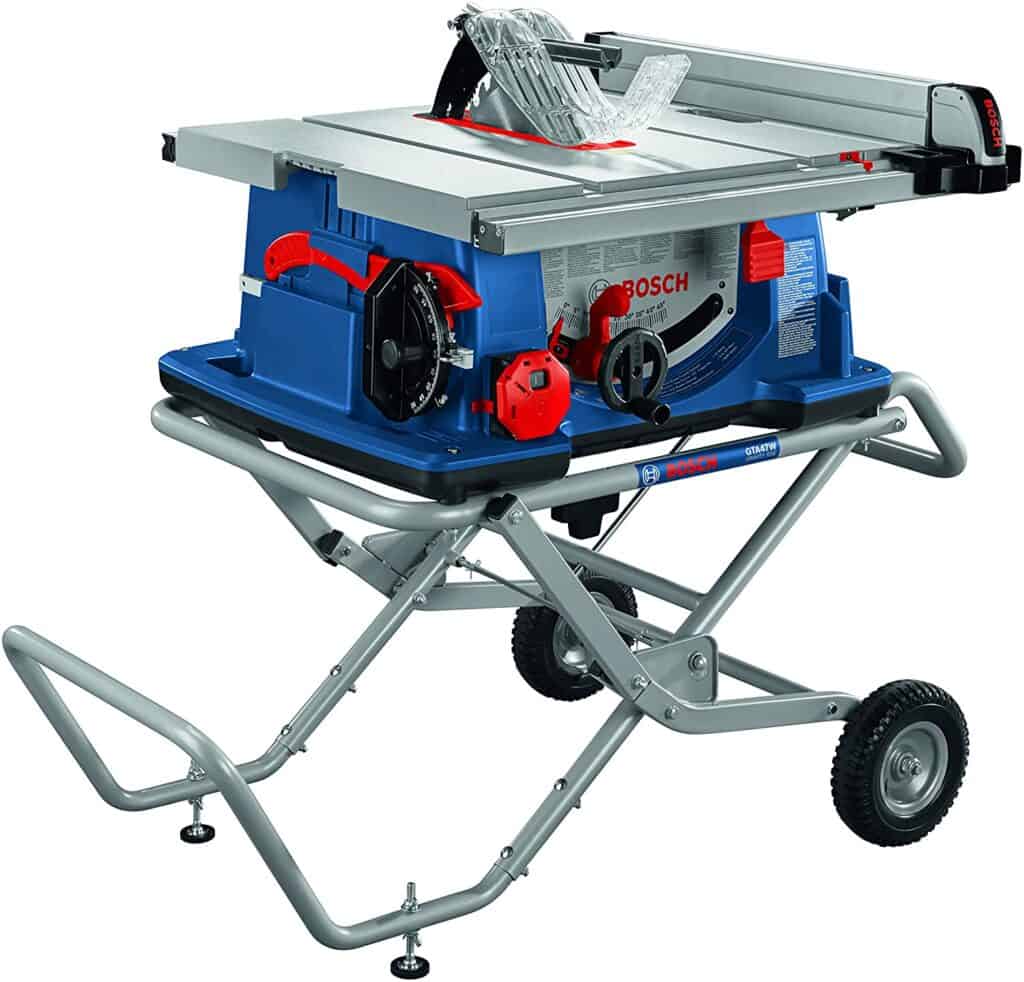 The Bosch is a powerful portable table saw that boasts a powerful motor and excellent features that make it easy to use.
With a 15-amp motor and a cutting speed of 3650 rpm, you will get top-of-the-grade rip cutting from this table saw across various materials, whether fine or rough.
It comes with a large cast aluminum table that will give you sufficient workspace. Apart from that, it also provides material support for the 25-inch ripping capacity saw. The large workspace enables you to work on different widths of materials as well.
The Bosch worksite table saw also comes with a wheeled table that is easy to transfer from place to place. The table saw is also easy to set up or takedown. It takes a single step to set it up or take it down.
Using saws can be dangerous, especially if they lack safety mechanisms. Fortunately, the manufacturers of the Bosch table saw understand that, which is why it has a smart guard system.
The smart guard system gives you a clear view of the cut while protecting you from blade contact. Finally, the motor can't trip a circuit breaker on startup with the soft-start circuitry.
Key Features
Soft start circuitry
Safety guard system
25-inch ripping capacity
Aluminium cast worktable
Gravity-Rise Wheel Stand
15-Amp saw ,4.0 max HP and 3,650 rpm
SquareLock rip fence
Onboard storage
Circuitry with constant Resonse
Restart protection
| | |
| --- | --- |
| Brand | Bosch |
| Speed | 3650rpm |
| Ripping capacity | 30 inches |
| Voltage | 120V |
| Motor | 15-amp |
| Weigh | 94 pounds |
| Dimensions in inches | 27 x 32.5 x 13 |
Factors to Consider when buying 110v Table Saw
Rip Capacity
Rip cut means you are cutting boards along the wood's grain. A saw's rip capacity is the distance between the fence and the blade. The more the distance, the larger the boards you can rip.
Choose a 110v table saw depending on the type of wood you will be cutting. For instance, if you want to rip plywood or wider boards, a 24-inch rip capacity or even more is what you will go for. If it's anything smaller then less than 24-inch rip capacity will do.
Cutting Depth
How deep a table saw can cut is determined by the size of the blade. Generally, a 10-inch blade should cut a 3 inches wood, 12-inch blade will cut 4inches of your material.
A common question that gets asked is "What is the deepest cut a table saw can make?". The primary determining factor to this question is the size of the blade. The general rule is that a 10" blade can cut through about 3 inches of wood, while a 12-inch blade can cut about 4 inches deep.
Take note also that your table saw construction can affect the saws' cut depth. Blade design rising mechanism also affects the height a blade rises. Dust buildup also affects the saw cut depth. Take time to clean your equipment to allow it to rise to the maximum.
Dust Collection
Who wants to spend an uncomfortable sawing session with dust flying and kicking all over? I'm sure you don't want that. Excessive exposure to sawdust may cause nasal and lungs complications. That's why you need to check the dust collection features before buying a table saw.
Dado Blade
Dado blades allow for efficient cutting of grooves on your materials. This is done by stacking different types of saw blades. The more blades you stack results in the wider groove on your materials.
If cutting grooves on wood is going to be part of your project, ensure the table saw you want to buy has this feature
When you locate a saw that handles Dados, check the width it is capable of cutting. The majority of saws handling Dados should cut ½ inch width, however, that varies with each machine.
Fence Options
You cannot underrate the importance of a fence on your table saw. The fence alignment on a table saw dictates the level of accuracy of your cut.
Ensure that a fence is well-aligned to your blade otherwise the saw will be near useless.
The best fences are known as T-slots.These types slide along the T slot rails on the front of the saw. Steel is a major component when making fences and rails hence the sturdiness.
Power Rating
You need to consider the motor power the saw you need generates. This varies between 1000w – 3800 W and significantly determines your saws cut power. Large and hardwoods need more power than softer and smaller pieces of wood. Know the kind of material you want to cut and whether your saw has sufficient power to handle the task.
Safety Features
Anytime you work with your table saw safety is key. Familiarize yourself with the safety features before purchasing or using them. The following are features you must look for in a table saw.
Splitter – Located far at the back of your table saw. Its steel vertical blade keeps kerf open to avoid materials from pinching your blade. Or coming into contact with the rear blade teeth
Riving knife – Its location is behind blades for kickback prevention.
Anti-Kickback – They are found on both sides of a splitter. They have claws that grab material to keep kickback at bay.
Push Stick- as the name suggests, a push stick/ or block is the device used to push wood to the saw blade.
Blade Guard – Prevents you from laying fingers near the blade
Crosscut Sled- Use a crosscut sled for accuracy and safety.
Frequently Asked Questions
What is the best 110v table saw?
The Proxxon table saw is the best table saw on our list, thanks to the superior speed it has over the Dewalt. The 7000rpm speed easily dwarfs the 5800 rpm from the Dewalt, making the Proxxon the better 110V table saw.
What is the best 120v table saw?
On our list, we have two very powerful 120V table saws. The one that carries the day, however, is the Skil table saw. It has a better ripping capacity and a more powerful motor than the Bosch's.
What is a good cheap table saw?
Several budget table saws will apply if you are looking for a cheap table saw. However, you should note that a good cheap table saw shouldn't sacrifice quality for the price.
What is the best table saw for a beginner?
Though people might be different in their preference, the Dewalt ten-inch table saw is the right fit if you're a beginner.
Can a 10-inch table saw cut a 4×4?
No. The average ten-inch table saw will cut up to a depth of 3-1/8 inches, which isn't sufficient enough to cut a 4x 4.
Do I need a 10-inch table saw?
Yes. If you are cutting lumber or plywood, then a ten-inch table saw might come in handy. You, however, will be limited to a thickness of 1-1/4 inches. Past that, the saw will struggle to cut.
Related Article:
Best thin kerf table saw blade
Last Updated on January 22, 2022 by John G. Anderson