Angle grinders are power tools of diverse sizes and types. If you live the workshop life, you'll probably have heard about the heavy-duty angle grinders- the 9-inch diameter sizes inclusive. They are handheld tools that are versatile and useful for a whole lot of purposes. Wood, metal works and stone cutting are possible with these power tools. Whether you desire them for sanding, cutting, and shaping applications, having the best 9 inch angle grinder is always sufficient for the task. If you must buy the right angle grinder for your job, this guide helps you through the journey for that angle grinder that fits perfectly.
Buying Guide
Many factors come into play when buying angle grinders that are 9 inches in disc diameter. Keep in mind that 9 inches angle grinders are large and are heavy-duty power tools. Besides making your comparison on factors such as power, speed, ease of use and compact nature of a 9-inch angle grinder, there are more critical issues to look out for when buying a 9-inch angle grinder for your project.
Adaptability to spaces
Since the 9-inch angle grinders are large, going for a design that can fit into different space sizes will be a plus in a purchase. Make this feature count by checking out for angle grinders that come with the removable or adjustable side handle to enable use in tight spaces and anywhere you deemed fit.
Overload Protection
Owing to their high power, the motor of an angle grinder can be damaged easily from excessive heat. The motor needs to be kept in safety during operation. An angle grinder with overload protection solves this problem. Add this feature to one of the buying requirements to look out for if you're the heavy-duty worker.
Auto-shut off feature
The brushes in the motor of 9-inch angle grinders need to be changed when needed to avoid damage to the motor. Buying a design that has an auto shut-off to alert the user of this need helps to save the motor from damage, thus, extending the machine's life and saving users from spending on repairs or a new buy.
Users' Safety
Angle grinders can be dangerous. Features that promote safety are therefore of great value. Different manufacturers have measures for safety which you may need to compare. This can include:
Safety against flying around dust and debris: An angle grinder that connects to a vacuum can reduce these flying objects.
Slow start: Some 9-inch angle grinders are designed to slow start and gradually pick up speed. This is a desirable feature that prevents it from suddenly twisting on start-up.
Anti-kickback: Anti-kickback feature helps to cut off the machine when the wheels are tied up. Padded switches like the Deadman's switch is a safety feature designed to make sure that the grinder is held by both hands to prevent fatal accident. Others are On-Switch lock and anti-heat cut-off.
The above features are great for buying the right 9-inch angle grinder. In addition, a good review can also help with detailed information on specific 9-inch angle grinders. That aid, here are the best 9 inch angle grinder reviews to keep you well informed on the individual 9 inch angle grinders.
4 best 9 inch Angle Grinder Review
1. Bosch 1994-6D 9-Inch Angle Grinder- Best Overall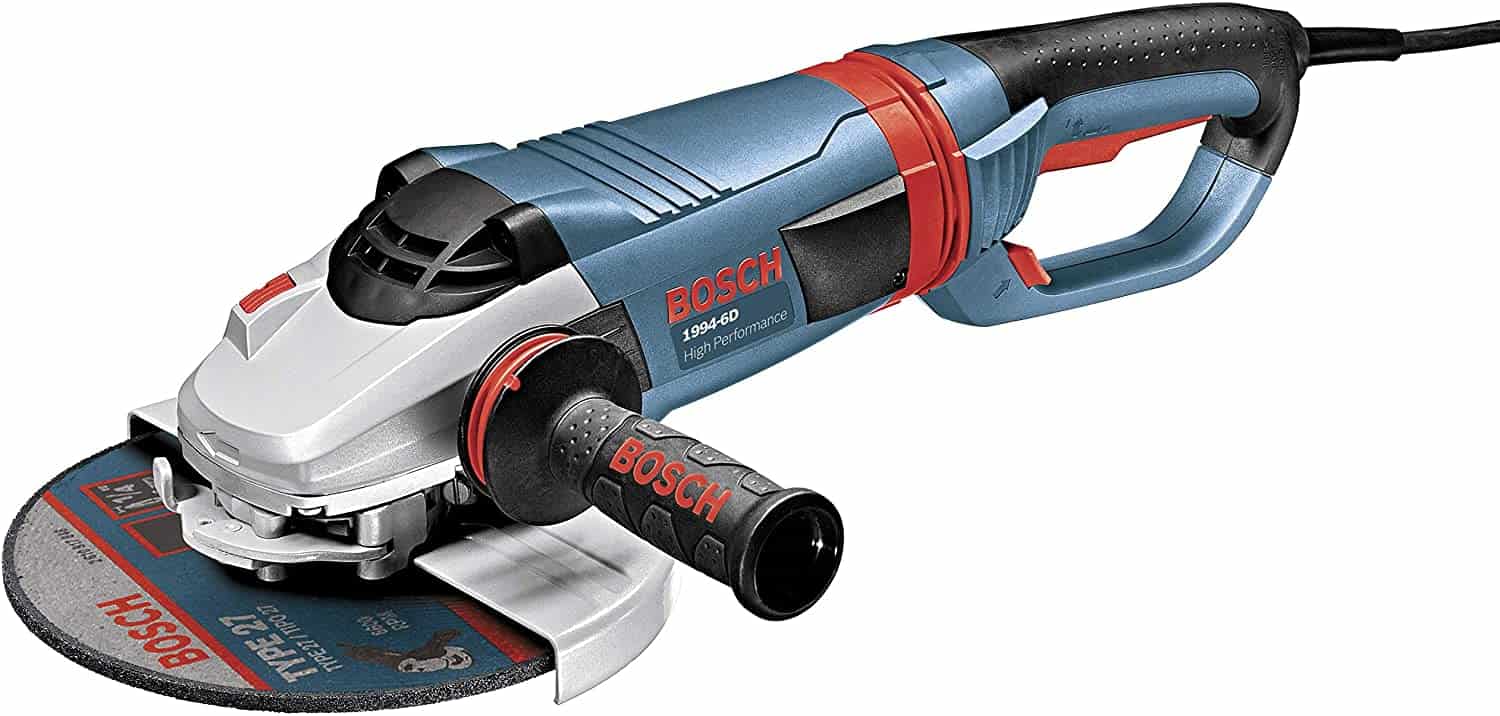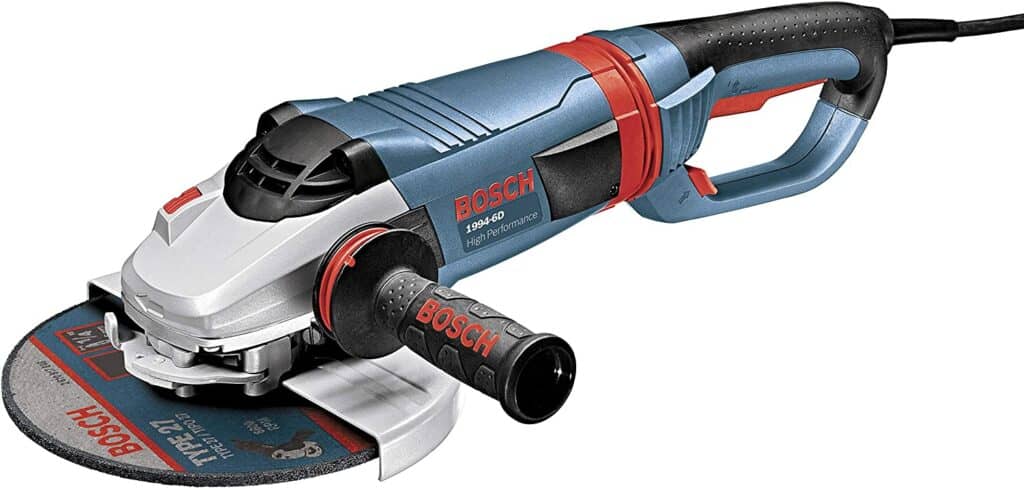 Bosch power tools are known for their uncommon reliability and outstanding performance. The 9-inch grinders' are thought of as bringing innovation to big angle grinders. This line of angle grinders is run by a highly effective 4 HP motor. It is deemed to provide the most efficient anti-vibration system and to cap it up; it possesses about 20% less weight as compared to other large angle grinders on this list.
The design of the Bosch 1994-6D 9-Inch large angle grinder stands out in components and build. The adjust wheel guard enables quick application of the tool. The spanner wrench and the grinding wheel flank kit complete the design of this large angle grinder.
On features, No lock-on switch guides against accident startups.The vibration control system incorporates a soft-grip handle that reduces vibration on the power tool by as much as 50% when compared to standard large angle grinders. Besides, this particular angle grinder is robust and reliable due to the material of choice for the manufacture. They are top-quality resonance-reducing parts.
The quick adjustable guardis for the user's protection. It does this by swiftly adjusting and locks in place to ensure users' are prevented from harm. It is normal to have debris of metals and abrasive dust flying around when using any big angle grinders as this design. But with its epoxy glazed windings, users are assured of the ultimate protection.
This power tool has service guard brushes that stop the tool when maintenance is necessary and to avoid damage to the motor.To replace the brush with no hassle, a removable brush cover is included in the construction.
For ease of use, the handle of this product is enabled to rotate at 90% for adequate control by users when cutting. The Bosch 1994-6D 9-inchangle grinder comes with versatility in power options. It is both Ac and DC power compatible.
A thing or two that users would love to be included in this angle grinder are the anti-kickback, variable speed and the soft start mechanisms.
Key Features
Comes with a huge load of amazing features
It offers the best vibration control
It is AC/DC compatible
| | |
| --- | --- |
| Brand Name | Bosch |
| Design Type | Corded |
| Wattage | 15 amp |
| Horsepower | 4HP |
| Voltage | 120V |
| No Load RPM | 6, 500 |
| Weight | 11.8lb |
| Spindle thread | 5/8 – 11 UNC |
| Length | 17.5" |
| Motor abrasion protection | Epoxy glazed |
| Vibration control mechanism | Vibration control system |
| Auto shut-off mechanism | No Lock-on switch |
| Users' safety mechanisms | YES |
| Benefits | It has a 1 year warranty and stands out anti-vibration system |
2. DEWALT 9-Inch Angle Grinder (D28499X) – best-ergonomics angle grinder


Dewalt's line of power tools like the 9-inch angle grinders have remained a top choice for professionals. To be considered Amazon's topchoice power tool, it should be seen as an efficient design. An aspect that beats them all in this construction is the ergonomics design for easy use.
It has a rare construction of a 5-position handle to enhance convenient use, a desirable ergonomics feature other large angle grinders in this list don't match. To prevent abrasion resulting from heavy use, the epoxy coating is the choice for a smooth run that produces less heat. Because of its low-built gear case, it is an angle grinder that can be used in tight spaces.
This 9-inch angle grinder is a high-speed design. It is a 5.3 Horsepower and 6, 000 RPM speed with protection available against overload.With the spontaneous turn-off brush the tool is shut down to allow changing the brush when it is necessary to do so.
The product is designed to work in different climates. There is an "S" Jacket cord made of rubber to enhance durability and makes it adaptable for the hot as well as the cold climate. During use, the handle is such that can rotate for convenient application.
Users get high productivity in the power tool for other design features. There is a keyless adjustable guard. This component aids adjustment of the handle for better productivity. Owing to its 6, 000 RPM rating, the 9-inch grinding wheels ensure a high level of material removal during use.Another versatility feature to count on is the compatibility with both DC and Ac power options. There is only a minor limitation on this tool. It is not a lightweight design like the Bosch 1994-6D design and so will require a lot more arm strength to use the over 14 pounds angle grinder. Also, you may need to buy the DEWALT D284932 Flange separately to use the 9 inch angle grinder.
Key Features
Comes under the $169
It has a rare 5 point side handle, an ergonomics design
Built for extended use, very durable design
| | |
| --- | --- |
| Brand name | Dewalt (A brand of quality from the US) |
| Tool type | Corded |
| Wheel diameter | 9 inch |
| Amperage | 32.90 amps peak |
| Voltage | 120V |
| Peak horsepower | 5.3 HP |
| No load speed | 6, 000 RMP |
| Max power out | 3.950 Watts |
| Weight | 14.5 lbs |
| Length | 20.7 inches |
| Spindle thread | 5/8 – 11 inches |
| Motor abrasion protection | Epoxy coating |
| Auto shut-off mechanism | Auto turn-off brush |
| Benefits | Comes with a 1 year warranty |
3. Makita GA9060 9-Inch Angle Grinder – Best value for money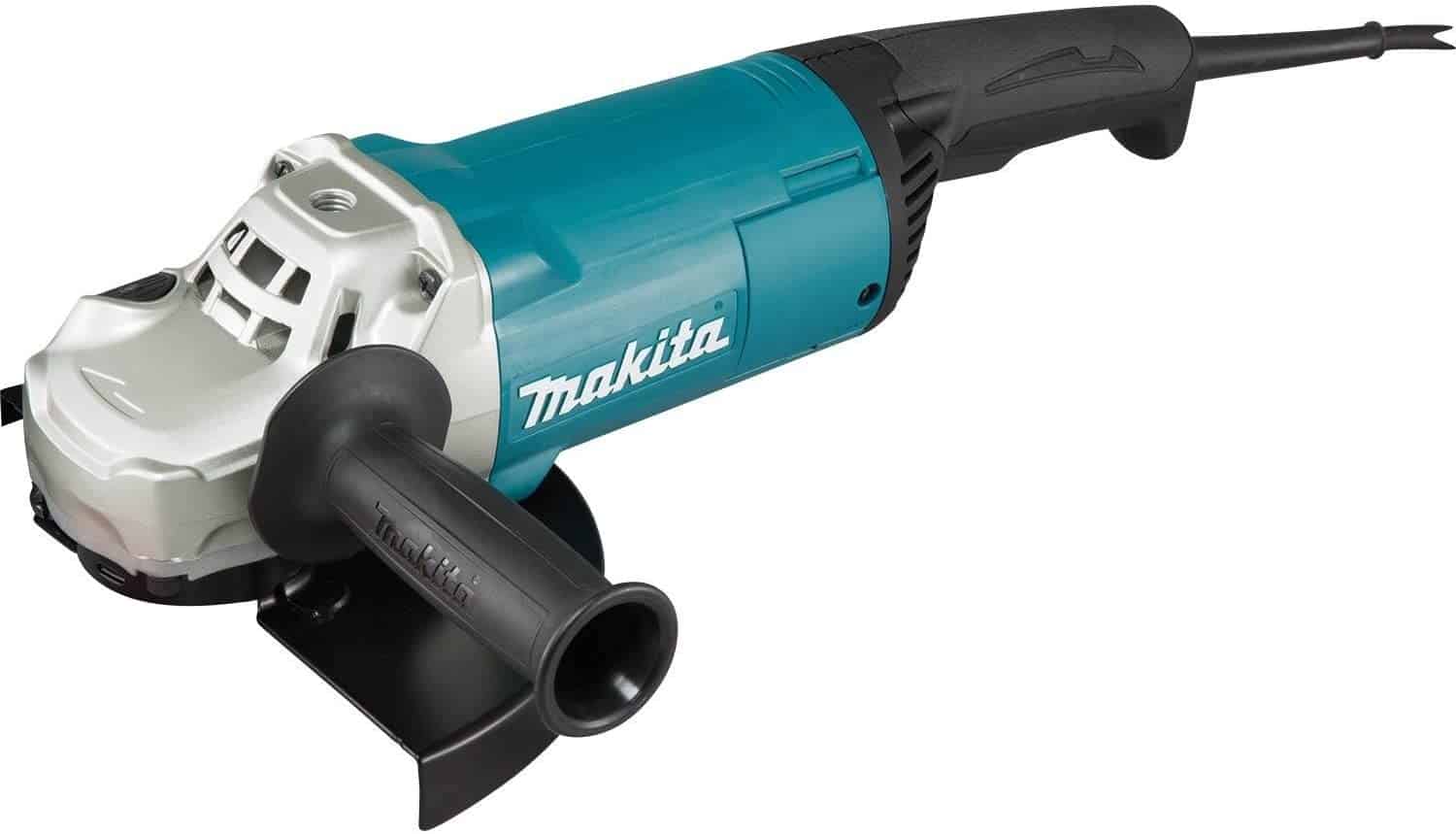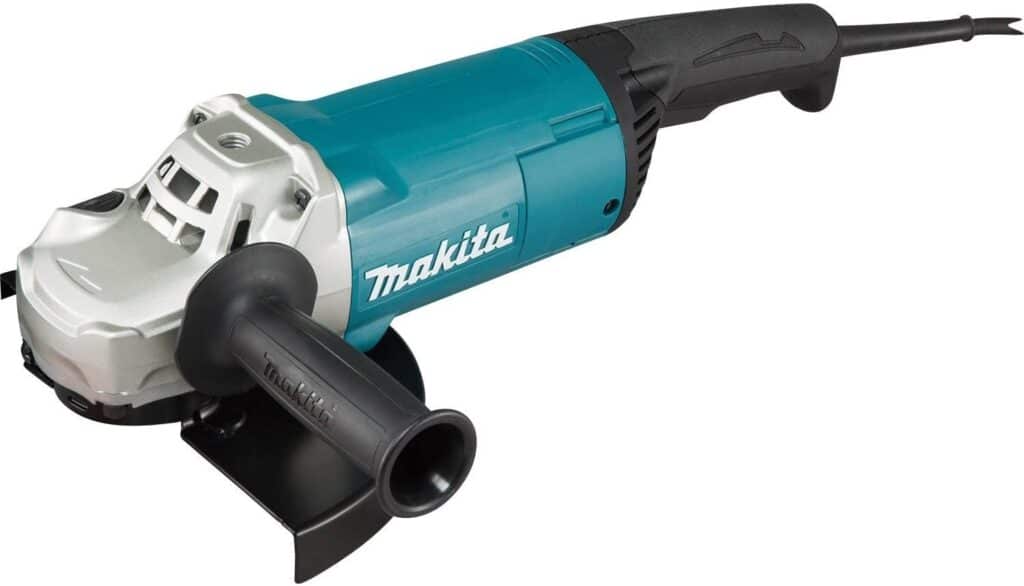 All Power grinders have unique areas where they excel. For Makita 9 inch grinder GA9060 Angle Grinder, it is in design and performance.
This power tool is a 9-inch tool that combines the latest engineering and innovativeness to bring out its top features. It has a strong and reliable power built on a 15 amp motor for heavy-duty works and industrial applications.
The 15 amp power of the motor produces a high speed 6, 600 RPM for the tough tasks. It is shielded by the labyrinth construction to wade against damage from debris and dust, thus, extending the product's life span considerably. The motor's armature is protected by an epoxylubricant which builds a barrier against damage.It also has the usual automation brush cut-off unit for the motor's protection.
Stability is at the heart of the design to ensure a long-lasting use. The robustness of aluminum is used for the gear housing to offer smoother transmission and unmatched gear alignment.
To not find problems with wheel changes, the spindle lock button is designed a bit larger than others on this list. Also, a high 30% larger brush is the choice for the brush spiral spring to boost airflow.
There is no difficulty with using this tool because of its ergonomics-oriented design. The handle is made of rubber material for a good grip while in use. This comes with a trigger switch for safety. As with protection and safety, debris and dust are shielded by the epoxy coating on the armature coil.
The gear casing can be placed at 90 degrees for convenience,it is so designed to enable a high level of comfort.Freedom to install the side handle in three different locations adds enough comfort and convenient use of the product.For smoother rotation and work efficiency, the gears are spiral bevel implemented.
The Makita 9 inch grinderis not lacking in versatility either. It is useful in various departments of engineering and woodworks. It works well in metal cuttings, polishing, steel grinding, rust removal, masonry and brick cutting, and a host of other applications.
It is a durable design
It is a high utility product for a variety of professionals.
It is convenient to use
| | |
| --- | --- |
| Brand name | Makita (A top quality manufacturer) |
| Tool type | Corded |
| Wheel diameter | 9 inch |
| Amperage | 15.0 amps |
| No load speed | 6, 600 RMP |
| Voltage | 110V |
| Weight | 12.1 lbs |
| Length | 17-3/4 inches |
| Spindle thread | 5/8 – 11 UNC |
| Motor abrasion protection | Epoxy coating |
| Motor protection | No Lock-on switch |
| Lock-off features | Two steps start up mode |
| Benefits | It is highly efficient and feature packed tool |
4. Metabo – 9″ Angle Grinder (606467420 24-230 MVT)–Best reliable design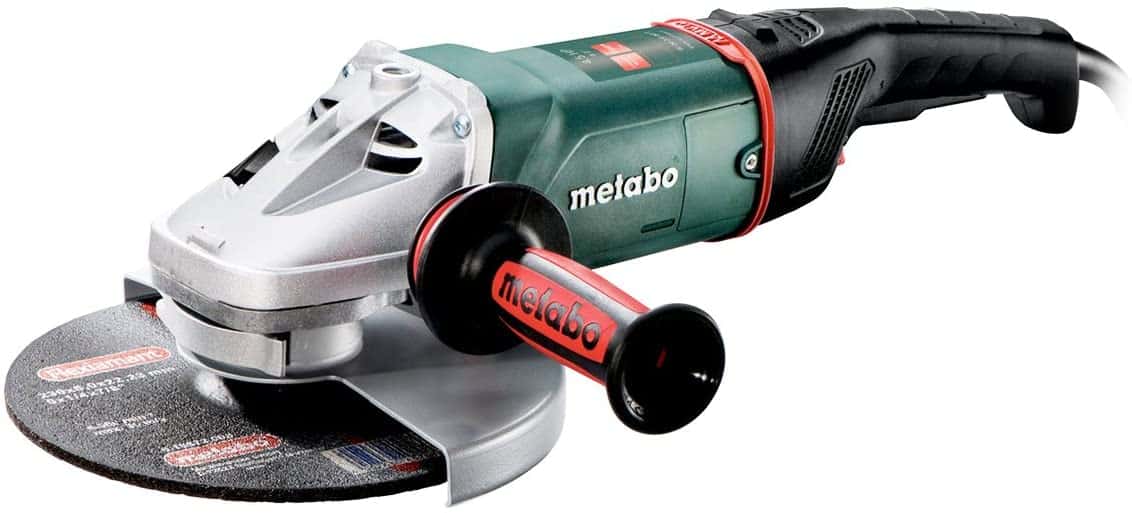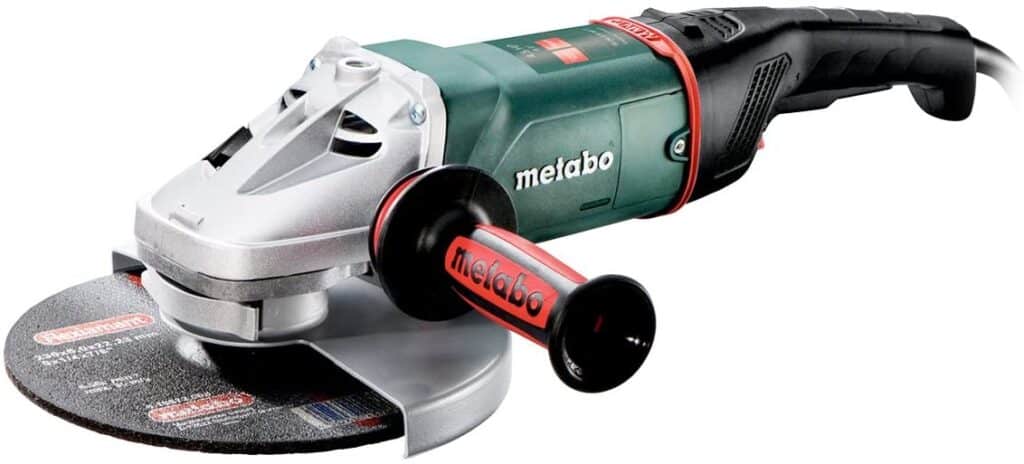 Metabo Angle Grinder is a powerful angle grinder that brings optimal performance to the 9 inches design. This unique creation appropriated the rugged and sophisticated German engineering to work.
There are notably different features to look out for in this angle grinder. First, aluminum is the material of choice for this power tool. This is to attain an outstanding durability on the design. To ensure the motor of the power tool goes on working for a long time, it is equipped with a dust protection component.
It is a fast speed development that has a 6, 600 RPM speed, just like the Makita GA9060 9-Inch Angle Grinder, to deliver quick and efficient finish when in use. For protection of the motor and the user, the lock-on trigger implements a cut-off mechanism to safeguard the tool from operating unintentionally.
The angle grinder also shines in comfort and convenience through various user-friendly aspects. The side handle, as well as the rotating back handle, can be installed at three different positions of choice based on the user's preference. This is a bit more like the ergonomics feature you'll find onDEWALT 9-Inch Angle Grinder. It is twist-proof, a function that is made possible by its tool-free adjustable guard.
On compatibility features,it is AC and DC compatible and the angle grinder can accommodate both the 9 inch and the 7 inch wheels.
Users' safety and health are considered in this design as well. The Metabo VibraTech component integrates a damping system to reduce vibration during use. An accidental start is virtually impossible with this angle grinder as the Metabo safety switch prevents this from happening. The motor gets its protection for long-lasting use from the auto-stop carbon brush on the device.
Key Features
It is a highly efficient tool
It is durable and can go for extended use
It is user-friendly, a three way side handle adjustment is possible.
| | |
| --- | --- |
| Brand name | Metabowerke GmbH |
| Tool type | Corded |
| Wheel diameter | 9 inch |
| Amperage | 15.0 amps |
| Wattage | 2400 Watts |
| No load speed | 6, 600 RMP |
| Length | 23 inches |
| Spindle thread | 5/8 – 11 UNC |
| Voltage | 120V |
| Weight | 14.5 lbs |
| Length | 23 inches |
| Safety mechanism | Lock-on trigger |
| Ant-vibration mechanism | VibraTech |
| Benefits | It is strong and durable |
5. Toolman Single 9-Inch Speed Angle Grinder-best in speed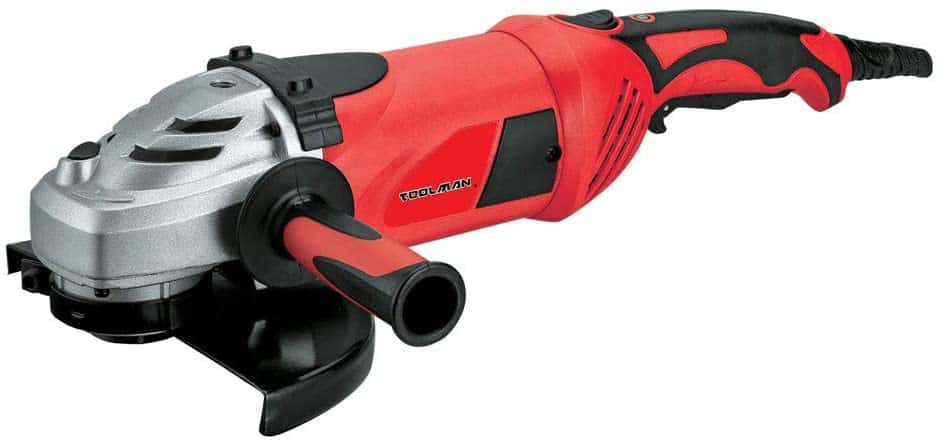 Toolman Single 9-Inch Speed Angle Grinder is indeed a powerhouse in speed and efficiency, wielding a high maximum speed of 11, 500 RMP; no other angle grinder on this list matched this feat.
This tool runs on a 15 amp electric motor.For its high speed it is quick in material removal and also ensures protection for higher load. The adjustable guard in this tool surpasses the usual functional limit of other designs such as the 90-degree ability ofMakita GA9060 9-Inch Angle Grinder, by enabling 360 degrees rotation to accommodate a variety of positions.
Bearing in mind that human can be right or left-handed, a modality that enables the choice is added in the three-position handle capability.
The head is made out durable aluminum alloy shell. A creative ventilation system by the manufacturer offers greater stability by cooling the system. The design quality brings desired precision in every cut and reduces vibration.
In making this design the manufacturer implements safety and double protection. For instance,users have to press on button 1 and then button 2 to start the power tool. It has an indicator. An ON mode is indicated by a lit on this indicator.
It is useful for cutting metal and stone. It would have been just perfect for every job if it could cut through two to four inch steel plate.For offering the highest motor speed, an interesting thing about this product is that it is also the cheapest on the list- it is budget friendly.
However, there are some flaws here and there on this angle grinder. It can overheat when used for a long time. This can damage the motor. It is not also as strong as those on this list.
Key Features
It comes under the $100
It is designed with safety in mind
It comes with a very high speed of up to 11, 500 RPM.
| | |
| --- | --- |
| Brand name | Toolman |
| Tool type | Corded |
| Wheel diameter | 9 inch |
| Amperage | 15.0 amps |
| No load speed | 11, 500 RMP |
| Voltage | 120V |
| Weight | 25.3 lbs |
| Motor protection | Spindle lock |
| Double safety switch | YES |
| Length | 23 inches |
| Benefits | Comes with an ETL security certification |
We also have reviewed best angle grinder wheel for cutting metal
FAQ:
1.Which is the 9 inch (230mm) angle grinder that is the best?
The best angle grinder has key features that meet the needs of users. The Bosch 1994-6D 9-Inch Angle Grinder is one of the best in the market with the most features that users are looking for in an angle grinder.
2.Are 9 inch grinders banned?
It is recorded that some work sites have banned the 9-inch angle grinders owing to their high risk of causing injury when in use. However, the 9-inch angle grinders have not been banned globally.
3.Where are Bosch angle grinders made?
They are made in Germany
4.Are battery powered angle grinders any good?
Battery powered angle grinders are good for their convenience and portability. With today's innovation in cordless angle grinders, the battery powered angle grinders are strongly gaining relevance due to their massive adoption by users.
5.How do I make a choice on an angle grinder?
To choose angle grinder buyers to need to look out for the key features that will meet their project needs. Generally, a specification on the diameter of the disc, the design of the handle, the speed, power and functionality all counts to choose the right angle grinder.
Related Articles:
Best angle grinder for concrete
Last Updated on April 11, 2021 by John G. Anderson