Name
Best Overall
DEWALT DW7187 Adjustable Miter-Saw Laser System
Best for Money
Oshlun LG-M01 Miter and Portable Saw Laser Guide, Miter &...
Best Substitue LED for Laser Guide
Dewalt DWS7085 Miter-Saw Led Work Light System
Great Quality
Irwin Industrial Tools 3061001 Miter Saw Laser Guide
Image




Best Overall
Name
DEWALT DW7187 Adjustable Miter-Saw Laser System
Image

Best for Money
Name
Oshlun LG-M01 Miter and Portable Saw Laser Guide, Miter &...
Image

Best Substitue LED for Laser Guide
Name
Dewalt DWS7085 Miter-Saw Led Work Light System
Image

Great Quality
Name
Irwin Industrial Tools 3061001 Miter Saw Laser Guide
Image

As a metal or woodworker, you must know exactly what point you are going to cut. The laser guide gives you absolute accuracy in every. Also, for the safety issue, you must know the cutting line. And the laser guide always gives you that advance safety. That is why choosing the best miter saw laser guide is really important. This article highlights how to add a laser guide to your miter saw. It provides you a list and detailed review of the best miter saw laser guide in the market.
How to add a laser guide to a miter saw
You can retro-fit a miter saw to become a laser-guided power tool. There are different approaches to add a laser guide to your miter saw. It is dependent on the specific product design and guidelines to fit a laser guide to your miter saw.
Some laser guides are designed to be mounted on the arbor to take the place of the washer. Another can be integrated with the washer. There are others that are self-adhesive types that mount on the guard.Know what applies to your purchase. The fact is the instruction on how to install is often simple and always available on the manual.
In some cases by simply replacing the outer blade flange with a laser guide device instead is sufficient for the installation.
For example, a simple install for the Oshlun LG-M01 is:
Step 1: Unscrew the bolt holding the blade
Step 2: Position the laser guide in place of the outer washer
Step 3: Replace and crew the bolt in place as before and you're ready to go.
Best Miter Saw Laser Guide Review
1. DEWALT DW7187 Adjustable Miter-Saw Laser System- Best Overall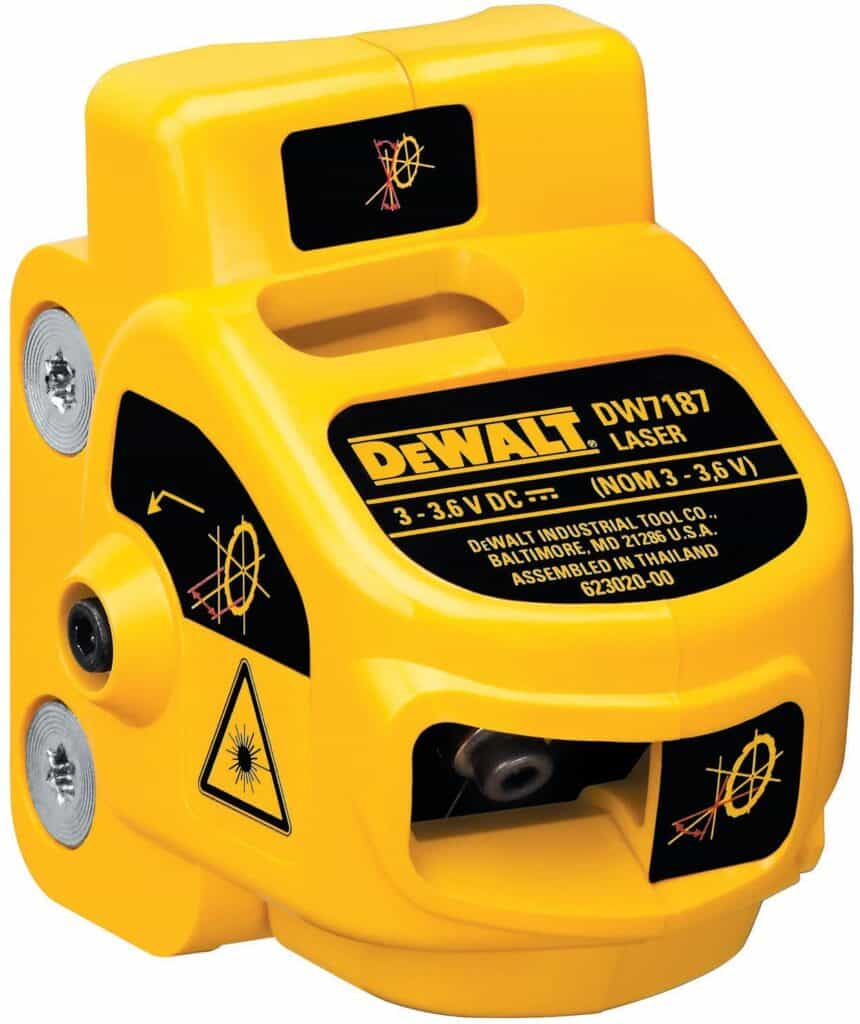 This laser system comes with adjustment options to meet users' preferences. You decide the left of the blade or the right of the kerf of the blade is appropriate for you. Unlike some designs the laser system does not need a battery; the miter saw powers it.
The laser guide beams a clear bright light to enhance visibility for an accurate cut. A single bright line ensures a clean and visible path on the material. There is an ON/OFF switch that enables users to use the laser system. There is a laser diode in this component that helps this product's durability. The diode is well shielded from damage. For its bright laser line that is visible, it can be used in both low and high-visibility areas.
Be very sure what type of saw you're installing this laser guide on. It can only fit into specific saw types of the brand. It is compatible with DW713 Type 1, DW716 Types 1 to type 4, DW715 Types 1 and 2, all types of DW717 all types of DW718 models.
A downside to this design is the difficulty you may encounter installing the laser guide on your miter saw. It frequently goes out of alignment when installed. This is a strategy problem that requires fixing. It will also be great if the laser is built to go on the arbor instead much like theOshlun LG-M01 unit on this list.
Key Features
Requires no batteries, it draws its power from the miter saw
Allows different ways of positioning on the blade
It offers bright laser light for easy accurate cutting and safety of the user
| | |
| --- | --- |
| Brand Name | Dewalt |
| Weight | 11.2 ounces |
| Batteries required | No |
| Others | Bare-Tool included |
| Benefits | Comes with 3 years limited warranty, one year contract of service and 90 days money-back guarantee |
2. Oshlun LG-M01 Miter and Portable Saw Laser Guide- Most Reliable and Affordable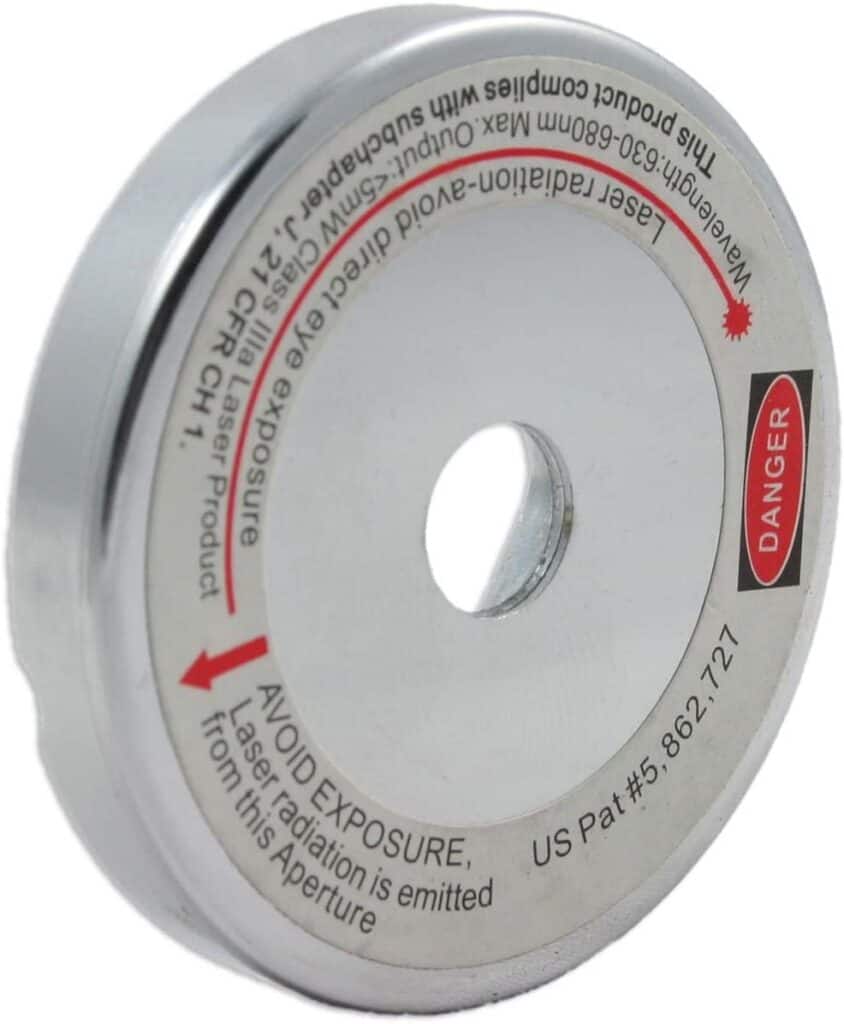 This second-generation laser guide is designed to help the woodworker have maximum efficiency with his project. This laser guide is installed on the arbor to simplify the installation process. It runs on its battery for the source of power.
The latest design tells you the area the blade will cut well in time before it reaches the material. It beams a much brighter, precision-inclined line on the blade's left side of the kerf. On its mode of operation, the laser is automatically triggered by the centrifugal switch to activate. This added innovation takes away the need to switch ON/OFF that is offered by the DEWALT DW7187 Adjustable Miter-Saw Laser System above.
As a laser guide that is fixed on the arbor, it is however not compatible with all saw types. This laser guide can suit any saw with 5/8 inches threaded arbor channel and that also uses a nut to protect the blade. It is compatible with most 7-1/4, 8, 8-1/4, 12, and 10-Inch Miter, sliding compound miter, chop, and portable saws. Users of 12 inches saw models with interlocking arbor flanges should do a proper check on compatibility because not all saws of this kind will work for this laser guide.
Just like the Dewalt design, the laser line is quite as bright to ensure cleaner and precision cutting. It is a thinner design that fits more saw types and it comes with a recessed laser construction that prevents the laser from giving a hard hit on the material when on deep cuts.
Besides the fact that this laser guide is one of the favorites on the market, it is also a very affordable and functional device.
Key Feature
It is designed to be built on the arbor
It works generally with all miter and portable saws
It is a thinner design
| | |
| --- | --- |
| Brand name | Oshlun |
| Weight | 4.2 ounces |
| Power source | battery powered |
| Batteries required | Yes (3 LR44 batteries needed) |
| Others | Very easy to install |
| Benefits | Comes with a life time guarantee |
3. Dewalt DWS7085 LED Light System- Best Substitute for Laser Guide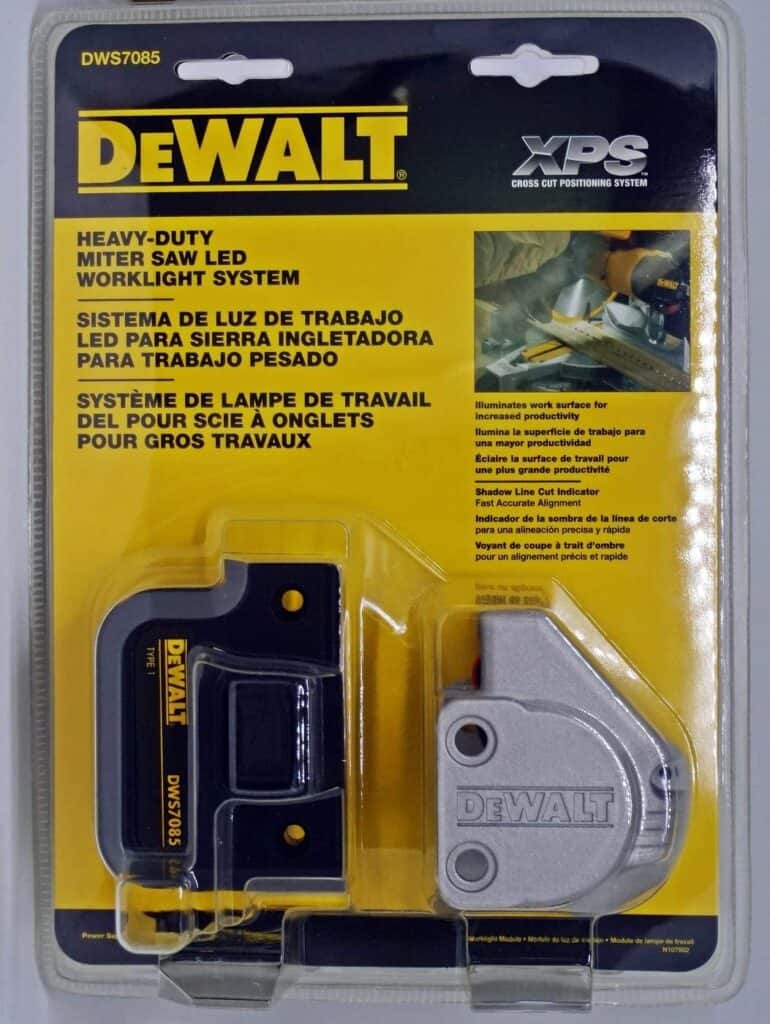 This Dewalt LED light system is a great substitute for the laser guide. The Dewalt DWS7085 LED Light System brings advanced lighting technology to its laser lights design for miter saws. The application of LED lighting system stands out in this application.
The focus for this design is that the use of bright L.E.D. technology increases visibility. It increases efficiency by lighting the work surface much clearer than most laser lights on this list. The Blade Shadow cut line ensures precise alignment of the blade during a cut process. For precise, repeatable cuts, no adjustment changes are required. Miter saws from DEWALT are pre-wired. The dice draws its power from it.
A removable rectangle-shaped panel positioned on the flat region of the operating handle is the key indicator that this light can operate on your saw. This is referring to the handle you lower to cut.
For this device, the illumination is bright and has its switch, and it projects a pleasant blade shadow line onto the material. It correctly produces a shadow of the blade on the workpiece. While this laser light beaming guide may be a little expensive, it is however an excellent addition to your miter saw.
The manufacturer designed this LED light system especially for the DEWALT DW717 and DW718 miter saws.
Key Features
Lightens the surface area of the workpiece to boost productivity.
Bright L.E.D. the application provides better visibility.
The blade shadow cut line helps with fast precision alignment for a clean cut
| | |
| --- | --- |
| Brand Name | Jisam trade |
| Wattage | 100 watts |
| Type of bulb | LED |
| Weight | 12.6 ounces |
| Batteries required | NO |
| Others | Helps with accurate cuts |
| Benefits | Requires no adjustment for repeated cuts |
4. Irwin 3061001 Industrial Tool Miter Saw Laser Guide- The SimplestDesign
Irwin may not be a known name in power tools manufacturing but with this laser guide device, they are surely making a statement.
Many miter saws can be equipped with the Irwin Miter Saw Laser Guide to build a laser-guided power tool. The working standard of the miter saw is not difficult to understand. The guide projects a line to the left of the cut to allow for precise cuts. It comes with extra-long bolts to secure it to your saw.
It is a sensitive laser guide that automatically turns ON and OFF based on whether the blade is spinning or not. This is a sensitive feature that makes this design unique in its way.
A point to note about this design is that before the laser beams, the blade must have to spin at the full RPM speed of the saw. The laser is usually projected to the left side of the blade. This laser guide also does not need battery power. This is because the miter saw supplies the required energy for it to run.
The laser guide gives an easy projection of the area to be cut for accuracy. However, it is not all beautiful features with this design; the switch system appears to malfunction often after installation.
Key Features
It is easy to install
It is a sensitive device with an automatic ON and OFF switch
No batteries required
| | |
| --- | --- |
| Brand name | Irwin |
| Weight | 4.8 ounces |
| Batteries needed | NO |
| Others | Bare-Tool included |
| Benefit | It works with most miter saws |
5. Kaiweets T03 Self-Leveling Laser Line WithAdjustable Lightness Line- Most Versatile Design
This is a laser line system that functions just as the laser guide for miter saws. The designs are superior in some ways to the traditional laser guides discussed earlier on this list. For this item, it is visible in the brightness mode of the laser levels involved.
The various brightness modes can be changed with a single button and can vary from 50 percent, 65 percent, 80 percent, and 100 percent brightness depending on the user's preference. This a rare feature that no other laser guides on this list possesses. The laser light can last as long as 16 hours of use before needing replacement.
This laser line uses battery power and beams out green laser lights. The green laser line is lighter than the red laser line and can be used both outdoors and indoors. It is suitable for leveling or aligning paving tiles, windows, or hanging pictures.
The working process of the laser offers the self-leveling ability. The laser level can be straight even on an irregular surface within 4 degrees range. It is also easy to use. The cross laser lines can be turned on and off with a single button press. The range of the beam can travel about 98 feet distance, projecting l projecting horizontal and vertical lines on every surface.
Key Features
It comes with a four-grade green laser, adaptable for various circumstances.
The superior green cross laser line offers high visibility and precision.
It has both self-leveling and manual modes
| | |
| --- | --- |
| Brand Name | Kaiweets |
| Weight | 1.15 ounces |
| Batteries required | Yes (2 AA batteries required) |
| Color of laser beam | Green |
| Power output | <1mW |
| Laser wavelength | 505 to 550 nm |
| Levelling accuracy | 98 feet |
| Working range | 30m |
             We also have reviewed Best 10-12 inch miter saw blade
FAQ
1. Can a laser be added to a miter saw?
Yes, it is very doable. Also to ensure the accurate cut and safety it is very necessary to have with the miter saw. Depending on the manufacturer's design, you'll find one that you can easily mount on the arbor.
2. What is the 31.6 on a miter saw?
This is a measure in degrees for cutting miters that are on extra tall cornice or crown moldings. In this case, the molding flat on the saw's bed where there is a 33.9 degrees tilt on the blade with the head swiveling to 31.6 degrees which gives a 45-degree miter.
3. Can I add a laser to my Dewalt miter saw?
Yes, you can add one. Infect a laser guide will give you the most accurate cut and give you addition safety.
4. Does the Dewalt DWS779 come with a laser?
This model doesn't come with a laser guide; it however comes with a Cutline Blade Placing System.
5. Do you need a laser on a circular saw?
A laser is a helpful component on any saw including the circular saw. Having one on your circular saw will be a plus for productivity.
Related Articles:
Last Updated on March 19, 2021 by John G. Anderson