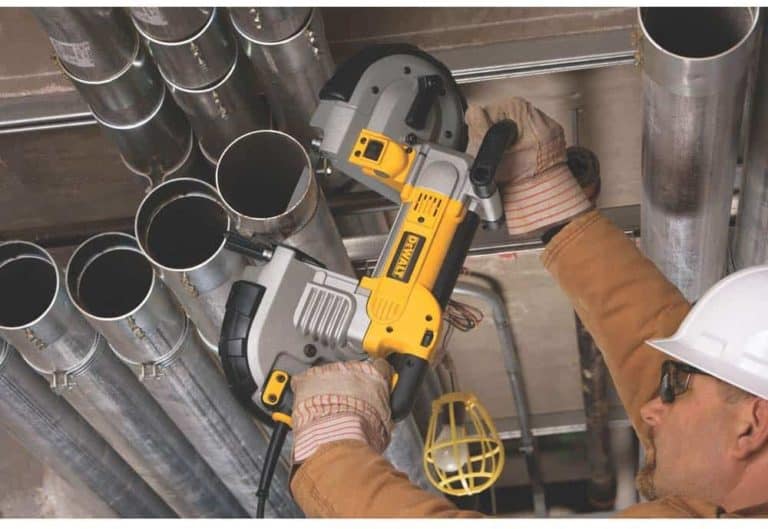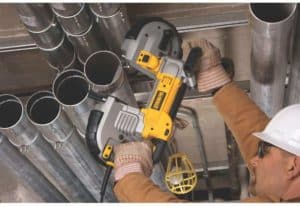 Are you facing problems with handling your new portable band saw? Don't worry, we are here to help you. It is a very useful and versatile tool to have for DIY workers. But we often underestimate the ability and potential of this tool because of a lack of knowledge. This tool is equally useful for metalwork, steelwork, workshop, industrial work, or homeowner. So we need to know about portable band saw uses to get maximum benefits for it. We also need to know to use a portable band saw as a beginner Keeping in mind that., in this article, we are going to tell you its uses and how to use it. Let's dive into the deep.
Portable band saw uses: What is a portable band saw used for?
A portable band saw has become a familiar tool for many design lovers. But one can do so many other things with it. Therefore, here we want to show you the portable band saw uses so that you can discover so many different opportunities to use it.
Cutting non-portable materials: The biggest advantage of a portable band saw from a regular band saw is the portability. The materials are big or not easy to bring to a regular band saw, you can do the job with a portable band saw. Some materials are heavy or nonremovable from one place, in that case, .so a portable band saw is the perfect solution in that case. A band saw is one of the best tools to cut materials like stock or met tubing. So if the steel bar metal tubing or stock is nonportable, you can work with a portable band saw.
Fieldwork: A regular band saw cannot be carried in fieldwork. Also, probably there will be no access to electricity. So a cordless portable band saw is the best option for you.
Metal Cutting: Portable band saw is an ideal tool for cutting thin complicated steel. Also, a portable band saw does a fantastic job to give a nice required share to the steel bar. But the power of a portable band saw is limited. So you need a more powerful band saw to cut big steel. Some portable band saws are really powerful and can cut quite a big steel.
Bar stock cutting: Band saw is widely used in cutting raw purified metal such as billet. Manufacturers use the band saw to cut the billet bar as the band saw gives a very fine and clean cut. But you need the more powerful band saw to cut big billet.
Cutting and shaping pipes: You need a light portable tool to cut pipes in different places in the house or industry. A portable saw is a perfect tool for that job. You can carry a portable band saw easily to different places. it will make your job very easy and quick.
Resawing: You can resaw a massive chank of timber into so many small and fine pieces with a portable band saw. That is why the potable wood bandsaw is a very commonly used tool in making furniture or wooden craft.
For light industry and Residential Purposes
In many light industries and workshops of residential basements and garages, you can use portable bandsaws to cut plastic, metal, and wood. There are varieties of blades for woods, plastics, and metals.
Most commercial and residential bandsaws are used for making cabinet stands and benches. So, portable or cordless models are becoming common to building contractors in recent decades.
Milwaukee portable band saw is one of the best saws liked by users. It is a deep-cut bandsaw having easy to handle and easy-to-use features. Similarly, this product is highly durable. So, the new users who want to buy a portable band saw can buy and use it for their daily purposes.
For Cutting Meat
Presently, portable band saws are used widely for cutting meat and butchering. They are constructed with stainless steel having easy to clean features. The blades of these products are made of fine heat-treated tips teeth and scalloped or plain knife-edge. This tool is very ideal for cutting bones and large pieces of meat flesh.
Creating notch and carve truss: We need to make notches with purlins very often for making a beautiful rooftop. You can make notch and purlins very quickly with a handheld portable band saw. That is why it is such a valuable and useful tool in the woodworking industry. keep in mind that you should keep the blade at a 3o degree angle in those works for efficient performance.
Creating a truss circle is a time-consuming job. But a portable band saw can make this job easy and enjoyable compared to other tools. You can make a beautiful truss circle for the rooftop with a portable band saw.
Making bevel cut and veneer: We need to make bevel cuts in various woodworking projects. A portable band saw is a fine tool to make a bevel cut very easily. Also, we need to create a thin veneer from the thick wood bar. The Portable band saw is capable to cut as thin as 1/40 of an inch (0.6 mm).
Making scarf joints: In the woodworking project, we often need to make scarf joints. Scrap joints connect the short wood bar to make a long beam. the portable band saw is an ideal tool to make scarf joints.
Birdsmouth cut: The lightweight, easy handling, and strong portable band saw can make the birdsmouth cut very easy to do.
Creating pergola and corbel: We can make various decorative cuts with a portable band saw. One of them is creating pergola and corbel. The portable band saw is an infamous tool for creating pergola and corbel.
For Machine and Metal Fabrication Shops
The portable metal cutting band saw is used for cutting industrial metal, for example, in fabrication shops for structural steel, in machine shops for bar stock because they are good for horizontal and vertical designs.
If you want to buy any, you can try this Dewalt portable band saw having a speed range from 40-ft/minutes to 5000-ft/minutes. This is the best portable metal bandsaw according to us.
But if you want to use it for friction cutting made with hard metals, you can try some other specialized band saws.
The band saws for cutting metals include brushes or brush-wheels for clips not to fix in between the teeth of the blades. On the other hand, people use horizontal bandsaws for cutting pipe and bar stock.
For Cutting Timber
The owner of the timber mills is also using portable band saws to cutting small timber logs because they are inexpensive and can be used by one or two people.
The craftsmen and artisans are also using these portable band saws for their daily purposes especially for making designs, finishing, or cutting small sized-woods. But the types of band saws vary with the size and types of works.
Types of portable band saw:
Portable headband saws: Portable headband saws are large band saws for using to initial cuts in a log. They include two to three in tooth space on the cutting edge and having silver teeth on the back.
Portable re-saws: It is used for cutting timber and to reduce larger sections into smaller ones. It includes a small kerf for minimizing waste.
Portable double-cut saws: It includes cutting teeth on both sides. They are very large, almost similar to a head saw.
How to use a portable band saw
Before handling a portable band saw, you should know – how to use a portable band saw. This is not a difficult task at all. Here we are going to discuss 11 steps regarding a portable band saw to make things easier. Let's have a look.
Steps 1: Choose a portable bandsaw that is suitable for your work. To do this, you need to know about its capacity. You must check whether its throat is fitted with the stock or material you are going to cut. You should keep in mind that a large capacity portable bandsaw can cope with 6 inches. On the other hand, a standard bandsaw can cut 4 inches of diameter. Also, you need to find the perfect bandsaw blade for

your job.
The power source is another factor to think about before buying it. Try to choose a durable battery-powered saw that can go for a long time.
Brand choice is very important because the quality of off-brand saws is lower than common brands. Milwaukee portable band saw and Dewalt portable band saw are examples of well know portable band saw brands.
Steps 2: You should be well acquainted with the tool. Gather knowledge about a trigger switch, drills, circular saws, and speed selector.
Steps 3: While operating, hold the two handles located on each end to hold and guide the tool perfectly. Tracking adjustment is another thing you should know that helps to adjust the path of the blade travels. The tension control lever helps you to release tension while installing a new blade. The tension release handle helps you change the blade easily and quickly. Similarly, Guide rollers engage in cutting your material. On the other hand, cutting shoe supports the saw to offset the drag of the teeth of the blades.
Steps 4: Go through the operator's manual to be familiar with the unique characteristics of you saw.
Steps 5: Put on gloves and safety glasses for using the tools to get caught easily in the moving blade.
Steps 6: While cutting a thing, support loose material such as using a vice or having a helper to catch a circled pipe or bar.
Steps 7: To cut at the correct angle, you should mark the pipe for better finishing.
Steps 8: Check whether the blade is paralleled to cut the marking line and to do this you need to place the saw blade against the stock.
Steps 9: Squeeze the trigger and start the saw; then allow it to cut through the stock.
Steps 10: Check carefully if the blade aligns with your marking. Be careful about the bending of the blade.
Steps 11: Finally, you need to release the trigger, and before completing the task, you have to quit the blade to move before sitting down the saw.
Safety Manuals:
Always wear gloves and eye protector before cutting heavy metal or anything which can cause damage to you.
Must unplug the saw before the change or replace the blade.
Portable bandsaws are very powerful and can cut almost anything that comes across.
FAQ
1. What is a portable band saw?
Ans: A portable band saw is a cordless tool that is used for cutting plastic, wood, or metal. It is useful to work without electricity.
2. Which one to chose: Corded or cordless portable band saw?
It depends on individual preferences and needs. Because both of them are suitable for various reasons. Depending on the situation you will find one more suitable than the other one. As cordless portable band saw are more powerful than corded portable band saws. But you have to change batteries with the cordless option. In the corded option, you don't need to take that hassle.
3. What are the portable band saw uses?
Ans: The portable band saw is used in light industry and Residential Purposes, cutting meat, machine, and metal fabrication shops, cutting timber, and so on.
4. What is the best portable band saw on the market?
Ans: There are many portable band saws on the market. But to us, the Milwaukee portable band saw and the Dewalt portable band saw are the best.
The Final Verdict
What do you think after reading the article? Do you have your answers finally? We hope that we have been successful to make your idea clear about how to use a portable band saw and portable band saw uses. If you want to buy a new portable band saw, you can try our recommended band saws. We guarantee that after buying it, you will not regret it because we always provide our visitors with the best gift on earth.
Related articles:
What is the best budget bandsaw?
how to sharpen a bandsaw blade? Learn here
Check how to fold a bandsaw blade
Check Full Review of Delta 28-400
Ryobi 2.5 Amp 9 in. Bandsaw bs904g Review
Other Resource:
Last Updated on January 31, 2022 by John G. Anderson